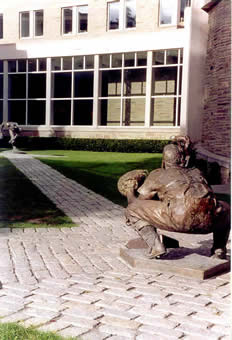 We spent an interesting early fall weekend in Cooperstown, New York, a town known widely as the home of the Baseball Hall of Fame.  This would probably lead you to surmise that we are avid sports fans, or at least avid baseball fans.  Our next statement will let you know just how accurate you are:  We figured if we visited the Hall of Fame we could finally learn how many touchdowns Baby Ruth scored against the Toronto Maple Leafs.  We never did find out.
So why were we going to Cooperstown?  To visit the Fennimore Museum and the Farmer's Museum, silly!  The Farmer's Museum?  Yup, and it wasn't at all like you're thinking.
Cooperstown is named for late 18th, early 19th century novelist James Fennimore Cooper.  The locals are justly proud of their favorite son, and have placed a rather nice bronze statue of him on a shady knoll.
We left home mid afternoon, enjoying the light traffic, perfect weather and early fall hint of colors which gradually heightened as we proceeded north. Unfortunately, our directions were a bit incomplete, and we missed a turnoff, continuing north for over an hour past it while we tried in vain to find the right exit.  When the road signs began to be bilingual French and English (exaggeration for comic effect) we figured we might have gone too far north.  We exited at a town so small that its residents drove 14 miles west when they needed gas.  We bought an extremely good road atlas, which the general store proprietor was sorry cost so much, and proceeded south at a pretty good clip, which is easier to do going south since it's all downhill on the map.
We found the turn west, and arrived later than we hoped, but it was still light out.  Our hostess at the Landmark Inn B&B showed us to our lovely room, which even had French doors leading to our own small porch.  We made good use of that porch the following afternoon since it was a delightful place to read before dinner.
People do not go to Cooperstown for the food, which is a wise choice.  By far the best food we had in town were the okay breakfasts at our B&B.  All other food was several notches below that, regardless of what reviews and recommendations say.  Perhaps the locals figure that most people visiting the town do so for the Hall of Fame, so anything better than peanuts, Crackerjacks and hotdogs would be relatively haut cuisine. But the food was nourishing and filling, and not the purpose of our trip.
The next morning we got up early to walk about the charming town before tourists filled our photos.  The weather was overcast and threatening, so the photos don't glow as much as we would have liked, and the imperfect weather continued throughout the day.  Had we wanted to we could have bought custom engraved baseball bats at any of dozens of shops.
We returned to the B&B for the first of two good breakfasts (one each morning, not multiple ones in one day as Hobbits are accustomed to taking), and then walked to the Farmer's Museum, arriving just as it opened, and were greeted by a cow nurturing her calf.
Think of a county fair combined with an historical restoration village and you have a pretty good idea of what the Farmer's Museum is like. It is filled with restored historic buildings, most of which had actors in period costumes staying in character as late 18th century and early 19th century towns and trades folk.  The woman in one shop, which recreated the herbal and folk medicines of the early U.S. was most knowledgeable and charming, as were the actors in all the other buildings.  Among our favorites was a woman demonstrating how they manufactured straw brooms.
There were also some traditionally museum-like exhibits in the rambling, multistory main building based on an expanded barn.  But by far our favorite attraction there was a duo of itinerant musicians who set up "shop" on different porches every hour.  We listened to them frequently enough to be termed either groupies or stalkers, but their talent and versatility with about a dozen old period instruments and a vast repertoire of period songs really appealed us.  During the second performance a woman in the crowd asked one of the musicians if he was a music professor at a particular local university, which he confirmed.  We need more professors like him.
We expected good things of the Farmer's Museum but we hadn't expected to spend so much time there.  We ate "fair" food for a late lunch, finished looking around, and then walked just a bit farther down the road and across to the Fennimore Museum, an art museum named for one of the Fennimore Cooper families in the novelist's name.  Probably the former of the two names.  The museum's collection of local period art is rather good, but what really stands out is its collection of Native American art – among the better such collections we've seen.
After the museum we returned to town (the two museums were a healthy walk to the east of the town center), and since we were there went to the Baseball Hall of Fame, which was really rather nice though in the midst of a substantial expansion.  In it's largest room, where there were plaques commemorating those inducted into the Hall, we enjoyed reading of some of the players who loom large in our sports-naïve minds.  But we liked other things more.  In one room, where we heard near fanatic fans quickly spouting endless litanies of baseball stats to their bored companions (not to be sexist, but this scene most frequently played out with men and boys talking and women who were hiding their yawns), we found some display tables with really neat press pins and souvenir pins from vintage world series games.
Outside the south end of the Hall is a life-size sculpture of Mighty Casey (at the Bat) with "Mudville" emblazoned on the back of his bronze shirt, and east of that a wonderful life-size sculpture of a pitcher (forgive us – we don't recall who the pitcher was) hurling a pitch from the mound across open space to a life-size sculpture of Roy Campanella catching behind the plate.
We walked around town some more, and then returned to our B&B to pick up our car and drive out to an apple orchard with an active cider mill.  The cider was fine.  We returned to our room for some on-porch reading and listening to music via headphones.  That night we went to another undistinguished restaurant, and then retired for more reading and sleep.
The next morning the low sun shown brightly through partly cloudy skies, so we dressed quickly and wandered town getting a few pictures with better light.  After another okay breakfast be played a bit with the B&B's yellow Lab, checked out and drove home.  This time with no missed turnoffs.