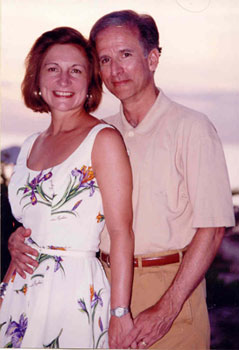 Barbara and Stu have been married for many years, but still feel like newlyweds, which explains why we plan each trip as if it were a honeymoon.  Although we collaborate, Barbara does the trip research and planning and writes most of the trip notes.  Stu takes all of the photos, and built and maintains the web site.   We're both business professionals who squeeze in as much travel as we can when we're not working, thanks to relatively generous (for the U.S.) vacation benefits.  We have both also traveled extensively on business, though Barbara more so in recent years.  We have a wonderful daughter and son-in-law living in Los Angeles.
Barbara is an NYU graduate and lived in Paris while earning a Master's degree in French Literature. At the end of her studies, she bought a rail pass and spent the summer wandering around Europe, often getting lost and rescued by kind strangers. Stuart has a degree in Psychology from Seton Hall and published a beginners' photography guide. After finishing his studies, Stu followed a time-honored tradition of driving cross-country with a buddy, playing guitar and singing for their supper. He still plays a mean 12-string. Stu also served his country as a captain in the U.S. Air Force. His second book, a humorous novel called Leaving East Keester released in electronic format in August, and in paperback on Halloween day.
We actively support the arts and have been long-term members of the Metropolitan Museum of Art, the Museum of Modern Art, the Museum of Arts and Design (MAD) and the Whitney Museum of American Art, though we enjoy visiting many museums and art galleries in New York, the U.S. and the rest of the world as well. Due to our travels, we have also developed an abiding appreciation of indigenous arts and antiquities. Barbara studied ballet and jazz in her youth and we are avid dance fans. We carry a regular subscription to the New York City Ballet and to various dance companies at the Joyce Theater, to which we are Champion contributors, which we supplement with performances at City Center and other venues. Our musical tastes are eclectic, ranging from classical to rock including jazz, bluegrass, old-time blues, R&B, Celtic, torch songs, show tunes and more, though generally excluding country/western, new age and most rap. We're regular theatergoers viewing musicals, drama, classical and alternative productions, both on and off-off Broadway. We seek out independent cinema and movie classics, but get a juvenile kick out of the better blockbusters too.
Food is central to life and we regularly sample different cuisines and many wonderful restaurants home and abroad. Barbara won't refuse good wine though she has no disciplined approach to wine study. Her favorite wine description is "yummy". Stu is a terrific cook, which is fortunate since we hugely enjoy entertaining friends and family and they might not be as eager to come over if Barbara were cooking. She sometimes serves as chef's helper with the more menial kitchen tasks and usually plans the menu.
In our spare time we read as much as we can – magazines, novels, newspapers, web sites. If you want to send us an email, we'll read that too.