FALKLAND ISLANDS & CHILE JANUARY 2010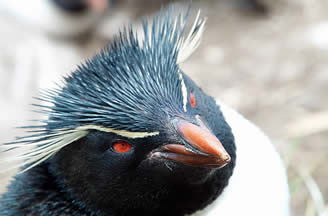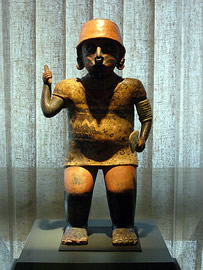 On the day that Stu and I married, our dear daughter Kyrsten surprised us by baking a 3-tier wedding cake which she topped with 2 formally attired wind-up penguins, a lace-veiled female and bow-tied male, a nod to our shared fascination with penguins as well as my collection of wind-up toys.  Having achieved the status of wedding mascots, each year on our anniversary this special pair cakewalks across the elegantly set table in whichever restaurant we're celebrating, usually much to the amusement of the serving staff.  The more haute the restaurant, the more they seem to enjoy our ritual.
In case you're wondering what this has to do with our trip, for quite some time we have longed to visit the Falklands, a paradise for penguin-lovers with four breeding species, and decided that an anniversary trip would afford the perfect occasion.  Fortunately our anniversary falls in January, an ideal time for a Falklands visit.
Feathery snow and a vicious temperature caused us needless concern as we headed to JFK for our non-stop flight to Santiago on New Year's Eve.  We allowed extra time anticipating traffic delays, so of course we zipped there in no time at all and had to wait for the check-in desk to open.  Due to the continuing friction with Argentina, it's still necessary to fly to the Falklands (Las Malvinas to the Argentineans) via Chile, so we decided to continue our exploration of Chile on the same trip.  Argentina will only allow planes to the Falklands to cross its airspace once per week and since the weekly flight from Santiago via Punta Arenas leaves early on Saturday morning, we planned our arrival on Friday morning to ensure that we would not miss it.
SANTIAGO
We caught a spectacular view of the snow-capped Andes from the plane as we approached Santiago.  On New Year's Day the city had the eerie, isolated feel of a ghost town as we traversed it on the way to our hotel.  We chose the Orly Hotel because it promised to be a small boutique with character.  I could almost hear the clatter of my expectations crashing at the sight of the undistinguished façade and the cramped, unattractive reception area.  Fortunately, the rest of the hotel has charm in abundance.  We had booked our room for the previous night to assure access upon arrival.  We could only get a queen-bed room and it was functional, but very small.  After a quick shower and change, we headed out. 
All of the storefronts were shuttered and we encountered few pedestrians as we traversed the unimpressive Rio Mapocho and continued on to the Parque Metropolitano, a prime locale for joggers and bikers.  We wanted to take the cable car to the funicular, but it was closed, so we walked a considerable distance to the lower station.  The park contains a zoo and a public swimming pool, but we hopped the train straight up the hill to get a close-up view of the statue of Santa Maria.  The air was smoggy, occluding the views from the top, but there is a pretty church, which was serving mass, and due to the season, a larger than life-size wooden crèche courtesy of a masterful Uruguayan carver.  Close up, the statue of Mary was graceful and expressive.
We had had little success identifying any restaurants that would be open for dinner that evening due to the holiday, so we had a late lunch at the bustling Mercado Central and bought some fruit and nuts to snack on in the evening.  Fishmongers ringed the main hall, which included some fruit and vegetable stands among the tourist trinkets, but the space was largely consumed by sprawling restaurants.  The cab driver who dropped us there recommended Augusto, which offers several dining areas.  We ordered ceviche, salmon and a decent chardonnay-sauvignon blend from the Casablanca region.  The portions were gargantuan and the quality merely acceptable, but they managed to fill every seat with families and young locals.
It was an easy walk to the Plaza de Armas from the market, which was as quiet as we expected.  We admired the majestic architecture of the Cathedral and surrounding buildings but could not enter any.  We strolled over to La Moneda, the imposing Presidential Palace, where the smartly dressed guards amiably posed for photos while blocking entry to the inner courtyard.
It was quite warm, a welcome relief from the frigid weather we'd just escaped.  We decided to cool off a bit in the Cerro Santa Lucia, a hilly park smack in the middle of a busy commercial district.  Entrance is free, but you have to register with a guard for security purposes.  We ascended to the Neptune Terrace which features an elaborate fountain depicting the tritoned sea deity.  An attractive castle with battlements tops the hill.  On the long walk back to the Orly, we discovered that Santiago is quite spread out and the distances on the map are considerable, so we were happy to spend the rest of the evening relaxing at the hotel, especially since we had a very early flight the next morning.
Although we used an electronic kiosk to get our boarding passes, we were obliged to check our bags, small as they were, and there was an extremely long line for the bag drop.  We had arrived a bit late and were worried that we might miss our flight, but the line was processed quite efficiently and we even had time to grab a snack before the flight, which was important since no food is served on the plane.  It takes about 6 hours to fly to Mt. Pleasant Airport in East Falklands, including a layover in Punta Arenas, where you pass Chilean customs and immigration.  The Punta Arenas airport is small, but clean and bright.  We suspect that it's been modernized since we utilized it when visiting southern Chile in 1997 because it didn't seem familiar.  Strong Patagonian winds prevented the ground crew from refueling the plane, delaying our departure, but the flight wasn't too late.
EAST FALKLAND
Our Falklands travel agent, Sally, met us at the airport and introduced us to our driver, a gregarious local who took us on a bumpy ride for about 45 minutes to the capital city of Stanley, filling us in on local lore on the way.  It had rained hard before we landed and was still overcast when we reached the town, but the skies steadily cleared as the afternoon progressed, developing the glowing evening light that so enriches photographs. The sun set around 10 pm so we had plenty of time to explore.  We stayed at Malvina House, an ideally-located and well-appointed hotel.  Our room (#31) was spacious and attractively furnished with large windows overlooking the bay.  It proved to be very comfortable and one that we'd highly recommend.
Our first stop was the Capstan Gift Shop since we wanted to pick up some spare batteries. On the way we passed the modest home of The Penguin News, the Post Office with its bright turquoise roof and old-style red British phone booths out front, the police station, where we examined the Falklands Islands crest, an old ship mast lying on its side, and a row of white houses with striking red roofs. We chatted with the shop owner awhile about the challenges of a seasonal business and her fine selection of goods. 
The shop is situated in a small marina just across from the Anglican Christ Church Cathedral, which we visited shortly before it closed.  Constructed of brown brick and stone, the exterior is attractive, but most distinguished by the tall whalebone arch adjacent to it. 
Stepping inside the church feels like the first time that you turn over a rough, spiky conch and discover the delicate colors and smooth, glossy inner shell.  Burnished wood and exquisite stained glass complement the simple beauty of the altar.  An open book on a stand listing the names of fallen solders serves as a moving memorial. 
As we walked along the main road next to the water, we saw two grandiose war memorials, but they lacked the quiet power of this book.
A couple of well-groomed Shetland ponies grazed on the lawn of the government house.  Some Shetlands make me think of Farrah Fawcett with their extravagant blond manes and long pretty faces.  We eventually made our way to the museum, which was closed. 
We never had the opportunity to view the collection because it wasn't open during the hours that we were free, but we peeked through a window and had a look at the artifacts in the backyard which included massive ship anchors and an odd little tank.
While wandering around we met a couple from England with their two adorable granddaughters.  Their son is in the military here and they'd come to spend the holidays with his family.
It was a good thing that we reserved a table at the hotel restaurant for dinner. It's apparently a hot spot for locals on Saturday night and the bar and restaurant were buzzing like a happy hive.  Svetlana, our Russian waitress, was inexperienced and not terribly proficient in English, but made up for it by being quite personable.  Our appetizers were both scrumptious, lightly fried squid (one of the few local fish that they serve in the Falklands as we later discovered), and a smoked salmon and salmon tartare combo.  Salmon as a main course was disappointing and the vegetables were mushy and smothered in a horrible cream sauce, but the ice cream for dessert was terrific.  I couldn't resist buying a bottle of 1996 Montes Alpha M, a Chilean blend that lives up to its hype.  I left the remainder in the bar to finish with dinner the next day.
We were very excited the next morning about our full day excursion to Volunteer Point, home to the largest King Penguin colony in the Falklands.  After breakfast "Nobby" Clarke, a local guide, picked us up at the hotel in his SUV for the 2-1/2 hour off-road drive.  Nobby is a convivial native, retired from his job with the local telecommunications company, who contracts with the travel agencies for small group guided tours.  Nobby was extremely entertaining with loads of colorful stories to tell, a perfect companion on the long drive.
Nobby dropped us at a visitor's center informing us about the rules of conduct, then drove back to take tea with the site's caretaker, leaving us to explore the area on our own.  During the mating and nesting season, Gentoo and King Penguins each group together in circular colonies.  As the chicks leave the comfort of their parents' feet, they band together for warmth and protection in crèches. 
Gentoos were nesting just behind the visitor's center, but we couldn't wait to see the King Penguins, so we walked a short distance away to the area where they congregated.  Sheep and geese grazed in the fields among the penguins, and Magellanics guarded their underground burrows as we carefully made our way to the colony, trying not to disturb the birds.  Individual Kings were hanging out with their buddies outside the protective circle, occasionally with chicks who had begun to molt.  Because chicks may be born from November through April, we were able to see them in all phases of their development.
The King chicks begin life scrawny, gaining mass and sprouting a fluffy coat of dowdy brown down after leaving the protective warmth of their parents' brood patch, resembling 1920's college hipsters in bulky raccoon coats.  As the chicks shed their juvenile coats, it's almost a shock to view the sleek black, white and golden-orange adult feathers that are critical to their survival at sea.  King Penguins share similar looks with their more famous movie-star relatives, the Emperor Penguins, but are the second largest penguin species at about 3 feet tall. Their colorful markings are brighter and even more dramatic than the Emperors.  What they lack in height and celebrity, they more than make up for in sheer beauty with touches of rich color on their beaks, temples and throats.
The colony at Volunteer Point is home to more than a thousand Kings, preening, courting, fledging, squabbling, feeding, playing and resting.   So long as you remain still a respectful distance outside the perimeter of their circle, you can observe the penguins quite closely, and some curious adventurers will invariably wander over to inspect you. 
We sat down and enjoyed the spectacle of their daily activity.  Occasionally an adult would lift the edge of its brood patch (the skin flap above its feet) to reveal an egg nestled on its feet. Since females and males take turns tending the eggs and chicks while the other goes to sea to feed, we couldn't tell if they were male or female.  Once we were lucky to catch a tiny chick stretching its neck out of the patch to snatch some regurgitated fish from its parent's gullet. 
Disputes were not uncommon and we observed that adults will often slap each other with their flippers, especially when an amorous male is attempting to seduce a female who has mated with another male that season.  Unlike the monogamous Emperors, King adults have a more unusual breeding cycle and don't all return to the colony at the same time, so they may change partners during the same breeding cycle, explaining the aggressive romancing by unattached males.  Kings generally only have one chick about every 1-1/2 to 2 years since mating, hatching and fledging can take up to 14 months, and they nest much closer to the water than Emperors, avoiding the long odyssey to and from the sea so dramatically portrayed in "March of the Penguins".  Unlike other penguin species, Kings do not collect rocks for their nests, so there are no disputes over stolen nesting materials as we sometimes observed among the Gentoos.
We knew that we'd see many more Gentoos and Magellanics on the other islands, so we spent most of our time with the Kings.  However, we did not fail to explore the other areas.  The penguins must be very savvy because they chose a truly stunning beach to inhabit, with translucent water the color of the Caribbean, but clearly not as warm.  We climbed high dunes from the nesting areas descending to the long, white sand beach where we found all three species cavorting in the waves and sunbathing in groups, sometimes segregated by species, but just as often commingled.  In addition to the penguins and geese, we found a very handsome meadowlark with a stop-light red breast.
It was sunny but windy, so we found a sheltered spot to enjoy the picnic lunch that the hotel had packed for us.  A group of Stanley residents visiting for the day had set up a grill and were barbecuing on the patio outside the visitor center. 
After lunch we sat next to one of the Gentoo colonies.  Gentoos are the third largest penguin species, reaching about 30 inches tall, black and white with a white patch over their eyes, orange bills, long tail feathers and occasionally a sprinkling of delicate white freckles on their faces.  The chicks are gawky cute, cloaked in dark gray and white feathers.  The newborns are very skinny but grow quickly.  While crèching they try to poach food from any adult nearby, so we often saw adults chasing away chicks that they are not responsible for feeding.  Gentoos generally have two chicks, but unless food is plentiful, only the stronger will be fed and survive.  It was not uncommon to see one chick significantly larger than its sibling.  Gentoos are the fastest swimmers, clocking speeds up to 22 miles per hour.
Gentoos seemed to be the most curious about us and came very close to check us out.  Skuas, who aggressively poach penguin eggs and chicks, prowled the edges of the penguins' protective circle hoping to snatch a meal.  Skuas are gull-like with brown and white mottled feathers, webbed feet and curved bills.  A naturalist staying at Sea Lion Lodge while we were there told us that they are very intelligent, but I have a hard time admiring birds that prey on penguins.
Quiz:  What is more adorable than a penguin toddling awkwardly on land with its flippers outstretched behind him?
Answer:  Nothing!
Magellanic Penguins breed in burrows, not just on the beach, but just about anyplace on land it seems.  We saw these penguins everywhere in the Falklands except Stanley and Darwin.  They are quite shy and quick to disappear into their underground bunkers as we approached.  However, by remaining still, we had ample opportunities to observe them and their fuzzy charcoal and white chicks.  Magellanics are among the more comical looking penguins, reminding us of Groucho Marx with their odd posture and black and white coats.  About 2 feet tall, they have black backs and heads and white bellies with a white stripe encircling their face and throat and a black elliptical stripe on their breast.  Magellanics typically hatch two chicks but don't feed one preferentially, giving both an equal chance of survival.  They are commonly called jackass penguins due to their braying vocalization.
We enjoyed the bumpy drive back to Stanley, thanks to Nobby.  That night we were the only diners at the hotel restaurant and we both enjoyed delicious Uruguayan steak, mine considerably enhanced by the remainder of the Montes Alpha M.
There are only 3 planes, operated by FIGAS (Falkland Islands Government Air Service), which transport visitors and islanders between the islands.  Flight schedules are set the night before taking weather conditions into effect.  Sally had left us a note that our flight the following day to Sea Lion Island would be going out around noon.  I noticed that there was a lighthouse in the direction of the Stanley airport, so I called Sally to see if we could pay for our taxi to take us to see the lighthouse on the way to the airport.  It turned out that access to the lighthouse is off-road and the taxi could not go there. 
However, she called around and was able to get Nobby, whose excursion to Volunteer Point that day had been cancelled by the travelers at the last minute, to take us out in his truck. We were delighted to have Nobby as our guide again.  After breakfast, we checked out and took a walk to parts of Stanley we'd missed, to see a row of historic cottages on a high road, and to visit a property where an eccentric local man exhibits whalebones, whaling harpoons and other weapons to protest the hunting of whales and encourage their conservation.  Although whaling is no longer permitted in this part of the world, it's disheartening to know that whales are still hunted in some areas.  We met the owner, an eccentric but kind man, who gave us some helpful hints about our visit to Sea Lion Island.
Nobby stashed our gear and took us out to see the Cape Pembroke lighthouse.  No longer manned, its lens removed, it's nonetheless an attractive black and white structure perched on a cliff above the sea.  A bronze plaque affixed to a wooden bench nearby extols the sailor's life with a few lines from the famous Masefield poem "Sea Fever" ("I must go down to the sea again, to the lonely sea and sky . . .").  There is also a small memorial to the 1982 war dead.
As an added bonus, Nobby took us to Gypsy Cove, an exceptionally scenic area with a thriving Magellanic penguin colony, many seabirds, and rugged cliffs embellished with sunny yellow gorse bushes.  Nobby told us that the flowers were not at their peak and are even more dramatic when in full bloom.  A series of boardwalks on the cliffs above the beach lead you to beautiful overlook places.  We were the only people there and greatly enjoyed watching the penguins frolic in the sea and on the beach from special vantage points that Nobby chose.
SEA LION ISLAND
We boarded a high-wing Britten-Norman Islander plane with 4 young conservationists who were flying to Sea Lion Island to help count the Gentoo and Rockhopper penguin populations on the island.  They told us that it's not possible to count the Magellanics with all of their burrows, but they have ways of estimating the approximate number.  The flight took about 40 minutes and landed on an airstrip right in the backyard of the Sea Lion Island Lodge, the only property on the island.  We were greeted by Jenny, the manager.  We arrived just in time for lunch and after dropping our bags in our comfortable room, we were treated to a lovely meal of lamb soup followed by beef in a flaky pastry crust with vegetables.  Guests are served at tables for 4 in a sunlit room with a view of a close-by Gentoo colony and the distant sea.
Sea Lion Island is predominantly flat, only 5 miles long and about 1.2 miles at its widest point, but small as it is, there's a lot to see.  After lunch, Jenny took us in her SUV on an introductory tour of the island, stopping at the top of a cliff to view an extended family of southern sea lions and at Rockhopper Point for our first encounter with Rockhopper Penguins, who share the site with an exceedingly pungent colony of King Cormorants (aka Imperial Shags).  We continued to a beach where juvenile elephant seals were crammed together at the sea's edge like a giant package of overstuffed sausages.  Jenny left us on the beach with the elephant seals to explore on our own. They develop their elephantine noses at sexual maturity, around 5 years old, apparently because grand, inflated noses endow them with irresistible sex appeal, and also help them to intimidate competitors when contending for a mate.
Unfortunately, the mature bulls with their preposterous probosces and female harems were out to sea feeding after breeding, so we only saw young males whose noses had not yet expanded to the dimensions that we had hoped to see.  It was quite disappointing, however, even the young ones are impressively massive in girth.  We kept hoping they would get up and do something interesting besides snorting, but they just lay there like fat, lazy sunworshippers on a tropical beach, though minus the fancy drinks with tiny paper umbrellas.
On the short walk back we stopped to watch Magellanic penguins in their burrows and 2 groups of Gentoos nesting very close to the lodge.  We conversed with a congenial retired Dutch couple at dinner over another very good meal of chicken legs in a sweet-spicy barbecue sauce and a rich chocolate mousse.
We woke up around 5:30 the next morning after a sound sleep and decided to take a hike before breakfast.  We wanted to visit Long Pond, with its abundance of waterfowl, but despite our orientation drive, we ended up at the Tussock Pond instead.  Elephant seals were hidden among the tall tussock bushes, but you can hear them, which is good since it's not a good idea to surprise elephant seals, which can actually move quite quickly on land when motivated to chase something.  There were Magellanic penguins on the trails and swimming in the pond along with geese, and we came upon some small birds in the tall grass during our walk, such as snipes with mottled tan, black and white plumage and rapier beaks, red-breasted Meadowlarks, yellow black-masked finches and grass wrens.  Although we didn't find all that we hoped, it was a sunny morning and we enjoyed the exercise. 
After a good buffet breakfast, we grabbed a packed lunch and headed off. Jenny dropped the Dutch couple and us at Rockhopper Point to start.  There's a small memorial to the HMS Sheffield, a destroyer sunk by Argentina in 1982, in the midst of the Rockhoppers.  Rockhopper Penguins are the smallest of the crested penguin species (about 18 inches tall) and undoubtedly one of the most endearing of all species, especially when they tilt their heads and regard you quizzically. They have spiky black feathers on their heads, yellow "eyebrows" that culminate in a fringe of yellow feathers sprouting from their temples, red eyes, dark orange bills, black heads and backs, white undercoats and surprising bubble-gum pink feet.  Prior to and while hopping they will lower their heads, extend their necks and hunch their shoulders reminding us of cute little Ed Sullivans. 
They certainly live up to their names, hopping adeptly from rock to rock on challenging terrain.  There were two main groups around the same point, one co-habitating with the King Cormorants.  We definitely determined that the foul smell was emanating mostly from the cormorant excrement as the penguin guano was far less offensive by itself.  Jenny had commented that it was unusual that there were no cormorant chicks this year, though the cause is unknown.  King Cormorants are handsome birds, black and white with blue eyes and an orange knob at the base of their beaks.
Rockhopper chicks are the most appealing of the penguin chicks we encountered, tiny graphite and white bundles of adorableness, without the distinctive yellow brow feathers of the adults, which develop at maturity.  Rockhoppers return to the same nest each year, which is built of rock, twigs and other vegetation.  The female lays two eggs, one smaller than the other, to increase the chance of producing offspring, but expects to rear just one chick. As with other penguin species, the males and females take turns tending the eggs and chicks and returning to the sea to feed.  The chicks were crèching at this time of year, though we saw some very tiny ones who hadn't joined a raucous play group yet.  A snow-white Kelp Goose with his black-and-white mate and a gaggle of pale gray goslings co-existed peacefully with their penguin neighbors on the algae-covered rocks.
We eventually dragged ourselves away from the Rockhoppers and walked over to Long Pond.  There were Silvery Grebes, flightless Steamer Ducks, auburn-headed Ruddy Geese and the ubiquitous Upland Geese, the elegant males with white heads and bodies and gray wings, and the plain brown females, whose orange legs endow them with a jolt of color.  There were plenty of ducklings and goslings, but except for the Upland Geese, who blithely ignore humans, most of the fowl swam away whenever we drew near.  There's some lovely scenery on the island and we continued to the cliffs that overlook the Southern Sea Lion colony.
We thought that this was a perfect place to enjoy the view and our picnic lunch.  While we munched tuna fish sandwiches, a bold Striated Caracara posted himself nearby hoping for a handout.  The Striated Caracara, called Johnny Rook by the locals, is a bird of prey in the falcon family sporting dark feathers with white streaks on the chest and a light bill with a splash of orange at its base.  Although they are considered extremely rare, we saw many.  The Falklands host the greatest number of breeding pairs, with small numbers found around Tierra del Fuego.  We were always amazed at how closely they approached, especially when we had food, affording us excellent views of them.  Caracara used to be quite common, but their unfortunate habit of snatching baby lambs and their fearless approach to armed humans lead to their near extinction, though they are now a protected species, and behave as if they know it.
On the rocky shore at the bottom of the cliff, 3 or more sea lion bulls ruled their harems.  We'd seen Southern Sea Lions before when we visited Patagonia, so we recognized them immediately.  Unlike the sleek sea lions from northern climes, the southern adult males have huge heads with shaggy, light-colored manes, making it obvious how the name sea lion was coined.  Many of the females were pregnant with several mewling newborn pups in the group, nursing and cuddling with their mothers.  While viewing the sea lions, we spotted Christian, a lodgemate from Switzerland, stretched out on a rock patiently waiting to see if he could catch one of the females giving birth.  Neither he nor we saw any births, but we enjoyed watching the sea lions swimming in the waves and socializing on the beach.
From the sea lion cliffs, we navigated the narrow isthmus near to a point where Giant Petrels nest.  Petrels are so sensitive to human presence while tending their eggs and chicks that the nesting area is off-limits.  From the nearby beach, you can get a good look at the petrels in flight, though no view of the nests or chicks.  The Giant Petrels are large, as their name implies, and have a distinctive long nasal tube on top of their thick hooked beaks.  On the beach we also spotted attractive Magellanic Oystercatchers, black and white with long red bills and bright yellow eyes.
That evening we dined with the newest arrivals to the lodge, David, current Attorney General of the Falkland Islands, and his wife, Anne, the chief accountant of a law firm in London.  They were doing some island touring while she visited from the U.K. for a few weeks over the holidays.  They were charming dinner companions and we regretted having just a brief time to get to know them.  This was one of the few times in the Falklands that we were served uncanned fish, though it was not caught from Sea Lion Island. It had come over frozen on the plane that brought us, and was served with a rather nice salsa.
During our stay we learned that there is no Falkland Islands fishing industry, the locals having preferred sheep farming and a carnivore's diet to fish.  The government sold fishing rights in these waters to Asian commercial fishing operations in the 80s and when we were in Stanley we'd been told that even now millions of tons of squid a year are removed.  Squid is a main staple of the penguins' diet, as well as other sea animals.  I suspected that this must impact the seabird population, and when we returned home I read that penguin populations had in fact declined by 84% due to commercial overfishing, with Rockhoppers the hardest hit, declining by close to 90%.  The population has stabilized due to greater conservation efforts in recent years, though at far lower levels than before commercial fishing was introduced.  Considering that the penguins are the main tourist attraction in the Falklands, and tourism is a major industry, especially now that sheep farming and wool production has become less lucrative, you might expect to see more fishing restrictions, though I imagine that it must be difficult to turn away a significant source of revenue.
CARCASS ISLAND
The next morning we boarded a scenic flight to Carcass Island via Stanley with the Swiss couple, Christian and Valérie, which took about 1-1/2 hours.  The airstrip on Carcass Island is about a 40 minute drive over rough terrain to the lodge.  Surprisingly two-thirds of the FIGAS fleet (i.e. 2 planes) was landed on Carcass at the same time, which must be the Falkland Islands equivalent of an airport traffic jam.  The island and lodge owners, Lorraine and Rob, were busy loading boxes and passengers from the first flight when we pulled up.  There was barely sufficient space in the 2 lodge vehicles to fit everyone, so some passengers jammed in with the cargo.  I rode with Lorraine, who pointed out some of the island's features as we slowly traced well-worn truck paths to the lodge, and Stu squeezed into Rob's truck.
Belying its gruesome name, derived from the ship HMS Carcass which surveyed the island in 1766, Carcass Island is exceedingly attractive and hilly, its apogee atop Mount Byng at 720 Ft.   In fact, we saw no dead bodies at all during our hikes, unless you count some bleached cattle bones.  Located at the northwest edge of the Falklands, Carcass Island is one of the few that are able to support trees and there is a dense stand in a hollow at the base of one of the hills.  From the high points, the view of the lodge and the beaches is breathtaking.  The island is not as small as Sea Lion, but at about 6.2 miles long and 1.6 miles across, much of it can still be explored on foot.
At the lodge the Chilean chef, Roland, and his wife warmly greeted us and served lunch shortly after we checked out our rooms.  We were assigned a comfortable, light-filled room with a beautiful view of the sea.  The other plane brought a small group of photographers from the U.S. Midwest, Joe, his wife Bonnie, and their friend Fred.  We were joined by Simon, a customs agent, there to process the visiting cruise ship visitors. Meals were served family style at a communal table and consisted of good, hearty homemade dishes.  Lunch this day included pizza, quiche, meat pie and a mixed salad of beets, lettuce, tomatoes and cucumbers with a creamy bottled dressing.
After lunch we couldn't wait to see more of the island, and headed along a high path to the bays at the southern tip of the island.  Along the way we encountered Magellanic penguins in their burrows and a variety of seabirds.  But the best was yet to come.  We climbed tussock-topped high dunes to be stopped dead in our tracks by the sight of a spectacular crescent-shaped white sand beach with far-reaching views of nearby islands dotting the bay, such as the descriptively named Slipper Island.  Scores of Gentoo and Magellanic Penguins romped on the beach and in the surf.  Watching them descend the steep dunes kicking up clouds of powdery sand, as we had done ourselves on the precipitous slopes of Big Daddy dune in Namibia, was endlessly entertaining. 
Eventually we had to retrace our steps back to the lodge to wash up for dinner.  While getting ready, we heard the unmistakable whirr of a helicopter, which dropped off Clive and his engaging wife, Karen.  Clive is a helicopter pilot for a private outfit in the Falklands and Karen keeps the home fires burning in their home in southwestern England.  He returns to the UK every few weeks but it was her turn to visit.  They were a lively and engaging addition to our small group.  We all got acquainted at dinner over a savory beef stew served with rice.
We were the only guests who had signed up for a full day excursion to West Point Island the following day.  Lorraine had been busy the night before baking for Antarctic cruise ship passengers visiting the island who were stopping by for tea and pastries.  As we collected our packed lunch and headed to the nearby dock, the first few visitors were arriving at the lodge after a hike from the beach where their zodiacs landed.
We met Michael, the boat owner and captain, and his first mate, Bob, who acquainted us with the boat, fitted us with day-glo orange life vests, and quickly got underway to West Point Island.  Clouds that had smothered the dawn dispersed by mid-morning.  It took about an hour to motor to the island, the water a bit choppy, but not too rough.  We stopped for tea with scrumptious homemade pound cake and ginger cookies at Michael's house on the island.  His mother was visiting from the UK and we had met her the day before at the lodge on Carcass.  Michael's family lives on West Point during the summer returning to Stanley for the winter.
Another Russian ship destined for Antarctica was docked just offshore and the passengers were all returning to the ship as Michael drove us to the island's main attraction, sizeable colonies of Black-Browed Albatross and Rockhopper Penguins.  As we walked along the designated trails, Michael pointed out the best places to observe the animals. To our surprise and delight, the albatross nest very close to the paths and we were startled at times to turn our heads to find an albatross sitting on a nest a foot away gazing unperturbedly at us.
Michael headed back to his home and we had the entire area to ourselves for the rest of the day.  The birds were clustered in groups at the tops of several vertical cliffs that bounded the icy aquamarine waters to form a serene, roughly u-shaped cove.  Nesting Rockhoppers and Albatross commingled in the largest colony, but there were smaller, separate groups of penguins and albatross without offspring on the surrounding precipices. 
In addition to their formidable wingspan, the albatross are distinguished by their striking white heads and chests contrasting with smudgy black wings, prominent pastel rose-yellow bills and yellow webbed feet.  The goofy looking chicks, swaddled in pearl-gray down with hooked black beaks and round jet eyes, show no sign of the majestic adults that they will become. Huge adults swooped overhead while females sat on deep straw-studded bowl-shaped dirt nests tending their young.  Chicks left alone in the nest snap their beaks vigorously in an attempt to repel intruders if you pass too closely. 
Curious Rockhopper chicks approached the Albatross chicks causing no apparent alarm. We slowly traversed the top of the cliff, stopping frequently to observe the behavior of the birds.  After noon we found a perfect perch that allowed us an awe-inspiring view of the cliffs, sea, and our feathered friends, and consumed our packed lunch in the company of two cheeky Johnny Rooks.  The surest way to see these birds up close is to produce food; they have finely honed begging skills. 
After lunch, we followed the gravelly penguin highway to the cliffs on the other side of the inlet.  We scrambled down the rocks to get closer looks at the Rockhoppers congregating on its steep face, finding good spots close to the penguins to sit and enjoy the experience.  As dusk approached, the Rockhoppers and a few stray Gentoos and Magellanics, who had been feeding out at sea, began to arrive in small clusters. It was an extraordinary sight as they dolphined through the water, then shot up vertically at speed like small rockets and landed on their feet on a slick rock ramp.  Sometimes waves would sweep them back into the sea, or would knock them over, and they would scramble up the slippery rock on their bellies, aided by their flippers.  With each group, there seemed to be a greeter who stood guard on the rock until they were all up, and then escorted the others up the cliff to return to their families.
Gradually the number of arriving penguins diminished and we decided to make our way back to the house.  Michael had offered to pick us up, but we preferred to walk.  Before returning to Carcass, Michael hugged the shore of West Point, navigating into a cove where a frisky harem of sea lions cavorted in the water and lounged on the shore with their pups, supervised by shaggy, muscular bulls.  Scores of Gentoos and Magellanics scooted playfully through the water and bobbed on the surface.
As we motored on smooth waters back to Carcass, fishing cormorants dove from the sky, barely causing a splash as the pierced the water's surface.  A pod of Commerson's Dolphins streaked across our bow, but unfortunately did not stick around to play in our wake.  Commersons look like miniature Orcas with their black and white coloring, though the dolphins are predominantly white with black markings on the head, fins and tail, while Orcas are predominantly black with white markings.
Light rain the next morning cleared up around 10:30 and we climbed up the hill to enjoy the view.  During lunch at the lodge, we met the new arrivals, a photo tour group lead by a professional photographer.  We spent our remaining time on the island by the local dock, spying on a family of Black-Crowned Night Herons nesting in the thick bushes overhanging the water.  This sub-species, endemic to the Falkland Islands, has a light gray body with a black cap and bill and red eyes, while the juveniles have drabber brown and white plumage. There is a small colony of Magellanic penguins near there as well, and we bade farewell to penguins for the rest of this trip.
DARWIN
We had a late afternoon flight to Darwin, on East Falkland, stopping at Saunders Island, Pebble Island and West Falklands on the way.  The views during the flight were stunning.  From the air, it's obvious that Darwin is a small community in a very scenic setting on an inlet surrounded by hills. Site of a historic battle with Argentina during the 1982 war, bucolic Darwin and Goose Green exhibit no evident battle scars.
We were picked up at the air strip and driven to Darwin House, a homey B&B owned by Sheena, an outgoing Stanley native, and her 19-year-old daughter, Gaby.  Sheena showed us to our very comfortable room which featured a Jacuzzi tub with 2 tiny rubber duckies to join you for a whirl, and a lovely view of the inlet. There was a shared shower down the hall.  We had time before dinner for a stroll around to check out the old stone house and corral in the fields in front of the house.  Sheep were the only livestock we found, lounging on a green humorously identified as a golf course. Down by the craggy shore we found a decomposing boat skeleton, geese with gossamer-feathered goslings, red-billed oystercatchers, real ducks, and a gang of cormorants hanging out on the jetty. 
Sheena prides herself on her cooking, as well she should.  We were the only guests, besides her daughter's teenaged friends, and at dinner we started with delicious cocktail meatballs followed by a terrific Beef Stroganoff with rice and crisp, steamed snow peas just picked from her garden.  They were the best vegetables we ate during our stay in the Falklands.  A cheap but drinkable Chilean Merlot accompanied the food and honey-scented puff-ball flowers, which sprout from an onion plant, adorned the table.  Sinful homemade dark chocolate bars with dried fruit and crunchy bits finished off the repast perfectly.  Sheena related an amusing story about a group of Russians who had stayed with her.
After a quiet, peaceful night we were treated to a robust, farm-style breakfast with freshly-laid poached eggs, wheat toast, sweetened yoghurt, cereal, and apple juice.  Sheena handed us a packed lunch of cheese and salad on wheat bread and her fabulous chocolate bars before we headed off to the airport, which was about a half hour drive away. 
Simon, the customs agent we'd met on Carcass, processed us, and we also ran into David, who was seeing Anne off on her way back to London, then was off to play cricket. Since there is only one international flight per week, the small airport was quite busy.  Our good luck with weather ran out for a short while as raucous thunderstorms delayed our flight by a couple of hours. We were very grateful for the lunch that Sheena had packed for us.  As on the way over, we stopped in Punta Arenas and passed Chilean customs there.  We were glad that we had been booked at the airport hotel that night because we arrived quite late in Santiago and had a 7:15 am flight the next morning. The hotel was modern, clean and comfortable.
ATACAMA DESERT CHILE
It's about a two hour flight to the airport at Calama in the Atacama Desert in northern Chile, and a drive of about 50 minutes to San Pedro de Atacama, the main tourist hub in the region.  When we visited southern Chile in 1997 we stayed at the remarkable Explora Salta Chica lodge in Torres del Paine National Park, and for years we've longed to stay at the Explora in the Atacama, Hotel de Larache, to discover one of the most fascinating places on earth, the driest desert on the planet. We'd experienced a taste of it, since it extends into the dunes of southern Peru, but wanted more.
Representatives from the Explora collected us and a couple of amiable retired college professors from Brasilia at the airport and drove us to the lodge. Wedged between the towering Andes Mountains and the Chilean Coastal Range, the average elevation of the Atacama is about 8000 feet above sea level, with some locations in the Altiplano more than 14,000 feet, so although we visited during the Chilean summer, it was hot, but not as scorching as you might expect. The incredible scenery begins just a few miles from the airport.  With a landscape that is often used to simulate the moon or Mars in films and TV shows, the Atacama is truly otherworldly.   The Explora is well aware of the effects of altitude sickness, so they carefully program your activity to be sure that you can deal with the environment.
Spreading over 42 acres, the lodge is situated just outside San Pedro with fabulous views of the countryside. The rooms are simple but elegant, beautifully decorated to reflect the locale.  Public spaces are airy and chic.  After we were shown to our room in a row of single-story buildings, we returned to the main building for a briefing and to plan our afternoon activity. You can take excursions by 4-wheel drive vehicle, on foot, by mountain bike, or on horseback, accompanied by a skilled guide, usually with a small group of other guests.  Every day you consult with a member of the staff about the next day's program. That evening we were scheduled to visit the Salar de Atacama, the largest salt flat in Chile, and second largest in the world.
We had only grabbed a small snack at the airport that morning so right after our briefing we headed to the restaurant and took a table in the shade on the terrace.  We knew from our stay at Salta Chica that the food would be good, but we weren't prepared for the gourmet delight that this Explora bestows.  The fresh, inventive cuisine and local wines at every meal were as exceptional as the location.  You have a choice of several dishes, and for lunch we savored beef carpaccio, duck, and salad followed by mixed berry sorbet and chocolate mousse.
While smarter people were taking a siesta or lounging by the pool after lunch, we decided to head to town to visit the Padre Le Paige museum, named for the Jesuit priest who collected many of the artifacts displayed there.  The collection includes objects discovered in the Atacama region ranging from the prehistoric period to the Spanish colonial era.  There are clay pots, arrowheads, textiles, mummies and finely crafted gold pieces.  The main square where the museum is located, was almost empty and just outside the museum an instrument measuring UV radiation showed how dangerous the current level was and how quickly you might burn. The UV meter was in the red so we kept to the shade as much as possible.
When the heat of the day had diminished, we drove to the Salar de Atacama with our Chilean guide, Chris, and walked to the edge of the vast Chaxa Lagoon where 2 species of flamingo were feeding. The Chilean Flamingo is baby-shower pink with dark rose markings on its wings, rose knees and feet, small pink eyes and black markings on its wings and the tip of its white beak.  The Andean Flamingo has a blush pink head and neck, paler pink and white body and wings with black tail, tip of bill and eyes, and light yellow legs and base of beak.
The setting sun illuminated the golden scrub brush and crunchy white salt on the ground with a soft glow that extended to the high ridge of volcanoes in the background. On the drive back to the hotel, the densely packed stars lit the sky like a traffic grid at rush hour.  Taking advantage of the exceedingly clear skies, the Explora has an observatory and offers a sky-gazing lecture, but sadly we never had time for it during our stay.  The more time that you spend here, the better, since there are some activities that you may not do until you are acclimated to the altitude, and there is so much to do.  Before dinner we arranged the next day's adventures. Stu and I normally share food from each other's plates so we can sample more from the menu, and this evening we blissfully shared scallops, vegetable soup, artichoke risotto, grouper with salsa, berry sorbet and fresh fruit.
We slept undisturbed and found a cornucopia of fresh fruit on the breakfast buffet including plums, pineapple and strawberries, which we devoured with cheese and perfectly ripe avocado. A table in the entrance hall was stocked with bowls of dried fruit and nuts and guests are encouraged to fill small bags to take along for quick energy boosts.
Upon arrival we were also given sturdy water bottles to fill from huge coolers of filtered water before treks.
Our young guide this day was a native of Vermont named David.  The Explora guides are always knowledgeable, energetic and personable.  This morning we drove to Chus-Chul for an easy hike in a canyon formed by the Rio Grande and Salado rivers with another couple.  Our first stop was at the "Pietra de la Coca" (Cocaine Rock).  Petroglyphs were carved in the soft volcanic Rhyolite about 8000 years ago by the first inhabitants of the area, and feature depictions of the sun, llamas and abstract figures.  The rock was named for the desiccated plugs of coca spit on it by the early residents. Anthropologists believe this proves that the natives participated in a network of trade with merchants from Bolivia, on the other side of the Andes, where coca was produced.  The rock is white inside but oxidation produces the reddish outward appearance.
Belying its name, the Rio Grande is a mere trickle of a river, which we effortlessly forded barefoot when we needed to follow the trail to the other bank.  As we progressed through the canyon, the scenery became more and more beautiful with sheer cliff faces and mighty rock formations framed by glossy blue sky. Hardy vegetation on the river bed extracts moisture from the only source of water in this unforgiving environment.  A family of blonde and brunette llamas including 2 long-legged crias (babies) grazed across the river while crested ducks splashed in the shallow water.  Unlike its companion, the Rio Salada lived up to its name, depositing crusty salt on its banks that crunched beneath our feet.  Near the end of our walk, we found the San Ysidro Church balanced atop a hill.
We had worked up an appetite and feasted on gazpacho, shrimp with bean paste, goat cheese and eggplant ravioli with tomato sauce, lamb chops with ratatouille, chocolate cake with raspberries and decadent caramel ice cream.  For the rest of the afternoon we kept cool in one of the 4 tranquil swimming pools before it was time to dress for our late day excursion.   
David was our guide again and we were joined by the friendly Brazilian professors we arrived with and a young married couple from Argentina.  Our hike this evening was a bit more challenging than the morning's, but still not difficult.  The driver dropped us off in an area known as the Valle de la Luna, one of the most popular attractions in the Atacama, though surprisingly we didn't see any other groups during our time there.
Aptly named, the terrain really does resemble a moonscape of wind-swept sand and otherworldly rock. We ascended to a peak where we had an outstanding view of the valley and the Cordillera de la Sal, among the most superb natural rock carving we've ever seen, and just rested awhile, soaking in the splendor and stillness.  Near the end of our long trek, we scrambled to the top of a tall sand dune to survey the surroundings.  A brisk wind blew sand into my eye, which was terribly uncomfortable.  David flushed the eye with water but it didn't dislodge all of the particles.  Fortunately, the SUV was nearby and when we returned to the lodge, David found some eye drops for me that did the trick, and the last grain escaped during dinner in a teardrop to my grateful relief.
On our third day, we were ready to venture to higher altitudes and had arranged a full day excursion to the Salares di Altiplanos (saltpans of the high plains) with Juan, another charming Chilean guide.  We were the only guests signed up for this jaunt so we enjoyed a private tour. On the long drive Juan informed us that there are 2,008 volcanoes in Chile, 155 of which are still active, some more than 6,000 m (19,000+ ft.) tall.  He pointed out the wispy plume of smoke emanating from Lascar's seething core, and Licancabur, the iconic cone-shaped volcano of the Atacama.  We stopped at a small town by a river and he showed us the chañar, an endemic tree whose nuts are used to produce flour and an alcoholic drink. 
We had gained an altitude of about 4,500 m (~14,400 ft) by the time we reached Lagunas Miscanti and Meniques at the foot of the same named Volcanoes, where large flocks of birds had gathered to drink and socialize, much like the watering holes of major cities.  We strolled around the lagoons trying to identify the various species.  A local fox drew our attention, as well as that of other visitors. He seemed completely unintimidated by the people and probably has had success begging food from tourists. 
We continued on to the Salar Aguas Calientes, an exquisite salt lagoon that shimmered like Monet's water lilies in pastel shades of turquoise, yellow, rose and green with the slate blue peaks of Miscanti and Meniques (6000 m) enhancing the composition.  Juan dropped us at the top of a hill to stretch our legs and take our time admiring the scenery on the walk down while he and the driver continued ahead a couple of kilometers to set up our lunch. 
Juan couldn't have chosen a more idyllic spot for a picnic.  He had opened comfy canvas folding chairs with built-in cup-holders in the cool shade under a rock ledge with a dazzling view of the salt pan and volcanoes.  By the time we arrived, they had set up a table, complete with checked tablecloth, and were laying out shrimp and salmon ceviche, avocado, salads, fruit, bread, fresh raspberry juice and wine. 
Eating anything in such a setting would have been special, but a repast such as this doubled the pleasure. 
After lunch we were exploring the area while the guys packed the truck, and spotted six vicuña with one young one.  Juan told us that vicuña and guanaco are the only wild camelids in South America, llama and alpaca have been domesticated.  We drove a short distance to the Laguna Tuyaito with its glacial aquamarine water, and walked on caked salt as hard and blindingly white as ice. 
It was barbecue night at the hotel and we walked a short distance from the main building to a tent where food was laid out on long tables and lamb was being spit-grilled in a fire pit.  During the meal we were treated to a performance of lively traditional dances.  The skilled dancers were resplendent in flashy regional costumes with enough satin and feathers to rival a Vegas showgirl.  One male dancer wore a half skull/half human face mask, a graphic reminder of our mortality.
We dragged ourselves out of bed before dawn for a two hour drive to the El Tatio geyser field, the largest in the Southern hemisphere and the third largest in the world, where there are more than 80 active geysers.  A thin crescent moon lit the rough, winding mountain road as we climbed to over 5,000 m, descending to the geyser field at 4300 m (13,760 ft.). The sun was just peeking out by the time we reached our destination.  The field is most visually exciting in the early morning when the collision of cold air and hot water yields a vast layer of steam.  Although this is the time that attracts the most crowds, it's not overcrowded, and it's well worth the early wake-up call.  It's literally freezing at this hour, so you have to dress warmly, and layers are preferable so that you can strip down as the day heats up. 
Magma at the Earth's core heats seeping water to 185 degrees Fahrenheit (85C) and the superheated water bubbles, steams and erupts from vents in the ground. Our guide, Max, warned us to stick to the trails.  Since the crust is quite thin in places, some heedless tourists invariably crash through and are severely scalded.  He advised us that the rainbow palette of colors in the thermal pools is caused mainly by bacteria, but also by algae. 
In places the thick steam imparts a mystical aura to a vista of bubbling mud, steaming fumaroles and shooting water. Layered patterns in the mud surrounding some of the geysers remind me of the tiered rice terraces in Asia.  Most of the geysers don't spout very high in the air, the average being less than 3 feet, though we were lucky to catch the eruption of the most impressive geyser in the field, which seemed to reach about 15-20 feet. 
On a wooden platform in the midst of the hellish geothermal activity, Max laid out breakfast, which we hungrily consumed while continuing to view the geysers.  We'd had a snack at Explora before leaving, but it had been hours earlier and we were ready for food. Fortunately, the nauseating sulfur stench that was so prevalent in Rotorua was not perceptible at El Tatio, so we were able to eat without gagging.
Driving back from El Tatio, we spotted a couple of vizcachas on a rocky cliff by the side of the road.  The vizcacha looks like the surreal result of a scientific experiment that bred a rabbit with a squirrel. It has the face, long ears and chubby body of a rabbit with the long bushy tail of a squirrel, and is actually a member of the chinchilla family. 
A small group of sweet-faced vicuña grazed on a hillside unperturbed as we paused to gawk at them.  We stopped at a wetlands area which teemed with avian life, Giant Coots, black with yellow bills and big red feet, handsome Puna Duck, brown with black heads and sky blue beaks, Crested Ducks, mottled brown and white with black bills and red eyes, and, on land, the Negrito, a small black bird with a chestnut patch on its back.  Max told us that the locals colloquially call it the "Collegial" because the patch is like a schoolboy's backpack.
Explora owns the Puritama Hot Springs baths and visits are included in the package for guests of the lodge, however, other visitors are permitted to use the facilities for a fee.  They've constructed an attractive, wooden infrastructure around the thermal pools and natural vegetation that includes changing rooms, boardwalks and pavilions. After changing we were assigned to a pool with an elderly Belgian couple from our lodge, who had unfortunately failed to bring swimsuits.  Max and the driver laid out snacks in our pool pavilion as we splashed around in the comfortably hot, bubbly water.   After awhile we were joined by a couple with two pre-teen children, which somewhat disturbed the tranquility of the place, though they were generally well-behaved.
We had plenty of time to enjoy one last fabulous lunch before packing, checking out and driving to the Calama airport for our 6:30 pm flight to Santiago.  We were back at the Orly Hotel, and this time we had a much better room (King) with plenty of space, including a small seating area, though the bathroom was still too cramped.
SANTIAGO REDUX
After a light breakfast we hailed a taxi to the Plaza de Armas. This time stores were open, traffic was heavy, and locals crowded the streets on their way to work, so it looked like a completely different neighborhood than we'd stayed in previously. The Cathedral should have been open, but the door was still locked, so we took a walk around the block and discovered the Camera de Diputados (the National Congress). The portico of the massive building resembles a Greek temple with tall marble columns topped with a triangular frieze.  Graceful marble statues and bronze lamps consisting of female sculptures holding large white orbs are spread among the meticulously landscaped grounds.  By the time we walked back to the Cathedral, the door was unlocked. 
Originally built in 1551, the Catedral Metropolitana has undergone several transformations due to disastrous fires and earthquakes. The current incarnation was begun in 1748 with some elements dating much later. With a statue of Mary framed by twin cross-topped bell towers, the front of the church provides no hint of the vast interior space. 
Painted wooden saints gaze benevolently down from high pedestals on both sides of the central aisle.  A gilded Virgin Mary escorted by angels ascends on a silver cloud on the wall behind a magnificent marble, bronze and lapis lazuli altar.  Stained glass tableaux of Jesus surrounded by worshippers and in the company of the Apostles flank the altar. Devotional paintings adorn the dome above the altar and the ceiling. There's enough gold ornamentation to quicken the pulse of any venal gold-digger.
Besides the main altar, there is a row of chapels along the left and right sides; the most opulent of all is the shining silver Capilla del Santisimo Sacramento (Chapel of the Blessed Sacrament). Half-moon shaped stained glass tributes to the saints glow above the side chapels, the most moving and spare of which is the Altar de Christo Crucificado, a depiction of Christ on the cross.  A pure white marble Pietà eloquently portrays a mother's suffering in the Altar de la Virgen Dolorosa, while a wooden action figure of St. Michael slaying the dragon tops the Altar de San Miguel Arcangel.  Set amongst the superstars of the Christian canon, the grandiose sepulcher of Monseñor Valdivieso (1804-1878) with his sculpted likeness in prayer seems overblown for a mere mortal.
We were looking for the Museum of Pre-Colombian Art and misread the map, ending up at the Museo Archeological, which consists of a small collection within the Museo de Arte Visual, a modern arts center.    Although limited, there were a number of interesting artifacts including silver Mapuche jewelry and figures from the 18th-20th C, wooden statues called Aku-Aku, which represent the spirits of forefathers, and clubs from Rapa Nui (19th-20th C), Inca ceramics (1470-1536 AD), plain Aconcagua ceramics (900-1450 AD) and sophisticated Diaguita pots (1000-1470 AD) decorated with geometric, zoomorphic, ornimorphic and anthropomorphic motifs.  Molle ceramics (0-700 AD) included black or red monochrome vessels as well as a fine black 2-spout jug with a lightning design.  Intricate designs and figures in shades of terra cotta, brown and tan enhanced the pottery from San Miguel, near Arica, (1000-1470 AD).  Among the more interesting pieces were hefty wood keros (400-1700 AD) from the north, passed down for generations for use in the ritual drinking of corn liquor during sacred ceremonies. 
In addition to ceramics there were attractive cup-shaped baskets from the Tiwanaku period (400-1000 AD) and a fabulous display of hats.  We especially liked the whimsical fez style caps from northern Chile (1470-1536 AD) fashioned in a variety of colors and patterns, some with bright feathers.  The style of the Andean pointed wool caps of the Wari and Tiwanako (400 - 1000 AD) hasn't changed much over the following millennia.  The most ancient headgear (1000 BC - 400 AD) in the museum came from the Arica coast and valleys.  These fanciful spun wool turbans were decorated with multi-colored beads, shells, bone and feathers to identify membership in local clans.
A gruesome mummy of a clay-masked Chinchorro child, who was wrapped in textiles and smoked for preservation, dates as far back as 5000 - 2500 BC, providing insight into ancient burial practices.    It reminded us of the mummies of the various pre-Columbian societies that we studied when we visited Peru.  Well-preserved textiles in cotton and camelid wool provided a view of bygone fashion.  Faldellines, short, flared skirts from the Andean territory were popular for centuries, one had miraculously survived from the era of 1500 - 500 BC.  Chuspas, also from the Andes, were small, richly ornamented woven bags designed to carry the stylish man's coca stash. Nandu skin garments (similar to ostriches) originated in Tierra del Fuego.  
Bone objects from the north included harpoons, spatula and spoons from Norte Grande and Norte Chico.  From San Pedro de Atacama we found bone instruments and wooden implements used for inhaling hallucinogenic substances during ceremonies.
We were drawn to the art work in the modern galleries as well, particularly a ghostly portrait of a melancholy woman by Joaquin Cocina, a comical squashed clay Superman by Pablo Serra, interesting insect and book assemblages by Nicolas Labadia and a fascinating collage of photos capturing people and natural disasters by Francisca E., among many others.  Although we hadn't planned to visit this museum, we were happy that chance steered us there. We had an early lunch outdoors at Ambrosia behind the Casa Colorado. The food was good, if not exceptional, and the atmosphere was pleasant, though very warm.  We enjoyed risotto with shrimp and scallops and salmon with cauliflower purée.
The Museo d'Arte Pre-Columbiano is close to the restaurant and the Plaza de Armas and is a must-see attraction if you have any interest in art and antiquity. We think it's worth a trip to Santiago for this museum alone.  We expected the collection to be excellent and it exceeded our wildest expectations.  We spent the rest of the day engrossed in a treasure trove of objects crafted by ancient cultures throughout Latin America spanning the period from 5000 BC to the 15th C AD.  I took about 20 pages of notes, but in the spirit of brevity, I'll share only some of the highlights.  Our first encounter was with "The Guardian", an imposing Mexican figure in the Nayarit style (500 BC – 500 AD) brandishing a club and tumi, a ceremonial knife with a fan-shaped blade.  In the style of the time, his faced was painted and he wore a nose ring, earrings, necklace, armband and headband.
It was believed that dwarves and hunchbacks were endowed with special powers, so it is not uncommon to find representations of them.  Jaguars were associated with strength and power and were also a potent symbol.  Articulated Teotihuacan ceramic figures (400-750 AD) with mask-like faces were among the more unusual human images.  They looked like dolls, but were undoubtedly meant to serve a less frivolous purpose.  A Veracruz rodent on wheels (600-900 AD) also looks like a toy, but its original purpose is unknown.  The most compelling Mayan artifact was a realistically rendered long-nosed ceramic man (300-900 AD) with a huge pot belly, feather shirt, long leather skirt, small cap and massive bead necklace, clearly a V.I.P. 
The oldest American ceramics originated for agricultural purposes about 6000 years ago and we viewed 5000-year-old clay figurines from Valdivia in Ecuador. A powerful ceramic Olmec mask (1000 BC) hints at transformation.  We found many exquisite Moche pots (100-800 AD), some of warriors and their captives, similar to those we so admired in Peru.  A grimacing man clutching a fish atop a square bottle with an Orca carving may portray a fisherman. The impassive Moche Sacrificador holding a tumi and decapitated head (450-550 AD) offers a glimpse of a merciless practice common to this warrior culture.  Decorative scarification marks the face of a kneeling man.  Cheerful polychrome Wari and Nazca pots and drums with sophisticated shapes and designs attest to the skill of the artists.  Monochromatic Chimu and Chavin ceramics modeled human, animal and organic subjects. Fertility icons often featured exaggerated genitalia, such as the virile La Tolita man (500 BC – 500 AD).
Xipe Totec, the God of the Flayed Skin, was a common, and disturbing, subject.  A god of agriculture, he symbolizes rebirth and plant fertility.  He was often seen wearing a skin, shredded or whole, sometimes of an animal, such as a monkey, as in the Veracruz representation (300-900 AD) in the collection. While he was worshipped in much of Mesoamerica, he is often recognized as an Aztec deity.  A curious earth-toned Mayan figurine (300-900 AD) portrays a sturdy young woman embracing a frail and obviously elderly bald man.  Is she a dutiful daughter caring for an infirm parent, or a much younger wife?  Or do they symbolize the cycle of life from youth to maturity?
The recurrent themes of agriculture, war and strife, ritual and religion, and human status were expressed in a vast array of practical, ornamental and sacred objects. Shamans and their implements were on full display.  Obsidian, gold, silver and copper were commonly used materials, and there was a wide variety of stone and metal artifacts.  Though great care was devoted to those used in ceremonies and religious rites, even everyday utensils were artfully designed.  We read about the lost wax technique used to make gold objects.  A wax form was covered in clay which was heated to melt the wax and harden the clay, which was then used as a mold.
Jade was considered a sacred substance associated with water and wealth, providing a beautiful and luxurious material for sculptures and jewelry.  Spondylus and conch shells from the coastal societies found their way inland, establishing proof of wide-ranging commerce.  
Sports have served an important cultural and recreational role since ancient times, and one of our favorite sculptures was of a ballplayer (jugador de pelota – Veracruz 300-900 AD), complete with protective helmet, eye goggles, knee pads and early athletic cup, resting after his exertion.  Given the deadly stakes of the religious Mayan game of pelota, losing in modern-day sports seems not quite as tragic.  Among the musicians, dancers and other entertainers, we also found a jade contortionist from the Capuli culture (800-1500 AD) of Northern Ecuador.  For further recreation, chewing coca leaves was reserved for high ranking individuals.
Funerary objects always provide vital insight into ancient cultures due to their great religious and cultural significance.  Larger than life anthropomorphic wooden statues called Chemamull marked the graves of the Mapuche people of southern Chile and Argentina.  They were intended to reunite the souls of the deceased with their ancestors and prevent them from becoming evil spirits.  They were propped up next to the grave during speeches commemorating the dead.  Dating 2000 years before their Egyptian counterparts, Chinchorro mummies (5000-2500 BC) reveal the most ancient burial practices.  Unlike in Egypt where vital organs were extracted and placed in canopic jars, the soft parts of these mummies were replaced with branches, plants and mud. Ceramic human and animal figures laid in tombs on the west coast of Mexico signify high social rank.  The Moche entombed ceramics and other precious objects to assure a successful journey in death.  In the Mosquito Culture (1200-1500 AD) flesh was removed and the bones enclosed in urns that feature an effigy modeled on the deceased.
While harder materials survive from the entire region, wood and fiber artifacts were more commonly found from the Atacama, preserved by the aridity. The many Andean hat styles, far from being mere fashion statements, reveal complex distinctions of ethnicity, social status and political power.  Various knot types and patterns were illustrated in drawings alongside the extant textiles.
Fortunately our misdirection earlier did not deprive us of sufficient time to spend in this extraordinary museum and we even had time to view a special exhibit devoted to Inca artifacts - pottery, gold, silver, hats and funerary objects dating from the early 15th C.  Although crafted much later than most of the items in the permanent collection, we found that they lacked the intricacy and beauty of many of the older pieces.
My hiking boots have thick pure rubber soles that still look untouched after nearly 10 years of hard use, however the soles had begun to separate from the upper parts around the toes.  We returned to our hotel to pick them up and discovered a warren of small shops down a dark corridor off the main shopping strip. No upscale wares, just tradespeople providing basic services like dry cleaning, tailoring and small appliance repair.  We were pleased to find a wonderful old-timey shoe repair shop.  Our Spanish is embarrassingly inept, but we were able to demonstrate the problem and to communicate our need to have the boots back that evening since we were heading out of town early the next morning.  Not only did the cobbler completely reattach the soles, but he cleaned and shined them so well that they look brand new, all for about $5.  The best part was that I got virtually a new pair without having to break them in.  On our walk back to the hotel we purchased sweet, ripe figs from a street vendor, a dozen for 1,000 Chilean pesos, less than $2.
That night we had dinner at Astrid y Gaston, a popular Peruvian chain restaurant.  Set in a converted mansion on a side street not far from our hotel, the décor was very pretty with up and downstairs seating areas and a view into the bustling kitchen.  We arrived at 9 pm, which is early for South America, and found it packed with local families and couples as well as tourists.  People continued to arrive until around midnight.  We tried a tasting menu of Peruvian specialties, the best of which were the ceviche and a tender lomo saltado.   It was good, but didn't compare to the food at the Explora, and we thought it was overpriced for the quality and location.
COLCHAGUA VALLEY
We had arranged to have a rental car delivered to the hotel early the next morning.  The fellow showed up an hour late, but was otherwise fairly efficient, and even drove us to the best place to pick up the highway that we needed.  We were celebrating our wedding anniversary this evening and thought it would be romantic to spend a couple of days in the wine country.  Traffic was fairly light and it was an easy route to the Colchagua Valley south of Santiago, home to some of the most distinguished winemakers in Chile.
I had booked one of the four hillside casitas at the prestigious Casa Lapostolle estate.  The winery, Clos Apalta, was founded in 1994 by Alexandra Marnier Lapostolle, the daughter of the French family that produces Grand Marnier liqueur and owns Château de Sancerre in the Loire Valley, and the Chilean Rabat family.
A guard at the estate gate checked our names and directed us on a path through the vineyards to the Residence.  Upon parking we were greeted by a lovely, gracious young woman who handed off our luggage to a porter and lead us into the gorgeous living room of the Residence.  While conforming to traditional winemaking processes, the winery and all elements of the architecture are state-of-the-art.  The interior design is upscale, tasteful and modern with a distinct Chilean character. We were seated on a comfortable couch and served drinks as we handled the formalities and discussed the day's activities.  Gazing out of the floor to ceiling windows at the hills surrounding the luxuriant property, I observed with glee that the setting could not be more ideal for our special night.
We arranged a private tour of the winery before lunch, and were whisked to our casita on a golf cart to unpack and freshen up before the tour.  The casitas are named after the grape varieties planted here, Cabernet Sauvignon, Petit Verdot, Merlot and Carmenère.   We were fortunate to book Carmenère.  While farthest from the Residence, and a steep climb uphill on foot, it is the most private, with breathtaking views from its terrace and all of the rooms. 
You couldn't ask for better accommodations, as light, airy and attractive as the main Residence, with a lavish amount of space. The bed was large and comfortable, fitted with sensuous linens.  A black iPod Touch was docked in a player in the sitting area, pre-loaded with music, and usable for web-surfing as well thanks to free Wi-Fi in the suite.  The dressing area, with abundant closet and drawer space, and the spacious bathroom, with two-person tub, glass-enclosed shower and dual sink, combined were larger than my first apartment.  Occitane toiletries, thick towels and plush robes were among the many fine amenities.  We could have comfortably lived here for months.  All of this does not come cheap, however, it was an excellent value, especially since all meals, fine wine, massage, winery tours and other activities were included in the cost.  Oh, and did I mention the stunning infinity swimming pool overlooking the vineyards.
We were so happy I think that we floated on air back down to the reception area for our winery tour.  Only the premium cuvée, Clos Apalta, is made here. The architecture and engineering of the wine-making building is ingenious inside and out.  Curved wooden slats on the exterior evoke the image of an enormous wine barrel propped on the side of the hill. Most of the 5 story building is buried in the granite underground and imperceptible from outside.  The stone provides the perfect natural temperature for cellaring and ageing the wine.  
Inside, the staircase spirals down like the inner whorl of a seashell. 
The grapes are harvested and de-stemmed by hand at the top level of the winery, then gravity is used to draw the grapes down through each step of the process from crushing to fermentation in small wooden vats, followed by ageing in the finest French oak barrels, after which the wine is bottled and either stored in the cellar or sent out for sale.  Use of gravity eliminates the need to pump the wine, which the winemakers believe negatively impacts the subtlety of the flavor. In addition to the standard barrels, there are a number of special collector's barrels with fancy designs etched into the top.
The tasting room is enough to make any wine lover swoon, with a sleek glass table surrounded by wine barrels that lifts up to reveal a staircase to Alexandra's private cellar. After a view of the cellar, with bottles stacked in both an ergonomically and esthetically pleasing way, we mounted the stairs to taste some wine.  Blended like Bordeaux, Clos Apalta combines Merlot, Cabernet Sauvignon, Petit Verdot and Carmenère grapes.  Carmenère is a varietal that exists almost exclusively in Chile.  Phylloxera wiped out all of the Bordeaux vines, but the barrier of the Andes protected the South American strains.  For years the Chileans mistook the grape for Merlot, but its fortunate renaissance in the early 1990s has lead to the production of many distinctive Chilean wines.  The Clos Apalta is an excellent wine with great character, though I felt that the wine that I sampled would have benefited from more time in the bottle to develop its full potential.  Obviously you are not served the more mature vintages during the tasting.
In addition to Clos Apalta, Casa Lapostolle markets a mid-tier brand, Cuvée Alexandre, and an extremely affordable line, Casa, which includes Carmenère, Cabernet Sauvignon, Merlot, Syrah, Chardonnay and Sauvignon Blanc.  These grapes are grown and bottled in other areas of the valley, such as Rapel.  We learned that only red wine is made in the Colchagua Valley.  While most of the wineries also offer whites, the grapes usually come from vineyards in other areas, such as Casablanca.  The Cuvée Alexandre wines were well-made, luscious and a great value, though the Casa wines were also good.
After the tour we returned to the Residence and lounged on a couch where we were served a glass of Sauvignon Blanc with some tasty hors d'oeuvres.  When the kitchen was ready, we took a table on the terrace overlooking the pool and the remarkable vista of vineyards and hills.  Lunch was leisurely and delicious, each course accompanied by a Casa Lapostolle wine, including Clos Apalta.
After lunch we drove to Santa Cruz to get a look at the town and visit the well-regarded museum.  It's a picturesque town, organized in typical Latin American fashion around a leafy public square, the Plaza de Armas, with a white-washed Mission style church in one corner and many charming buildings around the perimeter. 
The Museo de Colchagua, just off the square, displays the private collection of a prosperous and somewhat notorious native resident named Carlos Cardoen Cornejo, a metallurgical engineer and weapons specialist who is subject to arrest in the U.S. for selling bomb materials to Saddam Hussein.  The museum is a surprising treat for such a small town.  It's like seven museums rolled into one, featuring well-annotated displays of archaeological, anthropological, paleontological, historical, decorative, geological and religious artifacts from Latin America.  Occupying a converted hacienda, the exhibits overflow the rooms into the well-maintained courtyard where you can find steam-powered locomotives and early agricultural machinery and implements.  There is a fine collection of antique carriages, railroad cars and automobiles, and rooms crammed full of high quality pre-Columbian pottery and textiles, fossils, amber, Mapuche silver, jewelry, precious metals and stones, weapons, colonial era furnishings, sacred church objects, mummified skulls, and even a diorama illustrating the life of the Chilean huaso (cowboy). 
After gorging ourselves on the museum's bounty, we spent a little time browsing in the crafts shops and buying lapis lazuli jewelry.  Chile is one of the two countries on earth (Afghanistan is the other) where this beautiful deep blue stone is found.  We were quite warm after our excursion to town, so we spent some time enjoying the cool pleasure of the pool at the winery.  I had arranged for my free massage that evening, so Stu read on our terrace while the masseuse provided me with a relaxing in-room treatment.  A glorious sunset and a sky bejeweled with stars heightened the romance of a sumptuous candlelit dinner that included Clos Apalta wine, and of course, a stroll on the fine linen tablecloth by our penguin cake-toppers.  Nightfall had chilled the air and we moved indoors to the dining room table for dessert accompanied by Grand Marnier in a cordial glass.
After a lazy sleep-in, we had a light but delicious breakfast, finished packing, and reluctantly checked out of paradise, wishing we could stay a few days longer.  The Casa staff had booked us on a 10:30 am tour of the Montes Winery that morning and provided free vouchers for the visit.  We drove the short distance to the Montes Estate, stopping just outside to admire the stately gate.
In 1987, at a time when Chilean wines were associated with low quality at low cost, Aurelio Montes partnered with Douglas Murray to establish a winery dedicated to the premise that Chile could produce world-class wine.  Joined by two more partners in 1988, Viña Montes began creating wines that proved that they were right.  The first thing that you notice upon entering the ultramodern lobby of the visitor center is the expressive wooden angel. It was Murray, who recently died of cancer at age 68, who adopted the radiant angel logo that appears on Montes premium wine labels and that inspired the name of Purple Angel, predominantly Carmenère with a touch of Petit Verdot for structure.  During our tour, our guide explained that Murray had survived several serious misfortunes, including a plane crash, leading him to believe that a guardian angel watched over him, and he wanted to extend his heavenly protection to the winery.
We started the tour in the company of a traveling threesome with a ride through the vineyards in the back of a pick-up truck.  Our guide explained Montes' eco-friendly farming practices and described the cultivation and character of the grapes in each section.  He showed us the winery's collection of antique viticulture machinery and how it worked, as well as discussing modern wine-making methods.
We moved inside to view the fermentation and aging facilities, before ending up in the tasting room.  The top of the line is the Montes Alpha M, a Bordeaux style blend of Cabernet Sauvignon, Merlot, Cabernet Franc and Petit Verdot.  I had already greatly enjoyed a bottle of the terrific 2005 vintage in Stanley, which was fortunate since they don't serve any of the premium wines in the tasting. It would have been preferable to have the option of trying the higher end wines for an additional fee.   Montes Folly is made from Syrah.  The name was coined when Aurelio decided to plant Syrah on the higher slopes of the Apalta estate, which was considered foolish by other winemakers since the grape had not been grown before in Chile. The result convinced the skeptics.  In addition to Folly, Montes wittily offers Cherub, a Syrah-based rosé crafted in a coastal area of the Colchagua Valley with a climate better suited to the production of rosé wine.  Rounding out the top tier is the Carmenère-based Purple Angel.
Montes Alpha brands the mid-range product with Cabernet Sauvignon, Carmenère, Merlot, Pinot Noir, Syrah and Chardonnay bottlings and Montes Classic Series includes Cabernet Sauvignon, Chardonnay, Merlot and adds Malbec and Sauvignon Blanc.  Montes also produces a late-harvest wine composed of a 50/50 blend of Gewürztraminer and Riesling.
I tasted samples from the Alpha and Classic lines, and enjoyed every one.  We could not carry wine back on the plane (we don't check luggage, plus I'd be reluctant to check wine bottles) so we asked about shipping, but the shipping costs were prohibitive and cancelled out the value that these wines represent.  Fortunately, I have been able to find both Alpha M and Purple Angel back home, though I'm still looking for Folly.
There are many wineries to visit during an extended stay in the region, but our time was limited, so for our last winery, I had booked a tour and a table for lunch at Viu Manent on-line before leaving home.  I thought it would be a nice change of pace to visit one of the more old-fashioned style places since both Casa Lapostolle and Montes were so modern.  The restaurant has a good reputation, and it was also recommended by the staff at Casa Lapostolle. 
Founded by the Viu family in 1935, it is still run by Miguel Viu-Manent, son of the Catalonian patriarch.  The visitor center and retail store was extremely crowded as we made our way to register for our tour.  It was only the two of us initially on the English language tour, but we were joined mid-way by a young American woman and her British female friend, both on a work-study program in Chile.  We started in the lovely courtyard, where our captivating guide called for a carriage and we boarded a horse-drawn buggy for our pleasurable ride through the estate.  We stopped to see the huge fermentation tanks, and our guide let us taste the wine at that step in the process so we could understand how it evolves through the various stages of production.  As in the other wineries, the wine is then aged in smaller oak casks.
The tasting room was also traditionally styled and we sat at a long wooden table to sample the wares.  Malbec is the signature grape at Viu Manent and the icon wine is called Viu 1, conceived by the founder, the original Don Miguel.  Chilean humor is on full display in El Incidente, a Carmenère, Petit Verdot and Malbec blend that is named for an unfortunate balloon flight that terminated in the middle of an open market in Santa Cruz. The label pays tribute to the balloon incident.  We also saw special bottles with beautiful artwork, reminiscent of the famous Mouton Rothschild artist labels. 
The Single Vineyard series showcases Malbec, Cabernet Sauvignon and Syrah.  The San Carlos estate produces the late harvest Semillon and the Estate Collection represents Malbec, Cabernet Sauvignon, Carmenère, Merlot, Malbec Rosé, Chardonnay and Sauvignon Blanc.  While Viu 1 was off the table for the tasting, everything that I tasted deserved praise, and the Malbec was especially noteworthy. The winter dining room, with its splendid panoramic mural and wrought iron candlesticks, was closed for the season and we were directed to an open-air patio set up for lunch.  The food was delectable as was the accompanying wine, and we were highly satisfied with our choice.
We allowed extra time to drive to the airport in case of unexpected delays, but arrived in plenty of time to drop the rental car and check in for our late evening flight; even enough time to browse the airport shops before submitting to the final gate carry-on check.  Arriving at JFK early on a Sunday morning, there was no traffic and we got home in no time at all, happy as always to be home, but sad to end our fabulous adventure.
TRAVEL AGENCY
International Tours & Travel Ltd. www.falklandislands.travel
HOTELS
Hotel Orly, Santiago  http://www.orlyhotel.com/home_en1.php
Malvina House, Stanley  Email info@malvinahousehotel.com
Sea Lion Island and Lodge  http://www.sealionisland.com
Carcass Island  Email lorraine@horizon.co.fk
Darwin House, East Falklands Email: darwin_house@cwimail.fk
Explora, Hotel de Larache, Atacama http://www.explora.com/en/explora-atacama/hotel-de-larache/
Casa Lapostolle, Colchagua Valley http://www.lapostolle.com/LapostolleResidence/home.php
ATTRACTIONS
Museo Chileno de Arte Precolombino, Santiago http://www2.precolombino.cl/es/index.php
Catedral Metropolitana & Museo de Arte Sagrada
Parque Metropolitano http://www.parquemet.cl/
Museo de Colchagua, Santa Cruz http://www.museocolchagua.cl/
Viña Montes  http://www.monteswines.com/
Viu Manent  http://www.viumanent.cl/