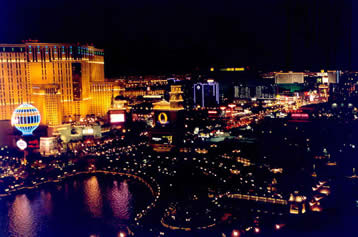 Years ago when we visited Disney World we continually heard people say that they no longer have to visit the far off lands represented in EPCOT because this was just as good or better, you don't have to go as far to see it, it doesn't cost as much, and everybody speaks English.  We most strongly disagree.  When we visited Las Vegas we heard the same comments regarding the various hotel/casino pleasure domes modeled after far-off places.  We even more strongly disagree.
We also have no interest in gambling.  So why did we spend a weekend in Las Vegas?  Just two reasons:  First, it gave us an opportunity to spend some time with some of our most cherished loved ones, and second we could see "O".  We've been fans of Le Cirque du Soliel since seeing one of their performances over a decade before, and whenever they come to New York we catch their latest show and are never disappointed in the least.  Cirque designed a new show in, on, around and above water, and gave it a permanent home at the Belagio in Las Vegas.  "O" is a play on words, referring to "l'eau", water in French, which is also a small tip-of-the-hat to Cirque's Quebec headquarters.
We flew out early Friday afternoon, and following delays arrived later than we hoped.  The only saving grace is that between our traveling with only carry-on luggage so that we could race off the plane and into a taxi, and the fact the airport is within a $50 dollar chip throwing distance of the "Strip" we were in our room before the airplane's brakes cooled to the ambient 75 degree night desert air.
We stayed at the Belagio mainly so that we could get preferred seating for "O".  Of course the most preferred seating is reserved for elephants – those high rollers who the casinos so diligently cater to to keep them indoors dropping huge piles of money.  Should you go to see "O" consider springing for a room at the Belagio, and get seats that are just far enough back that your eyelevel is just above the top of the water, and then the acts will be their most impressive.  Also, make your reservations well in advance, especially if you wish to go on a Saturday night.
As soon as we got to our room we went directly to the window overlooking the strip (okay) and the Belagio's lighted, dancing fountains (very nice), while calling Harry and Sue to arrange meeting for dinner.  We caught a taxi, and with some cell-phone help from the restaurant, finally found Rosemary's, way off the strip.  In the Quick Tips section of our site we have this to say about Rosemary's:
"This excellent contemporary American is well off-the-beaten-strip. We really hate Las Vegas, but we really like this restaurant. Incredible value for a top-notch meal in a lovely room. Better yet, we didn't spot any slot machines on the premises. If you get tired of the tacky and glitzy, this is a welcome respite. http://www.rosemarysrestaurant.com/"
And dinner was wonderful.  Then back to the room to show Harry & Sue the view of the fountain, and then turned in for the night.
The next morning we did a few things on our own.  First was walking around the hotel (inside and out) and area before the intense heat of the day, and catching a few photos.  Following breakfast the Belagio's exhibition space (a small museum for traveling exhibits) was open and we greatly enjoyed the artifacts from an Eglish estate used in the BBC film version of Pride and Prejudice, where Darcy as played by Colin Firth lived.  It was lovely, well displayed, and by arriving early, we were not plagued by the crowds that were building by the time we were through.  From there we walked to an older (also synonymous with "seedy") hotel casino to see their exhibit of a couple of hundred automobiles, most of which were interesting, and some of which were very rare, such as the Jaguar 220, an over 200 MPH supercar produced very briefly at the end of the 20th century.  While at that casino we saw plenty of sad evidence of desperate people trying to beat the odds just to make ends meet.  Most poignant were the seniors pushing along their oxygen bottles on wheels.
From there we went to the rather baroque Venetian hotel/casino, and marveled again at how much better the real-deal is than this multi–level tarted-up shopping mall with faux canals, sky, Italian buildings, and period actors, dancers and singers.  We had a rather good lunch at their fake-outdoor restaurant, and then met Harry, Sue, Sarah and Jake again to take in some other activities, including for most of us, a ride on the three-story drop, atop the city's highest building.
After some more wandering we went to dinner at a promising looking French bistro across the street from the Belagio at the Paris (which of course wasn't Paris).  We hoped that the long line to be seated – and we had reservations – was an indicator of good things to come. However, there weren't any truckers parked outside, so we should have known that dinner would be a disappointment.
Afterwards, "O" was anything but a disappointment.  Though we still prefer one or two other Cirque shows we've seen, "O" is a wonderful, creative, artistic performance achievement.
Walking through the lobby we spotted some hookers, which surprised us.  Not that they were there, but that we spotted them.  These days, hookers are at a great disadvantage finding clothing to set them apart from young non-hookers.
We all met again for breakfast the next morning before we went to the airport, Harry and Sue stayed on a bit, and Sarah and Jake drove back to Los Angeles.