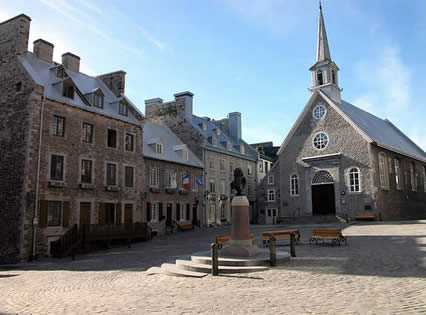 This year we decided to change things up a bit and take more short trips instead of a couple of longer trips. As a result, our travels have kept us closer to home, and for the first time in quite awhile, we took a road trip. Get your motor running. Head out on the highway. Looking for adventure ... OK, not a motorcycle trip, but it was fun all the same, particularly since traffic on the highways was fast-moving most of the time. Since we normally pack light enough to carry our bags on the plane, even on long trips, it was a luxury not to be obliged to keep track of liquid amounts and to squeeze in another pair of shoes.  We left on the Tuesday before the Memorial Day weekend (end of May) bound for Québec City with stops both ways.
MONTREAL
We arose at our customary workday time and were out of the house as usual around 5:30 am, so we didn't hit any traffic until we reached Albany, and that was fairly minor. It was a straight shot up the NY State Thruway to Montréal. We've been to Montréal before, but it was a good stopping point to break up the drive, plus it had been several years since our last visit. We checked into the Hotel Nelligan and after a courteous and efficient check-in, followed by quick unpacking, we asked the concierge for a restaurant recommendation. She called a bistro with outdoor seating a few blocks away named Boris, and managed to wangle us a reservation for just 15 minutes later. Although it was late May, a heat wave had enveloped the Eastern seaboard, and it was surprisingly hot even this far north. The food was quite good and it was especially pleasant sitting under an umbrella in the lovely courtyard. The place was packed with locals and businesspeople so we realized that our concierge had some real pull.
After lunch, we headed to the Pointe-à-Callière Museum of history and archaeology. Housed in a stately historic building situated at the place where the city originated, the museum recounts the history of Montréal, starting with a short film, and continuing with beautifully laid out and annotated exhibits that include artifacts and ancient structures from the museum site. After the museum we browsed in a gallery of Inuit art before walking to the Notre Dame Basilica http://www.basiliquenddm.org/. Although we'd seen it on past visits, we had forgotten how magnificent it is with its ethereal blue and gold interior. You can see the photos to judge for yourself. We returned to the hotel so I could use the gym before dinner because we were meeting one of Stu's "Leica buddies" for drinks in the hotel bar. Stu moderates an on-line photography forum of Leica camera users and we've had the pleasure of meeting several members of the forum during our travels, some resulting in close continuing relationships. They're always interesting and fun to be with, so we looked forward to spending a little time with Michael and getting an insider's view of the city.
We had to reluctantly wish Michael goodnight to honor an 8:30 pm dinner reservation at an old favorite, Restaurant Toqué http://www.restaurant-toque.com/. There's always some trepidation when returning to a place that you remember so fondly, for if it fails to live up to your recollection, it can spoil the old memory. No fear of that in this case. The restaurant is attractive, service couldn't be better, and the food is still worth a 330 mile drive. We had no choice but to sample the tasting menu since that's what we had the last time, and it would have been an unfair comparison if we had not.
The Hotel Nelligan http://www.hotelnelligan.com/ is a small and relatively new boutique hotel in the old town, very near the museum and cathedral. We were completely delighted with the location, accommodations, service, breakfast and the price. It's an excellent value. Room prices were relatively modest so we even booked a lovely loft suite with an amazing bathroom (double Jacuzzi tub and separate shower) and it was less than you'd pay for a tiny room with a bathroom barely big enough to fit 2 at a time in Manhattan. The decor was a cool mix of exposed brick and modern design, and the public spaces were filled with provocative art. We already mentioned the concierge, but the rest of the staff was equally personable and helpful. The gym is not the best part of the hotel, small and too warm, but it has the basic equipment that you need. At check-out we called ahead for our car and by the time we reached the front desk, the car was in front, the bellman was on his way to get our bags and our bill was ready.
QUEBEC CITY
We had hoped to take Route 40 to Québec because Michael advised us that it's more scenic than Route 20 and only takes about 10-20 minutes longer. Although we had directions and our GPS, the hotel bellman advised us to take a different route, that was meant to be faster, but he must have missed the fact that we wanted to take Rte. 40 and there was no way to reach it from where we were. We ended up in a town on the other side of the St. Lawrence and had to take a car ferry across the river to join up with Rte. 40. The weather was glorious and the ferry ride was pleasant, especially since I had a chance to practice my French chatting with a local man and his adorable young daughter. So a drive that should have taken about 3 hours, took us more than 4, but we had a small adventure, and since we returned on Rte. 20, we can attest that it is less appealing.
We arrived at L'Auberge Sainte-Antoine http://www.saint-antoine.com/ in Basse-Ville (the Lower Town) around 12:30 pm and were quite hungry after a very light breakfast, so we wanted to head off to lunch right after checking in and dropping our bags. First of all, the hotel is gorgeous from the public spaces to the rooms. Rooms are on the small side for the high price, but well-designed, and the bathrooms are fairly spacious with double sinks and separate tub and shower. We had a very large outdoor balcony with table and chairs, but what was billed as a river view was mainly a view of the hotel roof and air conditioning tower with a sliver of river that was blocked by a mammoth cruise ship for part of our stay. The staff was excellent and helpful. Terrific gym and spa, though I only used the gym.
We walked around the corner and managed to snag the last outdoor table at L'Echaudé http://www.echaude.com/, a very popular bistro for good reason: the food. Moderately priced for good quality. We were running late, so we had a light lunch but enjoyed the meal as well as the cobblestone atmosphere of the neighborhood. It was a sunny, mild day, though windier and therefore cooler than Montréal. Québec City is a UNESCO World Heritage site and after even a few minutes wandering around the picturesque streets and alleys of the old town, you can understand why. The streets in Basse-Ville were jammed with visitors, so we hopped on the funicular up to the Haute-Ville (Upper Town) which took us near to the Château Frontenac, a mammoth hotel in the European grand style that overlooks the river and Basse-Ville. It was built as a hotel in 1892 by the Canadian Pacific Railway Co. and is not a repurposed castle or government building, so since we were running a bit late, we decided not to take the tour. In front of the Frontenac we strolled along the Terrasse Dufferin, a boardwalk punctuated by green-and-white striped gazebos and a battery of cannons.
In the Parc des Gouverneurs there's an obelisk commemorating the battle between the French and English for possession of Québec in 1759. Just down the road, the Maison Kent (1648) is where France signed the capitulation agreement, and which is now occupied by France's consulate general. A charming red and white house built in 1677, the Maison Jacquet, is the current site of the restaurant Aux Anciens Canadiens. La rue St.-Louis is lined with well-maintained stone houses. At the Place d'Armes, there's a monument to Samuel de Champlain, who founded Québec in 1608. Québec's Notre Dame Basilica is not quite as grand as the one in Montréal but is still worth seeing. There's a museum in the seminary adjacent to the church, but it was closed. We passed the Hôtel de Ville (city hall) on our way to the Chapelle and Musée des Ursulines, but discovered that the museum was closed even though we arrived during the hours when it was supposed to open.
We passed through the Porte St.-Louis, an impressive stone gate in the city walls and climbed up the hill to La Citadelle http://www.lacitadelle.qc.ca/, a star-shaped fortress built 1820-1850, which still acts as a military base housing the Royal 22nd Regiment of the Canadian Forces. A guided tour was scheduled to begin in about 20 minutes, so we bought tickets and joined it. There is a small but interesting collection of military memorabilia and artifacts in the museum on site and the grounds are lovely. Our guide did a great job relating the history of the fort and present day function, which enhanced our enjoyment of the place.
We admired the architecture, fountain and sculptures on the exterior of the Hôtel du Parlement, and then continued along the Grande-Allée, a wide modern boulevard with office buildings, homes, restaurants and boutiques. We cut into the Parc des Champs-de-Bataille (Battlefield Park) where we found a heroic statue of Jeanne d-Arc in a flower-filled garden. Our final destination was the Musée National des Beaux-Arts de Québec http://www.mnba.qc.ca/Accueil.aspx. The museum is open late on Wednesday evenings, so we decided to maximize our touring time by visiting then. We were fortunate to find that the museum was hosting an event that evening, so admission was free and drinks were being served to an extremely noisy throng in the lobby. We squeezed our way through the cocktail crowd and ascended to the Inuit gallery, which displays art that Raymond Brousseau collected over a 50 year span then donated to the museum. We had the space to ourselves most of the time, joined briefly by another couple who moved rather quickly through the exhibit. Here you find the work of generations of Arctic Canadian artists, many from the same families. Although the contemporary pieces cleverly meld the traditional style and materials with modern forms and an updated sensibility, we preferred the more traditional pieces, which were stunning in their power and ability to conjure a way of life and a mythology very foreign to most North Americans. This gallery alone was worth the trip to Québec, and we devoted a lot of time to this collection, though there was much more to enjoy in this town.
We had a tough time finding a taxi, but eventually hailed one near the Concorde Hotel to take us back to L'Auberge in time to clean up for our 9 pm reservation at the hotel's restaurant, Panache. The restaurant is every bit as stylish and elegant as the hotel, and the food is superb. Service was formally correct without being the least bit stuffy. We had decided that this was going to be a foodie trip, so we chose restaurants with big reputations and gave them the opportunity to strut their stuff by ordering their chef's special tasting menus (with wine pairings for me since Stu prefers water). We may regret the calories, but certainly not the experience.
The weather was perfect the next day so we decided to take advantage of it in case it did not persist, and explore some of the sights outside the city. Breakfast at Panache was just what we wanted - fresh fruit, flaky croissants, tasty muesli and to-die-for house-made blueberry jam - a great value compared to the cost of hotel breakfasts in other cities. Our first stop was in Ste-Anne-de-Beaupré, about 20 minutes away, to visit the eponymous basilica, which honors Ste. Anne, mother of the Virgin Mary and patron saint of Québec. Pilgrims flock here to be miraculously cured of illness, and a stack of crutches left behind by the faithful stand witness by the door. The basilica is modern (circa 1926), but modeled after the grand Gothic cathedrals in Europe. It opens quite early and I had verified the mass schedule, so we arrived after morning mass but before the busloads of tour groups, and shared the enormous interior with a handful of local worshippers until just before we left. It's impossible not to be astounded by the craftsmanship and sheer excess of the ornamentation. Animal faces are carved into the ends of the pews, and brilliant mosaics tile most of the surfaces, with Zodiac figures in addition to Biblical scenes. Behind the main altar, a semicircular row of richly decorated chapels glowing with gold leaf are dedicated to various saints. Multi-colored stained glass abounds, as well as a copy of Michelangelo's Pietà, the only version of this statue outside St. Peter's in Rome. The overall effect was striking, if just a tad over-the-top. Chapels in the basement were quite kitschy, a "Classic Comics" version of the space above.
Next stop was the Canyon Ste. Anne, about 5 minutes past the town. Visitors follow a fairly easy walking circuit via suspension bridges over the canyon which affords marvelous views of the gorge, the river, waterfalls and rainbows. There is a short circuit that eliminates the steepest climb, but we had the time and energy to follow the long trail. For the very adventurous, you can sign up for rock climbing and other more strenuous ways to enjoy the beauty of the canyon. Arriving just after opening time assured us a most relaxing experience. With the narrow paths and limited space on the viewing platforms, it must feel very crowded once more people arrive, and just as at the basilica, the big tour buses were disgorging their payload as we were making our way back to our car.
We headed back towards town to visit the Chutes Montmorency, named by Samuel de Champlain in 1613 for his patron, the Duke of Montmorency. You can see the falls from the highway but we wanted a much closer view, and it was worth the cost of admission. At 272 feet high (83m), the falls are higher than Niagara, but not nearly as wide. We took a cable car to the top of the cliff which offers a lovely perspective. At top there is another parking lot and a well-rated restaurant. We continued on foot over the bridge that spans the crest of the falls, then followed a winding trail and a series of steep stairs down to the bottom and around to the visitor center where we entered the site. The city of Québec is visible in the distance from some viewpoints. There are lookout spots all along the way that allow you to get close to the falls for breathtaking views, some wetter than others. At just the right spots, rewarding you for your exertion, the union of spray and sunshine climaxes in an arc of red, orange, yellow, green, blue, indigo and violet.
It's a short drive from the falls over the bridge to the Ile d'Orléans. Although inhabited by Native Americans long before the Europeans arrived, the Ile d'Orléans was discovered by the explorer Jacques Cartier, who called it the Ile de Bacchus due to the fields of wild grapes. In 1536 he bestowed its current name after François the 1st, son of the King of France, Duke of Orléans. Although only 5 km from Québec City, colonized by French settlers from Normandy and Poitou, it preserves its French history and agricultural identity by proudly maintaining lovely old churches, homes and farms. Much of its bountiful produce is sold at farmer's markets and to locavore chefs at the finest restaurants in the city.
We stopped at the visitor's center for a map and a lunch recommendation and continued to the nearby town of Ste-Pétronille to eat at a cozy inn set on the water near the southwestern tip of the island called La Goéliche www.goeliche.ca . We were seated by the window on the covered porch with a fine view of the river and enjoyed a simple but delicious meal of fresh vegetable soup followed by perfectly cooked, scrumptious fish for me and chicken in a savory sauce for Stu, both accompanied by flavorful local vegetables. After a leisurely lunch we backtracked to a Chocolaterie we'd passed to pick up some handcrafted bonbons for dessert. They were pretty good, but not worth going out of your way for. We had a look at a church built in 1871 (exterior only as it was closed), then continued around the southern tip of the island and up the east coast.
There are 6 villages situated along the perimeter of the island, Ste-Pétronille (founded 1870), St-Laurent, St-Jean, St.-Pierre and St-François (all founded 1679), and the earliest settlement Ste-Famille (1661), which boasts the largest remaining number of colonial stone houses, although the distinction of hosting the oldest country church in Québec (1720) belongs to St-Pierre.
Driving up the northeast coast of the island, we stopped in St. Laurent to visit the Parc Maritime de Saint-Laurent www.parcmaritime.ca .  From 1908 – 1967 the shipyard here was a highly important business in the region, building, repairing and sheltering boats. The need for boats to reach the mainland was greatly reduced when the bridge was built in the 30's and after the industry declined, it became a museum.  We arrived about a week before they were ready to greet visitors; however, a kind woman working there gave us a brief introduction and encouraged us to walk around since there were no guides on duty.  We dropped a contribution in a box set up for that purpose and browsed through the ship models, maritime maps and other memorabilia in the visitor's center.  We explored a workshop in a weather-beaten wooden building where the flat-bottomed schooners that plied their trade in these waters were built.  The workshop contains a variety of shipbuilding tools and nautical implements and instruments.  There were a number of boats in the workshop and on the grounds, as well as rails used to transport the finished vessels to the dock.  Workmen were busy down by the dock preparing the site for the summer tourist season. 
As we've often seen in locations where the weather can be harsh during some seasons, houses are frequently painted in vibrant hues to add a splash of color on gray days.  Red seems to be the most popular accent on the island, though white, aquamarine and blue paint is liberally applied as well.  Buildings in all of the villages are lovingly maintained, accentuating the old-world ambience of the towns, enchanting without seeming overly staged, like a Québécois theme park.  
At this time of year there was very little traffic on the two-lane main road, Le Chemin Royal, so we had an exceedingly pleasant drive, though we did pull over several times to allow locals to pass so that we could take our time enjoying the scenery.
In St. Jean we signed up for a tour of Le Manoir Mauvide-Genest, erected in 1734 and one of the few seigniorial manors from the era that has been fully restored www.manoirmauvidegenest.com.  You can pay a small fee for a self-guided tour but we spent a bit more for a guided tour by a fresh-faced young woman dressed in period costume.  The tour was worthwhile and recommended if you're interested in history and the lifestyle of the 18th C inhabitants.  The proprietor, Jean Mauvide, was a surgeon and successful businessman, owning a shipyard and mills among other enterprises, who became Seigneur of the western half of the island in 1752.  He married Marie-Anne Geneste, a blacksmith's daughter, with whom he raised two daughters in this home.  The house is authentically decorated, including clothes laid out on the beds.  We especially enjoyed the kitchen with its huge hearth and fascinating antique equipment.   Learning about the customs at the time was especially intriguing.  For example, in the narrow dining room our guide advised us that the head of the household customarily sat in the middle of the long rectangular table near the fireplace so that his back would be warmed by the fire, thereby enjoying the most advantageous position at the table.  When visited by dignitaries from England, where the most prestigious seat was at the head of the table, Jean was able to retain his preferred position while diplomatically allowing his guests the honor of taking the most important seat in their view. Like the other towns, St. Jean has an 18th C church (1732), a large brick-faced edifice with a cross-topped tower, overlooking the river. The stone church in Saint-François, built in 1734, is small but appealing. There are certain elements common to all of the churches that contribute to the harmonious style of the island, yet each has distinctive characteristics that distinguish it from the others. Unfortunately, all of the churches were locked up, so we only able to view the exteriors.
We rounded the top of the island past verdant fields of crops and fecund vineyards.  The views across the St. Lawrence to Ste-Anne-de-Beaupré were spectacular.  We stopped in Sainte-Famille to see the blue and white Maison Drouin, one of the oldest homes on the island open to visitors, though not until mid-June, so we had to be satisfied with peering through the windows to see the interior.  Although it was inhabited until 1984, it was never modernized and still provides an authentic view of an 18th C cottage.  The church in Ste.-Famille is one of the largest and most elaborate with 5 statues in niches on its front, three belfries and a red roof.
Farms along the route were selling berries, cheese, wine and other local produce.  We stopped at the Cidrerie Bilodeau in St.-Pierre http://www.cidreriebilodeau.qc.ca/  an orchard specializing in apples, cider, cider vinegar, ice cider wine and apple butter among other delicacies. We sampled the unusual ice cider wine and liked it enough to buy a half bottle to take home along with a jar of spicy whole grain mustard lightly sweetened with apple cider.  We asked the friendly young woman at the counter about good places to try the local wine and she gave us a card for the Vignoble L'Isle de Bacchus http://www.isledebacchus.com/.   
Down the road we found the family-run winery, housed in a lovely building with grape vines carpeting the slope to the river and an outdoor café on a terrace that enjoys magnificent views of the mainland. It serves as a bed-and-breakfast inn as well as vineyard.  We descended a short flight of stairs to the tasting room and boutique, where you can sample and buy the estate wines along with accoutrements such as corkscrews and wine decanters.  I was most interested in trying the ice wine, though their blended white, red and rosé wines were quite good as well.  The proprietor proudly showed us testaments to the quality of the wine including prizes it had garnered, and chatted with us about the island and our visit.  We left with a half bottle of their finest ice wine.
Shortly afterwards, we completed our 47 mile circumnavigation of the island, which is 21 miles long and 5 miles across at its widest point, and crossed the bridge back to the city.  It was an easy circuit to complete in an afternoon at a leisurely pace, though you could easily find enough activities to occupy you for a day or more, especially during the high season when more sights are open, plus stopping at more farms and vineyards to sample their wares.
We had booked a late dinner at Laurie Raphaël, a modern favorite a couple of streets away from our hotel http://www.laurieraphael.com/fr/restaurant/quebec/le_restaurant_quebec/index.php#.  The chic, ultra-modern décor and inventive cuisine are justifiably renowned.  We found that foie gras was always among the courses in the tasting menus and all were delicious, but the preparation at LR was both unique and sensational.  In the style of crème brûlée, the foie gras was whipped into a creamy mousse topped by a sweet crust with cranberry garnish that melted in your mouth.  Each restaurant we tried had one dish that stood out from the rest and this was the one here.  The bread was odd, it seemed to be lacking an important ingredient that defines bread, but that was alright since it was best to leave space for the rest of the meal and the wine.
Our luck held out and we awoke to a beautiful morning on our last day in Québec.  Now it was time to explore Basse-Ville.  We wanted to get an early start in order to appreciate the architecture and main square in the delicate light of early morning without the crowds that gather as the day progresses.  L'Auberge St.-Antoine is a few short blocks from the Place-Royale with its memorial to the Sun King, Louis XIV, a gift from Paris in 1928.  On our way to the square, we stopped at the 420 meter trompe-l'oeil mural depicting typical buildings and the Porte St.-Louis with historical and modern Québécois, including such luminaries as Jacques Cartier, Louis Jolliet and Samuel de Champlain mingling with unknown citizens, such as young lovers embracing, young hockey players, and a mother pushing a child in a stroller.  Painted by 12 artists, the Fresque des Québécois is across the street from the Maison Lambert Dumont, an attractive old building, now a shop, that faces the Place Royale.   
The Eglise Notre-Dame-des-Victoires on the square was built in 1688 and named for a French naval victory over the British in 1690.  It wasn't open yet, but we wanted to continue strolling the streets and returned later to see the interior, which was unusual due to a large boat suspended from the ceiling above the congregants, a votive meant to ensure safe voyages.  The square is fronted by pleasing old stone houses, now occupied by souvenir shops, restaurants and a historical interpretation center.  We slipped down a narrow, picturesque side street and discovered the Royal Battery through a passageway at the end.  A battery of cannons sits atop fortifications constructed by the French in 1691 to defend Basse-Ville from the British. 
We passed back through the Place Royale to the Funicular which has engulfed the home of Louis Jolliet, the Québécois explorer.  To the right is the "Escalier Casse-Cou" or Breakneck Stairs (which looks just like a regular, modern stairway), and to the left begins the rue du Petit-Champlain, one of North America's oldest streets and possibly one of the most touristy.  The antique stone buildings are handsome and there are cute shops and bistros, such as Le Lapin Sauté and Le Cochon Dingue. We especially admire the craftsmanship of the many hand-carved painted signs.  At the end of the street there's another trompe l'oeil mural, though not nearly as large as the other, La Fresque du Petit-Champlain, that portrays a 3-story house full of tradesmen, such as carpenters and boat builders, as well as a family and a group of revelers.  
We turned back and headed over to the river, where locals streamed out of a ferry terminal on their way to work.  We cut through a parking lot to reach a waterfront promenade.  After a breezy walk past an outdoor theater called the Agora and the Custom House (circa 1830), we found a bronze statue of a sailor, a memorial to the Canadian seamen who died in World War II.  From here we could see the Ile d'Orléans.  We passed the Naval Museum and Academy where young recruits were keeping in shape in the gym.  Sightseeing boats docked nearby, posting signs for boat cruises upriver.  During our walk we spotted a homeless man searching trash bins for food and cordially greeting joggers as they ran by.  I had slipped a couple of Madeleines from breakfast into a small paper bag in case we felt like a snack later, and handed the bag over gladly, triggering a big smile and gracious thanks.
We had plenty of time, so we decided to stop in the Marché du Vieux Port, a farmer's market with stalls of flowers, plants, fruit, vegetables, cheese, chocolate, meats, fresh and smoked fish, preserves and more, much of it from the Ile D'Orléans.  If it were closer to lunch time we might have picked up some goodies and had a picnic by the river, but it was still quite early. The market was rather empty and I struck up a conversation with an amiable guy selling cider, mustard, wine and other treats from the island, including some from the Cidrerie that we had visited.  He told me that in the summertime the Cirque du Soleil puts on a free show in town to promote the city and as a tribute to their history as street performers.  He also told us about a horse show conceived by one of the original Cirque founders, called Cavalia.  It was a pleasure for me to practice my French, and he wasn't busy, so we shot the breeze for some time while Stu looked for an ATM.  We ended up buying a luscious apple butter that he told us would pair nicely with the mustard we'd bought on sandwiches or poultry. 
By now the Musée de la Civilisation was about to open so we walked down the rue St. Paul, which is buzzing with cool cafés and bistros, antique shops, art galleries and craft stores.  We decided that this might be a good place to return for lunch after the museum.  The museum is an interactive type largely designed for children and there were several groups of adorable schoolchildren already there when we arrived.  We most enjoyed the exhibit about the Native tribes, which is well annotated and contains interesting artifacts.
We chose an outdoor table at the restaurant "Poisson d'Avril", perhaps due to the whimsical sign.  The room indoors was packed and noisy, but it was quiet outside.  I enjoyed good moules frites and Stu liked his pasta.  After lunch we window-shopped a bit, and then returned to our hotel to pick up our car and drive out to the Aquarium.  I'd read that there were walrus and five species of seals so I thought it might be worth a visit if we had the time.
The Aquarium is in a pretty setting near the river and is nicely landscaped.  It doesn't have the most extensive collection of marine life, however, we came for the walruses and there were five.  They had both Atlantic and Pacific varieties, which look alike, though the Pacific species grows larger.  We still want to see walruses in the wild ever since our failed attempt in Alaska, but this wasn't a bad way to see these impressive animals up close.  We spent about a half hour watching them swim in a large pool before trainers came to show them off to an eager audience.  Like other pinnipeds, they can be trained to perform silly behaviors to amuse humans and earn them food.  Their big bristly faces are totally endearing, though disappointingly, none sported tusks. 
Our last dinner in Québec was also the best of the trip, at Restaurant L'Initiale, which was a few steps from the side door of our hotel www.restaurantinitiale.com.  The room is austerely elegant and service is formally correct, but affable.  I especially liked the sommelier whose wine pairings were not only inspired, but he clearly was passionate about their selection and reveled in describing their provenance and characteristics.  Every course was exquisite and to top it off, before we left the maitre d' handed us a goody bag of treats to take away.
MANCHESTER
The next morning we enjoyed our last taste of the fabulous blueberry jam at Panache, checked out, and hit the highway, this time taking the unscenic route 20 until our turnoff to Vermont.  Scenery along the Vermont route was as green and gorgeous as you'd expect in late spring, and we made good time to Manchester, in the southwest corner of the state.  I drove most of the way to give Stu a break since he normally does most of the driving.  We easily found The Reluctant Panther Inn & Restaurant, our home for the next 2 nights www.reluctantpanther.com.  How could you not stay at a place with a name like that?  I actually picked this inn rather than the location when we decided to break up the drive in Vermont on the way home, and then researched fun things to do in the area.  Fortunately, there was no shortage of activities.
We had booked the Pond View Suite, which featured a bedroom with an extremely comfy bed, a living room with a fireplace shared by both, and an enormous bathroom including a whirlpool tub for two with its own small fireplace plus a separate shower.  From our wide front porch we had a view of the grounds, including a small pond, and Mt. Equinox in the distance.  Unfortunately the fireplaces are not used at this time of year, however, it would have been too warm for them in any case as the heat spell continued through the weekend.  After settling in, we asked for a recommendation for lunch nearby and walked a short distance to the Equinox Resort & Spa, where we had an excellent lunch www.equinoxresort.com.   The only rain of the trip, a sprinkling, occurred while we ate and the sun was back out by the time we were finished.
At a row of small stores across from the resort, we picked up a town map and some brochures, and discovered to our delight that Manchester is the home of Mother Myrick's www.mothermyricks.com , a confectioner that our friends had introduced us to a few years back and whose buttercrunch toffee is one of our favorite treats.  We were checking out the map trying to figure out the best way to walk there, when a thoughtful gentleman came over and offered to help direct us.  He was new to the area and didn't know the store, but went out of his way to find out where it was.  Manchester is as picture-perfect as most Vermont towns, so it was a pleasurable walk to the store. When we told the staff there how much we enjoy their creations and often send them as gifts, they added a couple of chocolate-covered strawberries to our order free of charge.  We had to walk off the chocolates, so we explored on foot for awhile before returning to the inn to sit out on our porch taking in the scenery and fresh mountain air.  There's a small workout room in the basement of the main house with adequate equipment, but it's cramped and hot, so if we'd been staying much longer, I would have tried to find a gym.  Perhaps the Equinox would have allowed me to use theirs for a fee.
We dined at the inn's restaurant, which has a stellar reputation. The room is drop-dead gorgeous and romantic, overlooking the gardens.  Unfortunately, staying at the inn does not guarantee you a great table, but it was a minor dissatisfaction since our server was efficient and congenial, the food was delicious, and they had a decent selection of wine by the glass or bottle.
I decided to work out before breakfast in the hope that the room would be less sweltering earlier in the day (it wasn't), and expected that most of the guests would have finished breakfast by the time we arrived.  So we were surprised to find that it was quite busy.  After waiting a long time to be seated, we followed the lead of the couple before us and seated ourselves.  Service was abysmal, almost to the level of farce, but it depended on the side of the room you chose.  The waiter serving our table was unable to keep up, while the waitress on the other side with an equal number of tables seemed to be having no problem.  People arrived, were fed and left before he took our order.  Our waiter served little muffins to the tables around us, even bringing a second to one fellow, and when we asked for ours, just to stave off our hunger while waiting, he told us that the kitchen had run out of them.  More than an hour had elapsed before we received any food and it turned out that a couple who had arrived and ordered before us had not been served yet, and they just got up and walked out after expressing their displeasure to the waiter. 
We rushed through breakfast and drove a short distance to Hildene, the estate of Robert Todd Lincoln, the only surviving child of President Abraham Lincoln and Mary Todd Lincoln, whose 3 other boys died at early ages.  The house and grounds are meticulously maintained and offer an absorbing view into the life of Robert and his father.   The docent on duty was a well-informed historian with a passion for the Lincolns, particularly Mary, who was greatly misunderstood and maligned.  Most of the objects in the house belonged to Robert and his heirs, though there is a room dedicated to his father with remarkable memorabilia, such as one of Abe's three surviving top hats, the only black one.  After a tour of the house, we visited the gardens and the small observatory on the grounds.  If you have any interest in history, Hildene is not to be missed. http://www.hildene.org/
One of the women at the visitor's center told us about a terrific bookstore in town, and we had time to drive over there to have a look.  It's a reader's paradise with countless shelves of books and magazines as well as stationery, greeting cards, games, gift items and even jewelry.  We could have spent all day in there, but I had an appointment at the British School of Falconry (802-362-4780).  I had uncovered this while researching the town and could not resist the opportunity to learn more about the ancient art of falconry and to handle a raptor.
There were three other students signed up for the lesson, accompanied by their wives.  Our instructor, Jay, took us into the barn where the birds are kept.  There were a couple of eagles, but the rest were Harris Hawks.  Jay told us that most raptors will only work with their own handler, but Harris Hawks are more sociable and will work with strangers.   They also sometimes hunt in packs and don't require a hood when escorted outdoors.  Although they look quite heavy due to their size, they're all feathers and quite light, females larger than the males. 
We learned that they will only hunt and return to their handler if they're hungry, so the handlers keep track of their weight to determine how hungry they are and which are ready to take out.  There's a chart listing all of the birds with their weight that day.  Before meeting our hawk, we had a brief lesson on how to position the hand with the glove and how to hold the leash attached to the hawk's leg.  Because each hawk has an individual personality and temperament, Jay also gave us specific advice about our hawk.  I was paired with one of the oldest females, Moët, who will only work with strangers who are female.  Jay advised me to keep my right arm by my side because Moët gets nervous if you move that arm.
Taking a hawk on your glove is very exciting, especially when they peer into your eyes.  When you walk the hawk out of the barn, they will often engage in a behavior called baiting, where they drop off the glove and flap their wings wildly.  Moët did this a couple of times, but so long as you hold tight to the leash, they land back on the glove.  In the field you release your hawk towards a tall pole, where they perch until you lure them back to the glove with a juicy chunk of meat.  The first time you see the hawk flying towards you with that impressive wingspan and such intense concentration, it's thrilling and just a bit intimidating, but they land very gently and take the meat deftly.  We all took turns launching and retrieving our hawks, while our spouses observed and took photos.  You're permitted to bring one non-participating guest for free during the lesson.
Jay is an experienced hunter who owns his own birds and he described the long process of certification for owning and hunting with these animals.  He told us that when you hunt with raptors, if they realize that you will take their catch, they won't hunt for you, so you have to trick them.  He illustrated this technique by swinging a tempting treat from a long rope until one of the hawks seized it and began pecking it.  He knelt down and covered the lure with his large glove and tossed a chunk of meat behind the hawk. While the bird consumed the meat, he pocketed the lure.  He said that if they don't see you take the prey, they don't associate you with its disappearance. They are such visual creatures that if they don't see the prey covered by the glove, they don't realize that it's still there.
At the end of the lesson we returned the hawks to the barn, but I had also booked a forest walk with the hawks.  While we waited for a pair of brothers who were joining us on the walk with their parents, Jay retrieved Hamish, a juvenile male, and Haggis, a mature female, and put them in cages in the back of his truck.  Haggis is a terrible name for a female of any species and it certainly didn't suit this sleek, attractive hawk.  You must take a lesson in order to take the forest walk, and the brothers had taken a lesson the year before.  When they arrived, we drove to Hildene where we were permitted to use their extensive grounds.  Jay released the hawks and we set off into a wooded section of the property.  It was very beautiful and the sight of the hawks following us along the treetops was exhilarating.  Jay let us take turns summoning the hawks and holding them on our gloves, then releasing them.  About half way we lost track of Haggis and it soon became clear that she'd flown off since she did not return when Jay swung the lure.  Jay said that she often returns to the school, especially when a lesson is in progress, in order to swoop in and poach the meat intended for the hawks involved in the lesson, to the shock of the students.  However, I think she might be getting even on them for giving her that name.  Hamish stayed with us, and in total we spent about an hour walking, talking about falconry, and handling the hawks.  I was not inspired by this experience to become a falconer, but I was thrilled by the opportunity to learn more about the hawks and to interact with them so closely.  We found the wayward Haggis in her stall in the barn when we returned. 
After settling the bill, we decided to visit one of the outlet stores that attract avid shoppers to Manchester.  I didn't find much that I liked in my size, though I got a great deal on one blouse. Stu did very well, stocking up on high-quality suits, ties and sports jackets at highly advantageous prices.
After five days of gourmet French food, I figured we'd really appreciate a good steak, so I had reserved a table at the Chop House in the Equinox.  It's an intimate, masculine space and we were soon very glad that we'd had the foresight to try it.  We were happy to find that the kind man who gave us directions the day before is employed here and remembered us.  We had a wonderful meal. Our waitress was delightful and the steaks were delectable, accompanied by perfectly cooked vegetables.  I couldn't finish my enormous rib-eye, but I gave it my best effort.  The wine list was excellent and they had a good choice of half bottles, which enabled me to enjoy an exceptional wine that I'd always wanted to try without having to buy a whole bottle. 
We had arranged for an early checkout and breakfast.  We were the only ones in the dining room, and the efficient waitress was on duty, so it was a much improved experience.  She brought us fresh fruit and fragrant homemade cinnamon buns hot from the oven.  Although they'd advised that we wouldn't be able to get a cooked breakfast, the kitchen offered to cook us eggs if we wished. We declined but were pleased by the offer.  It was Memorial Day and we feared that traffic would be heavy, but fortunately it was relatively light.  It was the perfect ending to a fun and relaxing trip.