UGANDA and RWANDA FEBRUARY 2009
NGAMBA ISLAND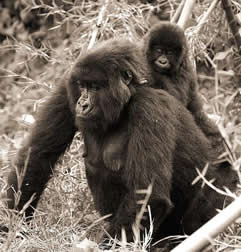 We flew into Entebbe and began our journey with a scenic motorboat ride on Lake Victoria to Ngamba Island, our home for the next 2 nights.  It was an ideal way to begin after such long flights because the island was both relaxing and fascinating. Ngamba Island has been reserved as a sanctuary for orphaned chimpanzees.  There are currently about 45 chimps on the island and because the local vegetation cannot support such a large number, caregivers from the CSWCT (Chimpanzee Sanctuary & Wildlife Conservation Trust) supplement the chimps' diet with fruit, vegetables and millet porridge.  The chimps descend from the forest for the regular feedings so that visitors to the island can get a close look from a boardwalk separated from the animals by an electrified fence.  These chimps can never be returned to the wild, both for their own protection, since they would be outsiders to other chimpanzee families, and for the protection of humans.  We learned that chimpanzees are about 6 times stronger than humans.  Wild chimps believe that humans are stronger than them because we are much taller, so they will not challenge us.  Chimps who have spent time with humans quickly learn that they are much stronger, and the more aggressive ones can attack, so they would be a menace if released into environments shared with humans.
We learned that when people capture baby chimpanzees to export as pets, they must kill its mother, father and other family members since the group will defend the baby and they are too strong to overcome without using deadly force.  Kidnapping, habitat encroachment and eating chimps as bush meat are all reasons why they are an endangered species.
The island is very beautiful with deep forest and mangrove swamp which attracts a wide variety of birds and lizards, including fairly large Nile monitor lizards. Among the birds we regularly saw were hawks, eagles, gray kestrels, Hamerkops, egrets, herons, Egyptian geese, ibis, sunbirds, stilts, lapwings, plovers, cormorants, Yellow-billed ducks, hornbills, storks and thousands of bright yellow weavers.  The 4 lakeside tents for guests are simple but spacious and attractive with solar lighting, camp toilets, bucket showers and verandas with lounge chairs.  The staff is charming and the food was very good with lots of fresh fruit and vegetables.  We were the only overnight guests the first night and were joined by an interesting young British couple on the second. 
The most exciting activity of our stay was an early morning forest walk with the chimps, a program that you must arrange in advance because you have to bring proof of vaccinations and a TB test, both for your own and the chimps' protection.  Sharing 98.4% of DNA with humans, chimpanzees are susceptible to the same diseases as we are.  The chimpanzees spend the night nesting comfortably in cages and are released in the morning to spend the day in the forest.  During the forest walk, only a small group of the more well-behaved females are released.  We were extremely lucky that a gregarious 3-1/2 year old male named Rambo also joined us. He was named Rambo, not because he enjoys gunning down people with automatic weapons, but because he's such a performer.  During feedings, he was always showing off his agility, somersaulting forwards and backwards, spinning with his arms outspread and dangling from trees, as well as thumping the ground like an alpha male. 
We started out with about 8 young females and Rambo.  After a short walk, we sat on the ground and groomed each other, which was very gentle and affectionate.  The female grooming Stu, Pasa, developed a great liking for him and embraced him tightly.  Although small compared to the adult males, you can feel the strong muscles in their arms beneath the heavy matt of hair.  When we got up to continue walking, Pasa climbed on Stu's back and our guide, Gerard, placed Rambo in my arms.  When a fight broke out among 3 of the females, Rambo clung to me in fear and I comforted him.  After walking some distance, the animals grew heavy and Gerard advised us that if we sat they would climb off. Pasa climbed off Stu, but Rambo sat in my lap, caressed my face, and groomed me, plucking insects from my damp hair and eating them.  Stu is really a chimp magnet - on the walk back to the camp, at least 4 females climbed aboard for a ride, though thankfully not all at once.  Rambo remained with me for a ride back through the forest, but when we reached the open area, he couldn't resist climbing down so that he could perform his usual antics. 
We spent the rest of the time watching and learning about the chimpanzees and the program on the island, enjoying the scenery, watching birds, socializing with the staff, eating and reading.  I believe that you can arrange in advance for canoeing or kayaking as well.  At dusk each evening a huge swarm of bats flies over the island, perhaps one of the reasons that we weren't bothered by mosquitoes or lake flies.  It's a spectacular display.  We were sad to leave Ngamba Island where we'd begun to feel like one of the family, and overnighted at the Laico Lake Victoria Hotel in Entebbe before moving on. It's a good modern airport hotel with a very large pool and quite excellent food.  They featured a romantically lit poolside braai (barbecue) for dinner that was delicious and a great value.
KIBALE NATIONAL FOREST
 Our driver/guide, John, picked us up at the hotel in a comfortable Land Rover and took us on a long drive to Ndali Lodge by way of Fort Portale.  On the way he stopped to buy roasted banana and cassava for us to snack on and a watermelon-sized jackfruit to share at the lodge.  We had a tasty lunch of local specialties - goat stew, sweet potatoes, cassava, and rice with peas - at The Garden Restaurant in Ft. Portale. 
Ndali Lodge sits at the top of a hill overlooking tranquil crater lakes and the Rwenzori Mountains (the Mountains of the Moon).  Our cottage was set in a lovely garden with breathtaking views from our porch, bedroom and bathroom.  The lodge was full and in the late afternoon we took a walk with many of the other guests and Aubrey's (the owner) 5 affable dogs to see the farm and vanilla factory on the property.  They grow vanilla, mango, avocado, papaya, cacao, Robusta coffee and bananas. A communal table in the artfully decorated dining room afforded a wonderful opportunity to socialize with our delightful lodgemates who hailed from the Pacific Northwest US, London, South Africa and Denmark.
We spent a full day exploring Kibale, starting with a trek in the forest with a local ranger named Ronald to view wild chimpanzees. On the way he pointed out the vegetation that the chimps eat, including some fruit that is intoxicating, and demonstrated how they communicate both vocally and by drumming on tree root buttresses.  We watched a group of females, juvenile males and babies eating figs and playing in the trees for about an hour, but the adult males were away (probably off playing cards and getting drunk on fruit punch).
After a picnic lunch near a ranger station, another guide, Ivan, took us on a walk through the Bigodi Swamp.  Among all of the flowers, the most beautiful were the spiky, red Fire Lilies and Red Tulips (which grow on trees).  In addition to the apes (chimpanzees), several species of monkey inhabit these woods and we saw Black & White Colobus Monkeys with their long, luxurious fur and tufted tails, Gray-Cheeked Mangabey, Red Colobus Monkeys with a ginger cap of fur on their crown, and Red-Tailed Monkeys with comical white noses and white fluffy jowls on their cute black faces. 
There were lots of birds as well as primates including the resplendent Great Blue Turaco and impressive Black & White Casqued Hornbill.  Hornbills mate for life and are usually found in pairs, the male recognized by the larger protuberance on its bill.  That evening a couple of brothers-in-law arrived at the lodge and joined us for dinner, JP from England and Andy from Ireland.  It was our first encounter but fortunately not the last.
QUEEN ELIZABETH NATIONAL PARK
It was a relatively short drive to QENP and on the way we crossed the Equator into the Southern Hemisphere.  We arrived at the Mweya Safari Lodge, another beautifully located property, on a high cliff overlooking Lake Edward and the Kazinga Channel.  Mweya is closer to a hotel than a safari camp and has modern facilities such as running water and electricity.  We found the lodge and the staff to be lovely, though if you're looking for a more native type of experience, it might not suit your taste.  We enjoyed having lunch while watching herds of buffalo and elephant on the far shore and found the food to be excellent.
In the afternoon we took a boat ride on the Kazinga Channel, which connects Lakes Edward and George.  Our guide, Janette, was knowledgeable about the birds and animals and we were able to get quite close to many of them.  She informed us that the Nile crocodiles lounging on the banks have a lifespan of up to 200 years.  Small herds of elephants came to the lake to drink and bathe, and the water was teeming with hippopotamus of all ages and sizes, swimming and hanging out on shore.  Hippos can hold their breath for about 5-6 minutes underwater. Babies nurse underwater and female hippos care for their young for about 4 years though the young remain with the group after they're weaned.  Much larger Nile monitor lizards prowled these grounds than we saw at Ngamba. 
In addition to the animals, there were countless birds in great flocks soaring through the air and resting on the earth.  We've never seen so many kingfishers in one place, mostly black & white Pied Kingfishers, but a few electric blue Malachite Kingfishers.   Among those we spotted:  ugly Marabou Storks, gorgeous Saddle-Bill and Yellow-Billed Storks, Black Cranes, Sacred Ibis, African Jacana,  the Goliath Heron, both Gray and Pink-Backed Pelicans, African Spoonbills, black and white African Skimmers, 3 species of Egrets, white-headed African Sea Eagles, Short-Tailed Snake Eagles, Terns, Common Stilts, Plovers, Thick-Knees and gulls.
The next morning we arose at dawn to take a hike in Kyambura Gorge.  On the road we stopped right next to 2 spotted hyena that were sniffing around in the grass at the side of the highway.  At the ranger station while we were registering for the walk, we spotted a Capped Hornbill and some pretty little Robin Chats, gray with splashes of scarlet behind the eyes and on their wings and tail.
Kyambura Gorge, 16 km long, was cut by the Kyambura River and is 100 meters deep at its steepest point.  It's a heavily forested area, home to wild chimpanzees, hippos, Vervet monkeys, baboons, Black & White Colobus monkeys and Red-Tailed monkeys.
Two American women, one who works part of the year in Kampala, joined us, our guide Ven, and a rifle-toting guard named Bennett who accompanied us to protect us from poachers.  We descended one of the less steep trails into the gorge and wound our way up and down its walls covering about 10 km in all.  Ven discussed the various trees and vegetation in the forest, pointing out the favorite fruits of the primates.  He showed us a round fruit with a brown rind that chimps crack open to eat the pulp and then they use the shell as a cup to collect and drink water.  The brush was thick, the trails were rough and rocky, and we had to cross the river over fallen tree trunks twice.  We found hippos splashing around in the river and monkeys, but never reached the chimpanzees, so we were fortunate to have seen them at Ngamba and Kibale.
On the drive back to the lodge, we spotted a family of bristly giant forest hogs, female Difasa waterbucks with babies, mud-spattered warthogs wet from a wallow, and a few elephants.  We had lunch at the lodge and took advantage of the sunny, warm weather to enjoy a dip in the pool before going on a late afternoon game drive with John.
We drove through the Kazinga Plains and watched a large herd of African Forest Buffalo, which are a bit smaller than Cape Buffalo with thinner horns, mixed with Cape Buffalo.  It was the first time that we saw the endemic Ugandan Kob, a graceful species of fawn-colored antelope with a white throat and belly and ridged horns. We also saw Bushbuck, which are even smaller than the Kobs, and large herds of Waterbuck.  A lone lioness calmly surveyed the fields and just across the road her sister rested with 2 young cubs.  Back at the lodge a pack of banded mongoose ran past us.
We started at dawn again the next morning with another game drive.  The hippos were still up on land feeding from the night before and we came upon a large herd of elephants.  We watched a male Kob courting a female who was playing hard-to-get, and found a Black-Bellied Bustard on the ground.   There were lots of warthogs kneeling to eat and plenty of antelopes.  After lunch we took another cruise on the Kazinga Channel because it's so beautiful.
BWINDI IMPENETRABLE FOREST
 On the drive to Bwindi, we stopped to see Forest and Cape Buffalo, Giant Forest Hogs and Baboons.  We took a detour into the park at Ishasha to see if we could find any of the tree-climbing lions that it is famous for.  The only other place where lions regularly climb trees is Lake Manyara in Tanzania.  We had seen them at Lake Manyara but had no luck at Ishasha.  However, we did see Topi which are very handsome large antelope, dark brown with black markings on the face, shoulders, haunches and upper legs and small humps on their upper backs.
We passed through the town of Kihihi, which looked quite prosperous given the attractive brick houses, well-tended farms, tea plantations, the many schools and businesses, and the well-dressed citizens, which included schoolchildren in crisp uniforms.  In one secondary school, the young ladies in the schoolyard looked like a field of lovely flowers in their hot pink school dresses. 
We discovered elegant Gray Crowned Cranes, the national bird of Uganda, pecking seed from the fields.  Boys glided down the road on home-made wooden scooters.
Volcanoes Bwindi Lodge is just off the main road leading to the national park.  As we walked down the stone path to the main house, butterflies fluttered around our heads while black and yellow caterpillars crawled at our feet waiting to take their turn in the air.  Our thatch-roofed banda was named Mucucu (pronounced Moochoochoo), which means dirt, after a gorilla at Bwindi who enjoys playing in the dirt.  The staff greeted us warmly and showed us to our banda, which was secluded with a wonderful view of the forested volcanoes of the park.  The lodge uses composting toilets (you shovel ash into it after use and there is no offensive smell), solar power and bucket showers.  We can't say enough about the terrific staff at the lodge.  We had time for a delicious lunch before John escorted us to the park for an afternoon forest walk to see a series of 3 waterfalls.
Our guide was the head ranger, Medi, along with 2 AK-47 wielding men, one named Daan, for protection.  A U.S. missionary working in Kenya joined us as well.  Along the dirt road into the forest, we were enveloped in clouds of butterflies.  Just after penetrating the impenetrable forest, Medi spotted blue monkeys with gray-blue fur and a white horizontal stripe above their eyes, as well as red-tailed monkeys.  We also caught the retreating back of a duiker, a very shy mountain antelope.
The climb was uphill over rugged ground, but it isn't terribly difficult if you're reasonably fit.  When we reached the first waterfall, which was pretty, Medi told us that we didn't have time to climb to the other 2 because we had lost a lot of time waiting for the missionary, who was not well-equipped for hiking and hadn't yet reached the first falls.  We were a bit disappointed, but Daan offered to take us up to the other waterfalls while Medi and the other guard turned around and lead her back.  It didn't take long to see the others, which were beautiful and worth the extra climb.  Unfortunately, because we were delayed so long getting to the first waterfall, it started pouring rain as we began our descent, so although we had rain slickers and good boots, it was much more slippery.  We overtook the rest of the group on the way back and continued together the rest of the way.  On the main road, a gorgeous sky-blue bird with a fan tail and white breast attracted our attention.  We were the only guests at the lodge that night.  Fortunately, the staff is wonderful so we chatted with them. The chef was amazing, far better food than we expected out in the bush.
MOUNTAIN GORILLAS!!!!  The next morning we were happy to arise early for our first chance to encounter wild mountain gorillas.  As a result of this trip, we learned that mountain gorillas cannot survive in captivity (those in zoos are the smaller lowland gorillas) and that there are only between 700 – 800 mountain gorilla left.  They inhabit the forests of the interconnected Virunga volcanic regions of Uganda, Rwanda and Democratic Republic of Congo (DRC).   There are 3 habituated families of gorillas that may be visited in Bwindi and you must buy a license for every visit, which is limited to a group of 8 people or less for 1 hour per day.  The licenses are expensive ($500 per person), but the money is used to support the wildlife and the local human population.  Gorilla tourism is important to the local economy and helps to preserve these precious apes. We were accompanied by 2 men carrying AK47s and we hired porters.  While you may be strong and can carry your own pack, when you get near the gorillas, you must leave your walking stick and bag behind and approach the gorillas with only your cameras and binoculars (though you never need binocs since you are very close).   The porters watch your belongings while you're with the gorillas, plus if you happen to have a tough climb to find the gorillas, they'll assist you.  In addition, it's a good way to employ the local people and provide them with some income.
We were assigned along with 5 other adults to the Rushegura group, which included the silverback, females, blackbacks (young males), juveniles and babies of 3, 6 and 8 mos.  Mwirima, the largest silverback in the park, is 35 years old, and can be expected to live until about 45 or 50. Males develop the distinctive short silver hair on their backs around the age of 12 – 14, weigh an average of 500 lbs and can reach a height of 5 -6 ft.  Females can live longer, are sexually mature around 8 – 10 and can raise up to 6 babies.  Gestation is roughly the same as humans, 8-1/2 – 9 mos. They nurse their infants for about 2-1/2 – 3 years, during which time they do not ovulate.  They care for their babies for about 3-1/2 - 4 years, after which they will have a new baby.  Twins are very rare.
We had barely begun walking in the forest before our guide Augustine advised us that the trackers had found our family of gorillas and that they were nearby.  We crashed through brush and had just crossed a river when we were asked to stop since the gorillas were on the move. After waiting for some time, we heard that the gorillas were crossing the river very near to us, so we crossed back over just in time to see Mwirima crossing the river and heading into the forest, followed by the rest of the group.  We waited until they had passed and then followed them into the thicket.  I can't describe the immense thrill of seeing these magnificent primates up close in their native habitat.  We followed the family through the thick brush and towering trees, as they stopped occasionally to grab leaves or vines to munch, until they came to rest in a more open area.  The 3 month old baby clung tightly to its mother's belly all of the time, so we never got a close look at its face. When the mother was feeding, she cradled it with one arm while reaching for food with the other.  The 6 and 8 month old toddlers were playing with each other and climbing and acting just like kids.  The gorillas completely ignored us, barely glancing our way, though we were quite close and snapping photos like paparazzi.  We imagined them telling each other, "just pretend they're not there; if you ignore them we've found that in about an hour they go away".
The hour passed much too quickly and we were grateful that we had licenses for another visit the next day.  As we exited the forest onto the main park road, a couple of the gorillas came out into the road to say good-bye.  That's how close we were to the entrance.  We received certificates in a brief ceremony to celebrate and prove that we'd seen the gorillas.  I couldn't get film for my small Polaroid camera anymore, so before we left we bought Polaroid's portable digital printer, the PoGo.  I like to offer photos of themselves to the local people we meet, especially the children.  We handed out photos to our guide, porter and guards (in addition to gratuities), and they were very well received.  Everyone got a kick out of the printer which is about the size of a small notebook.  We spent some time browsing around in town, had lunch at the lodge then took a walk on the lodge's river trail.  The scenery was beautiful, though we didn't see many animals besides butterflies and other insects.  We were happy to hear that other guests would be joining us at the lodge that night, and even happier to discover that it was JP and Andy, whom we had met at Ndali.  It turned out that we met up at the next 2 lodges as well so we had a great opportunity to become better acquainted, and to enjoy their excellent company.
The next day we visited the Habinyanja Group of gorillas.  The name reflects the swampy area of the forest where the family was first spotted.  This is the largest group in the park with two silverbacks and about 20 members.  The alpha male, called Rwansigazi, is about 30 years old.  Makara, the second silverback, is about 24 and much smaller.  We met the other members of our group, had our briefing and hopped into our SUVs to drive to the area of the park where this family resides.  Our guide, David, rode with John and us and we met the guards and porters there.
We were even luckier this time.  Not only did we find the gorillas very quickly without a hard climb, but the entire family was hanging around in an open area eating leaves and fruit.  David told us that it is very unusual to see the entire group together including both of the silverbacks.  The day before they'd only seen about 13 of them.  We noticed that Rwansigazi sat prominently in the middle of the group, while Makara sat at some distance beneath a tree and waited to eat until the alpha male was finished.  Two juveniles clambered up a tree and showered figs down on the others, who comically dodged the falling fruit, raising their arms to protect themselves, then picked up the figs and ate them.  The expression on the face of the silverback when he was being pelted with figs was priceless, but he never lost his cool. 
There were the most adorable 6 and 9 month old babies cavorting around.  Climbing and swinging from vines, wrestling with each other, annoying the adults.  The mothers were very tender with their offspring and even the males were tolerant.  Much more so than the chimps who would often just walk by and swat the young ones for no apparent reason.  Makara even played with one baby, which David said very rarely happens as the males generally don't care for the infants.
Near the end of our visit, the silverback began moving off, followed by his entourage, and Makara ate some of the fallen figs before bringing up the rear.  We followed them for awhile through the forest until our time was up.  Once again, as we stood on the road, still slightly stunned by the experience, a female with a baby on its back walked out into the road as if to bid us farewell.
On the drive back to the park headquarters, we stopped near a school for orphans and they entertained us with local dances, including a gorilla dance complete with masks.  They were talented musicians, singers and dancers and we enjoyed it very much.  After lunch we took the Muzabajiro loop walk, which offers beautiful views of the mountains on a clear day.  It had gotten a bit cloudy by that time, so the view wasn't great, but it was a nice walk nonetheless and we learned a lot about David.  It was just the two of us with him, so we managed to return at a good clip and make it back before the afternoon rain. 
MGAHINGA NATIONAL PARK
 The scenic drive to Mgahinga wound through the mountains and fields, though it was rough going at times due to the muddy conditions caused by the unseasonal rain.  We drove through Bwindi National Forest and a lovely bamboo forest.  It was Sunday and most people were decked out in their finest for church and other social activities, tiny girls in frilly white frocks, solemn boys in dark suits, handsome men in white shirts and ties and beautiful women in smart dresses and suits or colorful African robes and headdresses. 
Volcanoes Mgahinga Lodge is way out in the bush, up a pitted dirt road lined by farms and small villages at an altitude of about 2600 meters (8,000 ft).  We left Bwindi and arrived at Mgahinga before JP and Andy, but caught up with them at dinner.  The lodge is in a gorgeously landscaped garden with spectacular views of crater lake Mutanda and the 3 main volcanoes, Gahinga (3,474 m), Muhabura (4,127 m) and Sabinyo (3,634 m).  Low clouds shrouded the mountains in mystery. While it was chilly at times in Bwindi, it was often cold at this altitude.  Once again, the lodge staff was welcoming and thoroughly charming.  They served us a lovely lunch in a dining room decorated with Congolese masks, wooden statues and other African artwork.  Our circular stone banda, named Nyiragongo after an active volcano in the DRC, was beautifully laid out and eco-friendly as in Bwindi.  Hot water bottles and a warm duvet kept us warm in bed at night.  It was a bit rainy, so we skipped a hike and spent the afternoon relaxing.
The next morning, we went to the national park headquarters to meet our guide, Jones, our armed guard, Constant, and a gracious young traveler named Rebecca from Melbourne then set off up the mountain to find the golden monkeys.  Golden monkeys are even more endangered than mountain gorillas, with only about 500 left in the wild.  They live in the bamboo forests of the Virungas and are extremely attractive with golden body fur, dark appendages, a white muzzle and fluffy fur at the jaw line that looks like exaggerated fuzzy muttonchop sideburns.  The forest smelled earthy and fresh, a combination of wildflowers, herbs and vegetation.  I wished I could bottle the smell and bring it home with me.  Thick, velvety moss clung to trees while colorful lichen and fancifully shaped fungus decorated the ground.  Thanks to the trackers, we found the monkeys without too much effort and had an hour to enjoy their simian antics as they fed and played in the trees.  
We had lunch at the lodge with JP and Andy, who had gone to visit a bat cave in the national park where the Batwa used to live before the park became protected, but the bats were apparently on holiday and not to be found.  They took off for Rwanda after lunch.  We wanted to take a village walk to visit the Batwa tribe (formerly known as pygmies, though many attain normal height in this region), but John thought it might rain, so we stayed put.  As it turns out, the weather was fine, but I had time for a very good massage, offered for free to residents of the lodge, before dinner. 
Before heading off to Rwanda the next morning, we took a hike up the mountain to visit the Batwa.  On the way we passed through local farms of Irish potatoes, wheat and maize. We met a pretty young woman out fetching water and walked with her awhile.  The weather started out clear and rained furiously once we reached the village.  We felt terrible dragging the people out of their huts to entertain us in the driving rain, but they seemed eager to demonstrate their traditional dances anyway.  They were very sweet and friendly, and we were happy to contribute to their income, but we would have felt better if the weather had cooperated.  Of course it cleared up as soon as we descended to the lodge.
VOLCANOES NATIONAL PARK – RWANDA
 We passed immigration and customs as we crossed the border into Rwanda and drove straight to the Volcanoes Virunga Lodge.  Each Volcanoes property that we stayed at was more beautiful than the last, and the scenery at Virunga was awe-inspiring, overlooking the large crater lake, Bulera, and ringed by 6 volcanoes – Gahinga, Muhabura, Sabinyo, Bisoke (3,711 m), the snow-capped Karisimbi (4,507 m) and Mikena, which peeked up from behind the flat top of Bisoke.  Our banda was located in a very private spot away from the others and had the most amazing views.  When we crossed into Rwanda, the clouds lifted and we had clear views of the mountains and cultivated valleys.  After lunch we explored our surroundings and read until attending an open-air dance performance by a local dance company.  The costumes were flamboyant and the dancing was exuberant.  It was thoroughly enjoyable.  A musician played an African guitar, called a nanga, and sang a lyrical song about the attractions of Rwanda - the wildlife, lakes and volcanoes. We chatted with some of the dancers, and met a young star named Fabien, who was featured prominently in one of the dances.  JP and Andy were the only guests besides us that evening, but we were joined for dinner by a fellow doing some management consulting work for the lodge.
Sunrise was spectacular.  It was as if the clouds slept in the valley covering the ground and low points of the volcanoes with mist in the morning and slowly rose with the sun to take their place in the sky.  It takes about 45 minutes to drive to the national park from the lodge but the views along the way made up for it.  The park headquarters at PNV (Parc National des Volcans) were much fancier than at Bwindi.  There are about 7 habituated groups of gorillas in Rwanda and therefore many more people can visit them per day. 
We registered and were assigned to the Sabinyo Group, named after the jagged mountain whose name means "old man's teeth".  The silverback of this family, Guitonda, is the oldest and largest one that we met at 38 years old. It was a relatively small family of 9 with gorillas of all ages.  Our guides, Oliver and François, briefed our group of 8 on the gorillas and explained protocol, then joined John and us for the ride to the area where we would begin our trek.  We met our porters and guards at the starting point and began with a long walk through farm fields.  During the walk, François found a comical little chameleon that I got to hold, and taught us about the vegetation that the gorillas prefer.  Gorillas get most of the water they need from the food that they eat.  François went so far as to illustrate, gnawing at juicy trees, biting into stinging nettles and spitting out the juice, and generally imitating a friendly silverback.  He was extremely entertaining and informative and had worked with Dian Fossey during some of her time here.
The habitat in PNV was very different than Bwindi, with less tall trees and more vines.  The guards and trackers had to use curved machetes to hack through the thick vegetation and when we found the gorillas, there was plenty of light.  They were all spread out in different sections.  We were watching the silverback chomping on leaves at a bit of a distance when suddenly a large blackback came within feet of us and sat down to rest and scratch his armpits, ignoring us completely.  After awhile, he climbed up into the vines to feed.  We were a bit concerned that he'd crash down right on top of us, but he didn't.  We had to crawl through a hole that the guides cut in a tangle of vines and ended up walking on top of the springy canopy, where we settled down with a view of several gorillas eating and resting.  Ijisho, one of the females, had only one eye, and Gukunda, the second wife of Guitonda, was obviously pregnant.  Her 3-1/2 year old, named Big Ben, was just at the age when she was ready for another, though he still stayed close to mom. 
François told us that they recognize gorillas by the pattern of lines above their noses, though we also noticed other distinguishing features.  There was a 6 month old climbing all over its mother and swinging on vines.  We learned that only apes can swing from vines, monkeys are quadrupeds and can jump from branch to branch, but are not real swingers.  Who knew?  The gorillas began to move, so we carefully followed them.  At one point Oliver gestured for us to come quickly and we headed down the narrow path to join him, only to find ourselves staring into the enormous but kindly face of Guitonda, who was resting on his knuckles and facing us a couple of feet away.  He turned away in boredom and walked off, trailing his harem behind.  We found most of the group lounging around and stuffing their faces at a short distance, so we found another spot to stand and watch until we had to turn back and leave the gorillas to their own company. 
That afternoon, JP and Andy had arranged to visit a local primary school and invited us to come along. They had bought notebooks, pencils and lollipops for the children.  We didn't have gifts, but printed them some class photos.  Theogen from our lodge, who grew up on one of the islands in the middle of Lake Bulera, accompanied us.  As we walked through the village greeting people, we attracted children like the Pied Piper.  Because there are so many children and so few teachers (only 10), there are 2 sessions per day. Some children attend in the morning and others in the afternoon.   The teachers were pleased to see us and allowed us to visit each classroom to quiz the children (correct answers won them a lollipop) and answer their questions.  They were extremely sweet and eager students but are lacking so many materials.  The classrooms were not even well-lit and were still over-crowded despite the split sessions.  On the way back to the lodge, we ran into Fabien, the teenaged dancer who had performed for us, and he walked with us and told us about his studies in secondary school.
That evening we were joined by a couple from Denmark at dinner bringing the number of guests to 6.  The moonrise over the lake in a tapestry of stars was exquisite.
We were fortunate to draw François again along with a personable young man named Edward as our guides.  Our final gorilla visit was with the Kwitonda Group, which had crossed over from the DRC, undoubtedly to avoid the conflict there and live in peace.  Gorillas don't need passports to cross the borders any time they want.  The group is named after the alpha male, Kwitonda, whose name means humble.  This was a large family with 2 young silverbacks in addition to the alpha male and a sweet 8 month old named Urwego and another baby called Karibu, plus a couple of 3 year olds.  Edward told us that about 40% of the baby gorillas don't survive.  Most die of natural causes, though some can be killed by silverbacks from another group which causes the female to begin ovulating so that the male can sire his own baby.  On the walk through the fields to the forest, François found another chameleon.  He was even more entertaining this time, draping the women in our group in vines to play king and queen of the jungle and making jokes. 
All 4 times that we visited the gorillas, we found them quickly and did not have long or difficult hikes.  This time we came upon about 12 of them lazily grooming each other.  The alpha silverback stretched out on the ground while the females serviced him.  Only the young ones were active, climbing vines, wrestling and playfully nipping each other.  This was the only group that really looked at us, studying our faces with their soulful, bloodshot eyes.  At one point a blackback approached us and a baby came forward as if to play, but we were instructed to back up and avoid contact if possible.  These gorillas got very close to us. 
That evening the lodge was full with a film crew and other new arrivals so dinner was very lively, though we missed JP and Andy who had gone on to Kigali earlier that day.
Our flight time to Kampala had been moved up before we left so we only had enough time in Kigali to visit the Genocide Museum.  It's very well annotated and designed but it's a heartbreaking place.  The atrocities were even worse than we'd previously learned, but the Rwandans seem determined not to allow such a thing to happen again.  The most poignant section of the museum featured photos of slain children with text describing their favorite things and activities and then how they were brutally murdered.  We wish we'd had more time to spend in Kigali since it is a lovely city.
KAMPALA
Kampala is a bustling city with some really bad traffic jams that is otherwise quite nice.  Our driver/guide, Abraham, was delightful.  We spent two nights at the Serena and had time to view the main attractions – the Kasubi Tombs, which are a World Heritage site, the very good Uganda national museum, where our guide even played music for us on native instruments, and two fine churches, St. Paul's and Lubaga Cathedral.  There were weddings at both when we arrived, but Abraham knew the family of the young lady being wed at St. Paul's, so we got to meet the bride's parents and watch some of the ceremony.
We had a very good lunch at the Crocodile Café and Bar, then returned to the hotel to cool off by the pool.  It had been quite mild during most of our trip and had become quite hot in Kampala.  It was Valentine's Day and Abraham had booked a table for us at the Emin Pasha hotel, a lovely boutique property.  The restaurant was decorated specially for the occasion and in addition to very good food, we enjoyed a live band and great people-watching since many local residents came to drink and dine and listen to the music.
We hated to leave but have to agree that this was definitely one of our top trips.
Content goes here