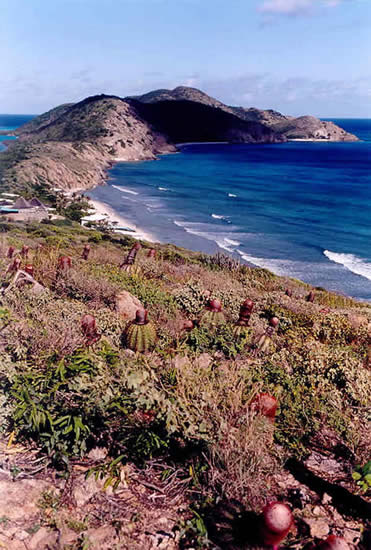 Sometimes we celebrate our anniversary by giving ourselves a trip, which considering our interests is a great gift.  Last summer we began planning getting not too far away for a long weekend in warm weather for our mid January anniversary, leaving the vast majority of our vacation days for more ambitious travel.  We had heard some interesting things about the British Virgin Islands and how certain parts of them would meet our needs for a fairly quiet place to just kick back in the sun, and not even bother to bring any SCUBA gear.  We settled on Biras Creek on Virgin Gorda.  To get there you fly to Beef Island (where did they get that name?), where the Biras Creek folks meet you for a 15-mile ocean transfer to their dock on Virgin Gorda.  Our greeters were waiting for us, and we shoved-off very quickly, already enjoying the balmy air and beautiful Caribbean water.
On arrival the co-managers, a married couple – she English, he French – greeted us, checked us in, and took us to our beachfront room, a spacious half of one of their 18 dual units, most of which were on the beach.  With so few units the property certainly met our needs for quiet, and being set on around 150 acres of steep hills, beaches, jungle and lagoons it offered plenty of opportunity for solitude, hiking (some beyond the borders of the property), nature and lolling about in the sun.
After changing and taking a quick, good lunch we started exploring.  We quickly discovered that the island was home to many lovely species of birds, and a kestrel was kind enough to pose for us before continuing his hunt for small lizards.
For the balance of the weekend we'd typically get up early to try to photograph water birds feeding in a brackish inland pool, have breakfast, and then pack the day with hikes, lounging on the sand, and sometimes going into the surf for a cooling swim.  During the hikes we found flowering cactus, lovely views over the property, interesting lizards and more birds.  In fact just 50 feet from the main building, a stand of flowering trees attracts many nectar-seeking sugarbirds and hummingbirds, some of which we were fortunate enough to photograph.  Hummingbirds are difficult to photograph since about the time you're nearly focused, the bird zips to another blossom.
Leaving the property in one direction takes you to the Bitter End Yacht Club, which is another, much busier and larger resort.  It was fun to visit coming and going by different footpaths, but we thought that Biras better met our needs.  Leaving the property in the other direction takes you to some shops, including the Fat Virgin, which serves pretty good lunches.  In that same area are a hot spring where you can "take the waters", as well as a small marina belonging to Biras Creek, where you can checkout small skiffs with tiny outboard motors.  We arranged for a picnic lunch, checked out a boat, and went to a lovely, empty beach across the bay, where you also have a clear view of Necker island, Peter Branson's tens of thousands of dollars a day private resort.
When it came time to motor back, Stu had some difficulties getting the skiff to stay in deep enough waters so that he could jump in and start the motor before the waves forced us back into water too shallow for the motor, but we eventually got going.
We found the Biras Creek staff and meals to be excellent, and the varied landscape was most appealing for our frequent hikes, none of which were particularly arduous or lengthy.
When it came time to go we found the boat transfer to be as comfortable and efficient as the way in, and considered ourselves lucky to have spent our anniversary so well.