We recently had dinner at a restaurant we've enjoyed on a few previous occasions and were disappointed in the food.  It turned out that there was a new chef.  Restaurants can change so quickly and often drastically that it's difficult to rely on previous experiences; however, we still thought it might be useful to list places we've enjoyed as many have maintained their high standards.  There are lots of other places we like (especially in NYC), but we only listed those we'd been to most recently and liked the most.
CENTRAL AMERICA
EUROPE
NORTH AMERICA
SOUTH AMERICA

Kampala, Uganda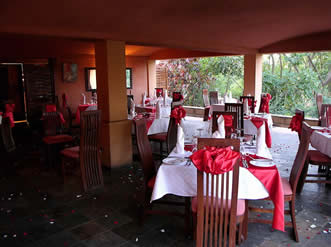 Emin Pasha - A boutique hotel that really feels like Africa, rather than some big, glitzy chain hotel which could be anywhere. Their dining room, open, but partly under cover, is quite lovely with truly fine food, service and decor. The photo below shows it decorated for Valentine's day. Make reservations, and just in case they have the same chef, who screamed abuses and curses at his kitchen staff (which we heard since we arrived early before other diners and music drowned out his ravings) make the reservations for at least a half hour after they open. It's worth it. http://www.eminpasha.com.
Bel, Ombre, Mahe, Republic of the Seychelles
La Scala – The Italian/Continental food, particularly the seafood, was the best that we experienced in the Seychelles islands.  Lovely atmosphere and good service add to its pleasures.
Harare, Zimbabwe
La Fontaine Restaurant – Meikles Hotel – Excellent food, good wine, refined ambience and exceptional service.  http://www.meikles.com/
Cairo, Egypt
Arabesque – Oozing with local atmosphere, the food is delicious and the service is kind.
South Africa
CAPE TOWN
The Roundhouse – Round House Rd. Camps Bay; Excellent haute cuisine in an elegant historically significant building with breathtaking views of Camps Bay, the Atlantic Ocean and the 12 Apostles.  They offer only a tasting menu with optional wine pairings. Every bite was sublime and the wines were equally enjoyable.  Service was practically perfect.  It's a very romantic spot and also very popular, so you have to book well in advance. Very highly recommended!  http://theroundhouserestaurant.com/
Chef's Table at Belmond Mt. Nelson Hotel 76 Orange St. ;  We had better luck at this hotel restaurant.  The grounds are very grand, almost pompous, as you pass through tall iron gates and up a long driveway to reach the sprawling pink hotel.  They have a fine dining restaurant called Planet, but also offer a special 8 course tasting menu served in an alcove with 4 tables just off the massive kitchen, where you have a view of the chefs preparing your meal.  In addition to the 8 official courses, there were lots of other treats.  The bread was exceptional and wine pairings were well chosen.  Our favorite courses were a modern take on tandoori chicken , tender flavorful springbok loin and a scrumptious chocolate confection.  Not all courses were as stellar, but overall it was an excellent meal and fun experience.  Service was thoroughly delightful and attentive and the sous-chefs brought out dishes and explained them.  Very highly recommended!  https://www.belmond.com/mount-nelson-hotel-cape-town/top-restaurants-in-cape-town
Pot Luck Club - The Old Biscuit Mill 375 Albert Rd. Woodstock; Situated on the top floor of a silo in the repurposed Old Biscuit Mill with lovely views of Table Mountain and Lion's Head, Pot Luck Club is modern and innovative.  It features the cuisine of celebrity chef Luke Dale Roberts, whose flagship restaurant, The Test Kitchen, is on the ground level across a courtyard. We had lunch there on the day that we visited the market.  You order a series of small plates to be shared. We tried 6 and enjoyed all of them, especially the beef tataki.  They have very good wines by the glass and bottle. Service was not a high point, but it was adequate.  Highly recommended!  http://thepotluckclub.co.za/home/
La Mouette 78 Regent St. Sea Point; Despite the name, the menu offers more of an international mash-up.  It's located in a touristy looking seaside community in a large house converted to a restaurant so there is seating in various rooms up and downstairs.  The food was generally tasty and service was good, though it's not worth going out of your way to find.  If you're staying nearby it would be a good choice.
http://www.lamouette-restaurant.co.za/
Bouchon Wine Bar & Bistro 95 Hout St.;  We didn't make a reservation for the evening we arrived and didn't have a lot of choices, but our hotel reserved a table for us here.  The atmosphere is lively and the décor stylish, but the food and service were only mediocre.  I had one glass of wine, which was fairly good.  It would be ok in a pinch, but not one to seek out specifically.
Dash Queen Victoria Hotel V&A Waterfront; This hotel is very attractive, but exceedingly difficult to find, tucked away in an odd location.   It's probably great if you're staying there so you can escape the mass of tourists on the waterfront.  Dash has a good reputation so we thought we'd check it out for lunch after returning from our tour of Robben Island.  The place was nearly empty, just one other couple, yet service was inept, they seemed unprepared to deal with guests even though we'd made a reservation.  We had a light lunch and the food was fairly good, though not anything special, and not the best value.  I'm sure that they do better at dinner, though we couldn't recommend it. 
Ash 81 Church St. ; This is one of those trendy new places that tries a bit too hard.  Service was diffident and the food was very disappointing. It specializes in meat but the steak we had was tough, which is surprising since steak was usually one of the best dishes at many restaurants in South Africa .  Neither of us ate much.  Definitely one to avoid.
The Winelands
Delaire Graff – R310, Helshoogte Pass | Banghoek Valley, Stellenbosch .  Delaire Graff is among the most gorgeous wine estates we've ever seen. Not only are the views breathtaking, but the architecture and art in their buildings are stunning.  We wandered around a bit before going in to lunch in order to enjoy the grounds.  We were seated at a perfect table right at the edge of the outdoor patio overlooking the vineyards and mountains.  Our server was personable and efficient.  The wines are top class and the food was delectable.  They have another restaurant called Indochine, which looked lovely, but try to dine in the flagship restaurant.  Very highly recommended!
The Tasting Room – on the main street in Franschhoek in Le Quartier Francais hotel; This restaurant is now closed and they're opening a new one with a different chef later in the year, so there's no point in recommending it.  It was considered one of the top restaurants in South Africa, so we're glad we had a chance to dine there.  The room was striking and service was professional and congenial.  We had their grand tasting menu which consisted of many small bites, and some larger servings, paired with very good wines for me.  The cooking was innovative and daring at times; most times it worked, but not all of the time.  We enjoyed the meal very much, though it was not our favorite.   http://leeucollection.com/lqf/the-tasting-room/
Ryan's Kitchen 1 Place Vendome, Huguenot Rd. Franschhoek;  We're struggling to understand the positive buzz about this place.  The room is very attractive with comfortable seating, but the food left much to be desired.  Service was friendly and prompt, however our server spilled my glass of wine all over Stu. Thank goodness it was white wine.  They refilled the glass but didn't offer any compensation to Stu.  Even without the wine incident, we wouldn't recommend it.  There are wonderful restaurants in this area.
Cederberg Mountains
Embers Bushmans Kloof;  Although meals are included we have to mention this lovely venue,  set up a hill with a view over the landscape and lit with candles and torches.  You're assigned a guide when you arrive and if you're a couple, you generally will have other couples joining you on the small group excursions.  At the Embers braai we were seated with our guide and the 2 couples who explored with us, which greatly enhanced the experience.  It was a magical night!
Kadoro Bushmans Kloof; Dining at Kadoro incurs an additional cost, but it's well worth it.  Londi drove us out to a former shepherd's stone cottage which has been redecorated with antiques to serve as the most romantic dining room!  There's a fire pit outside to enjoy over drinks, and a separate kitchen hut, however, it was quite windy so we stayed inside.   I counted over 90 candles and 7 lanterns illuminating the interior.  You have a private chef to prepare the meal who consults with you in the afternoon to tailor the meal to your preferences.  The food was outstanding and since we were celebrating our anniversary, they included the wines.  We danced to slow tunes that I played on my phone.  The moon was full and the sky ablaze with stars.  And as if that were not enough, we even enjoyed a game drive on the way back to the lodge.  We spotted a duiker and an African Wild Cat in addition to the more common antelopes.  What a night!  Very highly recommended! https://www.bushmanskloof.co.za/food-and-drink/kadoro
Route 62 – Robertson
The Small – The restaurant at the Robertson Small Hotel is aptly named The Small.  It's in a highly stylish and attractive room with an outdoor patio and a view of the kitchen from inside.  Our server was warm and attentive and the food was terrific, fresh and well prepared, accompanied by a complimentary glass of Graham Beck Brut to acknowledge our anniversary.  Breakfast here was also very good.  Highly recommended!  http://www.therobertsonsmallhotel.com/the-small-restaurant/
The Whale Coast
De Kelders Private Retreat – Guthrie & Main Rd. DeKelders;  Neil Stemmet, a well known designer and cookbook author, owns a chic guest house in DeKelders where he applies his considerable culinary expertise to dinners that he prepares for his own guests and guests of Cliff Lodge, where we stayed.  The night we went, we were the only guests, so we had an intimate private dinner.  The house is high design and full of character, and the soundtrack was fabulous, featuring classic blues and jazz artists.  Neil is fascinating and talking to him was a real highlight of the experience.  The meal was superb, made with locally sourced ingredients, truly among the best we had in South Africa.  He was very generous sharing cooking tips and showing us how he was preparing the food.  If you're lucky enough to stay at Cliff Lodge, make sure that Gideon or Gill books dinner for you here.  Or you can stay here, though it doesn't enjoy the sea views that Cliff Lodge does.  Very highly recommended!  http://www.dekeldersprivateretreat.com/
Thyme at Rosemary's 13 Main Road, Gansbaai; +27 28 384 2076; This is a wonderful local restaurant, occupying a small house with a glassed in dining area overlooking the garden and tables in the garden.  The food is all home cooked and very fresh and the people who work here are warm and welcoming.  The servings are seriously huge, had we known how large we would have shared a main course.  We couldn't come close to finishing.  I had pork ribs that were outstanding and Stu had lamb shank that was equally delicious.  They don't have a website.  We didn't need reservations for lunch, popping in there early on a Monday afternoon, however, you would probably want to call ahead for dinner or on the weekend.
Kloeks @ home De Villiers Street De Kelders  +27 28 384 2769;  This is a charming family run restaurant in a pretty house.  Our server was attentive and affable.  We thought the food was quite good, but the portions were overly generous.  It's a very popular place with a lively atmosphere.  We enjoyed it quite a bit though it's not on the same level as Neil's place.  No website, you definitely need reservations.  If you stay at Cliff Lodge, they'll take care of that for you.  Recommended! 
Black Oystercatcher R317, Moddervlei Farm, Bredasdorp (near Elim);   We stopped here for lunch after visiting the town of Elim, and it's convenient when coming from Cape Agulhas.  Set on a wine farm, it's a modern and relaxed place to enjoy a nice meal and some good wine while gazing out over the fields.  Our server was friendly and gregarious, and if service was a touch slow, who cares when you're chilling out enjoying the weather and wine.  I enjoyed a tasty salmon salad and Stu savored the burger.  Recommended!  http://blackoystercatcher.co.za/restaurant/
The Garden Route
Die Gieter Cathy & Remy's 5 Phantom Pass Road, Knysna, +27 44 386 0201.  Hands down our favorite restaurant in Knysna and among all that we tried on the Garden Route.  It's run by a charming and outgoing French couple, Remy in the kitchen and Cathy in the front room, though Remy came out frequently to chat with us and the other guests.  It felt very cozy and intimate.  As lovely as the room and owners are, the food outshines it all. French classics expertly prepared, the duck confit and beef in a Bordelaise sauce were luscious.  You get a tasty tapenade as an amuse and a glass of brandy at the end.  I don't think there's a website, but do book ahead as it was full when we were there.  They had just moved to a new location so the address above may be incorrect.  Very highly recommend!
Pembrey's Bistro Brenton Road, Belvidere, Knysna South, 044 386 0005.  Pembrey's feels a little more formal than Cathy & Remy's but this is South Africa so it's still fairly casual. The room is attractive and the food above average.  We met the chef here as well, he seemed a bit shy.  Highly recommend! http://pembreys.co.za/
East Head Café 25 George Rex Dr, Knysna 044 384 0933 Situated on the East Head overlooking West Head, the lagoon and ocean, it would be hard to find a more scenic spot.  Parking is challenging but there's an efficient guy to direct everyone.  They're only open for breakfast and lunch and don't take reservations, so if you want a table on the outdoor deck there can be a long wait.  We settled for a table indoors, but next to the large windows which afforded us a gorgeous view.  The food is simple but fresh and well prepared and our server was terrific, personality plus!  Highly recommend!  http://www.eastheadcafe.co.za/
Ristorante Enrico - 296 Main Street, Keurboomstrand; After hiking around Tsitsikamma National Park we were hungry so we stopped off  in Keurboomstrand (near Plettenburg Bay) to have lunch at Enrico's.  We were seated outdoors on a picnic bench with umbrella with an amazing view of the beach and all the seabirds foraging on the shore, such as Black Oystercatchers.  While the pizzas looked terrific, we opted for tasty grilled fish.  Wine is by the bottle so I got a very nice white from the Veneto and brought the rest with me to enjoy the next day.  Recommended.  http://www.enricorestaurant.co.za/
Café Gannet - Old Post Tree Sq. Church & Market Sts. Mossel Bay; On the drive from DeKelders to Knysna we broke up the long road trip with a lunch stop in Mossel Bay.  It looked like a package tour type of town and the Café Gannet looked quite touristy, so we were pleasantly surprised at how good the food was.  We had a whole local sole grilled with soy sauce on a bed of vegetables.  The receptionists weren't the most friendly, but our waiter made up for it.  I wouldn't go out of my way to eat here, but if it's convenient to stop in Mossel Bay, this is a good choice.  Recommended!  http://www.oldposttree.co.za/cafe-gannet
Olive Tree - 21 Main St. Knysna +27 44 382 5867; The team at Olive Tree is exceedingly affable, service is attentive and the atmosphere is cozy and homey.  The food is very good in a home-cooked style.  We tried Boboties, a typical South African meat dish followed by tender grilled lamb chops accompanied by a variety of vegetables  As is common, the servings were overly generous.  This is an enormously popular restaurant so you should reserve a table.  Recommended! 
Île de Pain - Long St. Thesen Island Knysna; Both a bakery and eat-in café, Île de Pain (island of bread) bakes the most exquisite pastries and bread.  We didn't indulge in the pastries, but we picked up a couple of tasty sandwiches and a squash salad which made a perfect picnic lunch which we enjoyed on the dunes of Buffalo Bay.  Recommended! http://www.iledepain.co.za/
Freshline Fisheries – Railway Siding Dockyard behind Tait Marine on way to Thesen Islands, Knysna;  A fish market and BYOB restaurant, Freshline Fisheries presents  a fun, casual atmosphere.  You're seated on picnic benches set in sand under canvas awnings and illuminated by candlelight.  Our server was lovely.  It's very popular, so I think we ordered the wrong thing, as the fish was overcooked and very disappointing.  The best part of the meal was the baby baked potatoes which were outstanding.   http://freshlinefisheries.co.za/
Constantia
La Colombe - Silvermist Wine Estate Constantia Main Road; The best restaurant that we tried in South Africa, La Colombe is exquisite.  It's located in a charming building at the top of a hill in a picturesque winery. We had a lovely table with a view of the estate.  Service was flawless and the food was creative and sublime.  We had an 8 course tasting menu that included 2 amuse-bouches and a surprise taste test at the end.  The second amuse was incredible, one of the sous-chef's presented a hot pan in which she mixed chicken cracklings, sauces, herbs and a spray of balsamic vinegar.  We were given red wine bread to sop up the mixture.  It may sound odd but it was luscious!  The wine paired with the courses were well chosen and of high quality.  Highest recommendation!!!  https://www.lacolombe.co.za/
La Parada – We wanted a relatively light lunch since we knew we'd be having a big dinner at La Colombe, so we stopped at this casual tapas bar.  They apparently have branches in Cape Town and Camps Bay as well.  The receptionists were a bit haughty, however our server was terrific and we were pleasantly surprised by the quality of the food. We sat outdoors on stools at a large table, but no one was seated near us, even though the place was very busy.  We ordered 5 shared plates and they were all delicious accompanied by a very nice glass of Saronsberg Provenance Shiraz.   Recommended!   www.laparada.co.za
Tswalu Kalahari Reserve
All meals are included at Tswalu and for the most part the food was very tasty and well prepared.  We especially enjoyed a picnic lunch and dinner with our guide and tracker in the bush.  The dinner was atop a dune with sweeping views of the savannah and mountains and a glorious sunset.  A curious giraffe checked us out from a distance before moseying along on his way.   We also enjoyed a candlelit braai with local singers. You don't visit Tswalu for the food, however, you'll be well fed and happy here.
Kathmandu, Nepal
Krishnarpan – Dwarika's Hotel – You choose from several set menus with different numbers of courses (we had the 9-course) and are presented with a personalized menu with your name on it. The opulent decor, exotic atmosphere and captivating staff are matched by the lavish banquet of local delicacies.  One of the best dining experiences we've had anywhere.  www.dwarikas.com
Ho Chi Minh City, Vietnam
Lemongrass (District 1 – Saigon) – Contemporary style and wonderful Vietnamese food attract locals and foreigners alike to this small, popular restaurant. 
Mandarine (District 1 – Saigon) – Lushly romantic with exquisitely prepared and presented Vietnamese and Chinese cuisine and expert service.  Higher priced than most local places but still a bargain for Westerners and worth a splurge. 
Hoi An, Vietnam
Song Do Restaurant – Hoi An Riverside Resort – The attractive open-air restaurant in this gracious hotel serves some of the best food we had in Vietnam.  We highly recommend the fish with ginger.  Service was caring and efficient.  http://www.hoianriverresort.com/
Mermaid Restaurant – Excellent set menu – the stuffed squid was so exceptional that it's the first time I saw Stu eat squid. 
Hue, Vietnam
Hoa Vien – Great place to try local Hue specialties, such as the crispy filled pancakes.  Everything was delicious here, the room was simple but nice and the staff was lovely.
Ha Noi, Vietnam
Bobby Chinn – If you've eaten enough pho and spring rolls and want a change of pace, this very modern, stylishly decorated, California-Asian fusion restaurant is perfect.  It's even perfect if you just want a really fabulous meal.  The kitchen offers a variety of creative small dishes and you assemble your own tasting menu based on your appetite.  It's a great way to try a lot of different things, and there was nothing we didn't like.  High-priced for Vietnam but not for comparable eateries in other parts of the world.
Dac Kim Bun Cha – This veritable hole-in-the-wall frequented by locals serves only spring rolls, rice noodles and pork patties (bun cha) fried up in huge woks out front.  Seating is communal so it's a nice opportunity to interact with local people, though it's clear that this is a fast food experience, where people rush in and out for a quick bite.
Beijing, China
Li Jia Cai (Li Family Restaurant) – Even if the food weren't as good as it is here, you shouldn't pass up the opportunity to dine in one of the intimate rooms in this ancient traditional wooden family home.  The Imperial style cooking is simpler than you might imagine and there were a couple of odd dishes, but it was a fantastic feast.
Thimpu, Bhutan
Phuensum – Bhutanese food is generally much simpler than you'll find in other Asian nations, yet tasty especially if you spice it up with the ubiquitous hot chilies.  We had our best meals in Bhutan at this small, friendly café located in an office building near the center of town.
Singapore
Jaan.  This beautiful room on the 70th floor of the Swissotel building has a marvelous view of downtown Singapore, which is stunning at night.  Years past we would have avoided restaurants in hotels or restaurants with great views as sources of disappointment since the draw would be other than the food.  But Jaan bucks that earlier trend and would be a first tier restaurant in any city in the world.  Not only is the food extraordinary in this nouvelle French pleasure dome, but the combinations are inventive while always being delicious, providing presentation that is so lovely that they could charge an entertainment tax – but they don't.  The closest restaurant in the same vein we can think of to Jaan is 11 Madison park in Manhattan, where the food, presentation and showmanship is on the same level, but that one is on the street level.  And the service is first rate, too.  If you plan on going reserve a table by one of the windows for a most memorable view.  Having trouble getting a reservation?  Ask your hotel's concierge to book it for you.  In advance.  It's across the street from Raffles in the Swissotel Building at 2 Stamford Road, Singapore.  Telephone 65 6338 8585.  Singapore-stamford@swissotel.com
Sydney, NSW
Pier – We tried this restaurant on the recommendation of one of Stu's Aussie colleagues and were thrilled with the recommendation. The setting on a pier in scenic Rose Bay showcases the city's ample charms and the chef skillfully accentuates the extraordinary bounty of Australian seafood.  As busy as it was, the staff was adorable and even took the time to note down some wine suggestions in case we wanted to ship a case from the Australian Wine Center (which we've been known to do).
Update!   We visited again on the way home from Papua New Guinea, and if anything, it's now even better.  Chef/owner Greg Doyle (no, NOT the restaurant with the name Doyle in it) has perfected ensuring that your order arrives in front of you at the best possible moment.  We also got to speak with Greg for a while.  He's a delightful perfectionist who inspires great loyalty in his staff. http://www.pierrestaurant.com.au Update! And on a sad note, Greg retired and closed Pier.
Hobart, Tasmania
Lebrina (New Town) – Intimate dining rooms in a converted cottage with expansive views, superior cuisine, fine wine and professional service. 
Rosevears, Tasmania
Daniel Alps at Strathlynn Wine Center – An outpost of Pipers Brook Vineyards, the meals served in this handsome indoor/outdoor café overlooking the vineyards and the Tamar River valley are extraordinary. Delicious wine is expertly paired with the scrumptious food, and service is knowledgeable and amiable.  Lazily lingering over meals here was a high point of our peregrinations around Tasmania.  http://www.pbv.com.au/strathlynn.asp?Section=Cellar%20Doorand SubSection=Strathlynn
Richmond, Tasmania
Prospect House – Dinner at this romantic historic inn is wonderful and the service was warm as well as efficient.  If you stay overnight, the breakfast is ample and delicious, including such items as a bacon and egg soufflé.  http://www.prospect-house.com.au/
Hobart, Tasmania
Orizuru Sushi Bar (waterfront) – Extremely fresh, beautifully-prepared sushi and sashimi in a casual setting on the harbor.  http://www.mures.com.au/restaurants/orizuru.htm
Sheffield, Tasmania
Little Weindorfer's – If you view ice cream as a meal (as Stu does), it makes sense to list Little Weindorfer's as a restaurant.  This little shop serves rich, creamy, totally satisfying homemade ice cream.  Definitely not recommended for the arterially blocked.
Swansea, Tasmania
Kate's Berry Farm – Also not a restaurant, but the berries and berry products, which are also served over excellent homemade ice cream as a double treat, are outstanding.  We ran out of the blueberry preserves that we brought home awhile ago and have been wishing we could just pop down to Kate's to stock up again.  We haven't found any that come close.
CENTRAL AMERICA
Panama City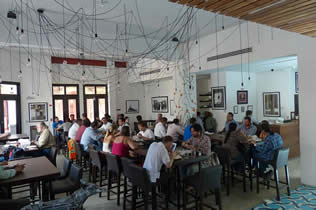 Tantalo is a rather hip boutique hotel in the Casco Viejo (World Heritage Site section of Panama City) district with a hip restaurant serving casual food of the first order. The staff is as delightful as the food and setting, and wait 'til you visit the restrooms for additional appealing, edgy style. We only tried lunch, which was excellent, but is we were to stay around longer we definitely would have gone back. We went early for lunch, but it filled-up quickly after we arrived. Tantalo Hotel, Avenue B & 8th Street, Panama City San Felipe. (506) 262-4030. http://www.tantalohotel.com/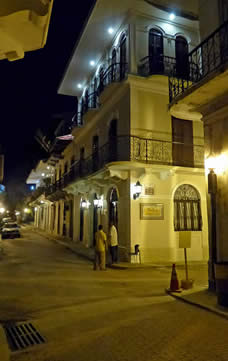 Mostaza has a definite sense of location in the Casco Viejo district, feeling very much Panamanian, and sited across the street from the ruins of an old church. Even though other Americans recommended it to us, when we went we were the only non-Panamanians there. The food was fresh, creative and excellent, the staff attentive, the Argentine and Chilean wines delightful, and the setting lovely. Mostaza, Avenue A and 3rd Street, Panama City, San Felipe. 228-3341 and 228-8775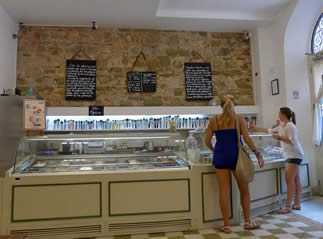 Granclemont is really an ice cream store, but what a honey. They make all their ice creams, sorbets and meringues in the classic French style, and its clear they paid attention in class and got straight "A"s. We doubt you'll find it's equal in Panama, and maybe not even Central America. On Avenida Central and 3rd Street. http://www.granclement.com/
Paris, France
Guy Savoy (17th arr.) – Astounding food, charming staff, elegant décor – all the elements for a memorable dining experience in this exceptional restaurant.
L'Oulette (12th arr.)  Wonderful regional (southwestern) cuisine and wine for a reasonable price in an inviting room. Among the friendliest people you can imagine. One evening it was uncharacteristically slow and the maitre d' kept coming over to chat with us, discreetly between courses so he never interrupted
our meal, of course. We recommend taking a taxi as it's a bit out of the way, but worth the trip.
Taillevent (8th arr.)  In ways it is like a mix of Daniel and Picholine in NY. Superb food and service, and not only a warm and professional staff, but one that is respectfully playful with the diners. What a delight, and a truly world-class restaurant in a top eating city. http://www.taillevent.com/
Chartres, France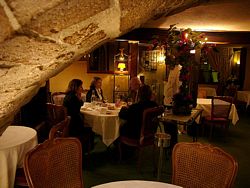 La Vielle Maison -- Classic French dishes prepared better than you can believe possible. As just a hint of what I'm writing, chef Bruno's sautéed foi gras was crunchy on the outside and liquid on the inside.   Our dear friend Gerard took us there and, even without the unmatchable company, the meal was one of the best we've had anywhere.  Update!  After nearly two years we were able to return, and if anything, this formerly superb restaurant is even better.  Most highly recommended.  Photo shows our party virtually closing the place, enjoying discussions with chef Bruno.
Erice, Sicily, Italy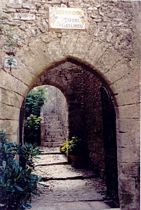 Ristorante Monte San Giuliano – The eggplant rollatini melts in your mouth and the rest of the meal is equally delicious at this pretty restaurant in an old stone building.   The crowd was a congenial mix of visitors and locals.  Photo is of the entrance.
Agrigento, Sicily, Italy
Le Caprice – Set in an elaborately landscaped garden with a duck pond and corresponding waterfowl, this delightful place with indoor and outdoor seating served a mind-boggling selection of tasty hot and cold dishes in its antipasto buffet.  Service was friendly and efficient.
Siracusa, Sicily, Italy
Ionico a Rutta e Ciauli – Superb food served on a romantic outdoor patio overlooking the Ionian sea.  Our waiter could have charmed the snakes off the Medusa.  Our favorite restaurant in Sicily, not counting the agriturismo places.
Agricolo Limoneto – Farmers supplement their income by offering lodging and meals to travelers, a practice known as agriturismo. Barbara had read about this fruit farm so we went for a meal that reminded Barbara of the Sunday dinners at her Sicilian best friend's house when she was in school - course after course of mouthwatering homemade specialties.  There's no menu, you order drinks (water, local wine in a carafe, etc.) and the food just keeps coming.  We were the only guests who were not Italian – it was all couples, families, and groups of friends out for Sunday dinner.  Fabulous, authentic Sicilian experience.  http://www.illimoneto.it/english/index.htm
Valle dell'Alcantara
San Cataldo Agriturismo – Idyllic farm with far-ranging views run by an exceedingly lovely family. We had the best lunch of our trip here and one of the best meals.  We dream of returning to San Cataldo just for their homemade ricotta and tree-ripened peaches.  This would be a perfect place to stay for a few days just to relax, explore the countryside and experience real Sicilian hospitality and home cooking (especially if you weren't lucky enough to have close Sicilian friends growing up).  http://www.agri3000.it/aziende/sicilia/sancataldoeng.htma
London, England
Orrery (Marylebone) –  Sleek décor, exceptional food, excellent service.  With the 1 July 2007 smoking ban our only objection to this restaurant has been removed..
The Sugar Club (Soho) – Contemporary New Zealand fusion cuisine in a fun, lively setting and decent prices.  With the 1 July 2007 smoking ban our only objection to this restaurant has been removed.  http://www.thesugarclub.co.uk/
Istanbul, Turkey
Develi – We enjoyed an array of delectable local specialties in this simple, family-oriented kebap restaurant.  We don't recall seeing any other tourists when we ate there.  This was our favorite place in Istanbul, though we were astonished at how delicious the sis kebap was from a stall vendor at the Grand Bazaar.
Bodrum, Turkey
Antik Tiyatro Hotel  - The restaurant in this charming boutique hotel expertly serves exceptional Continental cuisine in a lovely room.
Goreme, Turkey
Ataman – Excellent dinners in a charming room with warm and efficient service.  You don't have to stay at the hotel to eat here, but we recommend it.
Kusadasi, Turkey
Kazim Usta – Dining open-air right on the water, watching the fishermen plying their trade is an added treat at this simple, very friendly place that really knows how to grill fish.  We liked the food, staff and atmosphere so much we ate there both nights of our stay.
Bruges, Belgium
Patrick Devos - Zilveren Pauw – Restaurant quality in Belgium is generally high and this was our favorite of those we tried.  Lovely room, attentive staff and excellent food. http://www.patrickdevos.be
Belgian chocolate – Pierre Marcolini - While it's not a restaurant, if you happen to be in Belgium, don't miss the opportunity to try the chocolate from Pierre Marcolini.  Pure paradise.  Based on the web site, it looks as if they've opened branches in locations outside Brussels and Antwerp now. http://www.marcolini.be/
Prague, Czech Republic
Kampa Park (Kampa Island) – Smart, stylish modern restaurant right on the river, with friendly service, exceptional views and delicious food and wine.  Our personal favorite.  http://www.kampapark.com/
Malta
If you visit Malta, bring a hearty appetite – The Maltese restaurants have HUGE servings.  We did find three restaurants that only served very big servings, and at the same time were extremely good, and two of which were world class in quality.   The restaurants are:
Mondion at the Xara Palace Hotel in beautiful Mdina.  The room is set high above the city wall and the views are spectacular, matching the food and service.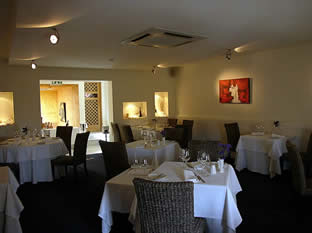 Maji in Victoria on the island of Gozo.  Michael and Jason have thought of everything in designing this stylish, contemporary facility, and their risotto is one of the best we've had anywhere.  Chances are Michael or Jason will provide the warm, friendly, helpful service.
Ta Frenc is just a bit south of Victoria , on a country lane.  Beautiful, traditional Maltese design, wonderful food and service.
Cozumel, Mexico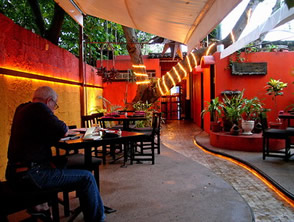 Kinta – A stylish Nouveau Mexican restaurant with very tasty, imaginative prepared food, delightful friendly service, moderate prices and large Marguerites.  Tuesday through Sunday 6:00 to 11:00 PM.  Ave 5 between Calles 2 & 4.  http://www.kintacozumel.com/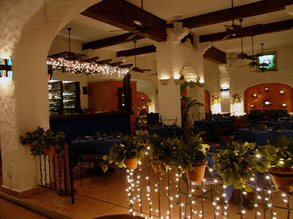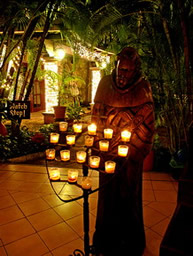 Pancho's Backyard.  A lovely, large restaurant in a location that suggests it is a tourist trap, but instead it is gracious with fine food and warm, friendly service.  One of its entrances is through their huge gift shot.  But the north entrance takes you directly in.  Rafel Melgar (the main drag) 27.
Boston, MA
Hamersley's Bistro (South End) – We first tried Hamersley's in its original small storefront location on Tremont and were very pleased that the move to a larger, and more handsome, location did not degrade the quality of the food or service at all.  There are many good restaurants in Boston, but this is always the first place that we return to.  http://www.hamersleysbistro.com/
Boulder, Colorado
Frasca Food & Wine.  1738 Pear Street, Boulder.  The cuisine is a bit unusual, being from northwestern Italy and places across the Adriatic, but man is it good.  The four of us had their tasting menu with wine parings and every course was excellent, plus the wine pairing perfect.  The staff was absolutely first class: warm, attentive and as professional as you'll find in Europe and New York.  Most highly recommended.  303 442-6966.  http://www.frascafoodandwine.com/. 
Charleston, SC
Peninsula Grill in Planter's Inn – Charleston is a good food town and Peninsula Grill is our top choice there.  Refined cuisine, good wines and fine service in a pleasing setting.  http://www.peninsulagrill.com/
Magnolia's – We had a wonderful lunch at this popular Southern food eatery.  The clientele was a mix of tourists and locals and everyone appeared to having a grand ole time.  http://www.magnolias-blossom-cypress.com/magnolias/
Hastings-On Hudson, NY
Buffet de le Garre -- Yes, it's a block or two from the Hastings train station, but it might as well be in Paris. The food is classic French bistro, authentic and excellent. The owner is charming and she's good at hiring delightful staff. There were some very minor service gaffes, but they were handled with such warmth and humor that it actually improved the experience. Manhattan quality at half the price. 155 Southsuide Avenue. 914-478-1671. http://buffetdelagareny.com/.
Hudson, NY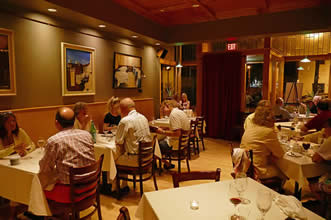 Ca' Mea.  Northern Italian. Rather chauvinistically we had just moderate expectations for this lovely "Italian" (we have so much superb "Italian" in NYC) and were completely unprepared for just how good it is.  The rooms are lovely, one of the few locations in Hudson without stamped tin ceilings, and the staff was first rate.  But the food is the real star.  We each had appetizers, split a pasta course, and then had main courses—and each dish was excellent.  Most amazing was the pork roast, nearly as juicy as watermelon, tender, and flavorful with its red wine/black pepper reduction.  It was good enough to justify driving 130 miles north of Manhattan to sample again, though of course on the same trip we'd see other things, and eat elsewhere as well, such as at Fish and Game.  333 Warren Street.  518-303-6650.  http://www.camearestaurant.com/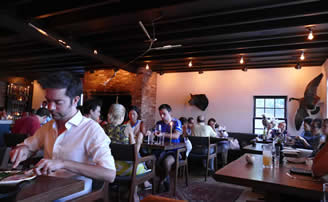 Fish and Game.  American.  In a very appealing space converted from an old blacksmith's shop with friendly staff (which seems to almost be the rule in the town of Hudson) is a fine American restaurant serving fairly imaginative variations on common themes, and doing it quite well.  Of the half dozen restaurants we tried in Hudson Fish and Game along with Ca' Mea are the ones we most definitely will return to on our next visit up north. 13 South Third Street (just off Warren, the main drag).  518-822-1560.  www.fishandgamehudson.com
Las Vegas, NV
Joel Robuchon – Robuchon is a legendary chef, and perhaps the food at his other locations deserve the praise and Michelin stars, but we found ourselves wondering if the Michelin reviewers for the Las Vegas location had been compromised.  The restaurant will send a limo to pick you up if you reserve at least a day or so in advance (assuming one of them are available) and you'll be met by a hostess at a special entrance.  She will escort you to the restaurant and back out later, which is good since the exceptionally long walk, which includes passing through the casino, is a very circuitous one.  Arriving in the restaurant, which is decorated in La Vegas over-the-top style, the room is airy with plenty of space between tables.  The dress code is not at all enforced, so you might not want to dress to the nines since most diners seemed dressed for IHOP. On a positive note, the service is very nearly exquisite.  The food is not.  The bread cart is a joy to see and sample, but if you indulge, eat the bread right after they warm it for you.  Once it cools to room temperature it's ordinary at best.  We opted for the 16-course tasting menu, and the wine pairing.  The course count and wine pairing are misleading in that twice multiple course were on the same plate, thereby reducing the number of wine tastings.  The best of the 16 dishes was pretty good, and the worse was, to be kind, horrible.  It made us think of Tetsuya's in Sydney, Australia, which also seemed to create things different just for the sake of being different.  Remarkably, even though the emperors (Tetsuya and Robuchon) had no clothes, most diners in both locations seemed not to notice.  Perhaps most thought at these prices it must be good, and they should put their own judgment aside.  They did give us good chocolates and an excellent cake to take with us, which we shared with the flight crew on our plane the next morning.  For consistency, here are the location details, but we encourage you not to use them.  MGM Grand, 3799 Las Vegas Blvd S, Las Vegas. (702) 891-7925  http://mgmgrand.com/restaurants/jo…
Los Angeles, CA
Hatfield's Restaurant –  This would be a world class restaurant in any major city.  The room is lovely with plenty of space between tables, first rate service, and the food even better than that.  There were four of us and we elected to have the chef's tasting menu, an approach we've always liked since it gives us an opportunity to try more things, some of which we might never have tried.  Hatfield's has a slightly different wrinkle for their tasting menu: Each member of a dining couple gets a different dish with each course.  Couples can then share, thereby trying twice as many different dishes.  And everything was wonderful.  6703 Melrose Ave, 323-935-2977, http://www.hatfieldsrestaurant.com/
Sona This fine restuarant, with warm, professional service, spacious, comfortable room and first class food would be in the top tier of restaurants in nearly any city. Four of us went and enjoyed their tasting menu (two of us are fine cooks) and we all pronounced it a winner. 401 N. La Cienega Blvd, West Hollywood. 310-659-7708. http://www.sonarestaurant.com/ .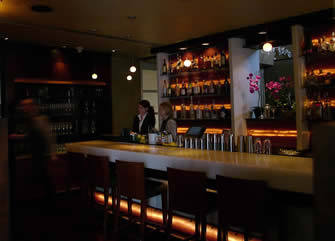 Providence holds two Michelin stars and definitely seems to deserve them. Lovely decor, professional staff, first class food (though we like Sona just a bit more). Try not to sit in the converted porch area since traffic noise can be annoying. 5955 Melrose Avenue. 323-460-4170.
Osteria Mozza - West Hollywood.  Mario Batali has several terrific Italian restaurants in his home city of New York, and food-wise, this Batali restaurant is also terrific.  Based on what we ordered, anything you select will be wonderful.  Not quite so wonderful is their attentive and fast service which lacks the professional skills of a restaurant of this same calibre in New York.  The car vallet charge of $10 is steep for how long it takes them to bring your car, but the food is great.  6602 Melrose Avenue.  323-297-0100.  www.mozza-la.com


A.O.C.  Lovely room and al fresco dining, unpretentious, solid Mediteranian food which they suggest you order to share at your table, and we agree.  Not haut cuisine, but really good.  8700 West 3rd Street.  310-859-9859  www.aocwinebar.com

Rocio's Mole de los Dioses - Sun Valley.  Their name fairly well sums up what they cook, and how good it is.  In an unpretentious space in a small, unpretentious strip mall the main draw is nine different moles which you can select among to go on your main course.  Along with it as a tender white rice and sautéed vegetables.  The four moles we cross sampled among the four of us were probably the best moles we've had, and the rice and veggie accompaniment were light enough that we did not leave feeling bloated as is fairly normal at other Mexican restaurants.  As you can tell, we really like it.  8255 Sunland Blvd, Sun Valley.  818-252-6415.  www.moleofthegods.com.

Inc - Beverly Grove.  One of the hip places on Melrose in a large space a bit too loud due to the music and Millennials not using their indoors voices, but the food is quite remarkable and the staff attentive and friendly, but making some interesting, unusual errors.  They recommend you order two to three things each, depending on how many appetizers and how many main courses you oder, and share it with everyone at your table.  Each of the six appetizers were inventive and superb - This is one place where being different is NOT for the sake of being difference.  the mains were quite good, but not  up to the levee of the appies.  Perhaps next time we'll order several more appeis instead of including mains. 8360 Melrose Ave. (323) 651-5866
.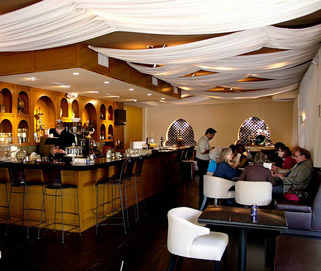 Xai Verandah Lounge is a beautiful facility with lovely service and, for brunch (we only tried it for brunch), very fine and varied Middle Eastern food. The photo above is not from their beautiful verandah. 7677 Sunset Blvd, West Hollywood.
Melisse (Santa Monica) – A superior dining experience:  lovely décor, excellent service and exceptional food.  Our favorite restaurant in L.A. (though our favorite place to eat is Chez Kyrsten – our daughter's home).  http://www.melisse.com/
JiRaffe (Santa Monica) – Attractive, happening atmosphere, good service, terrific food and wine.  http://www.jirafferestaurant.com/
Joe's (Venice) – Consistently excellent and a great value considering the high quality of the food.  http://www.joesrestaurant.com/
Border Grill (Santa Monica) – L.A. is renowned for hole-in-the-wall dives with authentic Mexican street food.  This is a great choice for more refined Mexican cuisine.  Terrific Margaritas too.  http://www.bordergrill.com/BGSM/bgsm.htm
Versailles (multi-locations) – Inexpensive, totally delicious Cuban food.  Décor is "early cafeteria", but you won't get food like this in any cafeteria we've ever tried.  We like the one on Venice Blvd.  Everyone goes for the chicken, but we're crazy about the garlicky, melt-in-your-mouth pork with rice, beans and gooey plantains.
Miami & Miami Beach
Azul - This elegantly beautiful, posh restaurant in the Mandarin Oriental Hotel puts a lie to the old saw that US restaurants in hotels or that have views cannot be top notch. Azul is in a hotel and has a wonderful view, and their tasting menu stacks up to those at first-tier restaurants in Manhattan. Add to that the lovely, warm staff and excellent wines and you have a winner. If the humidity is not too high, and it is not sand fly season reserve a table outside. Downtown at 500 Brickell Key Drive.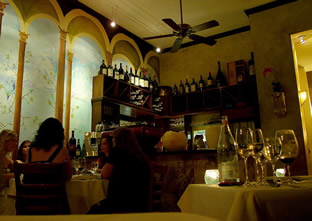 Escopazzo - This excellent neighborhood Italian restaurant, run by delightful chef/owner Giancarla is a real find.  One block off of the hot South Beach scene, it features all local, natural, organic ingredients, skillfully and imaginatively combined in bold flavors for a wonderful eating experience.  1311 Washington Avenue, Miami Beach. 305 674-9405. http://www.escopazzo.com/home.html
Montreal, Quebec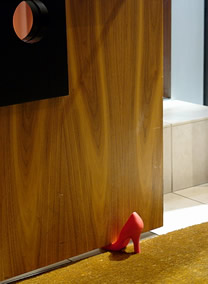 Toque – Toque has moved to new quarters, which is nice on two fronts, the old space was charming but a bit cramped, and it gives us an excuse to head up to Montreal to check out the new location.  Not only is the food out of this world, but we were very pleased with the service.  We fondly recall one very late, very leisurely tasting menu dinner where we were literally the last out and the staff kept coming over to chat and joke around with us.  The opposite of feeling as if we were being rushed out the door, we felt as if they were encouraging us to hang out.  It has maintained its intimate atmosphere in the new space. It's a bargain for Americans due to the exchange rate, especially compared to the high end U.S. places among which it ranks.  Update: With our latest visit we found the food not to be as specdial as it once was. A friend tried it two months later and agreed. http://www.restaurant-toque.com
New Orleans, LA
Brigtsen's (Uptown near the river bend) – Food is one of the many reasons to visit New Orleans, and this has been our favorite restaurant in the Big Easy.  It's far from the French Quarter but just a scenic street car ride the length of St. Charles Avenue through the Garden District.  Its sensibility is far from the tourist mills of the Quarter as well – heavenly local specialties, expertly prepared in a gracious cottage setting.  If you visit during Jazzfest in April (which we highly recommend) or during Mardi Gras, reserve well in advance, not just here but at all the better places.   http://www.brigtsens.com/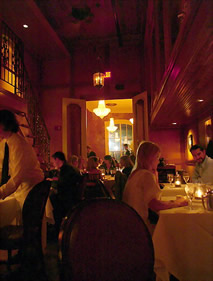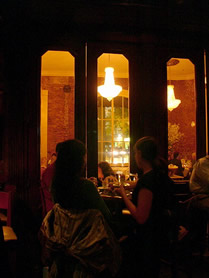 August -- Food in New Orleans as a whole has been slowly sliding, so it was an immense pleasure to find August, from celebrity chef John Besh. This beautiful restuarant with its warm and well trained staff would be at home in the first tier of restaurants in any leading "food" city, such as Manhattan (assuming he could get the ingredients there), but at a price that's 1/3 to 1/2 of what you'd spend for a similar level of eating in Manhattan. Update: On a recent visit it was still remarkable, but not as much so as on our prior visit. 301 Tchoupitoulas St., just south of Canal St. It's probably a good idea to reserve well in advance. (504) 299-9777
http://www.restaurantaugust.com/.

Mother's (Central business district) – The debris po' boy will make you understand the fuss about these down-home overstuffed sandwiches and will also make your mouth do a happy dance.  On the tourist checklist, but worth waiting on the long lines.  (Debris is the melt-in-your-mouth pieces of roast beef that fall into the gravy.)
New York, NY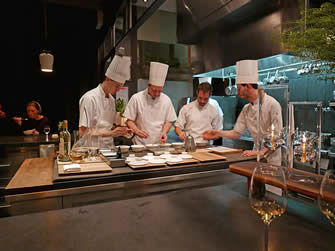 Atera Stu and I met friends for dinner at Atera this past Friday and all of us were thrilled with the choice. Our friend said it was the best meal he'd had in a long time. Couples are seated around the counter facing the open kitchen, but because we were a foursome we had a lovely table to ourselves which made it easier for us to converse. The table was raised a bit so we still had a view of the kitchen, and the chairs were very comfortable. The chefs came over to present each course so we didn't miss that experience or interaction. We're no strangers to this dining format but we have to say that Atera is truly among the very best.

The atmosphere is casual for such a fine dining restaurant and you'll feel comfortable dressed casually. We had come straight from work and were a bit more dressed up but we didn't feel uncomfortable either. We chose the 6 pm seating and never felt rushed.  The room is simple and elegant without being too austere.

There were 18 small courses, some no more than a single bite, so while it sounds like a lot of food we were satisfied without feeling overstuffed. I was actually able to finish everything, when normally I'm obliged to leave some food on the plate. I would have hated to leave a single morsel. The dishes were creatively plated and totally scrumptious. Rather than get the wine pairing we ordered wine from their excellent and extensive wine list that complemented the food well. There was not a single bite we did not enjoy and I even saw Stu eat and enjoy food he normally does not prefer to order. The ingredients might be surprising at times but they all work together. This is not a case of serving unusual dishes at the expense of taste. One of their courses is housemade bread that was simply perfect. I'm not a great fan of squab, but their version was exceptional. I won't catalog the entire menu, but among my favorite dishes were the "waffle", the caviar served with pistachio ice cream and India Fine Ale foam. (I dislike beer and adored that combination. Unorthodox? Oh yeah. Amazing flavor? Yes, yes, yes.), oyster, lobster, summer vegetables, squab, beef and rhubarb chocolate popsicle. Service was flawless and charming. The price is wholly justified for the quality. If you have not had the chance to dine here, it's time to seize the opportunity. Very highly recommended!!

I look forward to returning to try the wine pairing, which we did, and it was wonderful). 77 Worth Street New York, NY. 212.226.1444
http://ateranyc.com/#home.
Daniel (upper East side) – This is one of the best gourmet restaurant that we've tried in New York and one of the best we've tried anywhere.  Others come close, but Daniel consistently delivers the perfect dining experience:  personable, impeccable service, exquisite décor, graceful ambience and exceptional food.  We always go for the tasting menus because the opportunity to try as many dishes as possible is irresistible.  With our most recent visit we found it as heavenly as ever.  Daniel Boulud's , Café Boulud is also way above par.  http://www.danielnyc.com/daniel/main.html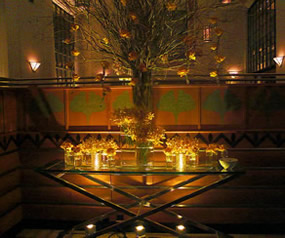 11 Madison Park.  11 Madison Ave, New York 212 889-0905.  The first time we went here was a few months after it opened along with some friends we met during our Seychelles trip, and we found it to be a beautiful, airy space, with warm, competent staff, and very good food.  We went back now and then and found it similar.  Then in 2006 Daniel Humm took over as chef, and rather than drop off, the food became markedly better.  Since then it has continued to improve to the point that it is among the best in Manhattan.  The space now is even prettier, and the staff even more delightful. Update. Chef Daniel Humm does not rest on his laurels. He has reinvented the experience and gotten multiple Michelin stars. Since it's now listed as one of the top restaurants in the world it's difficult to get reservations, but it's worth the effort. The dinner menu is only a tasting menu, and in 15 courses. Plan to spend three or four hours. Interestingly, we left exceptionally satisfied but did not feel overstuffed. Part of the experience is the near theaterical manner in what so much is done, but the theatrics are appropriate - not overdone. The price is quite stiff, but it is a relative bargain compared to the horrid Joel Robuchon in Las Vegas, coming in a bit over 1/3 what it costs at JR's Las Vegas restaurant. http://elevenmadisonpark.com/ .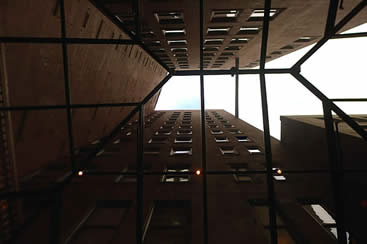 NoMad. 1170 Broadway, in the NoMad Hotel at 28th Street. 347-472-5660. Daniel Humm, the chef at 11 Madison Park (see review above), who changed that place from first rate to even better, has done it again. With his partner he is in charge of food and beverages at the NoMad Hotel. It's more casual and less expensive than 11 Madison Park, but the food and service are wonderful from appetizer through dessert, and with wonderful home made bread in between. One of our desserts and one of our main courses were the best of their genre we've ever had. The main dining room is ideal for summer with its full skylight ceiling pictured above, and its smaller dining room seems perfect for the cold weather. http://www.thenomadnotel.com/.
Locanda Verde. (Tribeca) 377 Greenwich St (corner of N.Moore and Greenwich), New York 212 925-3797. We became fans of chef-owner Andrew Carmellini when he ran the kitchen at A Voce, and we detected his departure almost immediately. He opend a new, hot restaurant in Robert DeNiro's Greenwich Hotel, and it's a honey. Excellent food and service (top service seems to be a hallmark of things related to DeNiro), with only two downsides: It is loud, and it is very difficult to get reservations between 6:00 PM and 10:00 PM, but if you stay at the hotel they can get you in. Update: We've tried their brunch several times and it too is superb.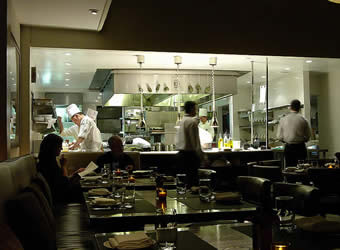 BLT Fish. (Flatiron) 21 West 17th Street, between 5th and 6th Avenues. You enter a trendy, loud bar and are escorted via elegvator to a beautiful dining room on the third floor of this beautiful, converted townhouse. We found the staff to be excellent, and the seafood to be even better than that. We'll be back, even though there are legions of fine restaurants in the Flatiron and Chelsea sections of Manhattan. 212 691-8888.
Per Se (Columbus Circle - opposite the S-W corner of Central Park) -- Rreservations are infuriatingly difficult to get.  That, and the price are outrageous.  When we finally got in (after more than a year of trying) we almost hoped it would be a disappointment, but it was not.  The room is gorgeous in its simplicity, with floor-to-ceiling glass overlooking Columbus Circle and Central Park.  The service and the food was even better than that.  We opted for the Kobe beef-like course on the tasting menu and it is the best beef we've ever tried.  The rest of the food held its own in comparison.  Good luck getting a reservation.  212 823-9335                  Update:  We returned 18 months after our first visit (yes, it took that long to get another reservation).  Two of the courses in the 9-course tasting menu were to die for.  Two more were very good.  The rest less so.  On top of that, the pacing of the courses was too quick, with little room to breathe between courses.  Probably no longer worth the visit.  It certainly does not have the consistency of most of the restaurants listed under "New York." And a recent NY Times review seems to agree with us.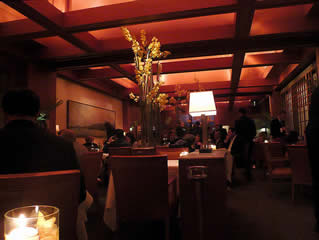 Le Bernardin (51st St. between 6th and 7th Avenues) has been here for about two decades, and when we first went we though it was the best seafood in New York, and quite possibly the U.S.  We still think that.  The food is perfectly and imaginatively cooked, the service is first rate (though 20 years ago we thought it was stiff) and the room still is as warm, elegant and contemporary as ever. : Update: We just returned several more times and found it even better, though the price has climbed. They have redeorated. The changes are subtle, but lovely. http://www.le-bernardin.com/
Cosme Flatiron district.  Enrique Olvera opened a wonderful "shrine to his home country 's cuisine.   He has reimagined the recipes using the freshest, local, seasonal ingredients to produce updated dishes which retain the DNA of Mexico, but are new and delicious.  Reservations are justifiably difficult to get, but do make the effort.  35 East 21st Street.  212 913-9659.  www.cosmenyc.com.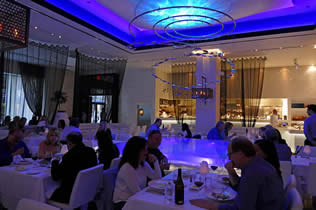 Limani in Rockefeller Center, with its entrance at 51st Street and of Rockefeller Plaza, has to be the prettiest Greek restaurant around, its food is topnotch, and along with all the classics are the freshest seafood, sitting on ice for your inspection.  Very nighly recommended. 
45 Rockefeller Plaza.  212.858.9200. http://www.limani.com/nyc/.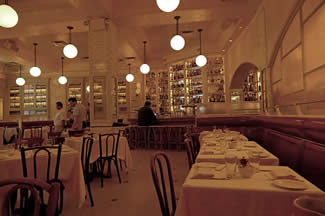 Cherche Midi on the Bowery is a beautiful, classic French bistro—think a smaller Balthazar without the crowds, crowding or noise.  The food is terrific and the staff first rate.  This has become one of our standards for this part of town. 282 Bowery, (212) 226-3055.    http://www.cherchemidiny.com/
Marc Forgione – Marc's father is an accomplished chef, and Marc does honor to the family name. In a trendy Tribeca location this attractive restaurant (opened in June of 2008) serves imaginative food that works exceptionally well – This is in contrast to some chefs who seem to be different for different's sake, regardless of the taste. The menu changes seasonally, and ingredients are nearly all locally sourced. The tasting menu gives you a shot at many of the dishes on the menu, expertly prepared and presented. Though not cheap it is a true bargain compared to uptown. It can be boisterous – lots of hard, reflective surfaces, but the food is wonderful. And Chef Marc is charming. 134 Reade Street New York City 10013 Reservations: 212-941-9401. http://www.marcforgione.com/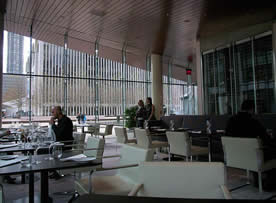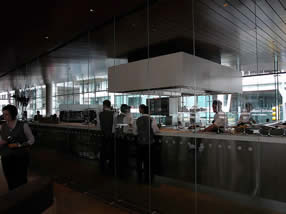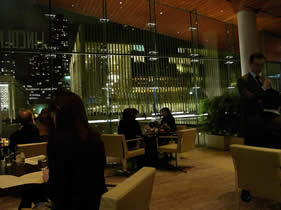 Restaurant Lincoln -- (Lincoln Center at 65th street) Beautiful, stylish Italian restaurant finally provides some competition to the very few really fine restaruants in the area. The staff is first rate, as is the food, which is consistent across several lunches and even more dinners. We highly recommend dinner reservations since it has a nearly captive clientel among the performance spaces in Lincoln Center. It is by far our favorite in this part of town. 142 West 65th Street
New York, NY 10023. (212) 359-6500. http://www.lincolnristorante.com/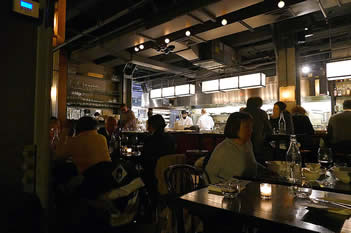 Foragers in Chelsea.  You might not perceive this as a restaurant because most of its corner location looks like a high-end grocery, but step through the grocery to the lovely, modern restaurant and you're in for a treat.  The food is very good, our server (McKenzie) superb, and the experience is quite nice.  300 West 22nd Street at 8th Avenue.  212 243-8888  www.foragerscitygrocery.com.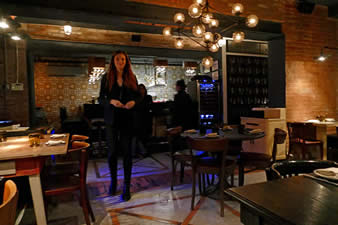 Mulino a Vino at the Chelsea edge of the Meatpacking District.  When Barbara told me of this wine-focused restaurant that suggests you to select from their excellent wines, every one of which is available by the glass, and then match the food to it, I thought my non-drinking habits would prevent me from having any food, but I was wrong.  2 Michelin Star chef David Scabin has built a wonderful little celebration to food and wine in a basement setting which he carefully had constructed to seem European.  They offer everything on the menu in small, medium and large sizes, and recommend you share everything.  We opted for 5 small (which even at that size was generous) which was perfect, letting us try many things, all wonderfully prepared.  We then decided to have dessert, but shouldn't have.  The desserts were excellent, too, but by having them we overate.  Oh – And the staff members are excellent, too.  Update: We returned recently and found the food and service to have degraded some. There are so many fine restaurants in this area that we will probably not return. 337 West 14th Street between 8th and 9th Avenues (close to 9th).  212 433-0818  www.mulinoavino.com. 
Marta If you're staying at the Martha Washington hotel Marta is a good hotel restaurant and convenient, though in our opinion it's not worth going out of your way to try it. We went for brunch and started with the rabbit meatballs, which are flavorful, though far from the best to be found in a town where meatballs are bouncing all over the place. The pizza is different and quite good, and we're glad we tried it, though whether it's worth having again is debatable. We shared the Salsiccia (red sauce) and Funghi (white) and enjoyed both. A nice glass of Montepulciano went well with the food. We were warmly greeted and seated though our waiter seemed indifferent at best. He warmed up a tad near the end, probably with his tip in mind. The room is handsome with comfortable seating, though having the hotel lobby adjoining might be disturbing when it's more crowded. We liked it but there are many places we like better.  29 E 29th St
Narcissa My husband and I enjoyed a delightful meal at Narcissa on Saturday night. We are fans of Dovetail and looked forward to trying Narcissa. The entire team from the front desk to the table was attentive and congenial. We were promptly seated and efficiently served. I'm a wine drinker but I couldn't resist a cocktail called Fly Me to Tulum which combined tequila, mezcal, blood orange, pomegranate and a spicy kick of jalapeno. It's as good as it sounds and it packs a punch! The warm sourdough bread, served with Vermont butter, is excellent. I limited myself to only one chunk with great difficulty but I wanted to leave room to enjoy the rest of the meal. Good thing I did. We shared the rotisserie crisped beets and grilled sweet potatoes to start, both delicious. The arctic char was exceptional, perfectly cooked and it melted in our mouths. The osso buco, in a more refined than traditional presentation, was equally tender and flavorful. We added the tasty supergreen spinach topped with crunchy potato chips. Wine choices by the glass are limited but I had a nice glass of Dolcetto with the mains. Servings are on the small side but more than enough for us. We shared the bittersweet chocolate tart with espresso ice cream and roasted bananas which was very good. I'm not crazy about bananas but my husband enjoyed them. I finished with a good espresso. All in all an excellent meal. Narcissa offers tremendous value for the quality. The room is warm and lively without being unbearably loud and seating is comfortable. People tended to dress in a casual chic style, not too fancy but not overly dressed down. We felt very relaxed and contented throughout the evening. It's definitely worth a trip if you're not from the neighborhood. Highly recommended. 25 Cooper Sq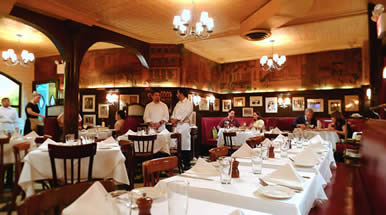 Minetta Tavern has been a Greenwich Village landmark since 1937, and during most of its history it has been a solid pub, filled with ordinary citizens as well as celebrities including writers, poets and prize fighters; photos and caricatures of whom still fill the walls. In 2008 a team of restaurateurs who started the excellent Balthazar and two others, took over Minetta Tavern, and changed it into what's described as "Parisian steakhouse meets classic New York City tavern." The place is justifiably popular, so be certain to make reservations. Lunches and brunches are easier to get in, as well as being quieter than at dinners. Their $26 Black Label hamburger is the best burger we've ever had (people travel from Europe for them!), and the other items we've ordered have been wonderful. 111 Macdougal Street. (212) 475-3850. www.minettatavernny.com/
Convivio (mid-town East, near the U.N., 45 Tudor City Place, 212 599-5045 ) – In the space that had been L'Impero (Scott Conant sold it, and opened another restaurant shown below - Scarpetta) is now a superb northern Italian, and the already lovely room is prettier. Service, staff, food and room are all first rate, and for Manhattan fine dining, it's a relative bargain.  http://www.limpero.com/
Kat & Theo – Chelsea.  We enjoyed a terrific experience at Kat and Theo for dinner in November. We were graciously greeted and seated at a fabulous corner booth in the back room adjacent to one of the fireplaces. The decor throughout is stunning, very warm and inviting, just as we found the entire team to be. The wine recommended was perfect and everything we ate was delicious. Barbara started with the lobster followed by the trout, both were excellent. Stu's carpaccio and duck were equally scrumptious. Although it might not sound like much, the concord grape panna cotta is a revelation of taste and texture. We are both chocolate lovers but as good as Stu's chocolate cremeux was, Barbara wasn't ready to exchange her dessert (though she did share some with him). We thought the portion sizes were just right. Service was attentive, friendly and helpful. We left quite impressed and we will return. Update! We returned recently to find the room and service as fine as before, but the food had slipped. With so many competitors in the neighborhood we probably will not return. 5 West 21st Street. (212) 380-1959. katandtheo.com
Upland.  Upland is uber-hot right now for good reason. The food, service and ambiance are all wonderful. After having enjoyed a terrific dinner we were keen to check it out for brunch and we continued to be impressed. The team are warm and inviting and service is both efficient and personable. As busy as it is, we never felt rushed. My husband and I started with the Little Gem Salad and Burrata. The salad was fresh and pretty good though the dressing was a bit more vinegary than we prefer, however, the Burrata was melt-in-your-mouth outstanding. We wanted to try different pizzas so we shared both the Sausage & Kale and Margherita. It was too much food, so we ended up leaving some of the Margherita, but we were glad to try both. They're rectangular shaped with a thin crispy crust. While the Margherita was very good, the Sausage & Kale blew it away. One of the best pizzas we've had in awhile, and in our opinion, much better than those at Marta. They have a nice selection of wine by the glass. We couldn't even think about dessert after pigging out on the pizza. Definitely a winner on all counts!  345 Park Ave SNew York, NY 10010
Print.  My husband and I were meeting friends for brunch and had a theater matinee performance afterwards so we wanted a restaurant close enough to the theater district to walk over but not one of the tourist traps right in the middle of it. Plus we wanted to spend time talking so we sought a more quiet unrushed atmosphere. I discovered Print and boy am I glad I did! What a treasure in this neighborhood! It's in the Ink48 hotel on 11th Avenue, which appears to be fairly high design. It's a bit of a trek on those long east/west blocks but definitely worth hoofing it (or you can spring for a cab). Our friends liked it so much they were talking about bringing some out of town friends there again the next day. First I have to shout out to the team who were all so warm and engaging. Service couldn't be faulted and was genuinely charming. The room is stylish with lots of natural light and comfortable seating and it was lively but not noisy. We felt very relaxed and cozy throughout the meal. One of the reasons I chose this restaurant is because the brunch menu includes both breakfast and lunch choices so everyone can choose the type of food they prefer. We all started with fresh, tasty salads. Our friends loved the frittata and French toast and my husband and I savored the delicious ricotta ravioli and striped bass. The team also sent out some complimentary sweet bread that knocked our socks off, so light and flavorful. We were celebrating my friend's birthday so we toasted with good quality Billecart-Salmon champagne. We were a bit full for dessert, but being a special occasion we all split the luscious non-traditional chocolate souffle. If you have enough room this is a dessert you'd be loathe to share. Along with espresso it was a perfect ending to a delicious meal. We plan to check out Print for dinner. It was unseasonably cold the day we brunched (no surprise this year), so we didn't go up to the rooftop bar, but it seems like an ideal place to relax with drinks after work on a balmy day, or to cap off an excellent dinner.  653 11th Ave, New York, NY 10036
Manzo My husband and I have been to Eataly many times to shop , dine and snack, and we had our first dinner at Manzo. What a treat!! We didn't have time for the tasting and wanted to try different dishes, so we started with the carpaccio di manzo and mozzarella, split the agnolotti del plin, shared the dry aged ribeye for two and ended with gelato and espresso. The thinly sliced carpaccio melted in our mouths and the perfectly house made mozzarella accompanied by tomatoes that burst with flavor and crispy guanciale was scrumptious. The agnolotti, consisting of fresh pasta stuffed with veal and served in veal jus, was sublime. The ribeye was perfectly cooked (medium rare), tender and flavorful accompanied by canneloni beans and broccoli rabe. It was first presented whole then served carved in slices with the bone. It was so good we wanted to finish it there but the portion was too generous so we had the remainder packed to go and enjoyed it the following day for brunch. My husband doesn't drink so I'm always pleased to find good wine by the half bottle. The Barolo I selected was delicious and ideally complemented the food. Eataly makes among the best gelato in town , so my hubby knew he couldn't pass that up. I nabbed a couple of spoonfuls and it was as creamy and tasty as we expected. Their espresso is also top notch. We found the team, from the hostess to the waiter to the sommelier to the busmen, to be delightful and efficient. It's not the most beautiful room in town but we were comfortable and it wasn't nearly as noisy as we feared. We dined early because we had dance tickets at the Joyce and it was packed even at 6 pm. It's high priced but the food is high quality so you get what you pay for. We want to return when we have more time to try the tasting menu.  200 5th Ave

The John Dory Oyster Bar.   Having enjoyed John Dory in its Chelsea location years ago, we finally got around to trying it in its current spot. The space is much expanded and the decor is eye-catching but that's about the best we can say now. You're seated high up on bar stools which is not the most comfortable position, and you almost feel as if you're on display. Service was inattentive and a bit perfunctory. All that could be overlooked if the food was anything special, but alas it is not. There are far better choices in town so why spend money here. If you're in this neighborhood, the NoMad is nearby and far superior in every way.  1196 Broadway

28 7th Ave S
New York, NY 10014
Jean-Georges (Columbus Circle) – We have to admit that we haven't been terribly impressed with many of Vongerichten's lesser restaurants (though ABC Kitchen, ABC Cocina and Perry Street are tops in their classes), but his flagship, Jean-Georges, is superb, second only to Juni and Daniel in our opinion.  http://www.jean-georges.com/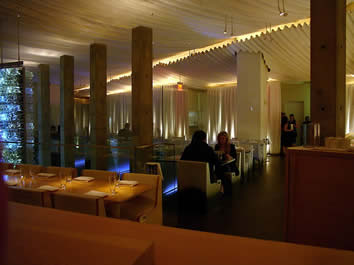 Morimoto (Chelsea) 88 10th Avenue, New York, NY212-989-8883.  We've found that celebrity chefs sometimes deliver the goods, and sometimes do not.  But Iron Chef  Masaharu Morimoto delivers in this very stylish (including the bathrooms and bar) Japanese restaurant with a warm, friendly team of close-knit staffers and very fine food.  Though certainly not cheap, it is a good value compared to other restaurants of its caliber.  You can find it attached to Chelsea markets, with a separate entrance on 10th Avenue.  http://www.morimotonyc.com/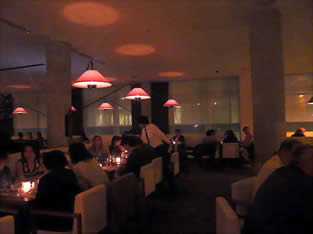 Perry Street at 176 Perry Street (the entrance is actually around the corner on West Street) is the latest entry from celebrity chef Jean-Georges Vongerichten.  It is a very fine restaurant for its food, service and décor, and is a relative bargain among its peers, at less than half cost of J-G's superb flagship (see above in this listing).  Highly recommended.  This site address is shared among all his restaurants: http://www.jean-georges.com/.  212 352-1900.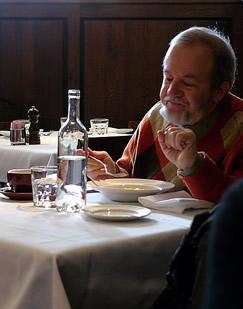 Maialino (Gramarcy Park) -- Another Danny Meyer restaurant, and as with his other places, this one has all warm, excellent staff members. The food is classic Roman, and their specialty is maialino, a tender, moist, perfectly seasoned roast of suckling pig. Everything else we tried there for dinnesr and brunches are as remarkably good, and a fairly good value. 2 Lexington Avenu (Part of the Gramarcy Park Hotel). (212) 777-2410. http://www.maialinonyc.com/
.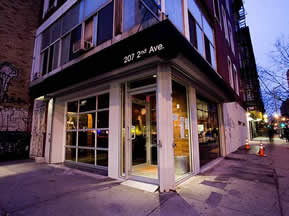 Momofuku Ssam Bar (East village) 207 2nd Avenue (corner of 13th Street), New York 212 254-3500. Funky, casual, friendly, and astonishingly delicious raw bar items, Korean sandwiches and other fabulous things. Be certain to order the pork buns - You won't regret it. Ever.
http://www.momofuku.com/restaurants/ssam-bar/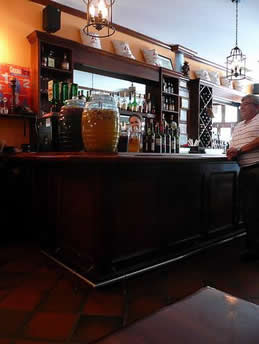 Guantanamera (Hell's Kitchen/Theater District) -- We were in the mood for Cuban food near a theater, and we hit pay dirt here. Inexpensive, warm, lovely staff and excellent food. 939 8th Avenue at 56th Street. (212) 262-5354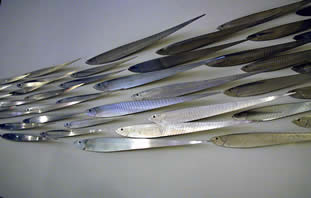 Periyali (Chelsea) – This is our favorite Greek restaurant (though we admit that we haven't ventured out to Astoria which is supposed to have the very best in town).  Charming décor, friendly staff and delicious food.  There's a fancy Greek seafood restaurant mid-town where you pay twice as much (if not more) and the fish we were served was overcooked and dry.  We prefer to eat here.  ****Update: We went back after too long and we will return often. The lovely decor is completely renovated and prettier, the staff is even friendlier, and the food is significanty better. http://www.periyali.com/
Dovetail on the Upper West Side quite close to the American Museum of Natural History at 103 West 77th Street (just off of Columbus) is a stylish, first tier restaurant with terrific food and service a bit below first tier prices. Returning twice, with years in between visits shows it has lost nothing as time passed.212 362-3800. http://dovetailnyc.com/
Blue Hill (Greenwich Village) – Handsome space, attentive staff, excellent new American menu.  The only time we were disappointed here was on Valentine's Day recently when they served only finger food for some reason and it just didn't work for us. The tasting menus are generally worth the price.  http://www.bluehillnyc.com/main.html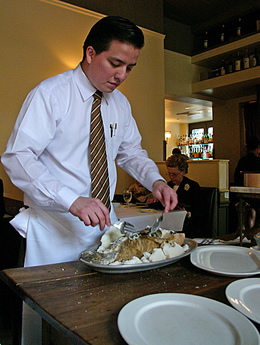 Esca is one of Mario Batali's restaurants, and is quite different from his others.  Though also Italian, this one does seafood, and does it splendidly.  Lovely room, service and food, and in good weather there is ample space to eat outside as well.  At the corner of West 43rd Street and 9th Avenue, it is within the "theater district", but the food is far, far better than its neighbors.  212-564-7272.   http://www.esca-nyc.com/index.html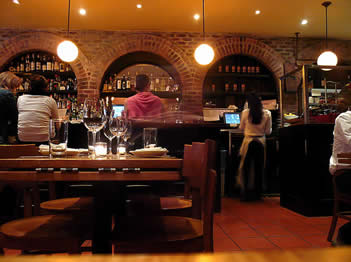 Lupa – 170 Thomson Street, Greenwich Village.  Mario Batali's relatively bargain restaurant has been here since 1999 and is still excellent for food, service and value.  As with all of Batali's restaurants, the staff is friendly and professional, serving Roman style cuisine.  It's very popular, so you'll need a reservation, but if you come very early you can walk in without waiting.  212 982-5089.  http://www.luparestaurant.com/
.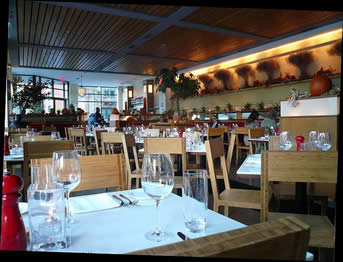 Cookshop in Chelsea at the corner of W 20th Street and 10th Avenue is an attractive, neighborhood restaurant that always serves good food that is at least somewhat imaginative, regardless of dinner, brunch or lunch, all at a fair, moderate price. The staff is efficient and friendly. Make reservations, because it is justifiably popular. (212) 924-4440.
Beacon (mid-town West) – One of the few places we bother booking  when we're going to City Center or Carnegie Hall; we like this modern grill that much.  The space manages to be big and airy yet intimate at the same time. The wood-roasted oysters with shallots are a revelation for a raw oyster aficionado.  www.beaconnyc.com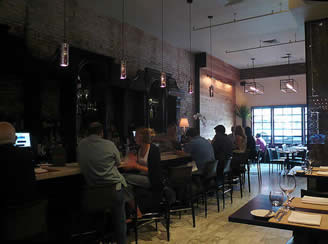 Scarpetta – 14th Street, just east of 9th Avenue.  Scott Conant opened this lovely, new restaurant with excellent food, at the edge of the Meat Packing District, an area known for the club scene, seeing and being seen, and food far inferior to what one gets here.  Scott wisely includes some of his favorites from his prior restaurant, L'Impero, and thankfully his creamy polenta with wild mushroom truffle fricassee is among them.  Fine, warm service, lovely room, excellent food, and a good value.  We'll be back.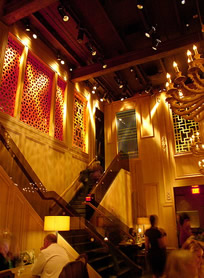 Buddakan (Chelsea) -- We had always passed this place by, thinking because of its location attached to the northeast corner of Chelsea market, and its black-painted featureless, windowless exterior that it was a club. Well, the exquisite bar does seem like a club, but as you are led past it to the stunning main diningroom, or the smaller, quieter library you discover a marvelous Chinese restaurant. We'd rate it just short of perfect -- Had it been a bit quieter with a bit more mainstream music (the odd mix must have been for the club-like bar), and had the skin on the peking duck been a bit crisper are our only complaints. Otherwise, sevice, food and value are all first rate. We will return, but now our problem is that we have too many favorites in Chelsea. (212) 989-6699 75 9th Avenue. http://www.buddakannyc.com/
Tocqueville (Union Square) – Serene space, excellent service and extraordinary food.  We keep meaning to go when we have time to try their tasting menu.  http://www.tocquevillerestaurant.com/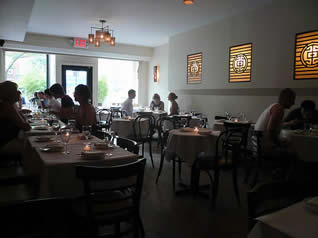 Omai (Chelsea) -- Excellent Vietnamese food (the best we've found outside of Vietnam), moderately priced for Manhattan, and everything we've had there has been superb.  It's rightfully very popular, so make reservations.  158 Ninth Ave. at 19th St., 212-633-0550  http://nymag.com/listings/restaurant/omai/
Nook (Theater District) -- What a surprise!  This tiny, unpretentious restaurant is excellent and inexpensive.  The waiter (no room for more than one!) was one of the most delightful we've had in months, and the food coming out of the cramped kitchen was imaginatively conceived and expertly turned out. 746 Ninth Avenue, just north of 50th Street .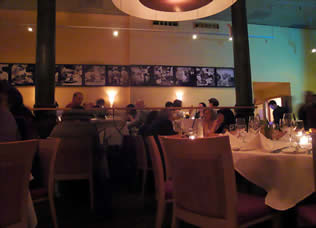 l'ecole (Soho) -- This is the restaurant of the French Culinary Insititute, open to the public. It is very popular since it is a good value, providing good food, decor and service at second or third tier prices. No it's not perfect, since students are doing the cooking, but it is very good, so you'd better make reservations. They are at 462 Broadway. Call (212) 219-3300.
http://www.internationalculinarycenter.com/
.
Katz's Deli (lower East side) – We'd like to try other items but simply cannot resist the pastrami.  It's not even as if we could each order different sandwiches and split them, as we often do at other places, since the sandwiches are so meat-packed that we have to share one to begin with.  Katz's maintained its old lower East side atmosphere even though it's become a popular tourist destination.  We may starve ourselves for a few days in advance to see if we can cram in a potato knish along with our pastrami one day.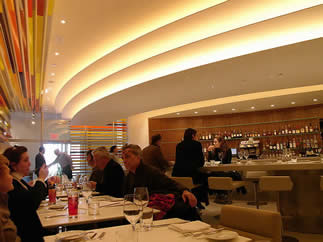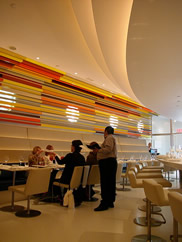 The Wright (Upper East Side) -- Added to the Guggenheim Museum in late 2009 this beautiful space, which looks as though Wright had designed it himself in the mid '50s, provides excellent food, with warm, professional service. So far we've just tried lunches but we will most certainly return. 5th Avenue at 88th Street, on the south end of the Guggenheim Museum.
212 427-5690. http://www.guggenheim.org/new-york/press-room/press-releases/press-release-archive/2009/3190-wright-release
Ocean Grill (Upper West Side) – We've mostly liked to stop by for lunch on a Saturday, especially when we're seeing an exhibit at the Natural History Museum across the stree, but we have eaten here for dinner after a member's preview exhibitt.  The food is always good, the décor is handsome and we've never had a waiter who wasn't uncommonly genial.  Blue Fin in the theater district (same ownership) is also good (though not quite as good), is earsplittlingly loud, and Blue Water Grill (same ownership in Union Square is fun.  Great places to go with friends for dependably good, moderately-priced food and a young, lively scene. http://brguestrestaurants.com/
Rosa Mexicano (Upper West Side) – We're addicted to the guacamole prepared tableside (we ask for extra spicy), but there are lots of delicious, creative Mexican dishes to be had here. Décor at the west side branch is sleek and contemporary, no kitsch in sight. Update: We just went back and found the food and drinks to have gone downhill, and the already loud environment to be even more so. When we get a yen for mexican food we'll go to Toloache in Midtown instead. http://www.rosamexicano.com/lincoln.html
Ouest  (Upper West Side) – Cozy, congenial bistro with delicious food and fine wine.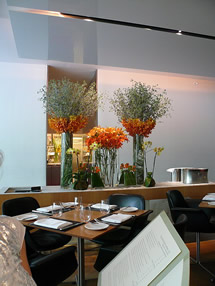 Modern - at the Museum of Modern Art (MoMA) --
This was my husband and my first dinner at the Modern Dining Room since Chef Abram Bissell joined the team and the improvement is remarkable. We used to consider the Dining Room to be overrated, but not anymore. We decided to try the 8 course tasting menu, with wine pairings for me, so we'd have a chance to sample the chef's greatest hits. Servings were generous for a tasting and I had to reluctantly leave some food on the plates, which was tough considering how superb everything was. If I had to name one dish that stood out it might be the egg with caviar and sweet brioche soldiers, however they were all so delicious and beautifully plated that it's hard to single out any one. I typically prefer seared foie gras to terrines, however theirs was so silky and light, it melted in our mouths, and the wild strawberries were an excellent complement. Fish was fresh and perfectly cooked and the lamb was tender and flavorful. The wines were well chosen and paired perfectly with the food. There was only one that I wasn't crazy about (the dessert wine) and they promptly replaced it with one that I enjoyed more.

Service was faultless, professional, efficient, welcoming and totally charming. For everyone who fears that service levels might decline when there is a no tipping policy, let us assure you that the service here could not have been improved. The room is gorgeous with the view of MOMA's sculpture garden. Tables are well spaced out and while it's not unnaturally quiet, noise is moderate, so it's easy to have a conversation with your dining companions. It's not inexpensive however at this level of quality it's worth the splurge.

As long time MOMA members we often have lunch in the Bar Room or the Cafe on 5 when viewing exhibitions, but now we're going to come back for dinner. Very highly recommended!
l.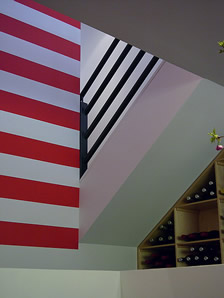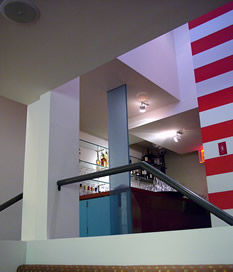 La Silhouette - (in Hell's Kitchen). This spare, modern angular restaurant is quite pretty and the staff is delightful. We've just been for one brunch and one dinner so far, so it's not a good test, but it's most promising and we'll return. Owned by the owner of Le Bernardin, and with a chef formerly of Daniel, it certainly has the pedigree. 362 West 53rd Street. 212-581-2400. www.la-silhouettenyc.com.
Marche du Sud - (Upper East Side). A relatively small, but warm and attractive retaurant with a garden dining area is also a market for cheeses and other things imported from France. The service is warm and professional, and the food (we've just tried thelunch/brunch menu) is lovely and classic country French. Thier specialty is tarts -- think of French pizza with flakier crusts, no tomato sauce, and wonderful toppings. 1136 First Avenue (between 62nd & 63rd Streets). 212 207-4900. http://www.marchedusud.com/.
Toloache.  Midtown west at 251 W 50th St.  Suenos in Chelsea, closed and Rosa Mexicana went downhill.  What is one to do for fine Mexican food in Manhattan?  The andswer is Toloache, which is better in every way than the other two were at the height.  And it's in the Theater District, which is not known for fine dining, but Toloache breaks the mold, along with Esca and Sushi of Gary.  Everything we tried was excellent, from the crevice appetizers to the churos dessert, and to top it off our waiter was world class, and three members of the management team checked in with us.  We will return.  Often.  They have two more locations in the upper east side and downtown.  212-581-1818 http://www.yelp.com/biz/toloache-new-york-2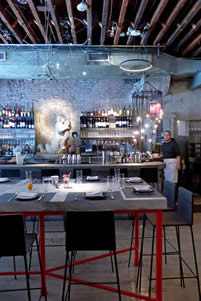 ABC Cocina. 39 East 19th Street. Jean-Georges Vongerichten has don it again with this mostly modern mexican in the north eastern edge of ABC Home. The room is beautiful, the staff exceptional, and the modern take on classics and new dishes is amazingly successful across the board, and as with its next door sister, ABC Kitchen, all the ingredients are fresh and local. 212-677-2233. http://www.jean-georges.com/restaurants/united-states/new-york/abc-cocina/
Carbone. 181 Thompson Street, between Bleeker & Houston in Greenwich Village is a new Italian restaurant from Mario Carbone, Rich Torrisi and Jeff Zalaznick. Stepping into it is like stepping back into the trattorias of the 1950s.  At least for the first hour (we arrived at 6:00) the music is all Italian-American singers with their hits of the late '50s (Dean Martin, Tony Bennett, Frank Sinatra, Louis Prima, etc.) and often you'll hear waiters passing by singing along.  At around 7:00 the music changed to pop music from the late '50s to early '60s.  The room is a  lovely throwback, too, and you almost expect to see Michael Corleone dining there.  But the food is magnificent.  Southern Italian, classic '50s style, perfectly executed, and their meatballs (we added that as an off-menu appetizer) were even better than Barbara's Italian mother used to make.  It's one of those places where chatting up the people at the surrounding tables comes naturally.  http://carbonenewyork.com/  There's another Carbone on Hells Kitchen that is not the same -  so don't be fooled. Make your reservations through Open Table.
Philadelphia, PA
Le Bec Fin – We've actually heard good things about this restaurant for over two decades and finally got a reservation and got around to trying it.  What a pleasure to find a fine, old restaurant that still has "got it", and has not suffered from the common malady of having its celebrity chef either move-on or over-extend, thereby harming the restaurant.  We had the chef's tasting menu (about 10 small courses).  Each course was excellent and not all that small.  The room is beautiful, and the staff is warm, friendly, professional and attentive. Reservations are required, and somewhat difficult to get.  http://www.lebecfin.com.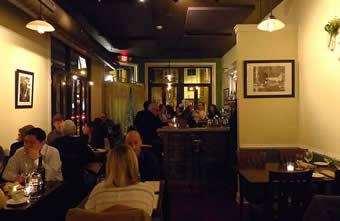 Fond – This is a hip-looking, inviting, contemporary American restaurant in an up and coming part of town. The food, which was imaginative and tasty (vs. imaginative for the sake of being different), and service were both excellent, and the only downside was a young professional woman seated at the next table who apparently has spent far too many hours with her iPod turned up high. When her group left the sound levels were fine. Highly recommended. 1537 South 11th street, Philadelphia. 215-551-5000. http://fondphilly.com/
Vernick Food & Drink just 1 ½ blocks west of Rittenhouse Square on Walnut St is a marvel in American dining.  The two level space is fairly small, mirroring several other nearby restaurants in that regard, but boy is this a terrific experience.  We will return here every time we're in town.  2031 Walnut St, Phone:(267) 639-6644.  http://www.vernickphilly.com/
Laurel.  Set in an up and coming section of Philadelphia, brimming with restaurants, Laurel stands out for its terrific French-American cuisine, served by a very warm and friendly staff.  They only offer a seven course tasting menu, and by the time you read this they will have a liquor license so you no longer have to BYOB.  With one exception we loved all courses, but maybe that one was unusual.  We will go back whenever we're in town.1617 East Passyunk Ave, 215-271-8299.  http://www.restaurantlaurel.com/index.php
Phoenix, Arizona
Lon's, at Hermosa Inn.  5530 North Palo Cristi Road, Paradise Valley (Phoenix suburb).  Is was a comfortably warm evening when we dined under the stars.  The live music guitarist was excellent, the food first rate, and our waiter charming, bright and professional.  We almost returned there for lunch a few days later, but other plans got in the way.  Highly recommended.  602 955-8614  http://www.hermosainn.com/lons/.
Portland, Maine
PICCOLO Piccolo is indeed small as its name suggests. When we entered the restaurant there was 1 couple and a table of four seated inside and two women sitting at a table on the sidewalk outside. There were 3 servers, one outside and one talking at length about wine with the foursome. We stood awkwardly for more than 5 minutes before anyone acknowledged us. There are two tables for 2, 3 tables for 4 and counter seating. The two-top available was in an undesirable place, too close to the foursome next to us and on the corridor where the team kept passing by. We were offered seats at the table or counter, however the counter doesn't have a view of the kitchen or anything attractive, just of kitchen implements, boxes, etc. so we opted for the table and had servers and patrons brushing us as they went by throughout the meal. Some small restaurants feel intimate, this feels a bit too cramped.

Once our server acknowledged us she was very nice, though service was variable. After we were seated it took awhile to get bread, which was good. I ordered a glass of red Italian wine that was quite good. 

I ordered pork belly to start, it was a bit tough and not as flavorful as I expected. My husband had a pretty good burrata. It took a very long time to get our main courses, no explanation or attention during the wait. My husband had their signature dish, the cavatelli with lambs neck ragu. That was the best dish of the night and understandably a favorite, especially given the generous portion. I had a deconstructed saltimbocca, pounded veal with crispy chunks of prosciutto, it was just missing the sage. It was fairly good but not special. I believe we skipped dessert. 

With so many great restaurants in Portland and only 4 nights for our visit we felt that we could have chosen better. The other restaurants we tried for lunches and dinners were all far superior in all aspects.
STREET & CO. My husband and I had many good meals in Portland during our recent visit and Street & Co. was our favorite of the casual dining spots. We had a reservation at 7 pm and were greeted warmly and seated promptly. The room was attractive and lively, the decor the brick walled cozy modern style so popular everywhere. Tables are close together and we were against a back wall up a level with a view of chefs hustling in an open kitchen area down below.

Our waiter was very personable though we couldn't help noticing that the young woman serving the tables around us provided more information and was more efficient.

I was pleased to find half bottles of wine on the menu, since my husband doesn't drink, and ordered a very nice Chablis that complemented my meal perfectly, though it arrived after our first courses had been served.

The bread was excellent. My starter, the lobster bread pudding, was amazing and such a huge serving that I couldn't finish it, even with a little help from hubby, and still eat my main so I had to leave some. Neither of us can recall what my husband had but I believe he was pleased with it.

I went for the whole fish, which was a branzino (sea bass) and my husband ordered grilled swordfish. The branzino was served on the bone in a hot pan on a bed of vegetables. I'm used to deboning fish and I received a separate plate for the bones . It was a total taste bomb! One of the best branzino preparations I've ever had. I'd return to Street & Co. for this dish alone. The swordfish was good but not close to the best we've eaten.

The price is reasonable for the quality of the food, the setting is lovely and service is personable, so all in all it's a great place for a casual meal.
CENTRAL PROVISIONS My husband and I like sharing food and trying lots of dishes, so a small plates concept is a good choice for lunch or brunch. We showed up before it opened for brunch on a rainy Saturday and were second in line. It filled up quickly after we were seated. We chose to sit at a table rather than the bar. The interior is rustic, the team is very friendly and service is efficient. We ordered the bluefin tuna crudo, spicy raw beef, cauliflower, fried chicken sandwich and baja fish sandwich and I had a glass of pinot noir. All were tasty though nothing was exceptional. Our favorite dish was the fish sandwich. It's a good place for a casual lunch.
EVENTIDE OYSTER COMPANY Eventide has a young trendy vibe with attractive minimalist decor, seating at counters on high stools and some outdoor tables when the weather allows. My husband and I were visiting Portland and wanted to try Eventide. We almost never have dinner at restaurants that won't accept reservations, my husband doesn't drink so hanging out at a bar waiting for a table isn't his idea of fun, but we will generally try these places for lunch. This was fine for lunch but I suspect it would feel too loud and hectic for us at dinner time when it's more crowded. There was a short line when we arrived on a Wednesday just before opening, but it was early so the place didn't fill up while we were there. It was nice and chill with a good soundtrack.

Our waiter was friendly though service was variable, for example, he came to take a dessert order while I was still eating. You can tell that they try to get people in and out quickly, which makes sense when it's busy, not as much when it's not full. We weren't looking to linger long in any case. On the other hand, the waiter had recommended an Albarino by the glass. I didn't like it much and he replaced it without hesitation. I went for a glass of champagne which was perfect with the seafood.

My husband doesn't eat oysters but I had to try one of each and they were as fresh, briny and delicious as I expected. My husband had the tuna crudo, which was fabulous, nice spicy kick of ginger and hot pepper. We both had the celebrated lobster rolls with brown butter and they are very delicious, a nice change from the classic styles. I also ordered the cole slaw which was fairly mediocre.  My husband couldn't resist the ice cream sandwich.  I stole a couple of bites and agree with him that it was exceptionally yummy.

In all, I'd highly recommend it for lunch though I can't comment on the dinner time experience.
HUGO'S My husband and I enjoyed a wonderful visit to Portland and Hugo's was among the many pleasures we experienced. The atmosphere is cozy, chic and modern with brick walls, booths with leather banquettes and a curvy wood counter with comfortable chairs facing the open kitchen. We arrived a few minutes early and were warmly greeted and seated at the counter.

There are 3 tasting menus, meat based, fish and seafood based and vegetable based which each include 4 savory courses plus dessert. You can either choose one complete menu or mix and match from the menus, however, due to preparation time it's recommended that you swap for an item with the same approximate prep time (they're arranged from shortest prep to longest on the menu). I went for the complete From the Sea menu, my husband ordered the Foraged and Farmed (meat) menu but substituted the last course for salmon from the Sea menu. Some of the vegetable courses looked fabulous also.

In addition to the listed menu items, you're served some small bites between courses. We sat in front of the guy who was preparing these so we saw that there were different ones for different couples. For example, one of our bites was a pair of delicious ribs, but we also saw him prepare what looked like eel sushi, except it was topped with brisket. I was tempted to swipe one of those. The chefs didn't engage us directly, however when we spoke to them we found them to be friendly and willing to answer questions and chat a bit. It was fun watching them assemble the dishes which were as aesthetically pleasing as they were a joy to eat. 

Everything we ate including the small bites was delectable. Having different menus (except the last savory course and the dessert) allowed us to share and try more courses. The dessert was a true work of art with a curl of marshmallow caramelized with a blow torch.

I also had the wine pairing with a theme of Long Island wines. I've had LI wines before, and visited some LI wineries, and knew that there's good quality wine being produced there, so while it was an unexpected choice, I wasn't too surprised that the wines were enjoyable. They were all Channing Daughters field blend wines. Among my favorites was the mouthwatering Mosaico, an apt name considering that it blends a variety of grapes, Pinot Grigio, Chardonnay, Sauvignon Blanc, Muscat Ottonel, Tocai Friulano and Gewurztraminer, to create a dry aromatic wine that is very food friendly. While LI is probably more well known for whites, CD's Sculpture Garden is a delicious medium body red composed of Merlot, Teroldego and Blaufränkisch that paired well with the salmon. My least favorite was Ramato, an orange wine, though it was still good. The charming and knowledgeable fellow who greeted, seated and helped serve us described the wines with panache.

During our visit we had the opportunity to dine at several great places, including lunch at Hugo's sister restaurant, Eventide, and Hugo's is high on our list of favorites. It's a reasonable price for very high quality tasty food creatively presented. Combined with great wine, an attractive room and personable, attentive service, it definitely deserves all of its accolades.
VINLAND My husband and I spent 5 days in Portland and among our chief pleasures was trying a variety of restaurants. When we read about Vinland's ultra-locavore philosophy we thought it might be a bit gimmicky, but were still intrigued. Vinland is not at all precious or gimmicky, it's all about top quality local ingredients prepared with great skill and creativity by a team with a real passion for and understanding of food.

Vinland is located on Congress St. across from the Portland Museum of Art and is housed in an intimate and attractive space with tables and counter seating.

We booked the chef's tasting at 8 pm which is served at the counter so you can interact with Chef David Levi and his congenial team. I also had the wine pairing, as did the other couple having the tasting menu. It's a very casual relaxed convivial atmosphere and we greatly enjoyed the company of other patrons at the counter as well as the restaurant team. We're quite accustomed to this style of dining and found it to be particularly fun at Vinland.

The menu consisted of 20 tastes and small plates accompanied by 8 wines, which were the only component of the meal that was not locally sourced. I found the wine choices to be as fresh and inventive as the cuisine, some well known varietals such as Pinot Grigio and Pinot Blanc and others from the slopes of Mt. Etna in Sicily such as the luscious white Occhi de Ciumi made from lesser known grapes Carricante, Grecanico and others and Frank Cornelissen Contadino, a red blend of Nerello Mascalese, Nerello Capuccio, Allicante Boushet, Minella nera, Uva Francesa and Minella bianco. The pourings were so generous that I had to leave some in the glass in order to leave the restaurant on my own power, but I admit it was hard to do when given such terrific wines.

Of course the food was the main event and it exceeded our expectations. Some courses were just a bite or spoonful while others were incredibly generous for a tasting, so I had to pace myself a bit on the food as well. We felt the immeasurable delight of discovering totally new flavors, such as the surprising reindeer lichen which tastes much better than it may sound. Even more familiar ingredients, such as squash blossom, were treated uniquely, in this case as crudo, offering a new and wonderful gustatory experience. The raw beef preparation kicks the standard steak tartare up several notches with the addition of cranberry, horseradish and microgreens. We savored every bite but if I had to pick one course as the standout, it would have to be the Rosemary Smoked Magalitsa Capocollo, among the most tender flavorful pork preparations we've ever had.

I'm not much of a dessert person but the desserts were exquisite, not too sweet and full of flavor, especiallythe blueberry semifreddo. They actually felt healthy yet indulgent.

We were the last to leave at the end of the evening and we had a great conversation with Chef Levi until our ride came, all too quickly, to take us back to the hotel.

In case you missed it in all of the detail above, this is an excellent dining experience on all counts, food, wine, ambiance, service. It's not inexpensive but offers terrific value for the quality. You're not obliged to have the tasting as at some high end restaurants, however I'd strongly recommend it if you want to learn just how talented this chef and his team are.
Quebec City, Quebec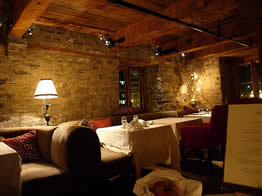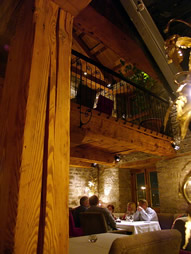 Panache at the Auberge San Antoine.  A beautiful, rustic room in the Basse-Ville district of historic Quebec with first rate food, service and wine.  A bargain by New York standards, and a pleasant surprise to find a hotel restaurant this good.  10 Rue San Antoine Quebec City, (418) 692-1022.  http://www.saint-antoine.com/menu.html.
L'Initiale.  An elegantly plain room, perhaps just a touch too austere, but wonderful food, service and wines.  Around the corner from the Auberge San Antoine at 54 Rue Saint Pierre, Quebec City.  (418) 694-1818 www.restaurantinitiale.com.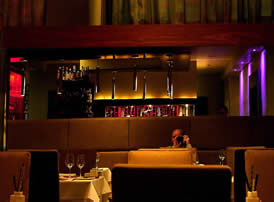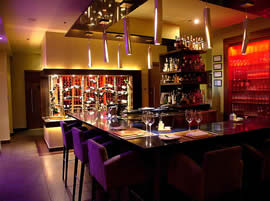 Laurie Raphael.  A chic post modern room with warm friendly service and first rate food, though some of it did suffer from the chef's slightly overdoing her need to be different.  117 rue Dalhousie, Old Port, Quebec City.  418 692-4555. 
http://www.laurieraphael.com/fr/restaurant/quebec/le_restaurant_quebec/index.php#
San Francisco, CA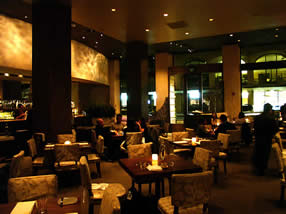 Michael Mina.  After much research we came up with a list of restaurants we wanted to sample while in San Francisco recently, and they all looked most promising.  After having sampled eight of them the clear winner is Michael Mina, and it is good enough to be in the top tier of restaurants in just about any city.  A beautiful room, professional service, and exceptional food.  252 California Street. 415 397-9222.  http://michaelmina.net/restaurants/locations/mmsf.php.
The Slanted Door.  A huge and bustling, attractive Vietnamese restaurant that is very close to authentic, and very, very good.  Located at the end of the Ferry building, accessible from outside on the water side.  (415) 861-8032.  http://www.slanteddoor.com.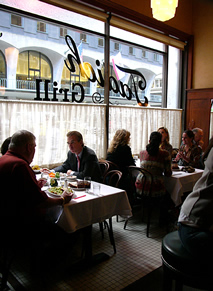 Tadich Grill.  Regardless of how old you are this restaurant was there at least 80 years before you were born.  It's an old-style pub-like restaurant that has secret rendezvous style booths with high sides and curtains at the opening (as well as tables out in the open) with buttons to push to summon a waiter, is always bustling, and for business lunches is quite good.  240 California Street.  415 391-1849.  http://www.tadichgrill.com/.
Acquerello We were thoroughly delighted with our dinner at Acquerello on our recent visit to San Francisco. We tried about 10 highly rated restaurants and this was our second favorite.

We had the tasting menu so we could try a lot of dishes and felt that it was a good value for the quality and quantity of the food. Each course was outstanding and the wine pairings were well chosen.

Service was on the formal side but charming and not at all pretentious, just the right amount of solicitous care without being intrusive - perfect.

The room felt a bit dated, and might improve with an update, but it was still lovely. Lots of space between tables to encourage private conversation and a reasonable noise level.

Don't miss the chance to dine here!
1722 Sacramento St
San Francisco, CA 94109
Fringale (SoMa) – This is quite outdated: We've tried most of the fancier joints in town, but this wonderful French Basque remains our favorite in the picturesque city by the bay. http://www.fringalerestaurant.com
 Sausalito, CA
Sushi Ran.  Barbara's research turned up this casual, superb sushi restaurant over the Golden Gate Bridge and down into Sausalito.  The food is wonderful, the room lovely, and the service friendly and professional.  It has recently been awarded a richly deserved Michelin star.  Their website is annoying since one must wait for a slow splash page to materialize.  You should be able to get in for lunch without problems but you'll need reservations for dinner.  107 Caledonia Street.  415 332-3620.  http://www.sushiran.com/
Santa Fe, NM
Santacafe – Consistently pleasing with excellent food, handsome décor, amiable service and outdoor dining during those balmy evenings.  http://www.santacafe.com/
Geronimo – Fabulous spot on gallery-gorged Canyon Road.  We only tried it once but would love to return for an encore.  Lovely on all counts.  http://www.geronimorestaurant.com/
Bouche French Bistro. My husband and I celebrated his birthday with a trip to Santa Fe and selected Bouche among others during our stay. When we arrived we were cordially seated inside but the hostess returned quickly to advise that she had just noticed that it was a special occasion and lead us to a lovely table on the outdoor patio which was crowded and lively. Service was just as solicitous for the rest of the meal. I'd heard good things about the seared foie gras so I had to try that and followed it with the tender flavorful lamb shank. My husband had the fresh and tasty heirloom tomatoes with burrata, and steak tartare as a main. I was a bit surprised to take a first bite of the foie and find it cold but discovered that it was just that one odd bite, the rest was perfectly cooked and Bouche even offers a delicious Sauternes by the glass to accompany it, so I was satisfied. I switched to a good glass of Cotes du Rhone that complemented the lamb nicely. I'm a sucker for classic profiterolles and these were luscious. My husband likes nothing better than coffee ice cream (literally!) so he was exceedingly happy. On my way out of the ladies room I came upon the chef who was friendly and gracious. Having lived in France I enjoy a good classic bistro and this is a terrific one, casual with fresh, delicious food and good wine. 451 W Alameda St, Santa Fe, NM 87501
Restaurant Martin.  The restaurant is a bit out of the way from the main square but there's a small lot to park in if you drive. My husband and I had a late reservation and were surprised at how empty the dining room was. The outdoor patio seemed to be more lively but it was a bit chilly outside for our tastes so we opted to dine indoors. Service was friendly and attentive. The food was very good though I'd expected more based on reviews. The chef came out to chat with a couple at a table nearby (the only other diners in the room) and didn't even glance in our direction much less greet us.  526 Galisteo St, Santa Fe, NM 87501
Arroyo Vino.  My husband and I spent 5 days in Santa Fe and enjoyed plenty of good food, but the best meal we had was at Arroyo Vino. It's quite a distance from the main part of town so you need to either drive (as we did) or take a taxi, but it's well worth a special trip. The room is modern and attractive and there's outdoor seating as well. We weren't thrilled with our table, especially since we'd booked far in advance, however there was no opportunity to improve our seating as it was very busy even on a Thursday night. The food made up for any dissatisfaction over the table, every bite was fresh and well prepared. There's a wine store attached where you can select a bottle if you wish, however the wine list is very good with a teeny selection of good quality half bottles and good wine by the glass at reasonable markup. Our server was knowledgeable and personable. Very highly recommended!  218 Camino La Tierra, Santa Fe, NM 87506
Seattle, WA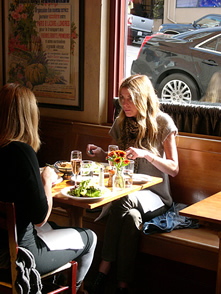 Café Campagne.  Across from Pikes Place Market, this classic French bistro serves hearty, authentic, fine lunches (we have not tried dinners), in a bustling, attractive setting, with friendly and efficient staff.  You probably should make reservations since it is justifiably popular.(206) 728-2233.  1600 Post Alley.  http://www.campagnerestaurant.com/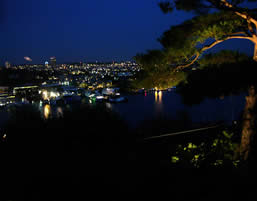 Canlis Restaurant.  In most ways this beautiful restaurant could be in the first tier in any city.  The room is stunning, with lovely views, and the food is top notch.  Their wine list is huge and deep, and their wine pairings are expert.  They are also known for having your coats and car ready for you, without providing any claim checks (both of these fell down a bit for us, but perhaps it was due to our being there for so long enjoying their excellent chef's tasting menu).  There were several minor service gaffs, but the staff was always responsive, warm and friendly.  Call for reservations.  (206) 283-3313.  2576 Aurora Avenue North. 
St. Louis, Missouri
The Crossing On a business trip to St. Louis my husband and I dined at The Crossing and were very pleased with our choice. I only wish we'd ordered the tasting menu to be able to try more dishes. Everything we ate was expertly prepared and delicious. Wine selections by the glass were good. Service was attentive and personable and the room is lovely. If we lived in the area we'd return often. 7823 Forsyth Blvd, Clayton, MO (314) 721-7375
29 Palms, California
Restaurant at 29 Palms Inn – This little inn, built in the 1930s (39 rooms, many in small bungalows) really has a feeling of place, unlike all those could-be-anywhere hotels.  The rooms are rather basic, but everything is clean, private, quiet and well maintained, and the staff is delightful.  But best of all is their restaurant, always filled with both guests and townspeople, and it's no mystery why.  The food is imaginatively conceived home cooking and everything is excellent.  And as indicated above, the staff is delightful.  We figured we'd eat there just our first night, but liked it sooo much we went there every night.  You should do so too if you are in the area.  We were there to spend time in Joshua Tree National Park.  You might want to do that, also.  71829 Twentynine Palms Hwy, Twentynine Palms, CA.  http://www.29palmsinn.com/
Vancouver, British Columbia
Tojo's – Astounding sushi and Japanese cooked food in a cleanly modern space with great views.  You have to try Tojo's Tuna (sashimi with a special sauce).  We eat sushi about once a week and we liked this place better than Nobu in NYC.  http://www.tojos.com/
 Washington DC
Bistro Cacao.  330 Massachusetts Ave, NE.  With the almost pathological movement by chefs to create their own new wrinkles on cuisine, some wrinkles of which should never see light of day, it's a pleasure to find a French restaurant that's been around for two decades or so, and still serves food prepared in the classic manner.  The venue is an old home converted to a charming restaurant with many smaller rooms and nooks, creating a romantic atmosphere, and no doubt making this a place for rendezvous.  The food is very fine classic French, and the prices are quite reasonable when compared to Manhattan.  202-546-4737. http://bistrocacao.com/
Citizen.  In the Mandarin Oriental Hotel, 1330 Maryland Avenue, SW.  We went here on our first night of our most recent visit to Washington and were blown away by its excellent tasting menu, lovely room, and warm, professional service.  Clearly high-end dining in our nation's capitol had risen markedly.  202-554-8588 https://www.mandarinoriental.com/washington/fine-dining/city-zen/
Fiola. 601 Pennsylvania Avenue, NW (entrance at 678 Indiana Ave).  Fiola has won prestigious awards for both food and wine, and they are well deserved.  In fact, we thought is was even better than Cityzen, listed above, and that was sublime.  The cuisine is Italian, and lovely.  202-628-2888. http://www.fioladc.com/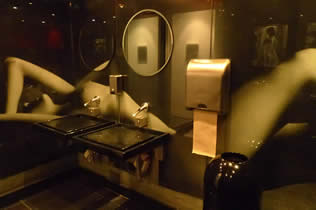 Proof.  775 G Street, NW.  Another multi award winning restaurant, this one with an apt motto of Food is the focus.  Wine is the passion.  We only tried Proof for lunch but were charmed by the staff, the room and the food.  You'll also like the restrooms.  Proof is also known for their fine wine list which even has an extensive number of wines by the glass.  We will return here every time we come to town.  202-737-7663. http://www.proofdc.com/
Il Canale.  In Georgetown at 1063 31st Street NW.  Very good Neapolitan pizza baked in a brick oven, a delightful staff, and cannoli as good as you can get Sicily (they import the wrappers from there, and make the filling just right, and not too sweet).  (202) 337-4444  http://www.ilcanale.com/
West Chester, PA
Simon Pearce – Simon Pearce hand blows the most exquisite glass objects and maintains lovely restaurants in their workshop locations in Vermont and the scenic Brandywine Valley in Pennsylvania.  You can spend an entertaining couple of hours watching a glass-blowing demonstration, browsing through their shop and dining very well in their fine, light-filled restaurant. http://www.simonpearce.com/
Argentina
Buenos Aires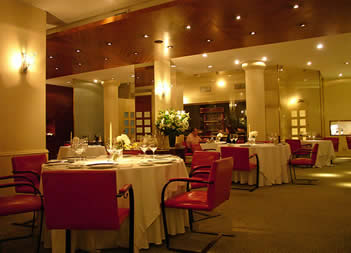 La Bourgogne at the Alvear Palace Hotel, probably the best hotel in town, is excellent.  We had the tasting menu with wine pairings and the wines were all Argentine and all perfectly matched with the food. Even if you don't stay there, it's worth eating there. Elegant room, perfect service.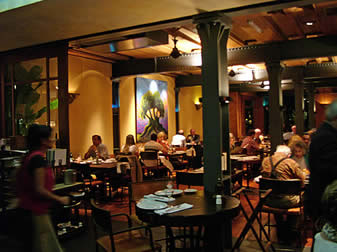 Cabana Las Lilas in the gentrified and trendy Puerto Madero district is where we ate the best steak we had in B.A. (and all Argentina) – We chose the ojos de bife, with is ribeye, and not visual orbs. They have their own ranch and grass-raise the beef themselves. It's high priced relatively, but I don't think you'll find better beef in town. They also do a great job with vegetables, which is relatively rare in Argentina. There are vast quantities of extras (the night we went there were several breads, an antipasto-like plate, a small cup of gazpacho, extensive petits fours, and probably other things as well). 
El Almacen del Milagros is a little bistro in La Recoleta. We were the only tourist among the locals when we were there and the food was very good.  Quintana 210
Cafayate
El Terruño on the main square in Cafayate is a very good restaurant with exceptionally warm and professional service.  Av General Güemes 30
Purmamarca
La Comarca is a lovely hotel with wonderful views. Even if you don't stay there, we recommend the restaurant. Very nice wine selection and terrific food. Their smoked trout appetizer is one of the best we've ever had. Up here there's lots of good trout (truchas) so you can take a break from steak. They also serve quite good lamb.  Their steak wasn't as good as at El Solar but still good.
Salta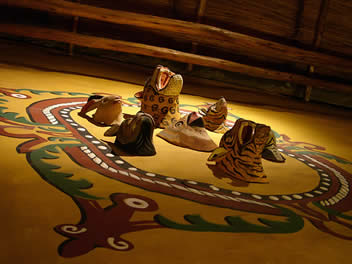 El Solar del Convento.  With a mix of tourists and locals eating here it is a pleasant surprise that some tourists know what the locals do.  This is probably the best restaurant in Salta with excellent, warm service and a fine wine cellar.  It's just a block or so from the main square near San Francisco Cathedral.  Order the bife de chorizo. Unless you prefer steak well-done it helps to ask for it "jugoso". The grilled chicken is also excellent. In general, don't order anything with fancy sauces, stick with food from the grill and salads and a good bottle of wine and you'll be very happy.  It is at Caseros 44 and its phone number is 421-5124.
Brazil
Rio de Janeiro
Olympe.  Rio traffic is amazingly bad, and as our taxi crawled towards Olympe I remarked that after going through this the restaurant had better be really special.  And it was.  We finally arrived nearly a half hour late and were greeted by two very large, strong looking men in fine business suits who opened the doors of our taxi and welcomed us to the restaurant.  But before we could go in the maître d had to unlock the door from the inside.  Hmmm.  Maybe our dear friend Melanie tolds us about bandits sometimes going into Sao Paulorestaurants to rob the patrons, but definitely not in Rio.  Perhaps that has changed, so we were glad the door was locked and two torpedoes were standing guard outside.  But let's get to the experience inside Olympe.  The room is warm, modern and lovely, and the staff friendly and professional.  We opted for the chef's surprise tasting menu, not knowing what we would be eating.  Barbara had the wine pairing, which was expertly matched to the food.  In all but a very few restaurants a tasting menu is not universally excellent, and usually there are lower spots (and in some cases, much lower spots), but at Olympe everything was perfect, from the amuse bouche through the petit fours.  The meal was among the best we've had anywhere and we'd brave Rio traffic to go there often, if the time and cost of flying to Rio were not significant.  Rua Curtódio Serrão 62, Lagoa - Rio de Janeiro.  Call 21 25394542.  http://olympe.com.br/contato/
Sao Paulo
D.O.M.  The Diners Club® World's 50 Best Restaurants Academy ranked this restaurant as #7 in the world.  As we ate our way through the tasting menu, we were able to name a dozen restaurants in Manhattan alone without breaking a sweat that were better, leading us to believe the Academy members should get out more. A lot more.  However, in this lovely room with professional service we must admire chef Alex Atala for his insistence on going back to Brazil's roots and making everything from Brazilian ingredients, a number of which are unknown outside of Brazil.   However, that does significantly limit what he can do, using some variation on manioc flour in many of the dishes.  Also, we've eaten ants before (for example, the green ants in Australia's Northern Territory and in northern Queensland have a burst of citrus flavor when you bite into them), but placing an Amazon ant atop one of the courses seemed far more for appearance than for gustatory delight – it was tasteless.  At almost double the price of Olympe, that paragon of fine dining in Rio, D.O.M. is not a good value.  Rua Barão de Capanema, 549 Jardins, São Paulo.  +55 11 3088 0761.  http://domrestaurante.com.br/pt-br/home.html
Colombia
Bogota, Colombia
Harry Sasson The setting and atmosphere of Harry Sasson are lovely, a large manor house with a vibrant bar section and separate dining rooms all elegantly decorated. It's a noisy, lively place with many groups of friends and business people, and not many couples. Our servers were pleasant and efficient though we were surprised that they didn't speak any English. In a small town we don't expect it but this an upscale restaurant in a section of Bogota where foreigners congregate. In any case our Spanish is adequate to read menus and order food and drink so it wasn't a major problem. I started with a nice glass of champagne and the corvina ceviche, both good but nothing special. My husband's carpaccio starter was pretty good but we've had much better. For main courses, he ordered a Thai chicken curry served in a large pot and I had duck along with a glass of adequate Pinot Noir. The curry was tasty but the duck was inedible. No one checked to see how we liked the food. When they came around to clear they noticed that Stu had not finished all of his chicken, though he'd eaten over half of it, and an English-speaking manager came around to ask him if he liked it. Meanwhile I'd touched maybe a bite or two of the duck and they never asked me about it at all. I had also ordered a side of spinach and it tasted odd so we didn't eat that either. We may have shared a dessert though I cannot recall what it might have been. At least the coffee was really good and I enjoyed it thoroughly. We only had a couple of nights in Bogota so I was sorry that we picked this restaurant for dinner when we undoubtedly would have had a better meal elsewhere. Perhaps if I'd ordered steak I would have been better satisfied.Visited February 2016
Andres DC So normally my husband and I enjoy a more dignified dining experience, white tablecloths, discreet music, 5-star cuisine, but we decided to try Andres DC due to its fun reputation. It was the perfect place to end a fabulous tour around Colombia which started with the immense joyous Carnaval in Barranquilla and ended with a raucous mini-Carnaval at Andres. Everything about it is totally in your face - the wild Mad-Max-as-interpreted-by-Baz-Luhrman decor, infectious music and boisterous groups of diners. There are several floors and we were seated in a booth on a kind of mezzanine between floors where we had a great view of the goings-on above and below. There's also a dance floor but we were probably there too early to see that get going. In any other place if a group of people came to our table, showered us with confetti, crowned me Queen and gave us Bienvenido sashes to wear, we would be a bit embarrassed or would think that it was unbearably cheesy, but here we just went with it. I even got up and danced with the welcoming committee, much to my husband's delight and amusement. I started out ordering a margarita from our personable and attentive server. He filled a glass and then left the shaker which contained enough for about 2 more refills. I didn't finish all of it because I wanted a glass of red wine with dinner, which was also an overly generous serving in a ceramic carafe. Both drinks were very good. With all this entertainment we weren't expecting too much from the food. Were we mistaken! The party continued straight into our mouths! We started out sharing a sizable dish of ceviche, which was delicious, then enjoyed tender flavorful steak, without question the best beef we had during the trip, cooked to our preferred temperature (medium rare). I cannot recall what my husband ordered for dessert, probably ice cream (I'm sure that I snatched a taste or two but memory might have been a bit fuzzy by that time). I had espresso and it was excellent. All this and I think it only cost around $60, which is not cheap by Colombian standards but is a great bargain where we're from.
If you're looking for a quiet, refined experience, it's probably best to skip this one, but for a good time, call Andres DC.
Baranquilla, Colombia
Varadero My husband and I enjoyed Varadero so much that we had dinner there two nights in a row while we were in Barranquilla for Carnaval. The hostess was welcoming and accommodating and both times we had great tables in the room with the live Cuban band. The mojitos are fabulous and the food is delicious, particularly the seafood. I have rarely tasted such sweet and tender shrimp. The atmosphere is lively and we loved the band. One night a couple was so inspired by it that they started dancing despite the cramped space. It was totally charming! If we danced as well as they did we might have joined in. We had no complaints about the service, both times it was attentive and personable and food and drinks were delivered in a reasonable timeframe. They allowed us to relax and enjoy the music, we didn't feel rushed at all. The location is easy to reach and we had no problem catching a cab back to our hotel. We would recommend Varadero without hesitation, and should we ever return to Barranquilla, we know where we're having dinner.
Ecuador
Quito, Ecuador
Rincon La Ronda – Traditional Ecuadorian specialties in a festive room with the added pleasure of live music. A tourist locale, but the food is really delicious.  In our travels around Ecuador we ate at some fabulous little places and, at the time did not have the foresight to note down the names.  The trout in the mountainous regions is superb.  http://www.rinconlaronda.com/historia.htm
 Peru
Lima, Peru
La Costa Verde – This upscale restaurant right on the water offers an astonishing array of delicious seafood in a monster buffet.  We normally don't prefer buffets, but this one was exceptional, both in size and quality, and worth the price which is high by Peruvian standards.
Ica, Peru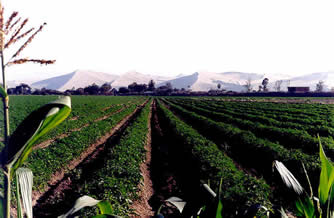 Ocucaje Winery – We enjoyed a delicious meal with very good wine at this lovely family-run vineyard, which also offers accommodations.  If you visit, don't pass up the chance to try the pisco and their special "love potion".