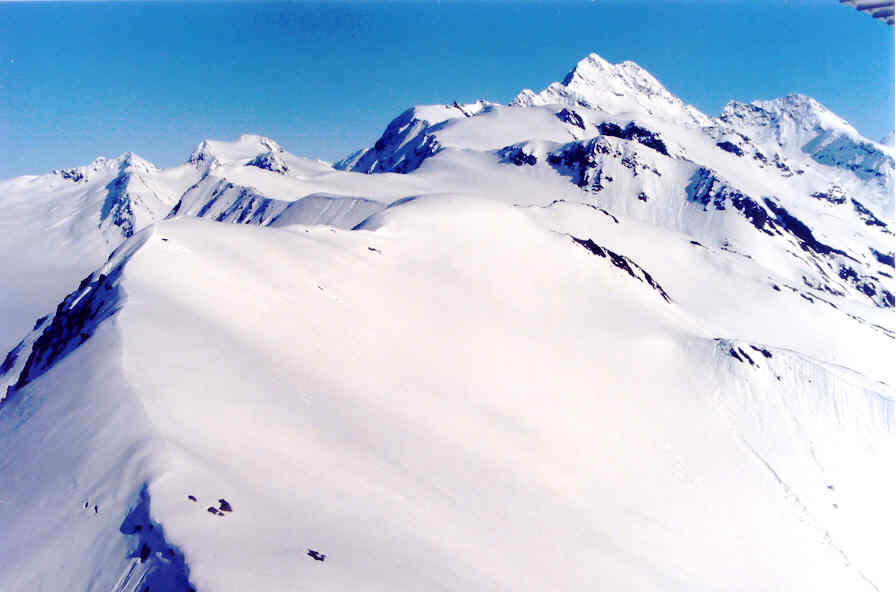 Remembering our recent trip, we get the sensation of the cold wind whipping across the frozen tundra and frosting our nose hairs while the crisp bark of sled-toting huskies fades in the distance. Nope, not Miami Beach, but you're in the right country.
If you guessed Alaska, you've been reading too many Jack London novels. We never actually saw any dogs hauling sleds, though we did see a handsome blue-eyed husky in a dog carrier at the Anchorage airport. The tundra was more boggy than frozen.
We landed in Anchorage after midnight and still got to our B&B in time to watch a glorious sunset from our private balcony overlooking Cook Inlet and Mount Susitna (aka "The Sleeping Lady"). With 18 hours of sunlight at this time of year (end of May) the sun began rising again almost as soon as it set.
This was a rare trip because we actually planned and booked the entire itinerary via the Internet. Normally we use the Internet in combination with more traditional methods, such as travel agents. We found the Susitna Place B&B online and it has an excellent web site. It is located downtown within easy walking distance of all the major sights and the Tony Knowles Coastal Trail. For less than the price of a nondescript hotel room we had the spacious Susitna Suite, which included a living room with working fireplace, jacuzzi tub, cable TV, the aforementioned balcony and a decent breakfast. This room books completely during high and shoulder seasons so it's wise to reserve well in advance if you're planning a trip to Anchorage. Our days in Anchorage were sunny and mild so we took full advantage of our outdoor deck to relax before dinner.
One day is probably plenty to tour the city, but we had 2 days on arrival and another half day on departure so we were able to enjoy long hikes along the coastal trail. One day was so clear that we could see the snowy pinnacle of Denali asserting itself in the landscape from a lookout point.
Anchorage makes up for a lack of urban excitement with a sparkling setting between the sea and mountains. Nevertheless, there is a modern performing arts center and a small but engrossing art museum that features both antique and modern native arts. The collection is impeccably selected and presented and even our amusing waiter in the café had charm to spare.
Restaurants aren't comparable to the finest of the lower 48, however there is no lack of good food, particularly if you enjoy fresh fish and seafood. We particularly enjoyed the creative lunches at Sacks Café and the museum and dinners at Simon & Seafort. Marx Bros. Café was good, but disappointing considering our expectations. They do have a very good wine list and an intimate atmosphere.
We started our real adventure on the third day. We found a small aviation company on the web, SkyTrekking Alaska, that squires small groups to locations all over the area in amphibious aircraft (2 Cessna 185s and a Grumman Widgeon). We sent a list of our interests and chose the length of time (10 days) and the owner, Lori Egge, customized an itinerary for us. We were fortunate to draw Lori as our pilot/guide for the trek. A bush pilot in Alaska for the last 20 years, Lori is highly skilled, plus she knows everyone, which enhanced our trip immeasurably. This is the most personal trip we ever took, it was more like visiting a place with an old friend than going on a guided tour. We met many locals, often dining and chatting with Lori's friends and we got to hear all of the local gossip and tall tales.
Although weather in Alaska can be unpredictable, normally late May and June are the best months with the least amount of rain, mild temperatures and no mosquitoes. This year "La Nina" upset the normal weather patterns, resulting in soggier weather and cooler temperatures than normal in the southern parts. We chose the right time of year, but the wrong year. We were initially scheduled to fly from Anchorage to Cordova in Prince William Sound, however Lori decided to fly inland instead to McCarthy/Kennicott in the Wrangell Mountains since the weather report was better for that area.
Flying low over the majestic Chugach mountain range, we spotted Dall sheep nimbly navigating the upper reaches of the stony cliffs. Our first water landing ever was on glacier-fed Lake Tazlina (which we referred to from then on as Lake Tasmanian Devil). The opaque aquamarine water shimmered in the bright sun, reflecting the steep snow-capped mountains surrounding it. There were no signs of civilization except for a small, uninhabited log cabin on a far shore. While Lori set up a sumptuous picnic of Cornish game hens with several interesting vegetable and grain salads, we hiked around the lake, sinking into the spongy turf and grateful for our tall rubber boots. We discovered a distinct set of wolf tracks and fragments of a caribou skeleton but no live animals.
After a leisurely lunch, we headed on to Kennicott, site of the defunct Kennecott Copper Mine (by some strange orthographic quirk the mine is spelled differently from the town). A van picked us up at the airstrip and wound up the mountain to the Kennicott Glacier Lodge, a homey inn festooned with old mine artifacts and hilarious advertisements from yesteryear. After settling into our basic but comfortable room, we went out to explore the surroundings while Lori was busy rearranging our schedule. High on a mountain, the views are impressive and we spotted the glacier that we were planning to climb on the following day. In addition to admiring a profusion of wildflowers, we spied on an adorable woodland critter that resembled a prairie dog.
Home-style dinners are served at long tables shared with fellow travelers. We met an interesting couple from Israel who had been living in New York working in the embassy and were finishing off their US exploration before heading home. Rest rooms and shower rooms are shared at the lodge, however, since it was early in the season we were the only couple at our end of the hall and had the facilities to ourselves. After dinner the hotel manager, who lives in a rustic cabin in Kennicott year round, gave us an amusing and informative tour of the copper mine.
We woke up the next morning to light snow. They weren't leading any groups out to the glacier so we hopped in the hotel van and headed down the mountain to McCarthy, the quintessential frontier town with the quaint old Ma Johnson hotel, a lodge and saloon, a mining museum and an art gallery in a wood shed. The residents were busy fixing these places up for the season so nothing was open yet, but we took a look around. Lori looked up some friends who run the local flightseeing business to check the weather and when they determined that conditions were not conducive to flying, the pilot gave us a lift back up to Kennicott. 2 more pilots from McCarthy Air, also grounded by the weather, joined us for coffee and they all regaled us with funny aviation tales - like the floatplane pilot who took off from a lake with his anchor down, then climbed out on a pontoon in-flight to retrieve it prior to landing. When the guys left, we hung out in the lounge reading, doing puzzles and dozing. Lori told us that a McCarthy resident, apparently overcome with cabin fever one winter, pulled out his shotgun and went hunting citizens many years back. She says that people are still sensitive about it. The weather started clearing up during lunch and shortly after eating we took to the skies following the bed of the Copper River south to Cordova. Lori said she'd never seen the river so icy this late in the year.
Down by the docks we saw the first of many groups of bald eagles including a brown-feathered juvenile too young to sport the distinguished white head of his elders. A plush sea otter floated idly on his back between the fishing boats. We stopped to reserve a table at the Reluctant Fisherman for dinner after confirming that they had fresh Copper River Salmon and stopped to chat with the owner who told us a bear hunting story. We dropped into a boutique bookstore/café where the owner was once the mayor of the town. After we admired a greater than life-size oil portrait painted by the owner's wife, he related the history of the eccentric subject. We bought a copy of Bruce Chatwin's " On The Black Hill", a touching novel about twin brothers raised on a farm in Wales.
Lori called the owner of the Cordova Rose B&B who picked us up and took us to our lodgings. The Cordova Rose is a beached barge converted into a delightful bed and breakfast situated in a cove outside town. At the Reluctant Fisherman, which is also a modern hotel, a couple at the next table gave us the remaining third of their bottle of wine since they weren't planning on finishing it, and we drank it with fresh salmon overlooking the harbor.
The next morning we had breakfast with 2 young women in Cordova on business for the Forestry service. The B&B was in the process of changing hands from the owner we met to a new couple moving to Alaska from Georgia.
The new owner drove us out of town to look for moose and just as we were returning we spotted an enormous one grazing by a wooded pond just off the road. We stopped and watched until it got bored with us and loped into the woods. The weather was rainy so Lori didn't want to show us Prince William Sound yet - she decided to move on and return later in hopes that the weather would be better then.
We flew along the shore with the Wrangell/St. Elias Mountains to our left. Lori noticed that it looked sunny in the mountains so we veered in through a narrow pass and were treated to a magnificent vista of towering peaks glittering with ice-blue glaciers lit up by a brilliant sun. Lori hoped to fly straight into Glacier Bay and on to Gustavus, a small berg at the tip of the bay. As we approached the entrance we saw that Glacier Bay was totally fogged in so Lori turned around and retraced our flight back out to the shore. Even though it was still sunny in the mountains, a storm was now raging out by the sea with high winds and spouts whirling off the water. It was a bumpy flight but Lori got us safely to Gustavus where she radioed ahead to have her friends pick us up.
On the drive to Spruce Tip Lodge we stopped to see a pair of moose. Connie and Mike Mills, the owners of the B&B, are old friends of Lori's and Mike was the one who sold her the Grumman Widgeon. He also built the lodge - a beautiful log house tastefully decorated with native arts and crafts. We dined on baked halibut and read by the fire before turning in.
The next day, we had a brief flight to Hoonah, a native fishing village, and Mike took us out on his luxurious boat, the Kelly Bay - named after his daughter. The boat is brand-new and state of the art. Mike arranges overnight fishing trips in the area and he took us out in a beautiful bay to whale watch and fish. The whale watching was so successful that we skipped the fishing - we followed a small pod of gargantuan humpback whales for quite some time. At times they got so close that we smelled the fishy krill on their breath as they blew flumes of mist around us.
Later in the afternoon we flew to Sitka and the air services personnel at the airport lent us a van to drive around town. After a walk in a wooded area where we saw a flock of brilliantly arrayed harlequin ducks, we met Ed, a retired fisherman and his wife, for dinner. Lori used to work as a fish-spotter for him, a hazardous occupation as pilots fly low over the water and radio fishermen when they find schools of herring. Competition is fierce and there are a lot of boats and planes out there. Lori lost 2 spotter friends in a head-on collision. The conversation was definitely more interesting than the food as we learned about the rigors of professional fishing and talked about the couple's children and grandchildren. We spent the night in a lighthouse. The owner, a flamboyant veterinarian with a bizarre sense of humor, motored us out to the island in his small motorboat dubbed "Death Barge III" decorated with a skull and crossbones.
The lighthouse was beautiful and if the weather had been better, we would have had terrific views from the top. It was totally self-service, we made up the beds and washed the sheets afterwards as well as bringing and preparing our own breakfast. Ed told us that the owner, whose name escapes us, is a terrific veterinarian despite his reputation as the town character and is willing to barter for services, a practice that we frequently observed in Alaska.
The following morning we visited the Sitka National Historical Park which features a collection of traditional totem poles scattered through the woods along a trail bordering the sea. It's a serene setting, with towering poles representing the diverse styles - clan/family emblem, memorial, storytelling. We moved indoors to the Sheldon Jackson Museum and hit the mother lode. The collection of Alaskan native art and artifacts is breathtaking and beautifully presented including large items such as totem poles and kayaks as well as smaller crafts such as jewelry and sewing implements. The masks, baskets and argillite carvings are exquisite. We had specifically included Sitka in our itinerary because of this museum and it was well worth the visit. We stopped in to see St. Michael's, a Russian Orthodox cathedral with a collection of religious treasures. For lunch, we were supposed to picnic in a remote location and hike to a hot springs, however, the weather was cold and rainy so we ate the most scrumptious grilled halibut sandwiches at a fine café in town.
On our original itinerary we would have overnighted in Craig, a small village on Prince of Wales island with an interesting collection of antique totem poles, but instead we flew straight to the Queen Charlotte islands in northern British Columbia stopping only on Prince Rupert island to pass customs and refuel. The Queen Charlottes are home to the Haida and the only place to find argillite, the black shale used for beautiful native carvings - pipes, boxes, plates, small totem poles, etc. We continued on to Maude Island Retreat, gliding up to the dock on the premises. You can only reach Maude Island by boat, floatplane or helicopter. The owners built it as a fishing and hunting home and decided to rent it out now and then to defray some of the costs. Their main business is logging and we saw much heartbreaking evidence of the logging industry throughout the Charlottes and Alaska - acres of clear-cut forest strewn with debris scarring what were once beautiful and pristine mountains.
The lodge only hosts one party at a time (up to 8 people maximum) so we had the place to ourselves along with Sean, the young and cheerful caretaker, who also cooked, cleaned and told stories. The main house is a log cabin with 3 spacious bedrooms, 2 baths, living room with an enormous fireplace and a drop-dead sea and mountain view, dining room, kitchen, laundry room, wraparound porch and an outdoor hot tub. Sean had a small cottage down the road. The landscape was glowing beneath the soft caress of the sun - ideal light for photography so we had to stop to record the scenery on our way to the house for a glass of wine before dinner.
After everyone retired for the evening, we slipped into the hot tub enjoying the full moon reflecting in the still waters of the inlet. This far south we had nighttime again, albeit a short one.
The next morning a helicopter vroomed in to take us around the islands. Among our nature strolls, we hiked through the woods to Nu Clu, a ghost logging camp abandoned after the turn of the century. It was a compelling sight with antique machinery, wooden-wheeled trucks and personal effects such as boots overgrown with moss and vines and gradually becoming one with the forest. We found an old churchyard - the carved headstones touching in their simplicity and tales of lives cut painfully short. We walked back to the chopper along the beach stopping to admire the striking patterns composed of stones, shells and dried starfish.
We also landed in Skadens, an abandoned village with the decaying remains of several ancient totem poles. Reading a history book back at the lodge it was hard to picture the bustling community with hundreds of poles that once thrived there. In the summer tribal elders return to recount the town history and demonstrate wood carving skills, but we were about a week or 2 early.
We got back to the lodge in time for lunch on a picnic table on the side porch. We noticed something disturbing the calm surface of the water and soon realized that it was a small seal, hunting in the sheltered cove in front of the cabin. We spent a good deal of time admiring his sleek prowess until it was time to hop in the owner's boat and cruise for whales. We were not disappointed. 3 or 4 gray whales were busy trolling the shallow waters for crustaceans. Hunger finally drove us back to land and we were treated to sweet, meaty Dungeness crabs fresh out of the water. The next morning we saw the whales from the plane, a rare opportunity to appreciate their entire length and girth.
On Memorial Day, we were due to fly into Ketchican to clear customs and return to Cordova by way of Petersburg, but when we landed on Prince Rupert Island to fuel, we found that a low lying fog had closed the Alaskan airport. In hopes that the weather would improve, we hung out in the pilots' lounge reading. When it didn't look much better after a couple of hours, we flew to town, which is on another part of the island, and disembarked to explore. We discovered a tiny gem of a museum with a limited but very nice collection of Haida art and a fantastic gift shop where we promptly consoled ourselves for the trip delay by buying a stunning argillite totem pole and an argillite plate with an intricate Haida orca design. They had some fabulous carved wooden masks also. Lori is getting married this fall and she found a handcrafted leather suit that is perfect for her so she got fitted for one for the wedding. Her fiance, Dan, owns a fishing lodge down by Dillingham and they will get married in Phoenix. Dan asked her 12-year-old son's permission for her hand.
We took an obnoxious taxi driver's recommendation for lunch in a part of town called Cow Bay. Buildings, phone poles, fire hydrants, phone booths, etc. were painted Holstein black and white to reinforce the cow theme and because of the quaint architecture in the area the effect really was more charming than silly. After lunch we flew back to the airport to see if we could find a slot out. After a couple of hours we finally gave up and realized we had to spend the night on Prince Rupert Island. The fuel guy dropped us at the ferry to town. While remarking that we should have flown down to Vancouver for sushi, the ferry ticket taker told us that there was a sushi restaurant in Cow Bay. We found a pretty B&B right next door to the sushi place and after cleaning up we met Lori for a delightfully fresh and tasty sushi dinner. Our room was decorated with lots of penguins, which seemed fitting considering that penguins are our wedding mascots. The ferry had an irregular schedule since it is primarily for airport employees, so we needed to leave before the regularly scheduled breakfast hour at the B&B. The owner didn't even offer us coffee or cold cereal, but we found a terrific coffee shop with the fruitiest most delicious blueberry scones right across the street and had breakfast there.
The fog had lifted and though it was raining lightly we were able to make it to Ketchican this time - the customs lady came right out to the plane and processed us on the tarmac. We bought a book on totem poles at the museum and the night before in the B&B we read that Ketchican had some significant totem pole parks, so we decided to visit a couple while we were there. They were excellent. We also had the opportunity to meet Lee Wallace a master totem pole carver in the process of making a wonderful pole. We had admired two of his poles in Anchorage and saw more of this work in Ketchikan. He told Lori that he might be willing to trade a pole for a plane tour. Ketchikan is a real cruise ship town - overrun with tourist trash. Not a place where you'd want to spend much time. We landed in Petersburg for lunch. It's a pretty town with a distinct Scandinavian character. It was very quiet - a welcome change from Ketchikan. Plus the sun decided to show its face and that made us happy.
We could have spent the night in Juneau and toured the museum there, however, we opted to continue north. On our way we spotted a mammoth blonde grizzly with her two cubs resting in a clearing surrounded by a stand of trees. Lori circled around a couple of times so we could get a closer look. This time Glacier Bay was not just fog-free but crystal clear and we had a thrilling flight through the area, amazed by the seemingly endless ice fields dropping into the beautiful blue bay. We continued on through the scenic Wrangell/St. Elias range that we'd traversed on the way down and stopped in Yakutat. This was a good decision because it turned out to be one of our favorite places on the trip.
This is a gorgeous location, on an island studded with tall spruce trees and a view of Mt. St. Elias and the Wrangell range. The tidy harbor is one of the loveliest we've ever seen. Fishermen relaxed with a beer on the dock after a hard day at sea.
We docked the plane there and John picked us up in his truck. There is no tourist infrastructure here. Lori knows the couple, John and Mary Latham, who run the Blue Heron Inn, a small B&B for fishermen and hunters. She called ahead to see if they could accommodate us. We slept in one of the daughter's rooms (she was off at school). The family was extraordinarily warm and welcoming and we had a great time conversing with them. They had one old family friend, Dale - an optometrist from Colorado, staying that night as well as a traveler from Oregon. We had a delicious dinner with the family and Dale and met the visitor at breakfast the following morning. Before dinner we sat on the outside deck, soaking in the sun and enjoying the spectacular vista. Hummingbirds buzzed by the bright red feeder hanging on the porch, lingering among the profusion of flowers in the surrounding gardens. After dinner we gathered by the fireplace and talked.
We found a few common threads in our travels. It seems that everyone fishes or hunts or both, even animal activists (they're just more selective about which animals they shoot). Taxidermy is a key decoration in homes and businesses and people talk about their taxidermist the way we would discuss our dentist.
We don't have a problem with subsistence hunting, especially in places where the environment is often harsh, but we found it difficult to appreciate hunting for sport. We also met a large proportion of people who just loved their work.
After breakfast and a short walk around, Mary took us to the airport where Lori had brought the plane to refuel. We hugged goodbye, wishing we could stay longer. Fueling up near our petite craft, was a huge C46 cargo plane with a 1940's style decal - the Salmon Ella, sporting a picture of a buxom woman with a salmon mermaid's tail. We took off first but she soon caught up and radioed us to give us a good look as she zipped by.
This was our last chance to see Prince William Sound, and even though the weather had gotten overcast again we flew in. We stopped at the airport and met the air traffic controller whom Lori has known for years. After catching up on the latest local gossip, we headed out to see the sights. Prince William Sound is incredible - there are actually many more glaciers than Glacier Bay and it extends for miles with many secluded bays and valleys. We saw a huge group of sea otters congregating around an offshore island, evidence that the populations are recovering since the spill.
Lori met a woman at a fair who runs an oyster farm with her husband (the Carrs) in a remote bay in Prince William Sound so we flew over there to meet her. After landing we saw a small motorboat approaching us. The woman recognized Lori and, grinning widely, invited us to follow her. She rushed ahead and as we slowly motored to her dock, we saw her frantically sweeping up. She had been cleaning oyster cages and was a bit embarrassed by the mess since she didn't expect company.
She and her husband, who was away on Marketing business, live in a houseboat in a nearby cove. We tied up to her boat and enjoyed a picnic lunch of gazpacho and plump, briny oysters plucked fresh from the water. We learned quite a bit about the oyster business and she showed us her "pet" oysters. Apparently farmers like to keep some oysters for a very long time to see how large and old they can get. She had one that was close to a foot long. This was a major highlight of the trip and we regretted that the weather had prevented us from making these types of picnic stops as often as we had planned to. It started to rain softly just as we were climbing back into the plane.
We continued north past Anchorage to Talkeetna, an outdoorsy village generally used as base camp for climbers attempting the ascent of Denali. The locals proudly claim that their town was the model for Cicely in Northern Exposure and treasure their offbeat persona. We wouldn't have minded meeting the "Chris in the Morning" equivalent. Lori found us the perfect B&B, just a single log cabin with kitchen, living room, Jacuzzi bath, front porch etc. downstairs and bedroom with balcony upstairs. When we arrived a handsome redheaded woodpecker was busily hammering a tree next to the house.
We had dinner at the "fancy" hotel, new and modern high on a hill. Lori's friend Margaret, a woman who owns a local river-rafting operation during the high season and who is attending medical school in Fairbanks, joined us. They met when Margaret ran a fishing boat and Lori fish-spotted out of Cordova. They signed us up for a river trip the following day. If the weather improved Lori also planned to take us flightseeing on Denali. Of course, Margaret told us that the weather had been perfect for weeks before we arrived.
Our luck didn't change, the weather the next day was cold and very wet, but we still went on the river trip. We had brought really good gear for the trip, lots of layers, fleece, waterproof jackets and pants and boots, etc. and we got our money's worth. But even wearing 3 or 4 fleece layers and a waterproof jumpsuit with 2 hats and a hood, 2 pairs of socks, gloves and double boots, we still froze on that river trip. They signed us up for the long trip (there are 2 hr. and 4 hr. rides) and it was about 3 ½ hours too long. Maybe if we'd seen some interesting animals it might have felt worth it, but with little to see, it was just torture. When we landed our fingers were so numb we had trouble taking off the outer gear.
Lori picked up some sandwiches and we ate them in the plane as we winged back to Anchorage. We bid fond farewells to Lori with promises to keep in touch and headed to check in for our Alaska Airlines flight to Dillingham in the southwest. Lori was true to her promise and called us one Saturday night a few weeks ago to see how we were doing. We've been swapping some email too, though it's tough for her to keep up since it's the busy season. After having a private plane for 10 days, the commercial flight felt like a real step down. Most of the jet was filled with cargo and passenger seats were limited to a small section in the rear.
We booked 3 days on the Bel Canto, a converted fishing boat, to visit the walrus and puffin colonies on Round Island, which is located in Bristol Bay in the Bering Sea. Our captain, Terry Johnson - a former fisherman who is now a journalist consulting for the U.S. Fisheries, had contacted us a week or so before we left home to say that he wasn't sure if we'd be able to make it. They'd had an unusually late winter (La Nina again) and he hadn't been able to get the boat over to Bristol Bay. We contacted him from Talkeetna to see if he thought we should still come and he said that the weather had improved and he expected that it would be OK. However, instead of taking a bush plane from Dillingham to Bristol Bay to meet the boat, we would be taking the boat around.
Terry picked us up at the airport and brought us to a pizza place in town to get some dinner. Bill, the owner of the restaurant was very friendly and even gave Stu a lift to a drugstore to pick up some cough medicine. We had booked at Lake Road Cottage B&B. There are several B&Bs in the area but we chose this one because it was the only one that promised a private bath and our own cottage. As it turns out, Terry had also booked a young East German couple with limited English on the boat and had arranged for them to stay in our cottage, so we didn't have quite the privacy that we expected. When we arrived in the cottage, Thomas and Alice wanted to shower so we decided to take a walk to give them some privacy. When we returned an hour or so later, they were hanging out in their underwear which was just a tad surprising. There was a nice living room with a VCR and some tapes and we might have enjoyed watching a movie, but we felt so uncomfortable that we just went to our room and read.
We shared a taxi to the dock the next day and boarded the boat. Terry gave us first choice of cabin since we booked first so we got a pretty comfortable one. Terry's wife usually crews with him, but she is hugely pregnant and isn't going out this season, so he hired a fisherman friend, Steve, as first mate and cook. We got to meet her on the return and she's lovely, a botanist from St. Petersburg that Terry met on business in Russia. The weather was beautiful, sunny and balmy as we got underway. It would take a whole day to get to Bristol Bay but we would still have 2 days to visit the islands.
It was smooth sailing until we reached the end of peninsula that we needed to go around to get to Bristol Bay. The wind was whipping the waves up hard and we weren't making much headway trying to round the point. Terry is a great conversationalist and a seasoned traveler so we had some very interesting discussions. He decided to anchor in a protected cove for lunch and wait out the wind. After lunch, we made another attempt, but it was still too rough so we went back to our mooring spot and decided to take a hike on land. We motored over in a zodiac. It was a great hike and we saw a flock of graceful sandhill cranes, many colorful ducks as well as a willow ptarmigan. From the boat we saw quite a few gray whales who regularly hunt in shallow water.
We sat on the upper deck with drinks catching some rays and chatting with Thomas and Alice before descending for dinner. Terry tried motoring on during the night, but couldn't make it so we spent the night in the same spot.
We still couldn't get around the next day, though we spotted a grizzly bear on the shore opposite the boat when we woke up in the morning. Just as he was disappearing over the hill, we saw a small pod of Orcas, a male and three females, distinguishable by the size and shape of their dorsal fins. We followed them around for over an hour as they prowled the seas between the shore and us. It was very exciting and Terry said that he'd never seen killer whales in this area before. Later in the day we took the zodiac to land again and hiked around. From the shore we spotted a lot of tufted puffins and other interesting sea birds flying and landing in the water but never got close enough for a really good look.
The third day, we had to give up and return to Dillingham while the tides were running our way. Terry was very upset about not making it - he said he'd never been unable to reach the islands with a 3 day leeway. He offered to refund the cost of the trip, but we insisted on paying the full fare. The weather was not his fault and he still incurred all of the costs. Ironically, it was some of the sunniest and warmest (though still chilly) weather we had, but the wind and tides were the culprits this time. He gave us a raincheck for a free trip next time but it is unlikely we'd return. Rather than hang around in Dillingham, we hopped on an earlier flight to Anchorage. We checked our luggage at the airport and cabbed to town. As on our previous time in Anchorage, the weather was great so we just walked along the Tony Knowles Coastal Trail and other parts of town since we'd seen the sights. We had reserved a table for dinner at Simon & Seafort's before we left the city with Lori. Since we had a 12:45 am flight home, it gave us plenty of time to enjoy a last leisurely dinner. We even had time to have drinks and admire the expansive view from the bar at the top of the Captain Cook hotel