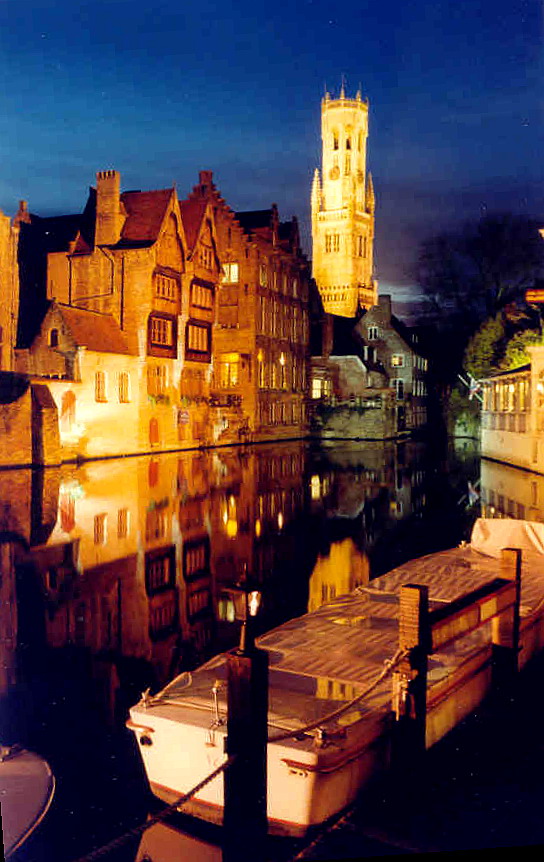 We had a great time in Belgium over Thanksgiving. Barbara had business in London then took the Eurostar (the Chunnel train) to Brussels and Stu flew over and met her there. We spent 2 days in Brussels, then drove to Bruges with a stop in Antwerp.
Belgium shares some characteristics of the Netherlands, particularly the charming architecture, but is far more interesting both for food and ambience due to the French influence. There's tons to do in Brussels. You know that we're art freaks so we spent a lot of time in the ancient and modern art museums, which are superb The Brueghel room alone knocks your socks off. There's a park called the Cinquantenaire, which hosts an array of museums, the best of which is the Archaeological museum - incredible antiquities, from Greece, Egypt, etc. We thought we'd be there for a couple hours and stayed for about four. There's a room on the first floor that features retables - intricate carved wood altarpieces, that we ended up seeing in many of the churches we visited later on. Some are painted and gilded, others plain wood, but all are incredibly beautiful. There is also a classic car museum next door - Autoworld - that's great if you're as crazy about cars as Stu.
A real find is the Museum of Musical Instruments - great antique instruments in a gorgeous space, plus you can wear headphones so you can hear the sound the instruments make. It's not far from the Cathedral of Sts. Michel and Gudule, which is lovely. We also enjoyed the Musee Horta, an Art Nouveau house. It's located in an area (Ave. Louise) which has lots of high-end shops, which are fun to browse around.
The main square in Brussels (Grande Place) is awe-inspiring, especially the ornate town hall. Another adorable square is Grand Sablon, with a pretty church and lots of chic shops. Just adjoining it is the Petit Sablon, a very elegant square with a lovely park. The best chocolate in the world is in a shop called Pierre Marcolini on the Grand Sablon. We're getting an endorphin rush just remembering that chocolate. The specialty dish in Belgium is moules frites (mussels and french fries), both are terrific. The rue du Boucher is a tourist drag but there's a classic brasserie there called Aux Armes de Bruxelles where you can get good local specialties. We had dinner at L'Idiot du Village - a casual bistro. Food is good and it's friendly with funky decor. We also ate at Comme Chez Soi, which is reputed to be the best food in the country. It was extremely good, but we think that NYC finest are better. Service was a bit disappointing for a Michelin 3 star.
We stayed at a fabulous little hotel called Le Dix-Septieme. It's in a perfect location near the major sights and has charming rooms named for Belgian artists. We were in the Brueghel. An excellent breakfast buffet was included and served in a beautiful room.
Antwerp was the pleasant surprise of the trip. What a terrific place! And we lucked out with a crisp, sunny day. We arrived around 9 am, planning to spend half a day on the way to Bruges and were there until after 3 pm. The main square of Antwerp is gorgeous and the Cathedral, which is just behind it, is magnificent. They have an astounding art collection, including 2 enormous Rubens (Ascent and Descent from the Cross). The stained glass alone is worth a visit. There's a wonderful smaller church, St Jacobskerk, which is the final resting place of Rubens - his tomb is worth seeing, showcasing one of his paintings. Rubens' house is also a must see - he was no starving artist in a garrett. We really enjoyed a museum called Mayer van den Burgh - it's small but choice. It contains a famous Brueghel called Dulle Griet (Mad Peg) that's worth the price of admission alone, but there's so much more as well. The Plantin-Moretus museum is dedicated to printing with old manuscripts and illuminated texts, plus a whole room of portraits by Rubens. Antwerp also has a fine arts museum that is wonderful, we fell in love with a triptych by Quentin Matsys and a curious painting by Jean Fouquet which looks as if it could have been painted today even though it dates back to the middle ages.
Bruges is one of the most beautiful towns in Europe with terrific brick townhouses built on scenic canals. It retains all of its medieval charm and late November it is not too overrun with tourists. Just walking around taking in the views is fun and it's small enough to walk everywhere comfortably. The Groeninge Museum is outstanding though you can skip the modern art section. The Memling room is more beauty than you can absorb in one place, plus they have the famous Bosch "Last Judgement" in addition to so much more. "Our Lady" Cathedral has a superb statue of the Virgin and Child by Michaelangelo as well as the tomb of Mary of Burgundy and many other treasures. The main square is splendid, with a tall belfry that chimes regularly and that you can climb for the view. The medieval council room in the town hall is astounding with fabulous paintings and incredible wood carving. The renaissance hall is also amazing. They were just starting to put up the Christmas decorations when we were there, it's probably magical now.
We had a delicious lunch at the Duc de Bourgogne overlooking a pretty canal. The best dinner of the trip was at Patrick Devos, an intimate place with a scrumptious tasting menu. Excellent value for money compared to the other places we ate. There was only one other tourist couple (the rest were locals) in a pretty room looking out into a garden. It featured friendly, efficient service, and superior wines that they'll match to each course by the glass. We stayed at a little B&B overlooking a canal called Die Swaene. The room was pretty and the inn is well located, but the staff is not very gracious, so we wouldn't recommend it.