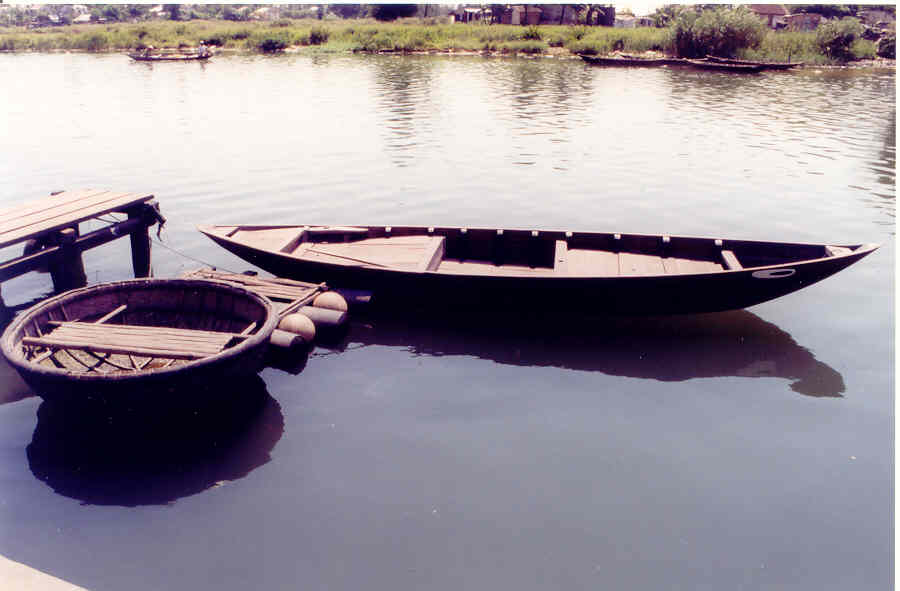 The images of Vietnam that many Americans harbor derive from war films such as Apocalypse Now or The Deer Hunter - dense green jungle ignited with napalm as Jim Morrison intones "this is the end", Christopher Walken as zombie playing Russian roulette in squalid gambling parlors, Robert Duvall and a squadron of choppers swooping down on villages with Wagner and machine guns blasting. Although remnants of the war, such as the underground bunkers, are now popular tourist attractions, it's hard to picture this country torn with strife. People are gregarious and helpful, the cities bustle with commerce and the countryside is serene.
We began our journey in Cambodia, after a short flight from Bangkok to Siem Reap. Our guide, Kim, and driver, Mr. Ur, picked us up at the airport and brought us to the Grand Hotel D'Angkor to check in and drop our bags. We sipped cool fruit drinks in an airy lounge as the hotel staff took care of our paperwork, then we hopped in the car to go buy 3-day passes to the temples.
Siem Reap is a fairly small, contained town and it doesn't take long to reach the countryside. Kim told us that about 80% of Cambodians are farmers. Fields of rice and cucumber alternated with groves of cashew, mango and kapok trees. Large wooden waterwheels, used for irrigation for centuries, slowly rotated in the streams. Most of the simple wooden houses are built on stilts, much like those we observed in Sulawesi. During the hot season, the family stays cooler in the shade beneath the house while belongings are perched high, safe from flood and vermin. It was painfully evident that life is hard. The water buffalo toiling in the fields were literally skin and bones.
Angkor was the locus of a powerful ancient Khmer Empire founded during the reign of Jayavarman II (802-850 AD) and ending in 1431, though the decline began around 1218 after the reign of the last great Khmer king Jayavarman VII. Each succeeding ruler built temples to the gods and the area boasts hundreds of Hindu and Buddhist temples illustrating the legendary architectural and artistic prowess of the Khmer.
We started off at the Roluos group of temples. Bakong (or Bakheng) Temple was built of clay brick in Hindu style around 881 AD. Expansive views rewarded the effort of a steep climb to the upper terrace. Kim pointed out figures depicted in the temple carvings and related their tales, such as Rahu, punished for stealing ambrosia from the gods, whose fierce mien glowers from the top of doors, Indra - god of rain and thunder and Chandra god of the sun. We continued on to Preah Ko, obscured by scaffolds while under restoration, and Lo Lei, both built of brick around the 870's. We skipped forward to the 12th century at Chau Seay and Thomanon with its lovely carvings of female deities. We walked to Ta Keo, dedicated to Shiva, whose truncated towers squat at the top of five sandstone tiers. It was the first temple to be built of sandstone.
We went back to the hotel to settle into our room and grab some lunch. Cambodians typically rest for 3 hours at midday so we had time to wander around town after eating. At lunch we had our first taste of dragonfruit and longan (dragon eyes). The flamboyant dragonfruit flaunts a shocking-pink scaly rind that encases sweet snow-white flesh with tiny black seeds. Longan are small round fruit with brown skin and delicate translucent pulp clinging to a large black pit. They are related to lychee, but taste a bit less sweet. One of our keenest pleasures in Southeast Asia is sampling the rich variety of exotic fruit and we had ample opportunity to indulge on this trip.
In the afternoon we went to Banteay Kdei and Ta Prohm. The dense jungle growth that enveloped many of the ruins during years of neglect have not been fully cleared away from these temples, imbuing them with a romantic, Indiana-Jones atmosphere. Ta Prohm is spectacular, with tangled roots framing doorways and cascading over high stone walls. Wandering through the crumbling corridors, we came upon an open doorway that framed a bifurcated tree trunk hilariously resembling a giant man scrambling up onto the roof. We ended the day's tour watching the sunset from a hilltop temple, Baksei Cham Krong. That evening we watched a lovely traditional dance performance while enjoying an outdoor buffet. Spry young dancers in fanciful costumes enacted mythical tales and commonplace activities.
The next morning we launched an enthralling day with a visit to Angkor Thom, the inner royal city established in the 12th Century. Walls (most gone), surrounded by a moat and entered via 5 towering stone gates bound the 13 square kilometer site. The complex once included a citadel and royal palace and still hosts a great number of impressive ruins. It's believed that as many as 100,000 people once populated this city. We approached Angkor Thom via the South Gate, the road to which is lined with balustrades topped with statues riding Naga, the multi-headed snake protector. Gods occupy one side and demons the other in the classic good vs. evil dichotomy. The faces of the gods are handsome and composed while the demons have bulging eyes and fierce demeanors. The gate, as are many throughout the area, is topped with the enormous head of a four-faced Buddha. The four faces are meant to represent the Mahayana Buddhist ideals of compassion, sympathy, equality and protection. The weatherworn carvings on the gate still retain their potent beauty.
Bayon, the major temple at the heart of Angkor Thom, is spectacular. As you approach, it almost appears to consist of tall piles of rubble on multi-level platforms, but as you venture closer, you perceive the huge stone Buddha faces, similar to those on the gate tower, carved into the tops of the piles. They built 54 towers to represent the 54 states of Cambodia. The stones were meticulously cut to fit without mortar, like the Inca temples in Peru. Also similar to the Maya or Inca temples, Bayon was precisely situated in relation to the moon and sun. Huge skillfully carved stone panels depicting religious myth and social activity line the walkways. After spending a good amount of time admiring the artistry of the temple, we continued through Angkor Thom to the Elephant Terrace, so named because of the elephant carvings adorning its 350-meter length. Historians surmise that the Royal Palace was adjacent to the terrace where ceremonies and performances were held.
Continuing the length of the Elephant Terrace brings you to the Terrace of the Leper King also richly carved, though thankfully not with images of lepers as you might imagine. Description of the King's fatal malady lead succeeding generations to suspect that he had leprosy, hence the name. This terrace includes panels with images of Balaha, a 5-headed horse who transported a mythical hero to heaven to escape a demon wife. From the platform we noticed a large congregation of Buddhist nuns with shaved heads and white robes in the distance. We walked over to watch what appeared to be a pageant or ceremony of some kind. After parading in a long column, the assembly split up, clustering under the trees in small groups to talk and eat. Under the shelter of a tree a saffron-robed monk poured holy water over the heads of worshippers.
We strolled through the woods to Phimean Akas, a stone stepped pyramid with a small temple on top that greatly resembled Mayan pyramids. We decided not to climb to the top. Clambering around the temples in Cambodia is better exercise than a Stair-Master - the steps are very steep, especially considering the average height of the populace, and there are lots of them. The nearby temple of Baphoun (1050-1066) is slowly being reconstructed so there isn't much to visit, but it's an enormous fortress-like structure with a deep (now dry) moat. The weather was dry but quite hot so we ate satay and spring rolls at the hotel pool and spent our lunch hours cooling off.
Later in the afternoon, we finally visited Angkor Wat. While Bayon is Buddhist style, Angkor Wat is the largest Hindu style temple in the world, covering a square mile. The temple, dedicated to Vishnu and dating from 1113-1115 AD during the reign of Suryavarman II, is surrounded by a 600-foot wide moat. You approach via broad avenues accented with statuary. Five flame-shaped towers remain of the original 12, which heralded the lunar cycle. The sheer scale of the multi-tiered site inspires awe but it's the delightful carvings that we admired most. Stone bas-reliefs embellish long corridors illustrating scenes from the Hindu epics Ramayana (Rama seeking his wife Sita after her abduction) and Mahabarata (the battle between the forces of good and evil). We took our time traversing the galleries with Kim interpreting the panels and pointing out extraordinary details. We also enjoyed the many graceful images of apsaras (dancing angels) and female dancers with elaborate coiffures, costumes and jewelry. The site included an enormous linga - a phallic-shaped stone shrine to fertility over which water is poured. We left Angkor Wat as the sun set.
Our first temple the next morning was the handsome East Mebon with its traditional mountain-like structure. The finest feature was the well-preserved elephant statues surveying the countryside from the edges of the platforms. We stopped briefly at Pre Rup nearby before continuing on to the exquisite Banteay Srei (967 AD). The compact temple complex consists of a group of small buildings fashioned of radiant pink sandstone embellished with delicate, elaborate carvings. Though not the most grandiose temple, it was certainly the most beautiful. We wished our guide had taken us there earlier before the tour groups gained critical mass.
Prasat Kravan, a temple dedicated to Laksmi, the wife of Vishnu, was structured like a group of brick long houses. Though somewhat plain outside, the interior rooms contained elegant statues and wall carvings. Kim told us about a friend who traverses the country digging up land mines. He was so successful and had collected so many that he decided to open a museum to help publicize the problem and raise funds for removal. He asked if we'd be interested in visiting the museum and we were. Land mines take a terrible toll on Cambodians and there are still millions of live ones all over the country. The museum was small but compelling. A young American volunteer was selling literature. We threw in a contribution and got a sheaf of horrifying tales of the suffering of the museum founder, who was forced into combat at a very young age, and others. We had already been sympathetic to the cause, but went away even more convinced that resources must be applied to land mine clearance.
Kim dropped us at a local restaurant in Siem Reap for lunch, where we sampled excellent fresh spring rolls (not fried) and a delicious Cambodian vegetable dish with rice. We walked back to the hotel, though we were offered rides in non-motorized tuk-tuks (brightly colored 2-seat passenger carts with awnings - some hauled by motorbike). Most Cambodians get around by bicycle and it's amazing how much they can cart on a bike. We'd routinely see men toting huge clusters of heavy coconuts powered only by their own strength.
In the afternoon we drove to Lake Tonle Sap for a boat ride. The pitted dirt track we had to follow could only euphemistically be dubbed a road. Thatched shanties lined the path and it would be impossible not to observe how people live because they live completely out in the open - cooking, cleaning, grooming, eating, and sleeping. Though there was evidently no municipally provided electricity, water or sewerage, it was not unusual to see people watching television since some of the residents owned kerosene-powered generators. We often saw male infants and toddlers running around buck naked, but never any girls. Kim told us that females are more protected. Since we saw a lot of school age children who were not in school, we asked if education was compulsory until a given age but there doesn't seem to be a minimum requirement.
We were overpowered by a foul stench as we approached the small town by the boat landing. We highly recommend mouth breathing if you're ever in this area. We motored down river to the lake where the air was mercifully fresh. The lake is vast and it was a calm, pleasant ride. We didn't have enough time to visit the bird sanctuary on a distant shore so we trolled through fishing villages to watch people catch fish as well as dry it on the banks of the lake. Kim pointed out an obvious tourist shack and asked if we wanted to visit. We said no, but we stopped there anyway. There were fish and eels in murky tanks and animals and snakes in cramped cages. A girl liberated the most adorable gibbon and he soon jumped into the arms of a nonplussed German woman. Gibbons have light-colored fur, black faces and unusually long arms even for a monkey. There were lots of post cards and junky trinkets to buy (we passed). We quickly got bored and searched for Kim, only to find him and the boat driver diving into plates piled high with sizeable prawns. We suspected that this was the real pretext for the visit so we climbed the stairs to an outdoor terrace to watch the boats go by and the gibbon clamber around the slanted tin roof. In retrospect, it would have been better to skip the lake visit entirely unless we had a full day to see the birds, though it did provide a valuable opportunity to get a glimpse of rural living. We hope that conditions improve for the people here soon.
On our last morning in Cambodia, Kim took us to some small temples and a marginally interesting museum in a monastery. We also visited the ateliers of the Artisans d'Angkor. The French founded a crafts school where young people could learn traditional skills such as wood and stone carving or painting, then get work creating objets d'art for the tourist trade. The training is meticulous and the products are lovely. The school was heavily subsidized at first but is now funded by sales. We ended up buying (and shipping) a gorgeous stone panel reproduction of an apsara from Angkor Wat, a graceful wooden Buddha statue and some stunning silk throw-pillowcases. We went back to the hotel, had a snack, checked out and headed to the airport for our short flight to Ho Chi Minh City, Vietnam.
A driver and coordinator were waiting outside the airport to drive us to the office of Ann Tours. I had read about this agency while researching the trip and immediately wanted to book with them. Not only are they highly recommended by many sources, but their history is inspiring. During the war, Mrs. Nong was separated from her two sons, who ended up in southern California living with a distant relative. She tried in vain to locate them and eventually started a travel agency to enlist the help of travelers who might have had contact with them. After many years, she found them. By then they had business degrees so they returned to Vietnam to join their mother in the family business. I had never booked an international trip with a foreign company via the Internet before, but Tony Nong was so responsive and professional via email that we took the chance and we're very glad that we did. We got to meet Tony in person at the agency. He reviewed our itinerary, offered helpful suggestions and gave us our trip materials. We highly recommend this agency if you travel to Vietnam - they were very responsive and accommodating and provided terrific guides and drivers at excellent rates. They offer group tours but will also customize private itineraries as they did for us.
One valuable piece of advice that Tony provided was how to cross the street in Ho Chi Minh City. While there aren't very many cars, the streets of HCMC are clogged with motorbikes, whose drivers largely ignore traffic conventions such as red lights and one-way traffic flow. Crossing streets is intimidating as huge squadrons of bikes bear down upon you at speed. Tony advised us to slowly and steadily walk out into the stream of traffic, never stepping backwards, and the motorbikes will maneuver around you. You must not step in front of cars or trucks though since they are less nimble and pedestrians never have the right of way.
Our driver and coordinator took us to the Caravelle hotel in District 1, which is still called Saigon, and assisted us with check-in. The female employees were stunning in their ao dais, the traditional long silk high-collared dresses slit to the hips on both sides worn over flowing pants. We had a terrific room on one of the two Club floors with birds-eye views of the adjacent Opera House and city beyond. We unpacked, did some laundry then relaxed with music after asking the concierge to book us a table for dinner. The hotel provided a well-stocked fruit basket that included dragonfruit and longan. The mottled, grenade-like skin of the custard apple intrigued us. We hugely enjoyed its creamy texture and ambrosial sweetness.
We chose Lemongrass for dinner, because it was highly recommended and only a couple of blocks from the hotel. We exited the hotel with trepidation, quickly coming to a wide street that had to be crossed. Gritting our teeth and summoning up all of our courage, we slowly stepped off the curb into the chaotic swarm of whining scooters. Just as Tony predicted, the bikes zipped smoothly around us as we inched our way to the opposite sidewalk, arriving miraculously intact and grinning like fools. It was nerve-wracking but exhilarating. Later we noticed tourists poised on street corners waiting for an opening to cross and either remaining there paralyzed or running haphazardly across traffic.
Lemongrass is a small restaurant with a spare, modern interior and a diverse clientele. We ordered a large bottle of still water and the waitress brought it along with a bowl of the most sublime prawn crackers we'd ever tasted. Everything we ordered was delicious, especially the crisp vegetable-filled spring rolls, and the service was friendly and efficient. Emboldened by our initial success at street crossing and seduced by the balmy evening, we decided to take a short walk before retiring.
HCMC is a vibrant city bursting with youthful energy. Sidewalks were crammed with people socializing and eating. If there were 10 free feet of sidewalk, someone would set up a small stove and a pot of food and people would eat, squatting on low plastic stools. Vendors hawked merchandise as people headed home from work, laden with heavy bundles. Garishly neoned buildings dotted the broad boulevards. We walked past the handsomely illuminated Opera House to the historic Rex hotel and down the block to see the grand French styled Town Hall.
Breakfast in the Club lounge at the Caravelle is a special treat. It's a comfortable, stylish room with lovely views and a wide selection of pastries, cereals, hot foods, Asian specialties, fruit and nuts. We didn't recognize the green, smooth-skinned milk apple and decided to sample that, along with tart starfruit, crisp watery rose apple and fragrant melon. The white juice of the milk apple resembles skim milk but the pulp is sweet.
We met our guide, Truyen, and driver, Viet, in the hotel lobby. Truyen is a small, wiry young man with thick, straight hair, sculpted cheekbones and a wide infectious grin. Viet looked dashing with well-coifed wavy hair, a neatly trimmed mustache and fancy Ray-Ban sunglasses. Viet dropped us off near the Chinese herbs market and we set out on foot to explore it. Truyen also offered traffic advice and marshalled us across streets like a mother hen with a small brood of chicks. He was immediately endearing and we grew to like him more and more as the trip progressed. As expected, we saw all kinds of bizarre produce in the herbs market, such as dried geckos and snake wine with hooded cobras with bared fangs suspended in clear liquid. We continued on to a vast outdoor poultry market. Merchants transported gaggles of geese and ducks strapped to their bicycles. Chickens - live, dead, feathered, plucked, whole, quartered - stretched as far as the eye could see. Truyen pointed out which were the best and which were sub-par. Roosters strutted in bamboo cages to be sold as prizefighters. A seller released two combative cocks who proceeded to demonstrate their ferocity for a prospective buyer. The poultry market segued into the fruit and vegetable markets. Truyen told us that about 70% of the population are farmers, understandably the produce was fresh and abundant. Betelnut along with lime leaves and other accompaniments were widely sold. Vietnamese women are not permitted to smoke but they may chew betelnut. It's also considered an important gift from the groom to the bride's family in traditional weddings.
The Binh Tay market is an indoor shopping center with stalls offering all kinds of merchandise - shoes, clothes, home furnishings, candy. Truyen satisfied his sweet tooth with some coconut candy. It was the first day that the market was open after Tet, the Vietnamese New Year celebration, so a small festival was in progress featuring song and dance. We were fortunate to arrive in time to see the Lion Dance, athletic young men danced in a colorful lion costume with a bright orange head while others performed acrobatic martial arts moves. We squeezed in behind the crowds to get a look and people kindly moved over and invited us to take photos and view the show.
During our city tour, we also stopped at the Thien Hau Pagoda and the Emperor of Jade Pagoda. These are not the tall tiered pagodas that most Westerners picture, but Chinese style temples. Truyen explained the significance of the various features and objects and we observed worshippers performing rituals for different purposes - honoring the dead, praying for good luck and fortune, offering gifts. In addition to burning incense, people burn paper objects to insure good fortune. A popular item to burn is stacks of phony U.S. dollars, so people burn fake money in hope of having real money to burn someday. The devout release turtles into a large pond, as well as bringing food for them, or liberate birds from cages to gain religious merit. Viet left us at the Emperor of Jade Pagoda to have the air conditioning in the car fixed in preparation for our trip the next day and another driver came to complete our tour. We had a look at the exterior of Notre Dame Cathedral and wandered around in the turn of the century styled Post Office. There were many interesting stamps for sale. Illiterate people can hire someone to read or write a letter for them or translate letters, though the overall literacy rate in Vietnam is high. While in the car and walking around, we noticed that despite the midday heat, many young women wore long sleeves, long gloves and often scarves covering their lower faces. We guessed that they were protecting themselves from the sun and Truyen confirmed it, adding that white skin is a mark of beauty and women go to great lengths to avoid being tanned by the sun.
At the end of our tour Truyen dropped us at Indochine for lunch. Although he and the driver offered to wait for us, we felt confident that we could make it back to the hotel on our own. The restaurant is in a charming old house with a pretty outdoor garden. The food was very good, though we preferred Lemongrass. It was very hot out so when we got back to the hotel, we washed up and headed down to the pool to cool off. The Caravelle has a pretty rooftop pool and excellent gym. After a refreshing swim we sat in the shade reading and doing puzzles until the temperature cooled.
That evening we decided to venture into another district and try a recommended fish place, Ngoc Suong Seafood Restaurant. The taxi ride cost less than a dollar. This was a sprawling, popular place packed with noisy predominantly Asian groups. The cigarette smoke was so thick that you needed a fog-cutter to find your way to a table. We ordered crab spring rolls, prawns and fish, all delectable, though our inability to draw a breath of fresh air diminished the pleasure of the meal considerably. We weren't sure if we were actually blue when we left or if it was just the lighting. We snagged a cab immediately upon exiting the restaurant. Since it was still pretty early, we decided to check out the bar/nightclub at the top of our hotel, Saigon-Saigon. We peeked in and were instantly ushered to a small table on the outside terrace. The air was fresh and the view was expansive so I nursed a truly horrid margarita while Stu treated himself to some very good ice cream. A bar band with capable male and female singers covered American rock classics.
We started very early the next morning for our long drive down to the Mekong Delta. The delta is one of the key rice producing regions of Vietnam, which is the world's third largest rice exporter. Truyen told us that Thailand buys tons of Vietnamese rice, labeling it Thai for export. We expected the area to be completely rural and were surprised at how urban it was. Hundreds of thousands of people live in towns along the main road and the cities. Truyen grew up here and he pointed out his home and schools. Most of his family still lives in the delta, though his brothers are businessmen and not farmers.
Near My Tho Viet dropped us off at the top of a dirt lane and we walked along the banks of a narrow river to a family farm that produces rice noodles, a key staple of the Vietnamese diet. The whole family participated in the production, which is labor-intensive even with machinery. They purchase the rice rather than grow it themselves, reducing it to a gooey dough which is painstakingly transformed into delicate translucent noodles via several stages. In earlier days, the entire process was done by hand making the work even more laborious. On the river a young man squatted patiently in the prow of a shallow wooden boat fishing for turtles. As we approached a pen of bristly young pigs, they eagerly stood on their hind legs propped against the railing to pose for a photo, sniffing for food with their sensitive snouts.
Next stop was at Vinh Trang Pagoda, an impressive temple with extensive flowering gardens. The opulent interior included handsome statues, ornate carving and tables laden with offerings of incense, fruit and flowers. Truyen explained what the various offerings represented. A wizened monk became very impressed by Stu and claimed that he could tell just from looking at his face that he was very intelligent with a huge store of knowledge (of course I told him he was correct via Truyen who was translating for us). The monk escorted us throughout the complex. Truyen told us that he'd seen this monk many times on his visits to the pagoda but he had never approached any of his charges before.
Viet drove us to a dock, where we boarded a small motor boat and were introduced to a petite local guide who would lead us along the small canals. The boat driver had served in the South Vietnamese navy, working on a U.S. ship, during the war with America. He spoke excellent English. We motored to an enterprise that makes popped corn and rice treats. The grain is popped in huge woks over an open fire, then mixed with sweet syrup and molded into bricks. We sat at a round wooden table to enjoy green tea and a sample of the products, which were absolutely delicious. Ginger is included in the mix, which renders the popcorn both sweet and tangy - a great combination. We bought a package to consume during our travels and one for Truyen. His mother thinks he needs to gain a few pounds so we thought we'd try to help. We also stopped at a candy factory, where the luscious coconut-based candy was also made completely by hand. Later we regretted not having bought some of it.
We stopped for lunch at a lovely plant nursery and fruit farm. Truyen and our local guide settled us at a table beneath the trees and proceeded to bring out a feast of food, including prawns, soup, pork, chicken, vegetables and a whole fried fish, eaten in thin pancakes with various condiments. Our guides didn't join us but there would have been plenty of food for all of us.
Truyen asked us if we were interested in music and when we confirmed that we were, they took us to a hall where a couple of musicians and three singers, one male and two females, were performing for local workers and students during their lunch break. We sat on low benches at long wooden tables and our guide explained the meaning of the traditional songs. We didn't notice any non-natives in the room - this was clearly not a staged tourist event. People lounged around drinking tea and snacking while listening to the music. One of the female singers, clad in jeans and a simple blouse, was stunningly beautiful and had a voice to match. She sang a moving duet with the male, who also sang very well. We enjoyed the concert enormously. Truyen told us that they also perform Western songs, but we preferred hearing the indigenous numbers.
We transferred from our motor boat to a small wooden skiff rowed by a hardy middle-aged woman. She stood at the back of the boat manipulating the long oars. They loaned us the traditional cone-shaped hats to wear. They're called non la, with accents on each word to indicate a rising tone. It was very peaceful gliding down the small canals. In the rainy season the Mekong overflows its banks and gorges the narrow tributaries but during the dry season, the canals are sometimes too shallow to navigate. At the end of our ride, we reboarded our motor boat to visit an orchard. Tree branches drooped with the weight of ripe, bountiful fruit. We were astonished by a pomelo the size of a soccer ball. We sat at a round wooden table beneath a bower of trees and vines and sampled fruit and a couple of varieties of tasty locally brewed spirits. One was so strong it curled my moustache, which was remarkable considering I didn't have a mustache before I drank it. In addition to wonderful pomelo and starfruit, they served the most lushly flavorful mango we'd ever eaten. The owner, a convivial, comical old guy who had apparently imbibed a generous amount of the strong stuff, shared humorous tales and encouraged us to eat and drink more. We called this day the Mekong-Delta-stuff-the-tourists-until-they-explode tour. We bade farewell to our local guide and boat captain then Viet drove us to Can Tho, the most populous city in the delta.
The open-air lobby of the Victoria Can Tho Hotel is relaxed and charming. Attractive women demonstrated local skills such as weaving and hat making. A tiny strikingly beautiful white-haired woman created graceful palm leaf birds that simulated flight as they swayed at the end of long flexible switches. She gave us one as a souvenir.
Truyen checked us in then insisted on helping us with our bags even though the hotel porters were eager to grab them. We think he was curious to see our accommodations, a stunning suite with a comfortable light-filled living room, generous bedroom, handsome wood furnishings, spacious bathroom with dual sinks and separate tub and shower, plus floor to ceiling French doors in both rooms opening to small balconies with dramatic views of the river. It was our favorite room of the trip - we only wish we had more time there to enjoy it. Truyen offered us the choice of arising early the next morning to visit the floating market and taking a ride down the small canals or starting later and only visiting the market. Of course we chose the early start. We spent the early evening exploring the grounds, listening to music and relaxing. When we descended for dinner, the restaurant was crammed with large noisy groups but the manager seated us outdoors on the lawn, a quiet, romantic spot. They served the least interesting food of the trip (aside from the planes) but the atmosphere was lovely.
Truyen picked us up at the hotel dock in a small motor boat and advised us that the water was too low to explore the small canals so we headed straight for the floating market. The dawn light was mystical. People were already busy ferrying across the river and setting up shop on the shores. Covered wooden boats with big eyes painted on the prow plied the waters delivering people and goods up and down the river. The floating market was in full swing when we arrived. Vendors advertised their wares by dangling samples of produce from tall poles - ah yes, there's the pineapple aisle. We slowly serpentined our way among the commercial craft.
We had taken a couple of turns around the market and were headed back down the river when we saw the first clusters of tourist boats headed towards the market. Truyen asked the driver to pull over to the shore and we got out at a land market. People seemed surprised to see us but readily returned our smiles and greetings. One mother insisted that Stu take a photo of her son, a cheerful toddler with fuzzy-chick hair and a knock-off Louis Vuitton T-shirt. The market was teeming with intriguing sights and smells. We asked Truyen about a black jelly-like substance that he explained was made from seaweed and is a highly healthy ingredient in cooking. We bought rambutan, a fruit related to the lychee with wiry red tendrils sprouting from its skin like hair. We'd seen them in Thailand but hadn't had the opportunity to sample any. Truyen bought a bag of tart rose-colored cherries.
We had a couple of hours to relax and swim at the hotel before we had to check out and make the long journey back to Ho Chi Minh City. We stopped at a very popular restaurant area on the way, but they insisted that they had no free tables at any of the many cafés in the complex, so we piled back in the car and continued on, snacking on the rambutans. We checked back into the Caravelle and had time to take a walk along the river before cleaning up for dinner. It was Valentine's Day so before we left HCMC for the delta we'd asked the concierge to book us a table at Mandarine, a place that Truyen recommended. It's a gorgeous, romantic restaurant with attentive service and superb, skillfully prepared food. Though high-priced for Vietnam, it was still an excellent value and perfect for a special occasion. Four young Japanese women occupied the table next to us and ordered a very fancy feast, photographing each artistically presented course. We joked around with them some but didn't hold any sustained conversation. We walked back to the hotel to prolong our enjoyment of the evening.
We arose very early again and hit the road to Phan Thiet, a once small fishing village that is morphing into a seaside resort town on what we call the South China Sea and the Vietnamese call the East Sea. About an hour or so outside HCMC, the landscape became seriously scenic, with mist-topped mountains and Technicolor green rice fields. We were always impressed with the way the Vietnamese could transport a whole family on one motorbike (parents and two children), though we never saw more than four on one. There were always squadrons of children heading to school on bicycles in clean, neat uniforms. Sometimes a kid on a motorbike would tow a kid on a bicycle, tightly gripping hands. Middle-school boys and girls looked adorable in navy blue pants with crisp white shirts and red bandannas looped sailor-style around their necks. High school boys wore dark, usually black, pants and white long-sleeved shirts. But one of our favorite sights throughout Vietnam was the high school girls clothed in flowing white ao dais, fluttering down the road like a swarm of butterflies.
Viet and Truyen dropped us at the Victoria Phan Thiet and then continued driving north to Danang where they would meet us in three days. We were escorted to a lovely bungalow surrounded by garden overlooking a dazzlingly beautiful beach. We immediately stepped out on our patio to admire the view. We quickly unpacked, changed into bathing suits and walked a short distance to the beach. There were a few couples stretched out on lounge chairs so we chose a pair beneath an umbrella. An attendant ran right over with cushions and arranged our beach towels on the chairs. A brisk breeze was blowing, whipping up frothy waves, so it was comfortably cool. We wrote post cards until hunger induced us to find the restaurant, which was on a hill overlooking the ocean. We sat outdoors and had our first taste of pho ga, the popular chicken noodle soup widely enjoyed by the Vietnamese. It was truly delicious - especially after we liberally peppered it with hot red chilis. After lunch we hunted up the excursion manager and signed up for a jeep tour to see the Mui Ne dunes and Red Canyon the following afternoon. We spent the remainder of the day on the beach, though we felt too cool to go in the water. I had booked a "Victoria Special Massage" for early evening and was treated to 90-minutes of pure ecstasy. It was similar to the "jungle massage" I'd adored in Indonesia, which combined a variety of techniques - reflexology, shiatsu and deep tissue. I left feeling complete renewed. Dinner at the hotel wasn't nearly as satisfying as lunch, but we enjoyed dining al fresco. The next morning we ordered breakfast in our bungalow then took a long walk along the beach. The fishermen paddle out to their boats, which were moored offshore, in large round baskets that they park on the beach when not in use.
When we chose lounge chairs on the beach, there was only one other pair claimed but the occupants were nowhere in sight. The likable young fellow who came to help us settle in, talked with us awhile about our origins and how we plan to spend our time in Vietnam. We were warm from the walk so we jumped into the waves and were pleasantly surprised at the perfect temperature of the water. The wind had died down so the waves were gentle and fun to play with. We stayed in for a long time and took another dip before lunch. We had the pho ga again but this time also indulged in some ice cream. We went swimming again until late afternoon when it was time to change for our excursion.
Our guide took us to a fishing village with a thriving boat repair business and we walked along the beach while he told us about the local practices. We jumped back in the jeep and continued on to the Mui Ne sand dunes, towering red mountains of hot sand wind-carved into sinuous peaks and curves. We awkwardly climbed to the top of the highest dune, sinking into the soft sand, for a breathtaking panorama of sand and sea. From there we drove a short distance to the Red Canyon, reminiscent of the glorious red rock canyons of the U.S. Southwest. While there were loads of tourists at the sand dunes, we found ourselves alone here scrambling up the steep, stone-strewn trail. We finished our tour with a visit to a crowded public beach. Food stands competed side-by-side along the boardwalk. Groups of young men played soccer and children built sand pagodas. Males wore bathing suits, but we noticed that females seemed to swim and hang out on the beach fully clothed.
Back at our bungalow we ordered a bottle of champagne and sat out on our patio, reading and sucking in the beauty of the beach as the sun set. The next morning at breakfast our young waiter, hearing that we'd be checking out later that day, offered us some fruit to take along for the car ride. He grew up in the town of Phan Thiet and told us about his family and girlfriend. We walked along the beach again and luxuriated in the warm seawater until it was time to shower up and go. A driver we had not met before picked us up and drove us to the airport in Ho Chi Minh City for our flight to Danang in central Vietnam.
Truyen waved to us from the crowd outside the arrivals area and we were soon in the car with him and Viet on our way to Hoi An, south of Danang. When we arrived at the Hoi An Riverside Resort, the staff seated us at a table in the bar and brought fruit drinks while Truyen checked us in. It turned out to be our favorite hotel of the trip, charmingly landscaped with flowering trees, animal topiaries, a wooden bridge spanning a lily-padded pond and handsome stone statues. The low-rise buildings hug the shore of the tranquil Do River. Our attractive room featured glass doors opening to a patio overlooking the river. The staff was exceptionally kind and helpful. Michael Caine resided here while filming "The Quiet American" and an autographed photo of him with the hotel manager was prominently displayed in the reception office. It was late by the time we were ready for dinner so we headed for the candle-lit open-air restaurant in the hotel. We started with a wonderful mixed appetizer of local specialties, followed by moist, tender fish with ginger and savory vegetables. It was an excellent meal.
On our way to the town of Hoi An the following morning we were swallowed up in a huge traffic jam of people and vehicles who had gathered by the bus station to bid farewell to relatives who had joined the military and were shipping out. Vehicular traffic is controlled in the town of Hoi An so Viet parked in a lot at the edge of town and Truyen lead us in on foot. While we'd encountered aggressive vendors in Cambodia, until hitting Hoi An we hadn't really suffered much sales pressure in Vietnam. The town has been preserved as a historic landmark site, retaining many old-fashioned Chinese styled homes. We meandered around visiting craft-making shops, notable homes, elaborately decorated temples and the picturesque 16th C. Japanese covered bridge, which houses a small shrine. Of special note was the Phuc Kien Assembly Hall (1768) a Fujian temple dedicated to Thien Hao, the goddess of the sea, which included two colorful and dramatic murals in the front hall. We also stopped at a museum in a former pagoda with a small collection of ancient pottery, jars, statues and temple artifacts. It proved to be a good place to pick up small necessities cheaply, such as shoelaces and a battery for our travel alarm clock. We stopped at a shop to see how silk is made, from the worm to the spool. They had a good selection of men's and women's clothing. We found a shirt we liked for Stu, but they didn't have his size so we arranged to have one made for him and to pick it up that evening.
We made our way to the river front to visit the market. All of the markets we'd browsed combined captivating sights and smells, but this market was without doubt the most fragrant. The fruit, vegetables and flowers perfumed the air with a heavenly scent, enhancing the sensual kaleidoscope of colors, shapes and sounds. Pots of pho and other culinary treats simmered on long counters crowded with diners. The lively fish market offered countless varieties of glistening fish, crustaceans and mollusks. A pair of young women painstakingly pried minuscule animals from tiny shells and popped them down. Some vendors were selling what looked like a semi-solid brown pudding with sesame seeds sprinkled on top in palm leaf bowls. When we asked Truyen what it was he told us with a big grin that he would be afraid to eat it. Enough of a deterrent for us.
Since we had time before lunch, Truyen negotiated with the owner of a small boat to take us for a ride on the Thu Bon River, the main estuary running through the town. A ferryboat transported tightly packed crowds of people, bicycles and packages back and forth across the river. Small covered boats brimming with fish, fruit or vegetables headed to the market. Women cooked and washed dishes or clothes from houseboats anchored along the shore. Truyen took us to lunch at a terrific restaurant called Mermaid. It was a set menu including soup and several delicious courses followed by fruit. Our favorite item was tender squid stuffed with the most mouthwatering filling. Meals are communal here and as we ate, Truyen would often put food on our plates as well as give us advice about how to eat things, which sauce to use with what. Although he already has a college degree, Truyen talked about his plans to go back to school, hoping to study in the U.S. or Canada. He insisted upon paying for lunch, which really surprised us, though considering the innate generosity of the Vietnamese it probably shouldn't have. We figured we'd make it up to him later.
Viet dropped us off at the hotel after lunch and we beelined to the gift shop. It carried the most exquisite silks and we picked up some lovely gifts. We had booked a boat ride through the hotel later in the afternoon so we killed the down time at the pool. A sweet young hotel employee escorted us to the boat, which was moored at a dock next to the restaurant. The boat driver loaded water and soft drinks for us and we pushed off. The Do River was as serene as the Thu Bon was lively. The late afternoon sun illuminated the lush rice fields, gently rolling hills and solitary fishermen with a soft glow. Water buffalo toiled side by side with industrious farmers. Flotillas of ducks hunted in the shallows. A baby buffalo with a spine of bristly hair closely tailed its massive mother. A gorgeous kingfisher with electric blue feathers accented by a pure white breast, yellow throat and bright red beak surveyed the scene atop a pole in a fish enclosure. We enjoyed the boat ride enormously and only wished we had another day in Hoi An so we could spend a whole day floating down the tributaries visiting the small villages.
We were waiting for the hotel shuttle van to go to town when Truyen rode by on a bicycle on his way there. He stopped to talk with us and immediately offered to call Viet and get the car for us. An outstanding feature of this tour was the flexibility of our guides - they were willing to do anything within reason even if it wasn't on the itinerary and gave us their mobile phone numbers so we could call them at any time if we needed anything. We preferred to give them some time off so we didn't bother them. The van dropped us off and we found our way to the silk shop to pick up Stu's shirt. After wandering around awhile, we headed down to the waterfront and sat at an outdoor table at the Café des Amis, which has a reputation for gourmet cooking. There's no menu, you either order the seafood or vegetarian menu. We decided to try the vegetables and were treated to a delicious feast. The expansive owner came to talk with us and couldn't resist helping us eat, crumbling a crisp wafer into our soup and dipping our spring rolls. Some people might have been upset at having their food handled that way, but we got a kick out of it. We would have had to wait over an hour for the van back to the hotel so we decided to walk since it was only a couple of miles. The road was lined with houses, stores, restaurants and crowds of people spilling into the street. It was fun walking around and absorbing the atmosphere. We passed a large primary school where children were performing on an outdoor stage for an appreciative mob of family and friends. We stopped outside the gate to watch awhile. Nearer to the hotel, the road paralleled the river and we stopped to gaze as the full moon rose enormous and luminous. We had just missed the lantern festival, a time during the full moon when all electric lights are extinguished and colorful glowing lanterns light the town.
The next morning it was cloudy as we headed north towards Danang. We drove past shops selling monumental marble statues of mythical beings to Marble Mountain. The five peaks are named for the five basic elements of Chinese philosophy - metal, wood, earth, fire and water. It was far more interesting than we'd expected. After climbing up steep steps and over rocky paths, you enter a vast cave with a simple temple overseen by a huge, placid stone Buddha perched high up the wall. The light streaming through crevices in the roof of the cave contributed to the otherworldly air. There were several interesting structures scattered along the mountaintop and the views extended to the sea. We made a quick stop at China Beach, popularized by the TV show, which was beautiful and deserted except for some souvenir vendors. Truyen etched our names in the sand and took a photo of us standing behind them.
Danang is a large port city without much apparent charm. We only stayed long enough to visit the Cham museum, which showcases sandstone and terracotta statues and bas-reliefs of Hindu myth from Champa temples dating from about the 7th to 16th Centuries AD. The Champa Kingdom occupied central and southern coastal regions of Vietnam and warred with the neighboring Khmer and Viet tribes. Among our favorite pieces were a graceful apsara, a fierce Garuda and a weighty statue of Ganesha, the elephant-headed god of knowledge, wisdom and science, who so angered his father, Shiva, that he decapitated him. His mother pleaded his cause until Shiva restored his head, borrowing one from an elephant.
After the museum, we traversed the scenic Hai Van Pass on our way to Hue. The road wound up the wooded mountain into the clouds. On a clear day the views would be phenomenal, but this was still the most beautiful scenery we encountered. We descended to Lang Co Beach for a stroll and a quick lunch on a pleasant outdoor terrace. On the beach, an enterprising young man tried to hustle us for money. The beach was otherwise empty and truly stunning.
By the time we got to Hue, the sun was poking through the clouds. We headed straight for the Citadel and Imperial City, an imposing fortress within which resides the remains of the 1805 Forbidden Purple City, where the Nguyen emperors resided with their entourages. A 122-foot tall flag tower that had served as an observation post marked the entrance. We crossed the moat and penetrated the imposing stone walls via a massive fortified gate. A painting inside the first pavilion portrayed the layout of the grounds and the throngs of petitioners seeking audience with the emperor. An enormous drum and bell occupied traditional positions in the tower.
Although it was seriously damaged during the wars with the French and Americans, and many buildings were destroyed, there was still much to see and we spent the rest of the afternoon exploring the 22-acre complex. Among the most impressive sights were the richly ornamented interior gates, resplendent with deep ochre and primary colored paint and ceramics. 9 dynastic urns, cast in bronze in 1835, were designed to hold water in the event of fire. Each voluminous urn, weighing from 3500-5,700 lbs, was dedicated to an emperor and all were illustrated with scenes and figures of importance to the local culture - moon, sun, mist-topped mountains, rivers, waterfalls, water buffalo, fertile rice paddies, fruit, wild animals, birds and mythical beasts. Everything necessary for a refined life was contained within the walls - temples, living quarters, meditation and work rooms, library, theater, gardens and throne rooms.
Just outside the gates, we found the Imperial Museum, with its fascinating collection of fine furniture, bronze articles, sumptuous imperial robes, ceramics, paintings, statues and assorted memorabilia from the royal houses. We finally made our way to the Saigon Morin, a colonial-era hotel that has been restored to modern standards. We were booked into a huge suite that included a full dining room with bar and a cozy lounge where a bottle of champagne and bowl of fruit awaited us. The furniture looked antique but may have been fine reproductions. We had balconies with a view extending from the wide boulevard in front to the park across the street and the Perfume River. Truyen couldn't resist accompanying us to check out the suite, so of course we complained about how small it was. Truyen recommended a restaurant nearby for dinner, so later on we walked over and enjoyed a light meal in an outdoor garden. Back at the hotel, a live traditional music performance was in progress so we stopped to listen. The music was enchanting, the musicians' costumes were gorgeous and the stage was softly lit with lovely pleated lanterns like those we saw in the shops in Hoi An.
We arose early in the morning and walked to a dock to hire a Dragon Boat for a ride up the Perfume River. Truyen told us that the river is not well stocked with fish so people make a living collecting sand, which is used in the manufacture of concrete. We frequently saw people vigorously operating an apparatus to dredge the sand from the river bottom and hauling pyramidal piles of sand in the ubiquitous wooden covered boats.
It was a glorious morning for a boat ride and we sat out on the front deck catching the breeze and admiring the scenery. We pulled up to the Thien Mu Pagoda (1621), a Mahayana Buddhist temple. Emperor Thieu Tri built an octagonal tiered tower, Phuoc Duyen, in front of the pagoda in 1844, each tier of which contains an altar dedicated to a Buddha in human form. Pavilions housing a marble turtle with a stele on its back chronicling the development of Buddhism in Hue and a bronze bell more than 6 ft. tall flank the tower. Buddhist monks still inhabit the monastery, the oldest in Hue, dating to the 17th C. We saw a very young monk drawing water from a well and others performing chores. The grounds are luxuriantly landscaped with well-tended lawn, trees, bonsai, vegetables and flowers plus many quiet spots for peaceful meditation. The monks showcase the torched shell of the Austin adjacent to which the martyred monk Thich Quang Duc immolated himself on a street in Saigon to protest government policy in 1963.
When we boarded the boat again, we had to move inside the cabin - we were told that there's a regulation about riding on deck and the local authorities enforce it in this section of the river. We disembarked on a muddy bank and walked to a small village. Local vendors were crafting non la and displaying bouquets of pink, yellow, purple and green incense sticks. Viet was waiting in the car but we decided to continue on foot the short distance to Tu Duc's tomb. There were 13 Nguyen emperors but only 7 grandiose memorials are strung along the river. The tombs were ensconced in traditionally styled Chinese gardens with temples, palaces and pavilions.
Tu Duc reigned from 1848 to 1883, while maintaining 104 wives and numerous concubines. Rendered sterile by smallpox he produced no heirs, but a Mandarin poisoned his adopted son at age 15, probably to prevent him from assuming power. Tu Duc erected a monumental stele, the largest in Vietnam, to record his great deeds for posterity. The walled compound sprawls within a pine forest and was used as a second residence during the emperor's lifetime. A picturesque open pavilion on a lotus-studded lake served as a place where the emperor could fish, listen to music and write poetry. Dragons, the symbol of male royalty, ornamented he emperor's tomb while the phoenix represented the empress. In the throne pavilion lyrical paintings on glass in ornate gold frames depict colorful scenes of daily life.
We drove to the tomb of the last emperor, Khai Dinh, who ruled from 1916 until his death in 1925. The elaborately carved gray concrete structures sit on a hill and are reached by ascending a long flight of stairs. Benign looking dragons crouch on all the handrails. In the Honor Courtyard, an army of stone mandarins, elephants and horses stand at attention around the octagonal pavilion that contains the emperor's stele. At the top, the emperor's ornate white and gray mausoleum is gaudily decorated inside with broken porcelain, glass and murals. The people reputedly despised the emperor due to his extravagance and close ties to Europeans and it's rumored that an artist painted the ceiling mural with his feet as an insult. A golden statue of the young monarch is enthroned atop his ostentatious tomb.
We drove back to Hue and treated Truyen and Viet to a farewell lunch at a wonderful restaurant that they recommended called Hoa Vien. Among the excellent dishes were Hue pancakes, a local specialty that consists of a crisp pocket with a savory filling. After lunch they dropped us at the airport and we flew north to Ha Noi.
If you were visiting Vietnam for the first time, it would be best to start in Ha Noi to get an immediate sense of place. Not five minutes from the airport along the road rice fields shimmer green as emeralds. While we greatly enjoyed the energy of Ho Chi Minh City, we found Ha Noi to be beautiful and stately, though almost as lively. The city, graced with abundant water, skirts the Red River and encloses several lakes within its boundaries. Our guide, Truc, was extraordinarily loquacious and amusing. He told us that his name means bamboo and promised that he would be equally as flexible.
We headed straight to our landmark hotel, the Sofitel Metropole, to check in. The Metropole is one of those renovated dowagers whose public spaces are sumptuous but whose guest rooms are disappointing. Our junior suite was dark and poorly laid out so it felt cramped despite a decent amount of space.
Truc had arranged for a cyclo ride through the old town section, a warren of narrow winding streets. Cyclos are bike-propelled rickshaws. The traffic was every bit as chaotic as in HCMC and it was scary being thrust in front of speeding motor vehicles at intersections, but we survived untouched (I admit that I closed my eyes sometimes when too terrified to look). As in other Vietnamese cities, people do everything out on the street so it's endlessly fascinating. Two laborers wearing goggles were sending sparks flying in all directions while welding metal. One of them must have been wearing asbestos jeans because he was squatting right next to the other guy's torch and sparks were spraying all over his back, yet inexplicably his clothes did not ignite. A young father encouraged his adorable pre-school children to wave at us as we rode by and a white-haired old fellow on the corner grinned at our delighted response. Merchants wearing non la balanced stacks of vegetables in round pans suspended from a pole across their narrow shoulders. Food was cooked and consumed up and down the sidewalks.
After our cyclo ride, we walked around Hoan Kiem Lake with Truc. Legend claims that in the 15th C. King Le Loi, returning triumphantly from war, was crossing the lake when a giant golden turtle snatched his sword and disappeared into the depths. The king interpreted this as a sign of peace and that the sword had been returned to its guardian spirit, thus the name of the lake, Restored Sword. In 1968 a giant turtle, about 6 ft. long, weighing about 550 lbs. and estimated to be around 400-500 years old was discovered in the lake and presumed to be the legendary sword-snatching turtle. 18th C Ngoc Son Temple, floats in the middle of the lake accessible via a red-railed bridge.
Truc escorted us to the Thang Long Water Puppet Theater, gave us tickets and souvenir tape cassettes of the music, and took his leave. The rural Vietnamese tradition of water puppets originated in the flooded rice paddies. The puppeteers stand hip-deep behind a screen or curtain and manipulate the puppets with sticks and wires concealed beneath the water. An announcer welcomed the audience and provided background about the art form. Musicians seated on a platform at stage right began the performance with traditional tunes, and then accompanied the performance, which consisted of a series of brief vignettes. We were able to interpret the action thanks to the programs provided. We knew we'd enjoy it due to our general interest in puppet theater, but we didn't expect to be so thoroughly enchanted. The brightly colored wooden puppets not only glide on the water but flip through the air and perform all kinds of amusing actions. Grinning dragons shoot sparks in a thrilling fireworks exhibition. At the end, the puppeteers emerge from behind the curtain to take a bow.
Ha Noi feels so cosmopolitan that we decided to try a fusion restaurant that Truc recommended called Bobby Chinn. He told us he eats there several times a week. You create your own multi-course tasting menu and since you are not obliged to stick with one menu for the table, you have the opportunity to share lots of small dishes. The room is modern and comfortable with an interesting display of local art. The food was fabulous, we only wished we had the capacity to try more courses.
On our way back to the hotel, we passed a large group of young people who'd parked their motorbikes on the sidewalk and were eating ice cream cones from a nearby kiosk. On a whim, I jokingly stuck my tongue out in a shamelessly bold bid for some ice cream. The young man I targeted extended his cone to offer me a lick without hesitation. I didn't take any but we all got a good laugh out of it. We don't think it's possible to visit this country without falling in love with the people, which further underscores the tragedy of the war. Surprisingly, though the Vietnamese seem to vehemently dislike the present U.S. government, sharing their views quite openly, and though memories of the war are still fresh, they don't seem to dislike the American people as a whole. Perhaps you could chalk it up to good manners or conflict avoidance, but the warmth and humor we experienced seemed genuine, even among people who don't make their living catering to tourists.
The next morning we ducked out before breakfast for a fast walk around Hoan Kiem Lake. Groups of people performed tai chi, sword and fan dancing or played badminton, jogged or meditated. Truc and a driver picked us up after breakfast and took us near Ho Tay (West Lake) to the Presidential Palace, a bright yellow building constructed in the grand French style, though we did not enter the building. We continued into a lovely garden area where the home of Ho Chi Minh is preserved. It's an austerely furnished wooden long house that he preferred to the opulence of the palace. Further along we entered a huge square where Ho Chi Minh's tomb is on display. It was closed for the day, so we were unable to view his remains. Ho Chi Minh is greatly beloved for freeing the country from colonization.
Fidel Castro was due to arrive in Ha Noi that day and banners in the street welcomed him and proclaimed Vietnam's solidarity with Cuba. Vietnam appears to be moving towards a more market-oriented economy and everyone is hustling to make a dong. People can own property and businesses and there appear to be elected officials, so we asked Truc what distinguished Communism in Vietnam from more capitalistic forms of government. He told us that the state still owns major businesses such as utilities, that there is in effect only one party and that censorship is widespread. Newspapers from other countries are edited prior to distribution with large sections of text blacked out or whole pages torn out. It struck us that these traits could characterize any dictatorship whether communist or not.
We moved on to the One-Pillar Pagoda, a small, lovely temple perched on a concrete pylon at the edge of a lake. It was designed to evoke a lotus flower emerging from the water. Originally constructed on a wooden pillar in 1049 AD, it was destroyed by the departing French and rebuilt in 1955. An old man played with his grandson near the entrance, grabbing him by the waistband of his pants to keep him from tumbling into the water.
We drove to the Ethnology Museum and Truc gave us a tour. It's an extraordinary museum, with fascinating exhibits in well-designed displays. As in neighboring nations, ethnic minority tribes abound in the mountainous regions of Vietnam. The museum celebrates the art, customs and traditions of these groups. We especially enjoyed the expertly crafted baskets and the exquisite clothing. Truc clearly spends a good deal of time leading people on tours of these areas and he contributed valuable information during our visit to the museum. We're very interested in learning more about the various ethnic groups, but we'd made a conscious decision to focus this trip on the southern regions and return to explore the rest at another time of year. Vietnam is narrow but long, covering a significant distance from north to south and we'd read that the weather at this time of year, though ideal in the south, would not be hospitable in the north and the mountains. We lucked out with lovely weather in Ha Noi, mostly sunny and mild, but just before we arrived there had been snow in the higher northern altitudes. Truc said that May is a good time to tour the mountains so we'll plan our hill tribe visit for the spring.
On our way to lunch, we visited a bird market. It was sad seeing such beautiful birds in cages but the bamboo cages were attractive in a creative variety of shapes and designs. Truc lead us to a terrific hole-in-the-wall called Dac Kim Bun Cha. On the ground floor open to the street, women were busy cooking up bun cha (pork patties), rice noodles and spring rolls. We squeezed up a narrow staircase past floors packed with diners until we came to a table with enough unoccupied plastic stools for our party, plunking ourselves down next to a couple of guys concentrating on their food. We didn't see any other tourists while we were there and it was really busy. We ordered drinks and the staff brought the food family style, including a plate of greens. Condiments were on the table. The food was delicious and we loved the raucous atmosphere.
We finished up and headed to the Temple of Literature dedicated to Confucius in 1070. The complex hosted the first university in Vietnam. You pass through five grand courtyards to reach
the various pavilions. Our visit to the Fine Art museum was disappointing, as most of the artists were obliged to produce political propaganda. There were a few interesting pieces. Truc offered to take us anywhere else we wished, but at that point, we just wanted time to wander around on our own. There are some very good art galleries in Ha Noi and we browsed through about a dozen of those as well as some very fine shops showcasing wonderful silk, furniture and art objects. We also checked out the Opera House and bought our own ice cream cones.
The next day we flew to Bangkok and visited the National Museum, which was not open on the days we'd explored the city during our Thailand trip. It was definitely worth spending another day in Bangkok. The museum boasts room after room crammed with treasures. After the museum closed, we spent time drooling over the magnificent antiques in the shops near our hotel and finished up a whirlwind day with an excellent dinner at Celadon in the Sukothai Hotel. The setting was lovely and we got to spy on a fancy wedding in the glass-enclosed pavilion across the pond. We had the same type of room as during our last visit, a duplex overlooking the Chao Praya River at the Mandarin Oriental. As we were preparing our bags for a disgustingly early morning departure, we heard the sound of fireworks and rushed to the window to enjoy a spectacular display - the perfect conclusion for a dazzling trip.