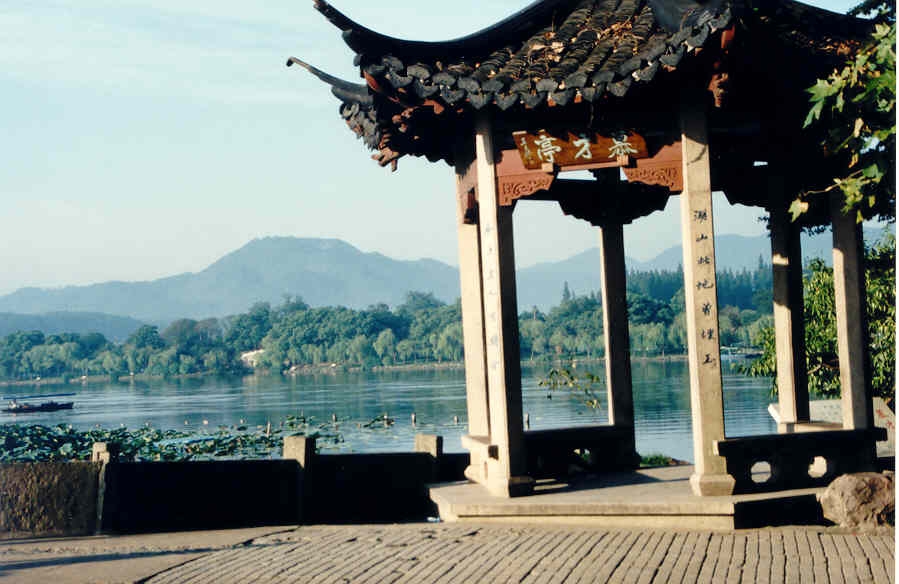 A typhoon terrorized Hong Kong like a blow-hard bully, closing the airport and businesses all over the island, as we waited for our connection in an airline lounge in Tokyo. Bearing box meals to ease the blow, the United Airlines concierge regretfully informed us that our flight to Hong Kong that evening would be canceled, but that we would be taken to a hotel that evening, and had been scheduled on a flight the next morning. Since we were due to overnight in Hong Kong, then fly to Hangzhou the following morning, we would have missed our connection. Moving with the speed of a bullet train, the efficient and personable lounge personnel squeezed us onto a flight to Shanghai leaving in 25 minutes, and called our Hong Kong Abercrombie & Kent agent, who arranged for a hotel room in Shanghai and for train tickets to Hangzhou.
My husband, Stu, and I booked a formal tour with Abercrombie and Kent for most of our time in China, because I read that it was the easiest way to travel during the high season. The tour did not cover the cities of Hangzhou and Suzhou, which are located outside of Shanghai. The Chinese say "In heaven there is paradise, and on earth there is Hangzhou and Suzhou." We couldn't pass up the opportunity to visit paradise, so we booked a private tour for five days before meeting our group. We had a personal car with a driver and a guide who took us everywhere we wanted to go, and we had some free time to explore by ourselves as well.
We were totally charmed by China. Realizing that our exposure was fairly superficial during a 3-1/2 week tour, we still learned a lot and came away with some strong impressions. The thing that we liked the most was the meaning that seems to imbue even the most quotidian aspects of people's lives. There are stories, or myths, for even commonplace things, which everyone seems to know, and will relate, when a subject is raised. In one such story, there was a tribe in the cold north whose ears froze and fell off, so a woman made special dumplings shaped liked ears and when the people put the dumplings on their heads, they transformed into ears, and people could hear again. And that's why dumplings are ear-shaped.
We've always been intrigued by dragons but didn't know why the Chinese identify with the dragon so strongly. We were told that before China was unified (by the first emperor, Qin Shihuang Di, in 221 BC), there were 16 warring tribes along the Yellow River. Each warlord had adopted a beast for their flag as a tribal symbol, such as a lion, an eagle, a snake, etc. When the tribes were united, the dragon was "assembled" as a mythical beast which incorporates parts from all of the tribal symbols, i.e. it has the head of a lion, the claws of an eagle, the scales of the snake, etc., and therefore symbolizes China as a unified nation. This is why we see the dragon ornaments, dragon boat races, the dragon dance at festivals, and numerous others. Formerly, only emperors were allowed to adorn their houses, pavilions, etc. with dragons. According to myth, the dragon has nine children, each with different strengths and affinities. For example, turtle dragon is very strong and long-lived and is often represented supporting stone tablets or columns. Another child of the dragon likes the air and ornaments rooftops to protect the structure from fire.
Lions are a symbol of power and status and were placed in front of the doors of noblemen or high officials, but not common folk. Nowadays powerful institutions, like the Bank of China, might have lions beside their front door. Lions, sculpted in stone or bronze, are displayed in pairs, male and female; the male with a globe beneath his paw which represents the world, and the female with a lion cub beneath her paw. There is an impressive bronze pair from the Ming dynasty guarding the gate at the Forbidden City.
The communists in China tried to outlaw religion and tradition, and they destroyed many irreplaceable antiquities during the Cultural Revolution. But many people quietly and privately held on to their beliefs. Now they are freer to express them again and we were amazed at how often people talked about their experiences during that time, and about their hopes and expectations for the future.
In addition to enjoying the antiquities and the stunning scenery and the friendly people, we learned a lot about the history and industry of the country. It was fascinating seeing how silk thread is made, beginning with the silkworms gnawing on mulberry leaves. We also saw how green tea is grown and processed, how rice and water chestnuts are grown, how silk rugs are woven, how jade is carved, how cloisonné is crafted and how women sew beautiful embroidery, all by hand.
The handicrafts are irresistible -- porcelain as delicate as an eggshell, intricately carved sandalwood fans, snuff bottles painstakingly painted on their insides, brightly embroidered silks, tiny clay teapots in a plethora of pleasing shapes, apple-green jade jewelry, scrolls with simple, elegant paintings or calligraphy, whimsically-shaped kites -- just to name a few of the marvelous objects that you can go broke buying. I have to admit that we enjoyed contributing to their burgeoning economy and bringing home a small sample of beauty.
Our first stop, Shanghai, is the very modern business center of China. We were surprised at how many people we saw with pagers and cellular phones. The Hilton hotel meets international standards, with a great gym and excellent croissants for breakfast. In the morning, we explored on foot and ended up in a small park engaging in conversation with several locals. People would join us just to listen. One fellow, a retired doctor, gave us his phone and fax number. He could perfectly recite the entire Gettysburg address. We were embarrassed to know only a few words of Chinese.
Because of the last minute schedule change, the express train was full, so we had to take a later local train. We sat in what they call "soft seats" with lots of locals. These are comfortable padded benches decorated with lace doilies surrounding a small table. Most people travel in the "hard seats", packed like cattle cars without air-conditioning. Everyone carries a jar with green tea in it and, during the ride, a train employee pours hot water so people can brew tea to drink on the trip. You can also buy tea or coffee and assorted snacks. The tea, which costs about 20 cents, is terrible. Fortunately, we had an opportunity to drink some delicious green tea in China (in Hangzhou the Dragon Well tea is famous) and have become very fond of it as a result.
Hangzhou has a modern section with skyscrapers as well as an old, scenic section built around West Lake. It is a very popular honeymoon spot. We enjoyed a couple of spectacular sunrises over the lake from our room at the hotel. At dawn, people were already walking and biking around in the parks, and doing their morning exercises, tai chi, sword dancing, fan dancing and even ballroom dancing. Solitary Hill island in West Lake was accessible from the shore right across from our hotel. Before breakfast, we strolled around it. We were the only two westerners in sight and people were very curious about us, often greeting us enthusiastically, smiling, or stopping us to chat for awhile. This place is magical with the early morning light glowing on the lake and the lotus blossoms, and the people going about their daily business. After breakfast, our guide, Mrs. Han, picked us up and escorted us around town. We took a boat ride around West Lake, then toured a place where green tea is grown and processed. We learned that the best green tea comes from the first harvest in the spring, when the tea leaves are small and tender. Women traditionally pick the tea, which we witnessed in the fields, because their hands are smaller than men's and they can quickly cull the small leaves. The tea is hand dried twice over intense heat in a huge metal wok. The first cup brewed is good, but the second cup from the same leaves is considered the best.
At lunch, we sat down and the young serving women at the tourist restaurant brought us steamed rice and a dish of shrimp with vegetables. We were hungry and dug in with gusto. We thought that this was our total meal. About 8 dishes later, they brought the soup. After going through this a couple of times, we realized that the soup usually signals the end of the meal, followed sometimes by fruit, and paced ourselves better. The food was similar to the Chinese food served in the US and was very good to excellent, especially the pork dishes. The restaurant employees seemed surprised when we rejected forks and often stared openly watching us eat so proficiently with chopsticks. They were unfailingly charming and helpful.
During the tour, we usually had a choice of restaurants, and we always chose the Chinese restaurants, so we ate very well. The Beijing (or Peking) Duck in Beijing at the Palace hotel's Sichuan restaurant was so delicious that we feasted on it two nights in a row. The spicy Sichuan food was also consistently tasty, and we enjoyed lots of fresh vegetables and fragrant steamed rice. In Xian, we pigged out at a dumpling banquet. At almost every restaurant brightly-costumed musicians played Chinese tunes on traditional Asian instruments during dinner.
After lunch, we visited the Buddhist Yingling temple. The Buddha in these temples are awe-inspiring -- gigantic gilded deities dwarfing the faithful, surrounded by sumptuous carvings and paintings and statuary. Christian churches in the US seem so restrained by comparison. These temples are more comparable to the glorious gothic cathedrals in Europe and Latin America.
Despite the fact that we got caught in the middle of an unprecedented heat wave in Hangzhou (it got up to about 40 degrees Celsius), we hiked to the top of a lookout to admire the view of the lake and surrounding hills. After visiting a shrine to a great ancient warrior, we were ready to shower up for dinner at the hotel.
From Hangzhou, we took a train to Suzhou, which is called "the Venice of the East" because of its intricate system of canals. The Grand Canal, extending from Hangzhou to Beijing, is the longest man-made waterway in the world. As in Venice, the Grand Canal is bustling with commercial vehicles and it is the smaller side canals which are the most peaceful and lovely, and which afford the best opportunity to see people going about their daily routines. Suzhou was once, people claim, much more beautiful, but it is rapidly industrializing and many of the small canals have been paved over. However, we found that it is still a remarkably scenic place when you seek out the quiet spots. We started our boat ride at the only remaining section of the city wall, most of which was torn down during the Cultural Revolution, and greatly enjoyed gliding down the canals, under picturesque stone and wooden bridges, with small children running out of their homes to greet us as we motored by. We got off at Tiger Hill, with its tilting pagoda (Yunyan) built in 961 AD on the hill surrounded by a large park. The hill was built 2500 years ago to commemorate the tomb of the father of the King of Wu. Legend says that a huge white tiger was seen guarding the tomb, hence, the name. Pagodas are shrines to the dead, usually built over a tomb, pavilions are resting places, and towers are tall pavilions.
Suzhou is also famous for gardens. Of the four nationally protected classical gardens in China, two are in Suzhou (Humble Administrator, and Lingering Gardens), one is in Beijing at the Summer Palace and one is in Chengde. We saw three of the four. An aesthetically perfect Chinese garden must have certain elements -- water, mountains or rocks, pavilions, trees/plants and winding footpaths. They are designed so that there are different views from different angles throughout. Windows and doorways have many different shapes and always frame beautiful views, so it's like looking at a painting. There are many pavilions in which to sit and contemplate, and they often contain scrolls, furniture and porcelains from the Ming or Qing dynasties. Paths zigzag because evil spirits can only travel in a straight line, therefore you can elude them if pursued. Oddly shaped stones from Lake Tai, in a variety of sizes, complement the shrubbery and add natural sculpture. There are at least 20 gardens open to the public. We wish we had had the time to see more of them. Our favorite was the Master of Fishing Nets, a relatively small (1.2 acres), but exquisite, 12th century garden.
Suzhou plays an important role in the silk industry, developed as early as the Tang Dynasty (618-906 AD), and we enjoyed a visit to a factory which manufactures silk thread, and learning the process from silk worm to garment. The quality of silk embroidery in Suzhou is renowned and artisans at The National Embroidery Institute laboriously produce intricate works of art. The ladies usually recreate scenes from photos or paintings.
Our hotel was clean and comfortable and the hotel's Chinese restaurant served some of the best food of the trip.
Our guide, Mr. You, was sent to work in the fields during the Cultural Revolution, and was not allowed to attend the university. But when he returned to the city years later, he sequestered himself in his room to study English and history, and succeeded in passing the examination to become a tour guide. He was terrific, very knowledgeable and helpful.
The only glitch in our private itinerary was a very early train leaving Suzhou. We arrived in Shanghai before 9 am, but our flight to Hong Kong didn't leave until almost 8 PM. We were scheduled to return to Shanghai with our tour group later on, so it was tough coming up with things to do. As it turns out, Shanghai has excellent shopping, but our guide didn't consider that we might want to shop, and in fact, we would have preferred to either spend more time in Suzhou, or to have flown to Hong Kong on an earlier flight. We visited a factory where oriental carpets are woven and saw how jade is carved and also visited Sun Yat Sen's home which is now a small museum. We had the opportunity to stroll through the old town.
When we returned to Shanghai with the group, old town was mobbed with people and we didn't spend much time exploring it, but we did get to see the Shanghai acrobats, who were thrilling. Another highlight in Shanghai is the Jade Buddha temple, where there is an exquisite (approx.) 1.7 meter tall Buddha carved of a single piece of jade, encrusted with gold and jewels, and another reclining jade Buddha. Shanghai was a sleepy fishing village until about 300 years ago, without the rich history of Suzhou, Xian or Beijing, and it is the most westernized city, which is why it was not our favorite place in China.
Hong Kong is a pretty, modern city, also great for shopping, and our hotel, the Mandarin Oriental, is positively sybaritic. After meeting our group (18 of us) and tour leader, Roberto, we took the cable car to Victoria Peak for the magnificent panoramic view, and took a junk ride around the harbor. Unfortunately, I succumbed to a nasty bug and was laid up for half a day in our beautiful hotel room, so we missed the opportunity to visit the art museum in Kowloon, which was closed the following day. We did take the Star ferry to Kowloon and also greatly enjoyed a small, but stunning, collection of Chinese art at the Tsui gallery on our own. The Ming and Tang porcelains were amazing.
Next, we flew north to Guilin in the south of the Chinese mainland. Guilin has been widely extolled in poetry and paintings for its scenic splendor. Its reputation is wholly justified. This is the timeless Chinese landscape that haunts you like a dream -- dramatic limestone crags rising from the earth, crowding the banks of the river Li as it winds through the city and countryside, straw-hatted farmers with water buffalo toiling in emerald fields of rice and water chestnuts, weeping willows arching into the crystalline waters, wicker baskets brimming with goods aboard narrow bamboo rafts plying the river, women laundering clothes or hauling buckets yoked across their shoulders. On our boat ride down the river, we skipped lunch because we were so enthralled by the scenery, we didn't want to miss a moment of the view. We bought a very simple scroll painting at the university that seems to perfectly capture the harmony of this place.
After dinner, we went to observe the cormorant fishing. The exhibition is oriented to tourists, but interesting nonetheless. The fishermen tether young cormorants to their rafts and put a metal ring around their necks. The birds can swallow small fish, but choke on the larger ones. They are trained to hop up on the raft so that the fisherman can remove the large fishes, which he puts in his basket.
When the birds are fully trained, they are no longer tethered to the raft, but still remain with the fisherman. They are treated like members of the fisherman's family. The fishing is done at night by lamplight, so it is very atmospheric, and you can see the cormorants swimming below the surface of the water as they hunt the fish. Some fishermen earn extra money by posing with their cormorants for tourists during the day. After the fishing, we were fortunate to watch rehearsals for the Moon Festival pageant, and saw a dragon dance as well as other dancing and singing.
The Moon Festival, which occurs when the moon is at its fullest for the year, celebrates family unity. People buy sweet moon cakes and share them with their families. They also have lantern festivals, picnicking in the parks in the moonlight. Some cities have more elaborate celebrations as well. Though we left Guilin, and didn't get to see the festivities there, we did get to attend a lantern festival on the city wall in Xian. It was like a carnival, with lots of bright lights and fancy displays. There were no other tour groups there and we inspired a lot of curiosity from the locals. People would stare openly, but if you smiled at them, they would invariably smile back and often would nod or greet you.
Xian was once the largest city in the world and was the capital of 11 dynasties before its decline after the end of the Tang dynasty. Qin Shihuang Di made it the capital city when he unified China in 221 BC. It is one of the only cities in China where the ancient city wall survived intact after the Cultural Revolution. There's so much to see here; the antiquities are marvelous.
The most famous relic in Xian is the army of life size terra cotta soldiers, which Qin Shihuang Di had buried near his tomb to protect it and to accompany him in the afterlife to assure his dominance. More than 7,000 figures were unearthed, each with unique facial features. They were originally brightly painted, but the paint leached off into the clay soil, although some of the soldiers have remnants of paint still clinging to them. Most were found broken in pieces and are being carefully restored by archaeologists. Two magnificent bronze chariots with horses were found and restored as well.
Xian boasts a terrific museum with many interesting artifacts, two Tang dynasty pagodas (Big Wild Goose and Small Wild Goose), and a Song dynasty Bell Tower and Ming Dynasty Drum tower. The time of day was rung on the bell in the morning and beat on the drum in the afternoon. We visited the Great Mosque, which was founded in 742, though nothing remains from that era. The restored buildings are mainly from the Ming and Qing dynasties. Although Buddhism is the most prevalent religion in China, with Taoism next, there are communities of Christians and Muslims. We attended a performance of Tang dynasty song and dance. It was geared to the tourist trade, but still very colorful and enjoyable.
One of the best parts of the trip was one dawn when a few members of our group arose and walked through a farmers' market which was setting up in a street near the hotel. People were steaming dumplings, butchering meat, and selling fish, poultry, grains, fruits and vegetables in the open air. It was an extravaganza of color, with mountains of Christmas-red-and-green hot chilies, piles of plump, purple eggplants, cool green bok choy, pearly white winter melons, bulging burlap bags of sunny yellow grain and wheeled carts brimming with slimy, maroon organ meats. Surprised vendors greeted us cheerfully and held up their prize produce for inspection and photos. We bargained for grapes and bananas, peeling both before eating.
During the Cultural Revolution, farmers had to sell all of their produce to the government at fixed prices. Nowadays, farmers sell a large portion of their produce to the government, and the rest they are free to sell in the open market for their own profit. This has increased productivity and profitability according to the locals.
Our guide in Xian saw how much everyone fussed over the adorable children that we saw, so she took us to a pre-school. The children sang a couple of songs for us, and we sang Old MacDonald for them. Except for minority groups, Chinese parents are limited to one child per family. People in the cities, seem to believe that this is necessary, given the overpopulation and strained resources, but it is tough on farmers who traditionally valued children as extra field hands. In China, you get an impression that people are very close to their children because they are usually in physical contact with them. We saw very few strollers or carriers; people held babies in their arms and held children on their bikes, or held their hands when walking. Throughout the trip we saw parents and grandparents doting on their children. They were very proud to show them off and talk about their accomplishments.
From Xian we flew to Chongqing, which is considered the largest city in China if you count the surrounding suburbs (18 million people), and second to Shanghai if you don't. There we boarded the boat for our 5-day cruise on the Yangtze (or Changjiang) river. The river meanders through three majestic gorges on its journey through Hunan and Sichuan provinces to the sea. We also had the opportunity to explore the lesser, but equally gorgeous, gorges of the Daning tributary in a smaller boat, as well as to stop at some of the villages along the river. Our cabin was spacious and comfortable and it was a relaxing way to see the gorges. The food wasn't as good as in other places on the trip, but it wasn't terrible. The cruise director, Michael, led a small group of us in tai chi, which we enjoyed, even if we didn't get all the movements right. They are building a dam that will effectively submerge the gorges as well as many riverside villages. About a million people are being relocated in-land. Proponents say that this will provide the region with easier access to goods and services via commercial shipping, and cheap and plentiful electricity, and that it will also save lives taken by seasonal flooding, but such natural beauty is a heavy price to pay. It would almost be like flooding the Grand Canyon.
We disembarked in Wuhan and after a brief sightseeing tour, we flew to Shanghai, then on to Beijing. Though a large city, Beijing has a more provincial feel than cosmopolitan Shanghai, and is crammed with history and antiquity. We definitely didn't have enough time in Beijing and were kicking ourselves for not scheduling another day there on our own. As much as we enjoyed everything, the highlight was indisputably the Great Wall. There are 3 sections of the wall that tourists can visit, though only 2 seem to be open now. The Badaling section is closest to the city and is the spot that most tour groups visit, so it is very crowded and there are T-shirt vendors and other "entrepreneurs" crawling all over it.
We went to the Mutianyu section which is further out in the country, and which gets far fewer visitors. A cable car climbs to the Wall and you are then free to walk on it. It's sublime! During the Warring States period, in the years around 476-221 BC, sections of the wall had been built to protect the Chinese from invading Mongolian hordes. In 221 BC, Qin Shihuang Di ordered the various sections of the Wall connected to form one continuous barrier 3,960 miles long. It was backbreaking work and a great hardship to the people forced into labor, but it is a monumental achievement. The wall snakes up and down the mountains like the dragon himself, imperial and eternal. Most people walked a short distance from one tower to another, but we hiked to the top of a mountain on the Wall. Within 15 minutes, we were virtually alone, enjoying the beauty and solitude, mountains rising in the mist on either side of the timeworn stone. When we reached the tower on the mountain's summit, we discovered a group of about 16 young Chinese men relaxing after the climb. We took their photo up there, to their great pleasure. Stu pretended to run off with their camera and they laughed like crazy. Humor transcends all languages. One curious thing that we experienced throughout the trip was that the Chinese tourists would often ask us to pose with them in their photos. We were happy to do it and very flattered to be chosen.
We drove through idyllic mountainous countryside on our way back from Mutianyu, stopping once at a small farm village to enjoy the scenery. This was a disadvantage of a group tour. If we'd been on our own, we would have stopped a dozen times for photos in this scenic area.
Farmers grew corn and dried the buttery-yellow ears on the roofs of their vine-and-flower-covered homes. Morning glories grew in profusion along the roads. Farmers here also harvest chestnuts and carry long bamboo poles to knock them down from the trees.
Before returning to the city, we stopped at the Ming tombs and admired the avenue of stone animals ushering tourists up the road to the tombs. 13 of the 16 Ming emperors were buried in this valley, usually after they died. The 15th century buildings of the Temple of Heaven with their deep blue ceramic tiles, representing the sky, are indescribably beautiful. Each year on the day before the winter solstice, the Emperor and his court would leave the Forbidden City and meditate in the Imperial Vault of Heaven, then he would walk to the Hall of Prayer for Good Harvests to pray. On the morning of the solstice, he would pray at the Imperial Vault then proceed to the Mound Altar to perform sacrificial rituals. The three white marble terraces of the Mound Altar symbolize earth, the mortal world and heaven.
Our final day in Beijing started in infamous Tiananmen Square, the largest public square in the world, capable of containing 1 million people. Among the buildings surrounding the square is one housing Mao's remains in a crystal sarcophagus. The line of people to enter was of DisneyWorld-esque proportions. A gigantic digital display on the Natural History museum counts down the days, hours, minutes and seconds until 1997, when Hong Kong will be returned to China.
You can enter the Forbidden City through the Gate of Heavenly Peace on the square. The Forbidden City, or Imperial Palace, is reputed to have 9,999 rooms (9 is a lucky number) and covers over 260 acres. The site was chosen during the Yuan dynasty (1279-1368 AD), but the buildings were constructed by the third Ming dynasty emperor between 1406-1420. They are truly splendid. We especially liked a museum that houses a superb collection of ceramics and scrolls. The concubines' quarters were also fascinating. We could have stayed quite a bit longer there. In the afternoon, we visited the Summer Palace, built in 1888 by the Machiavellian Empress CiXi with funds targeted for the imperial navy. We took a boat ride on the lake and toured some of the grounds, but this was another place that merited a bit more time than our tour allowed. We rushed out of there to see the giant pandas at the Beijing zoo, but we weren't very excited to see these poor animals in cramped cages. We can only hope that the zoo builds an appropriate natural habitat for them in the future.
The Palace hotel in Beijing is luxurious and we had some opportunity to explore the city a little on foot and savor the ambiance of a street food fair, though we were warned not to eat anything. Stu's watch battery had konked out and the concierge directed us to a shopping area to find a replacement. After asking around, locals pointed us up a steep flight of stairs where to a workroom where workers were busy repairing timepieces. Stu communicated with sign language and it took about two minutes to get the battery replaced for around $1.00.
Our flights home the next day were mercifully uneventful, and we left wishing to return.