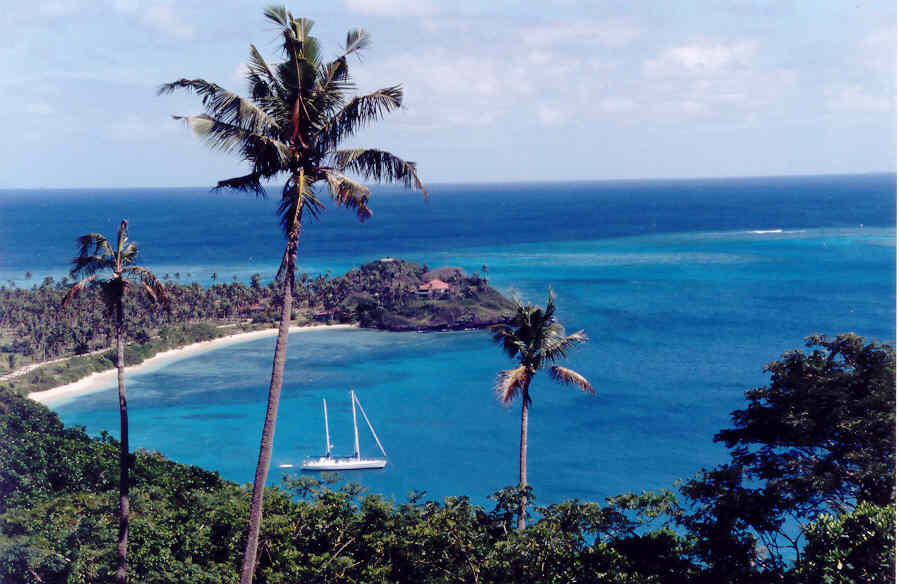 We had been enjoying the most stunningly beautiful summer and fall - lots of sun and mild temperatures. The whole week before we left on vacation the weather was flawless. The day we left, a line of thunderstorms parked themselves slightly west of the East Coast from Maine to Wash. DC. Even though the weather at the airport was bright and sunny, planes weren't landing or taking off because they couldn't get around the stalled weather system. Needless to say, we got to L.A. two hours after our flight to Auckland had taken off. The airline put us up at a hotel with meal vouchers, but there's only one flight a day, so we had to wait until 10 pm the following night. While in LA, we rented a car and visited the Norton Simon museum in Pasadena. We'd always wanted to go there - it's a lovely gallery, worth the trip. Then we had a late lunch outdoors in Santa Monica and took a long walk along the beach. It wasn't a bad way to kill the time. We were supposed to spend a day in Auckland, NZ in a quaint offshore island neighborhood called Devonport. Instead, after the long flight to Auckland, we connected to our flight to Fiji after a couple hours layover at Auckland International..
Approaching Fiji by air, we were dismayed by the impenetrable blanket of clouds hiding the islands. When we landed in Nadi, the weather was chilly and damp. We picked up our rental car and drove north on the Kings road to Savusavu at the top of Viti Levu (the main island, referred to as the Mainland by natives). One of our first experiences of Fiji was driving behind a pickup truck crammed with young boys. One of them smiled, so Barbara waved. Several waved back. Stu took his hands off the steering wheel and waved vigorously with both hands. This slayed the kids. They all laughed and waved with both hands until the pickup turned off onto a side road. It was a charming introduction to the people, who continued to delight us with their friendliness and good spirits throughout the trip.
We stopped at a rustic resort tucked into the forest at the end of a peninsula that overlooked the sea and a small offshore island. It was an intimate family-run place in the middle of nowhere with lovely wooden cabins on a hillside. We spent the afternoon exploring the property and relaxing on our porch, but it was too cool to swim. We met some sociable New Zealanders at the bar before dinner and enjoyed their company. The next morning we hit the road again on our way to Fiji's capital city, Suva, on the southwest coast. The scenery on the way was lovely. Most of that day we drove on a dirt road through picturesque native villages. Everyone was friendly and smiled and waved as we passed by. Fiji has a large population of Indians (brought by the British from India as labor) as well as the native Melanesian population. After Fiji gained independence from the UK, there had been some conflict among these groups, but things seemed peaceful now.
Suva wasn't nearly as interesting as we'd anticipated from Barbara's readings. Fortunately, we didn't spend too much time there. The best part was a very nice anthropological museum with some fascinating Fijian artifacts, history displays, and huge ocean going canoes. Fijians were fierce warriors, like the Maori, but they were also cannibals. The cannibal forks and throwing clubs were among the most interesting crafts on display.
The next day we flew to the island of Ovalau to visit the old capital city of Levuka. It rained on-and-off all day. We began wandering around on our own, but came across a small tourist office and popped inside. The owners were so helpful that we decided to take their tours, which were economical and interesting. One of the highlights was a tiny church - ramshackle from the outside, with glorious stained glass windows glimmering on the inside. At their office they gave us tea and cookies. The meringue cookies were especially good with chocolate chips in them.
Due to the weather, the last flight out was almost canceled. We breathed a huge sigh of relief when the plane came into view above the runway about 20 minutes before dark. Since there were no runway lights, the plane had to land and take off while there was still light. It wasn't a bad day trip, but we definitely didn't want to miss the next leg of our trip.
In the morning, a young man picked us up and took us at Formula One speed to a dock in English Harbor, where we caught a boat to the island of Beqa (pronounced Benga). On the dock, we met a young couple from Florida just beginning their honeymoon. We ended up having a lot of fun with them at the resort and we got a Christmas card from them mentioning that she was pregnant as a result of a very successful honeymoon. We recently got the birth announcement of their ultimate souvenir of Fiji.
Beqa is famous for its firewalkers. Of the 12 tribes inhabiting the island, there are only 4 who still practice firewalking. We were fortunate to see an exhibition of it while we were there, with old and young men alike participating. They begin stoking the fire at about noon and perform the ceremony around 6 pm. The coals are VERY hot! These guys don't run across - heck, no! They saunter, stopping to wave and smile and say Bula (hello) to everyone. It was amazing! After the ceremony, they threw leaves on the coals, which ignited after smoldering briefly.
The island has several native villages plus the one resort - Marlin Bay. It has about 10-12 thatched bungalows (called bures) strung along the beach. At low tide, you can walk among the tide pools and see all kinds of interesting sea critters - blue starfish, hairy crabs, anemones, brittle stars and more. One fellow spotted an octopus. The chef was Austrian and justifiably proud of his prowess in the kitchen. The food was delicious and everyone sat together at long tables. We struck up a lot of friendships at this place - it was very neighborly. We loved every place we stayed for different reasons, but this place was the warmest (people-wise, not temperature-wise).
The day we arrived it was too late to dive - they only take the dive boats out in the morning because of the tides - so we explored the tide pools and read. The weather was OK - not rainy, but not sunny either. A California couple who had been there for 2 weeks already said that they hadn't had any sun the whole time. Depending on whom you spoke to, the weather had been bad for the previous 3 to 6 weeks. Everyone blamed it on El Nino, apparently the warm ocean current normally in this part of the Pacific had migrated over to South America, casting a chill down under. The weather gods were kind to us though, the weather steadily improved every day we were in Fiji, so that towards the last week of the trip, it was seasonably sunny and warm every day.
The next morning, the sun came out and we all piled onto the dive boat. The water was frigid - colder than we remembered in the Galapagos - even with quarter inch wetsuits on. The reefs were very healthy, with lots of fish and coral. There were no huge fish. In Levuka we noticed that there was a large tuna processing plant that had replaced the copra plant, so large species may be over fished. Fortunately, we like the small creatures also and saw a multitude of nudibranches (brightly colored shell-less sea snails). We dove every day after that and visited a very interesting underwater shipwreck. One of the finest indigenous sea animals in Fiji is the blue ribbon eel. They're electric blue with a pale yellow stripe down their backs and delicate feathery yellow nostrils. Stu has had his underwater camera for a couple of years now, and he really has the knack of it. The undersea photos are stunning! The diving in Beqa lagoon was the least interesting of the trip (and the coldest) but it was still good, and our dive buddies were loads of fun. Among them was a fascinating fellow from the U.S. West Coast who publishes an on-line magazine and is a practicing Whirling Dervish.
We spent 4 cozy days at Marlin Bay. When you leave, the local women sing the heartbreaking Fijian farewell song as your boat pulls away from shore. They give you flowers to toss into the surf. Legend says if the waves bring the flowers back to shore, you are destined to return. Sounds corny, but is it moving. Particularly because the Fijians all seem to sing like angels.
We went from the dock to the airport near Suva and caught a private plane (Air Wakaya) to our next destination, The Wakaya Club on Wakaya Island. Both the Aussie pilot and the scenery were drop-dead gorgeous. We decided that we deserved to spoil ourselves a little on this trip. We can't even describe how incredible this place is. The island is privately owned, and besides the resort and the native village, there are private homes up in the hills for the obscenely rich. The island is like the Garden of Eden - birds and animals bounding through the forest, panoramic views of the clear, aquamarine waters.
Our beachfront bure, one of just 8, was the size of a small house - we had a bar, a living room, a huge bedroom and a bathroom the size of our living room at home. The bure came with a CD player -- you just checked out the CDs you wanted from the hostess. Everything was included, including private diving. It was just us and George, our divemaster extraordinaire. Gourmet food was served in the elegant restaurant or your bure. You just mentioned whatever you wanted to do to Robin, the resort manager, and he took care of the arrangements. Run out of fine champagne or chocolate in your room? Call the bar and they send someone immediately. We loved lounging in our hammock on the lawn before dinner watching the brightly colored collared lories (parakeets) zooming from one palm tree to another. We took some hikes around the island also - not that you think that we did nothing but dive and swim and eat and vegetate. OK, so that was what we mostly did.
The day we arrived, we were just in time to put on some nice clothes and go to the village church for Sunday services. The choir was exceptional. They could easily work professionally anywhere in the world. Remarkably they had no choir director, but the harmonies were perfectly balanced. The parishioners were all the people who worked at the resort and their children. The church is a pretty, white wooden structure with a colorful Fijian Noah's ark tapestry near the pulpit. When we left Wakaya after 5 splendid days, they all sang us the Fijian farewell song while Robin recited a poem. Barbara cried.
We were fortunate to attend a formal Fijian meke a ceremony including dance and song. It begins with sharing yaquona, a beverage brewed from a native root that numbs the lips and has a mild intoxicating effect. It's very popular still among natives and makes a perfect gift to tribal elders when you're visiting local villages.
The only minor flaw at this place was that we couldn't get enough dives. George wouldn't do 2 tanks - we'd only get one dive before returning to shore. A fabulous dive, but just one, in the morning. In the afternoon he took out other divers who were less experienced. We could have joined them, but George thought that it would have been frustrating for us - he said they ran out of air in 15 minutes and since there was only one dive master we would have had to surface with the group. It was considerate at least to separate us, rather than mix groups of unequal experience, as we see so often at other places.
George was excellent, finding interesting animals to show us and letting us set the pace. On the first dive, we rolled off the boat in time to see a 15-foot manta ray winging away just below the boat. George found a rare black ribbon eel - the juvenile stage of the blue ribbon. We hoped to see hammerhead sharks since Wakaya is known for them, but we never got to the particular reef that they frequent. We saw new species of fish on every single dive. The reefs were totally unspoiled since this is more a pampered tourist location than a dedicated dive resort. Diving in a private group with no one else around but the fish is an incredibly luxurious experience. Some dive sites at other places look like rush hour at Grand Central Terminal with fins. For uncrowded diving alone, it was worth staying at Wakaya. George was a very interesting guy. He's from Beqa, but his father was a diplomat, so he spent much of his youth in Brussels and is fluent in French and English. We enjoyed his company over and above the diving.
Air Wakaya winged us back to Viti Levu where we were lucky to get on an earlier small plane to our next destination, Laucala Island. We were scheduled on a flight later in the morning, but a guest at the resort we were going to had the misfortune of breaking his ankle and they sent a plane to pick him up. They brought us along on the plane going to do the rescue so we wouldn't have to wait. The pilots were very kind. It was a gorgeous day and they purposely flew the scenic route (it wasn't longer time-wise) so we could enjoy the view, buzzing low over waterfalls and pointing out interesting landscapes.
The Forbes family, who was trying to sell it, owned Laucala at the time. Got $20 million to spare? The only inhabitants were the resort guests and the villagers who worked at the resort. This place had only 7 oceanfront bures, and ours was the last one, so it was farther from the dining hall, dive shop, etc., but it was perfectly secluded because the bures were very widely spaced. We had our own little strand of beach and marvelous views of the sunsets. The bure was large, with an eat-in kitchen and a great porch, but not as well appointed as Wakaya. The food here was also spotty, ranging from good to barely palatable. We had what they called a "bure girl" assigned to us, who came to our hut and cooked us breakfast in the morning and served us lunch in the afternoon. She was incredibly sweet and we often chatted with her about her children and life. She was married to the head divemaster, who was also very personable.
This resort had some decided advantages. You could eat at any hour whatsoever, wherever you wanted (the others had set meal times and locations). They also had 6 private lunch spots where you could bring a picnic - 4 idyllic white-sand beaches, a scenic overlook, and the Forbes private home on a hilltop overlooking the whole island. Every day we dove in the morning then had lunch somewhere different, usually on a private beach, where we shamelessly skinny-dipped (out of sight of the conservative natives) and frolicked. We ate at the Forbes' house the day we were leaving. The island is very beautiful with expansive palm groves and wonderful birds, like the garish Orange Dove (or Flame Dove) with its bright orange body and moss green head.
The diving was terrific - abundant soft corals, plenty of sharks (including 3 baby whitetips hanging out under a ledge), sea turtles, giant clams, the most incredible variety of anemones and some very unusual fish. Mercifully, the air and sea were warmer here than elsewhere. We met some nice folks, but no one to compare with the gang at Marlin Bay.
From Laucala, we headed back to Viti Levu on a small plane that made several stops along the way. We overnighted at a Sheraton near the airport. It was like staying in Cleveland with fake Fiji touches. It was a decent hotel, but just like any Sheraton resort anywhere in the world. The only reason we chose the Sheraton was because we had a horribly early flight to Auckland the next morning.
In Auckland we stayed at a B&B in the Parnell section, not far from the War Memorial Museum. It's in a quaint section with old buildings that have been restored and populated with cafes, boutiques and restaurants. It was fun to prowl around. We discovered a great old wooden Gothic cathedral near the B&B. They had relocated it across the road and had pictures showing how they lifted it off its foundations and rolled it across on huge logs. It was amazing. After lunch, we revisited the museum (we'd been there in 1991) to enjoy the exquisite Maori art. It was a beautiful afternoon and we walked through the Domain (a big park in which the museum resides), then all over town. We arranged dinner in a trendy section of town with galleries and restaurants to check out a different part of the city.
The next day, we got up early and took a ferry to Devonport - the place we missed on the trip down. We caught a group of sailors running a practice drill for a flag raising ceremony in a park near the ferry dock. After we stood watching for quite awhile, an officer came over to tell us what they were doing. Devonport is terrific and we had lots of fun exploring it all morning, climbing up a hill for a great view of the skyline and the surrounding islands in the bay. Unfortunately, it was cloudy most of the morning while we were there, but the skies cleared up completely by the afternoon. We ferried back to the city and had lunch at a fine seafood restaurant in the Ferry building overlooking the harbor. There are few delicacies that compare to New Zealand crayfish and we weren't going to miss an opportunity to have some while we were down under.
We visited the Maritime museum, then walked to Victoria Park Market (awful tourist trap) before checking out the art museum and some surrounding galleries. The time in Auckland (during which we walked about 15 miles) allowed us to revisit this charming city and to habituate ourselves with cities and shoes again before our flight home.