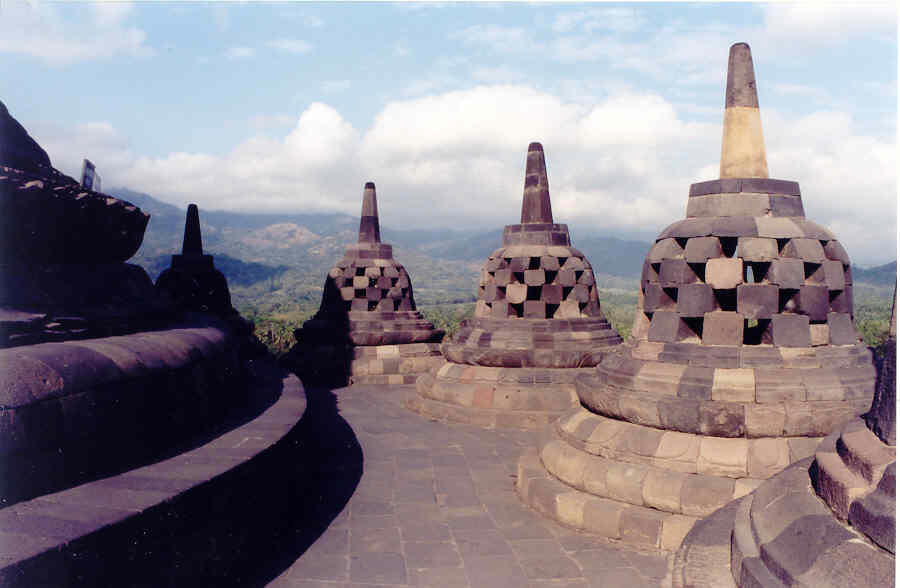 It was the best of trips. It was the worst of trips. But at least there were no guillotines. We recently returned from four weeks in Indonesia, a trip that was originally scheduled for three weeks. First the good stuff.
Just getting to Indonesia is a major undertaking. There are no direct flights from the U.S. so you have to connect via Singapore, Hong Kong, Australia or other Asian gateways. We could have left home on Saturday morning connecting easily to our Singapore flight that afternoon, but we chose to overnight in San Francisco on Friday. For convenience we stayed at the airport Marriott and it proved to be a good choice. There is a lovely walking trail along the bay where you can spot lots of interesting seabirds. The weather was perfect and we had an entire morning to enjoy the outdoors before being cooped up in the plane. We arrived in Singapore just before midnight and slept in a spartan room at the airport. The hotel is near the boarding gates so you don't even have to go through customs when you're in transit. We finally arrived in Bali Monday morning - well rested but itching to see something besides airports.
Representatives of the Amankila hotel greeted us with cold towels and bottled water and escorted us to a van where a driver waited to take us to the hotel, about a two-hour drive. The scenery along the way was appealing enough to engross us during the long ride. The Amankila, which means "peaceful hill", is perched on a rugged cliff overlooking the Lombok Strait and from our veranda we had an expansive view of the coastline north and south. The delightful fragrance of frangipani intoxicated us as soon as we entered the villa. An artistic arrangement of exotic fruit invited investigation. Among our favorites were salak - it has brown skin textured like a snake and fruit that resembles garlic in appearance and texture though not taste - and mangosteen - a round fruit with a thick reddish brown rind and very sweet and juicy white flesh segmented like a tangerine. Minutes after we began exploring our elegant surroundings, a young man arrived with a complimentary bottle of champagne to welcome us. After our long journey all we wanted to do was relax, so after settling in we threw on bathing suits and headed down to the beach for the rest of the afternoon. We dined outdoors on our terrace beneath a sky bejeweled with stars.
The next morning we met a guide and a young Scottish couple and set off on a hike from the rustic village of Kastala to the more touristy Tengganan, fording a shallow but swift-moving stream and scrambling up steep rice terraces. The views were gorgeous and locals cheerfully greeted us as we passed through small settlements along the way. In Tengganan we stopped to learn how the rare and costly double ikat cloth is woven and to admire the finished products. By the time we returned to the hotel, the sun was pummeling us mercilessly so we took a pool break. The Amankila has three tranquil infinity pools cascading down the hill, evoking the terraces of the rice fields. As if by magic, tall glasses of iced water with lemon slices and cold towels appeared at our fingertips.
We arranged a picnic lunch in a bale (a thatch-covered platform) that the hotel maintains near the top of a mountain in the middle of a luxuriant rice paddy. Our spectacular view extended over the fields and villages to the sea. We chose an Indonesian menu and although we weren't always sure what we were eating, we enjoyed every savory bite. After lunch, our driver took us to a small fishing village so we could get a closer look at the brightly colored wooden boats that we'd seen on the water early in the morning. The prows of some of the boats were fancifully carved and painted like the jaws of a huge swordfish. We whiled away the remainder of the day at the pool. At teatime, we had our first taste of ginger tea with honey, a delicious sweet/tangy treat.
We rose early the next day for the long drive to Denpasar where we caught a flight on Garuda Airlines to Ujung Pandang (aka Makassar) on the island of Sulawesi. All of our internal flights on Garuda were on time and very comfortable with well-maintained planes, cordial service and decent meals. At the airport, we joined a very congenial driver and our guide, Joko, and headed north to Tana Toraja. Joko gave us some background on the Bugis and Torajan people during the drive.
Along the way we stopped at a fishing village to see how they carve the handsome outrigger fishing boats. In this village they decorated the boats with images of jet planes. We stopped for lunch at a simple restaurant high on a hill overlooking the ocean and enjoyed wonderful seafood - prawns, calamari, grilled fish. Bottles of sweet and salty soy and hot chili sauce were provided on each table to add spice.
It takes over 8 hours to reach Toraja, which is high in the mountains. You pass through lovely landscape on the way with jagged mountains and winding rivers. Fruit and flowers abound and we took rest breaks in the shade of acacia, kapok, mango, papaya and pepper trees. Neatly uniformed children in schoolyards played soccer and takraw, a sport that involves volleying a softball-sized rattan ball over a net using only one's head and feet. The agility of the players impressed us.
The Torajans once were animists but most are now Christian. Agriculture is the chief occupation. What make this culture so fascinating are the traditional funeral and burial customs and the extraordinary architecture of their homes and rice barns. Tongkonan means place to sit and gather and these traditional homes reminded us of the elaborate meeting houses in Palau, Yap, Fiji and New Zealand. The Tongkonan are built on pilings high off the ground and crowned with soaring bamboo roofs that curve up at both ends, evoking the shape of a boat or of buffalo horns. They are meant to pay tribute to the boats that carried the ancient gods to the island. The roofs face north since the Gods reside in the north. Intricate carvings painted brown, cream and orange ornament the facades. You will always find images of the sun and the rooster, which symbolize God's law and man's law, the cockfight being a symbol of justice. Water buffalo symbolize wealth and along with paintings of them, Tongkonan usually sport a carved head on the front as well as rows of buffalo horns. The more horns, the more prestigious the family. The rooms inside are austere and designed for communal use. The rice barns are smaller versions of the homes and just as artistically designed.
Family, community and religion are paramount in this culture and the funeral ceremony is extremely important. It is normally a three to four day affair attended by the extended clan of the deceased as well as friends, neighbors and visitors. The more people attend, the higher the tribute to the family, so strangers are welcomed. Temporary housing for family and visitors is set up around a central courtyard where the events will take place. On the first day the coffin is carried and placed in a special Tongkonan adjacent to the family quarters. On the second day, the family receives guests, who often bring gifts of coffee, food, tobacco or other items. On the third day water buffalo are sacrificed. The family decides how many and the meat is allocated to members of the clan based on their ranking in the family. The skins are dried and sold or employed for leather goods and the horns are mounted on the family Tongkonans. The number of buffalo slaughtered signals the wealth and prestige of the family. On this day there is feasting, dancing and other activities. The burial takes place on the fourth day.
We attended the third day of a funeral ceremony for a grandmother. When we arrived, we went to pay our respects to the family and offered a gift of sugar. Then we watched a bull fight, which consisted of water buffaloes being provoked into locking horns with each other and tussling. It's not a fight to the death. Wranglers lead them within range of their opponent by a ring in their nose. It was quite exciting, especially since the animals were just in an open clearing, not an enclosed corral, and would erratically run into the surrounding circle of people. One fellow got trampled but fortunately was not seriously injured. The crowd would cheer wildly whenever the bulls engaged and frantically scatter whenever a bull broke loose and charged.
After the bullfight, we joined the family in their sitting room and they brought us coffee and sweet treats. They were extremely gracious. After some heated debate among the brothers, the family decided how many buffalo to sacrifice and the wranglers lead the animals into the central courtyard. The animals were lovingly fed and groomed until this moment and were fat and sleek.
Their caretakers would feed them by holding the food above their heads and pulling up their nose rings, training them to lift their heads when eating.
During the sacrifice, the animals lifted their heads in anticipation of food, exposing their muscular throats to the cold steel of the machete. Nine buffalo were slaughtered. It's a slow and brutal event. One strong bull kept staggering to his feet only to collapse again, stunned and bloody. Semi-albino or albino buffalo are considered most valuable and carry a high price tag. Pigs are often sacrificed and eaten at happier ceremonies. We didn't stick around for the distribution of the meat or the remaining festivities.
Joko lead us on about a 10-km. hike through fields and farms to enjoy the scenery and learn something about the daily routine of the people. We saw vast fields of rice and vegetables, colorful butterflies, pens of pigs, unusual birds - including an eagle - and scores of chickens with fuzzy peeping chicks. Eggs show up in many Indonesian recipes and chickens were so ubiquitous, you would swear that they were the symbol of Indonesia, rather than the fierce Garuda (eagle).
We stopped at a farm to examine a Tongkonan under construction and see how they're built. Joko bought passionfruit from the farmer to quench our thirst. We snapped off the stems and peeled back the smooth thin skins to slurp out the sweet, seedy pulp. The farmer and his 7 children sat around with us shooting the breeze, Joko translating. When we left we gave the children beautiful pencils, decorated with stars and moons, Pokemon and other childhood icons. This was one of our most cherished memories of the trip.
We had a wonderful lunch in a lovely restaurant next to a rice field with views of the mountains. Among the specialties were chicken cooked in bamboo and black rice. While eating we watched a young boy comically herding a flock of ducks in the field and two women threshing rice.
After lunch, we drove to Kete Kesu to see the hanging graves. Since people were traditionally buried with treasures for the afterlife, grave robbing was common. Up to 100 years ago the natives began burying coffins high in cliff faces. Three types of graves evolved: liang gua - hanging graves carved from wood, liang batu - stone graves, and patane - house graves. Wooden coffins were often carved in the shape of pigs or buffaloes and the stone coffins were etched with decorative patterns. Steep stairways have been added so that you can view the graves up close. The climb is vertiginous using the stairs, so you can imagine the difficulty of placing these graves at a time when the only access was the sheer cliff face. Time and weather are consuming the wooden coffins and toothy skulls peer down amid piles of splintered bones.
Next stop was Marante. We walked through a small village where Joko introduced us to an industrious old man, long retired, who continued to weave sturdy baskets to help his family. Heavy, reddish-brown cacao beans ripened seductively on leafy bushes. The medicinal scent of cloves wafted up as they dried in the sun on rough burlap sheets. After a short walk, we spied Tau Tau facing the rice fields, center of family activities, from their rocky ledges. Tau Tau are wooden effigies dressed in simple garments that are meant to shelter the soul of the deceased. Their round, unblinking eyes allow them to keep watch over their ancestors. A tradition of the ancient animists, Tau Tau commemorated only VIPs in the community. One group was seated, the other two groups were standing. They were created during the time when no effort was made to represent the actual features of the deceased, only the sex was distinguished. Although animism has been supplanted by other religions in this region, Tau Tau are still carved sometimes. The corpse is generally placed in a nearby cliff.
We got back to the Marante Highland Hotel about an hour before sundown. We were hot and sweaty so we threw on bathing suits and cover-ups and took a refreshing swim in the outdoor pool, returning to our room just as the sun-deprived air began to chill. We read for awhile then headed down to the hotel restaurant for dinner. We had our first taste of nasi goreng, rice with bits of vegetable, egg and chicken. All of the staff at the hotel were incredibly sweet and since we were the only patrons until a pair of Italian women showed up, they spent time talking to us.
Tourism in southern Sulawesi has been hit very hard by the U.S. State Dept. warnings about travel to Indonesia. We found most places to be lightly trafficked and met no other Americans. Although Americans have the reputation for being the most culturally insensitive tourists in the world, we seemed to be the only ones who even tried to respect the local customs. We were amazed that most of the European women from all countries wore tight spaghetti-strap t-shirts with brightly-colored or black bra straps exposed and short shorts or skirts, even to the funeral ceremony, attire that is considered highly disrespectful in this society.
The following morning we checked out and decided to wait for Joko and the driver outdoors since the mountain air is so fresh in the morning. They got tied up in traffic because of a big festival in town and the manager of the hotel came out and kept us company until they arrived. Such delightful people!
We lucked into a celebration of the 750th Anniversary of Toraja. We headed over to the fairgrounds and were quickly swept up in the throng of joyous citizens. Marching bands in colorful costumes, some traditional and others more modern, paraded down the field with banners and batons flying. Ensembles of adorable children playing the suling (a green bamboo flute) vied for top honors in a music contest. Competing cooks in splendid outfits fussed over artistically arranged platters of food, most shaped like perfect volcanic cones. It seemed a pity to finally dig in and spoil the design. When one spiffy gent in a handsome sarong and sharply tailored jacket observed Stu photographing the food, he grabbed his arm and led him to a booth where he and his relative solemnly posed with their magnificent rice mountain. Local dignitaries oversaw the scene from a platform where an emcee in a garish sports coat made announcements. A virile man in vibrant tribal togs displayed an enormous semi-albino buffalo on the field. The whole experience was just fabulous.
We continued on to see the Megaliths, stones commemorating a person of nobility that pre-dated the hanging graves. Slaves carried the tall, immensely heavy stones to the field where buffalo were tied to them. Commensurate with the importance of the deceased, up to 25 buffaloes would be sacrificed. The Megaliths reminded us of the graceful Lake Tai stones in Chinese gardens.
We drove south to Lemo to admire an impressive array of Tau Tau. The photos we'd seen of this site were among those that inspired us to visit Tana Toraja to learn more about the culture, and they were worth the trip. The only problem is that Tau Tau are now considered such valuable works of art that they're being pilfered for foreign museums and private collections and have to be guarded.
The most poignant graves were the baby graves - liang pia - which are reserved for pre-tooth infants (around 0-7 mos.). They are buried in a living tree returning the baby to nature in the hope that the next baby might live. The hole in the tree is covered with coconut hair so it will naturally close again.
On the long drive back to Ujung Padang we stopped several times, including for dinner at the same place we lunched on the way up. We arrived at our hotel well after dark and had no real desire to explore the city, so we turned in fairly early. The following morning we bade farewell to Joko and flew up to Manado in northern Sulawesi. Wiro met us at the airport and took us first to the Nusantara Dive Center to get fitted out with dive equipment. We were surprised that we weren't diving with our hotel dive operation because we'd picked this hotel specifically due to the dive facilities. NDC looked really run-down and we were a bit discouraged. While we were checking in at the Santika Hotel Wiro started to arrange for our dive boat to pick us up at the hotel dock the next morning for our trip out to Bunaken Island. The European manager gave him a hard time, which soured us a bit on the place, but it seemed as if it had been arranged. It was an OK place, of the type that attracts package tour groups. There are non-stop flights from Singapore to Manado so there were lots of Westerners here, including Americans.
By the time we got settled into our room, it was too late to attempt any activities so we explored the grounds, then grabbed books and relaxed by the pool. The hotel set out a good buffet dinner in the open-air dining room and a young local band entertained us with Beatles songs. The friendly Indonesian staff compensated for the rudeness of the manager.
The next morning we found out that the boat would not be coming to the dock when a driver came to take us to NDC. We got there only to be asked to sit and wait for an hour. We boarded the boat from a dock nearby accompanied by two boatmen and our divemaster. We did two dives on the reefs off Bunaken Island, a marine reserve. The water was warm, visibility was good and the reefs were beautiful. We saw most of the same fish we usually see in Pacific waters plus a striking striped sea snake and our first leaf fish. The diving wasn't spectacular, but it was relaxing, which was good. We hoped for an easy re-entry since we hadn't been diving for about 2 years when we dove from the liveaboard in the Seychelles islands. We ate lunch on the boat during our surface interval while the crew played cards. They brought enough food for about 10 people.
When we returned to the dock mid-afternoon, the entire dock, beach and water were crawling with locals enjoying the warm Sunday afternoon. We had to traverse a public area in order to get back to the dive center and weren't properly attired because we hadn't expected to be out in public. It was embarrassing. People milled around watching us rinse out our dive gear. Then we sat around in the resort waiting for a ride back to our hotel. After quite awhile, a young man who runs a taxi service in a van advised us that he would take us to the hotel since NDC couldn't find us a driver. So we piled into a vehicle jammed with local residents. The driver spoke English very well and chatted amiably with us throughout the ride. He didn't want any payment, but we didn't even have any money to tip him since we hadn't been expecting to need any cash on the boat. It was not the finest experience of the trip.
We got back to the hotel so late that we barely had time to shower and change before Wiro showed up to take us to Kungkungan Bay near Bitung. The mayor of Bitung studied in Paris and erected a diminutive replica of the Eiffel Tower in the middle of a busy intersection as a tribute. Horse carts, called bendi, are an inexpensive mode of transportation. The horses are pony-sized, and the drivers often adorned their carts with colorful tassels and banners, so they were a charming sight clip-clopping down the roads.
Kungkungan Bay hugs the shore of the Lembeh Strait at the foot of a steep cliff. The building that houses the reception, dining room and lounges is octagonal with an outdoor deck over the water. Guests stay in bungalows strung along the beach. The dive boats were moored near the equipment sheds. It was all very convenient as well as lovely in a low-key rustic way. Although it's not very far from Manado to Bitung, the roads are challenging, so it takes awhile. When we arrived all we wanted was to settle into our room then get something to eat, but we had to sit down and fill out a mess of forms, including the most comprehensive dive disclaimer we've ever seen. This was the only thing we disliked during the whole stay so it was a minor inconvenience. Kevin, one of the affable managers (the other is his wife Val), sat down with us to fill us in on the routine of the place and answer questions. Our bags were already waiting in our bungalow when we arrived. Ceiling fans more than adequately cooled the rooms. We had a lovely dinner and retired early in anticipation of a great day of diving. The Lembeh Strait is famous for critter and muck diving. Not much big fish action, but you get to see the kind of animals that you think you'll only ever see in the photos of famous underwater explorers. We were still jet lagged so we woke early and sat outside on the deck enjoying breakfast and the stunning view of the strait. Indonesians are among the sweetest people on earth and the staff at Kungkungan are among the nicest Indonesians.
We showed up at the dive shack early to select our gear and were impressed with the fine quality of the equipment. We typically bring our own wetsuits, boots, gloves, masks, snorkels, dive computers and accessories and we rent BCDs (buoyancy compensation devices - the inflatable vests) and regulators with gauges. In order to travel with carry-on bags only, we also have been renting fins, which are bulky to carry.
This morning we were diving with a young Italian fellow and about three dive guides, including Kevin who, we suspect, came along to check out our skills. The dive guides are there primarily to find and point out all the cool stuff, not to supervise you. You could head off on your own if you wanted to, but you'd be crazy to do that since the guides find things you'd surely miss on your own. Either Kevin or a dive guide conducts a detailed dive briefing including a map of the site and description of potential reef residents before you board the boat.
All of the dive sites are nearby, none more than about 15-20 minutes away and most within 5-10 minutes ride. Therefore you can return to the resort between dives rather than hanging out on the boat. Although currents can really rip through the strait, the guides know their territory like the back of their hands and only take you to places when the current is not running. As a result you can really relax and focus on the small fry. Photography is much easier when you can hold still and your subject is not whipping by at speed. All of the dives end up scouring terrain in very shallow water so they last a long time and there's plenty of time to off-gas before you surface.
We started with a muck dive - no pretty coral, just muddy or sandy bottom but you can't believe the wild creatures we ogled, including an elegant red and white emperor shrimp, a sleek black ribbon eel and a flying gurnard. Just under the boat we found a cluster of large, beautiful fire urchins with orange-red and purple spikes. Back to the resort to relax in the sun and read. The Italian and his wife had left so it was just the guides and us on the second dive. There was another small group of 5 American friends who had been to Kungkungan before and returned for more. They were on a different boat. The second dive was on a reef and along with pretty reef fish, we saw a white frogfish and ornate ghost pipefish. As we were rinsing our wetsuits, one of the ladies from the restaurant came down to the dive shack with menus to take our lunch order. By the time we changed and grabbed a table on the outdoor deck, our lunch was ready to be delivered, giving us plenty of time to eat and rest up before the afternoon dive.
That evening a big dive group arrived from England and Kevin treated us to a slide show. A full moon illuminated the sky and sea, saturating the seductive scenery with romance during dinner. The large group was split up among the two boats and 4 more divers joined us. During the next two days we were continually astounded by the vast array of weird and wonderful creatures we encountered. Brightly colored leaf fish, lumpy frogfish, robust ghost pipefish that look like strands of seaweed, a pygmy seahorse so minuscule that he was difficult to discern even with a magnifying glass, chameleon-like cuttlefish, cleverly camouflaged scorpionfish, dwarf lionfish, hairy orangutan crabs, mantis shrimp, seahorses, cockatoo waspfish, the brown long-nosed Pegasus seamoth, flame clams, blue ribbon eels, striped pipefish, white pipefish. One coral head was teeming with several kinds of cleaner shrimp. If you put your hand out, they cleaned your fingernails, but stopped short of a trim and buff. Kevin removed his regulator and had his teeth cleaned. Among our favorites were the nudibranches, shell-less sea snails with antennae and feathery gills. They come in a vivid array of colors, shapes and sizes. One site is called Nudi Falls because of the huge amount and variety of them. Every day at Kungkungan was a revelation.
We only had time for one night dive and it was the best of our lives. The site was called "Aw Shucks" but it could have been named "Awesome". We got separated early on from the rest of our group while photographing a flying gurnard and ended up following a wonderful guide named Liberty around. He found the most fabulous animals, crabs, an octopus, leaf fish, a blue spotted ray, spotted moray, and fabulous nudibranches. The highlight though was the rare flamboyant cuttlefish - it's very tiny and absolutely adorable. The water was so warm in the strait that we never got chilled, even on the night dive.
On our last day, we took two terrific dives in the morning but since we were flying the following afternoon, we took an excursion to Tangkoko National Park in the afternoon. Wiro and a driver picked us up in a 4-wheel-drive vehicle and we headed up into the mountains. It was a nail-biting, stomach-up-in-your-throat kind of ride at times.
There was one section of the road that we affectionately remember as the slippery ashpit of death. A nearby eruption had buried the dirt road in volcanic ash right at a place where it curved and sloped. There were no guardrails and the edges of the road ended at a steep drop-off into thick forest. The driver skidded through the ash, the wheels just skirting the edge of the road. On the way back, we got to skid around in the dark.
It was worth braving the road conditions though. When we arrived at the park, a very experienced ranger joined us and we started off on a hike into the woods. As we penetrated deeper, we could hear the distinctive call of the hornbill, which sounds like the whirring of helicopter blades. Cued by droppings and the sound, the ranger tracked a pair high in the trees. These are huge birds with black feathers on their body and wings, long cream tail feathers and gigantic beaks with a prominent red bump on top of the bill. We followed them for some time. The ranger chain- smoked unexpectedly pleasant smelling clove cigarettes.
There are troupes of black macaques but we only spotted them at a distance, Tarzaning their way from tree to tree. They usually come down in the mornings. As the light began to fade, we made our way to an enormous hollowed-out tree just as our quarry began to wake up and venture out. Tarsiers are the world's smallest primate, petite enough to nestle cozily in a coffee mug. Their big round eyes and pointy ears make these little furballs irresistibly cute. We counted at least 9 and had a great time watching them scamper around the tree until they headed off to hunt down a live insect dinner.
We hated watching the dive boats push off without us the morning we left. As we left the resort, members of the staff played instruments and sang us off, just like in Fiji. It was really touching, especially since we knew and liked them. If we did the trip over again, we'd schedule at least 3 more days at Kungkungan Bay and we wouldn't bother diving anywhere else.
We flew from Manado to Yogyakarta in central Java, changing planes in Jakarta. Yogyakarta is home to many colleges and a hub for Indonesian students. A driver was waiting to take us to Amanjiwo, about an hour drive. The design of the hotel pays homage to Borobudur, the world's largest Buddhist temple, which can be glimpsed in the distance. Our personal manager, Arno, escorted us to our villa to show us where to find everything and to confirm our itinerary for the following day. The accommodations were superb, with understated, elegant décor that included an outdoor bathtub between two spacious dressing areas with sinks and amenities. Our complimentary bottle of champagne was already chilling in a bucket of ice next to our fruit basket.
We arose really early and the staff had set up a quick continental breakfast for us so that we could arrive at Borobudur before sunrise. Hanafi, our driver, led us to the top of the monument and advised us that he'd meet us back at the car whenever we were ready to leave. Borobudur rises like a mini mountain among luxuriant fields of crops in the Kedu plain, its terraced slopes evoking the surrounding rice paddies, the encircling Menorah hills and the volatile volcanoes Merapi, Merbabu, Sumbing, Sundoro. It is meant to pay tribute to holy Mt. Meru, its pilgrims ascending to higher states of consciousness and finally the pinnacle of being, Nirvana. The sanctuary, whose name means "monastery on a hill" was built around the 8th Century AD of more than a million blocks of stone. It is supposed to have taken about 100 years to complete. The base of the monument consists of 6 square terraces with 2,672 carved stone reliefs of which 1,460 are narrative, depicting the life and teachings of Buddha, and 1,212 are decorative. These are topped by 3 round terraces where 72 Buddha serenely survey the worshippers from within bell shaped stupas and another 64 from niches. In all, there are about 504 statues of Buddha. An enormous stupa sits at the top, empty to symbolize the attainment of Nirvana, the absence of all worldly possessions and striving. At sunrise, low clouds tickled the hills and fields but it quickly burned off as the day progressed. Borobudur is designed to be visited from the base upwards, but we worked our way down from the top since we were already there. The stupas on the top terraces have diamond shaped holes through which you can view the Buddha statues within. Many are missing heads, which undoubtedly now reside in museums or private art collections.
As we descended, we were engrossed immediately in the exquisite ochre stone panels that covered all of the walls and spent hours inspecting and appreciating the artistry of each one. We knew something about Buddhism from our trip to Thailand and could interpret some of the panels, but we lacked the expertise to follow all of the stories, which are based on three texts, the Lalitavistara, the Gandavyu and the Karmavibhangga. We were still enthralled by the incredible scope and spiritualism of the place.
It was early in the day even though we'd spent more than 3 hours at Borobudur, so Hanafi drove us to Mendut Temple, which dates to about 824 AD. It is much smaller and simpler than Borobudur, but features a gigantic, handsome Buddha in an elegant temple.
We stopped at a market to view the local produce and were surprised at the many different ways that tapioca is prepared and consumed. In addition to hen's and duck's eggs, we saw round shallow baskets of bird's eggs, powder blue or spotted. Mounds of fiery red chilies and ripe exotic fruits provided a splash of color among the deep baskets of rice. A rat the size of a small cat dashed between two stalls and disappeared down a dark hole.
We'd been hoping to see a wayang kulit (shadow puppet) performance, but there were no authentic ones scheduled in the area, so we settled for a demonstration designed for tourists. The dalang (puppeteer) sits behind a cloth screen with his cast of puppets around him. There are as many as 400 characters from the Mahabarahta that he must represent with their own individual voices and personalities, accompanied by live music from a band of gamelan musicians. The puppets are fantastic, intricately cut from buffalo hide and painstakingly painted, manipulated with carved buffalo horn handles. Hanafi explained how to distinguish the heroes from the evildoers and provided a running commentary of the action. There were plenty of fight scenes and the dalang sometimes dramatically flipped the wayang through the air like featherweight Jackie Chans. It was fascinating, even the brief slice that we experienced. The real shows can go on all night long and incorporate sly humor and topical references along with the traditional storyline.
Our interest in the wayang kulit dates back to Peter Weir's metaphorical portrayal of it in "The Year of Living Dangerously", a film about the Indonesian civil strife of 1965 with the superlative Linda Hunt featured as Billy Kwan, an Australo-Asian photographer. We were interested in buying a shadow puppet, but weren't impressed by any of those for sale in the shop conveniently adjoining the performance space, nor at another shop we stopped at.
Instead of driving back to the hotel, Hanafi took us to a corral near Borobudur where we boarded Sumatran elephants, Molly and Sella. The mahouts led us through small villages, streams, and fields of tea and papaya trees. Almost everyone we encountered smiled and greeted us enthusiastically. We discreetly averted our gaze from the buck-naked man showering under a puny waterfall. The elephants kept crashing into the bush to snatch up stalks of sugarcane, so the mahouts fed them rolls of mint Lifesavers to assuage their powerful craving for sweets. It was a perfect way to explore the countryside and when we arrived at the hotel, we fed our elephants bunches of sweet finger bananas, which they swallowed whole, stalks and all.
We were supposed to visit Prambanan in the afternoon but Hanafi suggested that we go the following morning since it is located an hour beyond the airport where we were headed in the afternoon. It sounded like a smart plan to us, so we had lunch delivered to our backyard, where we spent the afternoon reading and wallowing in the luxury of our private pool. Amanjiwo had thoughtfully left a copy of a terrific book about Borobudur in our room, so we were able to learn much more about the history and significance of the temple and the interpretation of the reliefs that we'd seen that morning. Late in the afternoon, the sky clouded over, so we decided to scope out the hotel gift shop. It just started to sprinkle as we entered the main building. The buyer at the hotel has excellent taste and we found the most splendid shadow puppet that we'd ever seen. The materials, colors and craftsmanship were unsurpassed. It's Gatot Kaca, son of Bima and Arimbi, one of the most important heroes of the saga. Diligent, respectful and self-confident, he can fly and kill his enemies by breaking their necks.
We had the hotel pack him up to ship home along with a copy of the Borobudur book and a carved wooden tray that we'd purchased in Tana Toraja. He might have been able to fly over on his own, but we were afraid he might get lost. While we were in the gift shop a troupe of young girls began taking a dance class in the lounge. Since it had begun to rain harder, we settled into comfy cushions and enjoyed ginger tea and sweets along with the dances. There were very few people in the restaurant when we arrived for a late and absolutely delicious dinner.
We hated to check out the following morning, but we left with a slew of complimentary gifts: a comfortable straw hat that maintains its shape no matter how you squash it, a matching straw sling bag, two batik sarongs and 2 leather Amanjiwo luggage tags with our names and address typed up and inserted already. Added to the leather luggage tags they gave us at Amankila, we'll have no trouble identifying our bags. Arno and the hotel manager sent us off warmly.
We drove straight to Prambanan where Hanafi had arranged for a guide to show us around. This is an extensive Hindu temple complex with graceful, flame-shaped monuments. The three main temples are dedicated to Siwa, destroyer of bad spirits, Vishnu, god of protection, and Brahma, the 4-faced god of creation. The stone carvings on the temples relate the Ramayana, the eloquent love story of Rama, incarnation of Vishnu, and his wife, Sinta.
The main temples house monumental statues of the gods and smaller temples facing them contain statues of the animals that represent these gods - the bull for Siwa, the Garuda (eagle) for Vishnu and the swan for Brahma. Smaller temples immortalize lesser gods, such as Ganesh, son of Siwa, the elephant-headed god of knowledge, science and wisdom. We learned that the cobra is a symbol of eternity because it sheds its skin in a cycle of perpetual rebirth. Prambanan is lovely, but it seemed a bit anti-climatic after Borobudur.
After our tour, Hanafi dropped us at the airport for our flight back to Bali. It was an attractive airport with lots of shops to browse in. While buying a copy of international Newsweek, we picked up a bag of cashews on impulse since it was lunchtime and we didn't know whether we'd get any food on such a short flight. They'd been roasted in garlic and were so scrumptious that we still long for bags of them. We keep wondering if it would be unreasonable to fly back to Java for a 60-cent bag of nuts.
As expected, a driver was waiting for us in Denpasar with bottles of water and cold towels. It took just over an hour to reach Amandari, which is just outside the town of Ubud in central Bali. Ubud had once been a sleepy artists' colony and has devolved into the kind of backpackers' slum that features cheap souvenir shops and rowdy low-budget westernized restaurants. Fortunately, it doesn't take too long to escape into some of the most entrancing scenery in the country.
Each Aman resort attempts to design accommodations that reflect the style of local habitations, in a high-quality but never ostentatious manner. Our duplex villa was surrounded by a high wall with carved wooden doors. A lily pond with a small shrine for daily worship ran along our front wall and we had an extensive backyard with flowering trees, a large pool, a dining pavilion and a view across working rice fields to the hills beyond. The bottom floor featured two large lounging couches overlooking the backyard, a dining area with table and chairs, a bar, stocked with nuts and drinks and a CD player, and a huge bathroom with separate dressing nooks and sinks, plus the usual deep tub, spacious shower and separate toilet room. The bedroom was up a spiral staircase with a small powder room, a closet, a desk and a king-sized four-poster bed. From bed, we had terrific views out the back. We booked a dance performance for that evening and a hike for the following morning. We dove into the fruit basket and uncorked the champagne for a quick snack and spent the rest of the afternoon relaxing by our pool. That evening we cleaned up and got a lift into Ubud to see the show. It took place on the grounds of an old palace, a charming setting. We saw the traditional Legong dance. The gamelan orchestra was very talented, the costumes were dazzling and the dancing was superb. The women's movements are graceful and very subtle, the curl of a finger, the cock of the head, even the movement of the eyes all express meaning. The slow movements require good balance.
We returned to the hotel for a late supper in an open pavilion restaurant overlooking the main pool where a gamelan player soothed us with his rhythmic tones.
The next morning we arose early and joined a couple from California, Beth and Oscar, and a Balinese guide for a hike through the Ayung River gorge. The scenery was breathtaking. Along the way, our guide told us not only about local customs, but also about his family and how they live. The Balinese are extremely spiritual - religion (most are Hindu) is integral to their daily activities. Hours each day are spent making offerings, preparing food or other items for ceremonies, and praying. He told us that cockfighting is a ritual component of religious ceremonies because of the blood, and that it is illegal without a special permit. However, Indonesians are fond of gambling, so there are often illicit cockfights. By the animated way in which he described how the bets are placed, we could tell that he participated eagerly. The cocks are kept and transported in large cage-shaped baskets, which we noticed in many farms and villages during our walks.
The cremation ceremony is one of the most sacred and significant. The Balinese spend a great deal of money, time and effort on cremations, which involve feasting, dancing, religious ceremonies, colorful decorations and many weeks of preparation. Bodies are buried until the cremation, which can be as long as a year or more after death. Due to the high cost, family members will often wait and join in a cremation ceremony with other families. Cremations are viewed as joyous occasions since they assure that the spirit of the deceased is released from its corporeal host and can attain the next stage in the cycle of reincarnation.
During our hike, we passed women on their way to a wedding. They wore beautiful batik or ikat sarongs and long-sleeved lace blouses with wide sashes. Married women wear their hair pulled into tight buns at the nape of their neck, unmarried women are allowed to let some strands loose. They balanced artfully arranged trays of fruit and flowers on their heads, some very tall and heavy. One tiny, white-haired woman glided smoothly with a dizzyingly high stack on her elegant head, her back ramrod straight.
We had arranged to have breakfast in a scenic spot overlooking the river but by the time we arrived, it was nearer to lunchtime. A fellow from the hotel was waiting there to set the table and serve the food. It was very nice and we enjoyed chatting about travel with Beth and Oscar. When we returned to the hotel, we decided to defer our afternoon excursion for a couple of hours and took some time to swim in our pool. Later that afternoon, a driver took us to visit the nearby crafts villages. Our first stop was Mas, famous for its woodcarvers. We watched some of the artisans working, then browsed around the showroom. There were 5 or 6 pieces that we would have loved to buy, but a wonderful carving of a dalang manipulating 4 small wooden wayang stole our hearts. After a modest amount of bargaining, we arranged to have him shipped home.
Next stop was Celuk, renowned for its silversmiths. A kind merchant showed us how they work the silver, but we didn't find anything we wanted in his shop. We visited several more with no luck. The driver took us to a market in Ubud to look at baskets, then we returned to the hotel. We had planned to visit Tanah Lot temple to see the sunset, but the sky began to cloud up and our driver advised that it would not allow for the best viewing, so we chose to skip it. The buyer at the Amandari gift shop is just as skilled as the one at Amanjiwo and we ended up adding a bunch of charges to our bill. We especially liked the petite mother-of-pearl and silver spoons, forks and knives that make both useful and attractive serving utensils for hors d'oeuvres and spreads.
Amandari had the first restaurant where the Indonesian rijstaffel (rice table) was offered so we had pre-ordered it for tonight's dinner. It was one of the best meals we had on the trip. Of course, all of the staff at the hotel were delightful, which just increased our enjoyment. At this Aman, every afternoon they'd leave some sinfully rich baked treat in your room. The first day it was cream puffs as good as you'd get in Paris, with light-as-air pastry and liqueur-infused cream, and the second day, dense, moist brownies, which we packed up to take with us.
We wouldn't have minded another day or two at Amandari to explore the countryside and enjoy our villa, but the next morning we were up early and headed to Amanjiwo on Moyo Island. We crammed into a Travira Air seaplane with 3 other couples. A humorous Canadian and his Indonesian co-captain ably piloted us. The flight took about an hour and the views along the way were spectacular. The captain flew low over a volcano so we could peer into its smoldering maw. Moyo, located off the coast of Sumbawa Island, has been declared a national wildlife preserve, both on land and sea. It's too small for an airport, so you can arrive by seaplane, helicopter or boat, and there's only one small resort, which helps to keep it unspoiled.
We were greeted at the dock by a cadre of hotel staff and escorted to our tent. One of the things we loved about the Amans is that you didn't have to wait in reception to check in. They take you to your room, borrow your credit card, passport, etc. then promptly return them to you after they take care of all of the paperwork. Of course, at Aman, the tents have walls, doors, air conditioning, a huge bed evocatively draped with mosquito netting and a well-designed bathroom. The only thing missing was a tub, but during the dry season shortage of water would make a tub wasteful. Our tent was on the beach, with two comfy chairs on the porch and two padded chaises longues by the water. While we were unpacking we heard a loud scamper and discovered an extremely large gecko nonchalantly clinging to the wall near the bathroom. We'd been accustomed to finding small geckos in all the places we stayed, which we liked since they're cute and eat insects, but this one was so unexpectedly huge that Stu dubbed him "Amanzilla". He had great coloring with pale blue markings and fuschia spots, but one of his feet was atrophied. Except for that first time, we never saw him again and we hoped that he escaped unscathed.
One of the first things we noticed as we approached our tent was a tribe of monkeys hanging around on the ground and in the trees around them. The native species is a macaque with gray fur and a long white face. There were lots of females and babies and an aggressive male.
Our first stop was at the dive shop to inquire about equipment rental and dive schedules. They were very flexible, working out schedules to accommodate your wishes. The equipment was excellent. We arranged to do a dive after lunch that afternoon and it ended up being the divemaster, Greg, and us. We went to a nearby reef and had a nice, if uninspired dive. We saw lots of the usual suspects, but nothing new or exciting. While under we heard a very loud sound and Greg made a gesture like an explosion. When we surfaced he told us that the local fishermen dynamite the reefs. So much for a protected reserve area. It didn't make us feel very comfortable diving in an area where fishermen were dropping dynamite onto the reefs.
I treated myself to a "jungle massage" in the late afternoon. They take you to a secluded area right next to the ocean, so that throughout the massage you're lulled by the gentle crash of the waves, the calls of birds overhead and the briny smell of the sea. The masseuse combined shiatsu, accupressure, stretching and deep tissue massage for 90 minutes of pure paradise. Aches and pains just melted away - even my bad knee didn't hurt.
The next morning, we took a walk before breakfast following the path along the shore near the massage center. We heard scuttling in the brush and spied a small flock of Megapods. They're fair-sized partridge-like birds native to the island. We also found a majestic Great Blue Heron in a tree.
We decided to have breakfast outdoors on our porch. This was a mistake. The monkeys are just too clever and cheeky, especially the big male, who kept trying to steal food. He was a bit threatening. Stu had to chase him up a tree at one point. It was hysterical watching Stu pound his chest like an alpha male ape to intimidate his primate cousin. The monkey steered clear of him after that.
We went diving with two other couples, honeymooners from northern California and a doctor and her husband from NYC. We did two dives at sites nearby and once again they were nice, but not very interesting. Kungkungan Bay was a tough act to follow.
Greg told us that the best diving in the area is off an isle about an hour from Moyo but we'd have to pay a boat fee to get there. All six of us agreed to go the following day since we could share the transportation cost.
In the afternoon, we met Mahdi, a native of Moyo, and set out on a hike to the bat cave. We enjoyed traversing a small fishing village and climbing up hills to reach the cave. Mahdi told us that his family lives on the other side of the island, a seven-hour walk away. When we stopped to rest outside the cave, he pulled plastic containers with fruit and cake and bottles of water from his backpack. We had a taste and a drink before jumping down into the cave. The cave exceeded our expectations. There were thousands of small, furry, moon-faced bats clinging to the ceilings and swooping through the air when we disturbed their afternoon slumber. Some brushed against us as they whooshed by. We even saw a cluster of baby bats, huddling tight together for warmth and companionship. As we penetrated deeper into the cave, Mahdi shone his flashlight on a pair of 9-foot pythons. As we approached them we noticed not just their attractive blue patterned skins, but the bats they were consuming. It was an extraordinary experience.
On the walk back along the shore, we saw some children playing near their home in the village. Mahdi asked if we'd like to give our remaining fruit and cake to them and of course we agreed. The children eagerly snatched up the food while their parents signaled their thanks.
We ate outdoors that evening and were pleased to see bats wing by overhead, silhouetted against the starry sky. We guessed that they were the same bats we'd seen in the cave that afternoon. The food was excellent at the Amanwana and we enjoyed the view of the sea. It came as no surprise that the staff was so gracious. They often came over to converse with us.
Now for the worst times. First, I got bent while diving. When you dive, your tank is filled with compressed air, which is a combination of nitrogen, oxygen and other trace gases. At depth, the nitrogen bubbles can't escape as quickly as they do at surface pressure, so nitrogen bubbles accumulate in your bloodstream. These bubbles normally leech out as you ascend (divers charmingly call this "off-gassing"), which is why you need to come up slowly from a dive.
It's normal for some nitrogen to remain after a dive, which is why you wait an hour or more between dives and why you shouldn't fly for at least 24 hours after a dive. In DCS, the bubbles don't escape normally and congregate in joints causing mischief, like teenagers whose parents are away for the weekend.
How could this happen to such a safety-conscious diver you ask? Stu and I were tooling along the reef, minding our own business, when without warning an 18-foot tiger shark started circling us, its pectoral fins pointed down, an evil look in its eye. Suddenly, he lunged for me, his sharp white teeth glinting in a malevolent grin. I punched him in the nose and rocketed to the surface, clambering into the dive boat just as he ripped a sizeable chunk out of my fin.
Just kidding. I wish it were something that dramatic. Worse than getting bent is getting bent on a dive that wasn't even worth the trouble. We rode out to the island on a big, comfortable fishing boat. It was not set up ideally for diving though and since a current was running on the surface, entry was a bit difficult. The first dive was at a healthy reef with lots of coral and a good number of fish. It was in better condition than the reefs closer to Moyo, but not electrifying. During the second dive, we started around 80-feet, then were calmly browsing around at about 50-feet. Stu was photographing a small hawksbill turtle when we realized that we'd hit the end of the reef. A strong current began pulling us into open water and we soon found that we were down around 80-feet again. Greg swam us hard back to the reef and we got there and were back up around 40-feet, when we noticed that the other couple had not followed and were hanging out in the open water. So Greg swam us back out to join them, ascending gradually as we swam. We did a safety stop together and then surfaced. I'd burned about 3 times more air than usual for me. It was a hinky dive and we didn't feel good about it.
To make matters worse, when we returned to Amanwana, the manager of the hotel approached us to say that he had some bad news. We never expected to hear that the World Trade Center and Pentagon had been attacked by terrorists. He had a satellite dish and TV and he led us to his cottage to watch CNN. We all know how horrendous this time was, so we won't rehash it. The Amans all had laptops set up in the libraries with Internet access and up until then, we'd made little use of them. When we were able to get on-line, we checked up on some of the people whose email addresses we remembered since we hadn't brought a list with us. There wasn't a single Indonesian who didn't express their shock and horror and offer their sympathy about this infamous incident. They went out of their way to be even kinder than usual to us.
That night, after we'd gone to bed, I woke up feeling terrible. Nausea and dizziness gripped me, and my hands and lips were numb. I lost my balance and crumbled to the floor on the way to the bathroom. Stu called for medical help while I vomited. I immediately suspected that it was related to the dive that afternoon. A nurse came and I described my symptoms and told her about the dive, but she thought that the cause of the illness was most likely shellfish poisoning from dinner. She gave me medicine for the nausea. I didn't sleep all night and though the nausea subsided, I continued to feel ill. I was also very worried that I might be bent.
I felt somewhat better the next day, though still a bit light-headed and my hands felt stiff. We decided to skip diving that day and instead arranged to take a picnic lunch to a remote beach, where we could just relax. We couldn't go in the water because the tide was out, so we beachcombed a bit, but mostly read. I had another very bad night and the next morning I experienced numbness down my right arm and shoulder blade and a feeling of pressure in my spine from the base of my skull to my lower back. I began to feel an intermittent dull ache in my elbow, wrist and the knuckles of my right hand. We were scheduled to go on a hike to a waterfall that morning, but I decided to ask Greg if he knew anything about decompression sickness ("the bends" or DCS). By this time, I really though that I was bent. I'd had food poisoning before and it never felt like this.
We went to the nurse and she began to administer oxygen. The oxygen made me feel somewhat better, but because my symptoms were intermittent to begin with, it wasn't clear how much it was really helping. The doctor we'd been diving with came in and ran me through some basic neurological tests and verified that I did well on those. Greg, Stu and the manager called the Divers Alert Network (DAN) to get their opinion. They seemed to think that there was a minimal chance that this was DCS but that I should seek further evaluation. DAN and the manager arranged to have the Travira seaplane come to evacuate me to Bali. You can't fly in a jet plane with DCS because of the change in pressure, but a seaplane can fly at low altitude. They didn't get the plane to us until late afternoon but we hung out with the nurse and Greg came in to keep us company as well. Stu packed up all of our belongings and took care of checkout.
A nurse, Denise, and a doctor arrived with the plane. They had removed most of the seats from the plane and put me on a stretcher. They checked my vitals and hooked me up to an IV and oxygen. When we arrived at the airport in Denpasar, an ambulance was waiting on the runway to take me to the SOS clinic in Sanur. I told the young men who lifted me from the plane into the ambulance that I bet they were glad I'd been skipping desserts. The clinic was just a few months old, clean and modern with all the latest equipment. They put me in an observation area while they gathered information and hooked me up to monitors. They consulted with an ex-Navy doctor in Jakarta and dive specialists in Philadelphia but there's no test to take for DCS so the diagnostic process was slow. Just when they were indicating that they'd keep me overnight without treatment, the doctor arrived to tell me that the specialists thought my condition was consistent with DCS and that they'd scheduled me for treatment immediately. They thought that overexertion was probably the causative factor. I was so relieved because I kept thinking that the longer I waited to get treatment, the worse I would get. Back into the ambulance, we raced over to the hospital. If you've ever driven on the roads in Indonesia, you'll understand why I was far more worried about the drive than about the treatment.
The hospital looked like every Westerner's nightmare of a third world medical facility. You almost expected to see chickens running down the hallway. However, the DAN doctor had told Stu to ignore the way the hospital looked because they had an excellent hyperbaric facility. The chamber looks like a small submarine, a capsule-shaped metal tank with portholes and hatches. As I lay on the stretcher, even though they spoke in Indonesian, I could tell that the medics were wondering how they were going to carry me into the chamber on my stretcher, so they were visibly relieved when I advised them that I could walk in. The director of hyperbaric medicine was manning the controls. He explained the procedure and the profile of the treatment. Another doctor gave me hard candies and a pillow and accompanied me into the chamber. It was around midnight.
There were two narrow benches along each side and heavy masks hanging down from the ceiling, plus all manner of knobs and pipes. I felt like Captain Nemo. There was a video camera so the doctor outside could monitor the interior. I lay down on a bench and the doctor inside helped me test the mask then sat down on the other bench. It was clumsy moving around because of the IV, which was stuck in my hand. The director slowly pressurized the chamber to the equivalent of 80-feet under. We had to equalize our ears so the hard candy came in handy. Once we were down, I had to breathe oxygen from the mask. Breathing oxygen at depth, rather than air, is supposed to force out the nitrogen and reoxygenate your blood.
During the treatment, you're on the oxygen for pre-determined stretches of time then you remove the mask and breathe air for 5 or 10 minute breaks. The mask is uncomfortable and you have to breathe hard to get the oxygen flowing, so the breaks are welcome. The doctor wondered why I waited so long to get treatment, she said that the nausea and vomiting are classic DCS symptoms. We slowly surfaced at the end. The first treatment lasted 5 hours. I felt better after the treatment, no lightheadedness, but my spine was still a bit stiff. The doctors thought it might be from lying on the bench for 5 hours. It felt really good to have the IV removed. We went to the cashier to pay and ended up waiting for hours sitting on a hard bench as SOS and the specialist physicians decided what to do with me. At one point they told me that they wanted to check me into the hospital for observation but fortunately, they changed their mind and decided to take me back to the clinic. DAN decided that I should have another hyperbaric treatment just to play it safe and they'd scheduled me in for 6 p.m. that evening.
By now everyone at the clinic knew us, and they greeted us affectionately. I don't think I've ever gotten more solicitous and friendly medical care. When they had a few minutes the doctors would pop in to shoot the breeze with us and joke around. They gave Stu unlimited use of the Internet on their PC so he was able to take care of a lot of things that way, like notifying our offices that we'd be delayed getting back. You can't fly for at least 72 hours after your last treatment, so we knew that we couldn't fly home on Sunday as we'd originally planned. The staff at Amanusa booked us new flights, even though we weren't staying there yet. Because of all the flight disruptions, they couldn't get us seats in any class until more than a week later. We were disappointed, but as it turned out, we needed the extra time.
The Director administered the second treatment, which was mercifully only about two hours. A nurse joined me in the chamber, but she was so fidgety and uncomfortable, that her presence made it worse. I zoomed out of there when it was over. The spine discomfort was now gone and I wasn't feeling any symptoms. Stu got to know the doctor pretty well since they had lots of time to talk, and now knows a lot about hyperbaric treatments. They brought me back to the clinic and even though they normally don't keep people overnight, they kept me overnight for evaluation. It was the first sleep I got in 3 days. Stu slept on the floor of my room after having sat up at the hospital the night before. Later that morning, they discharged me and a driver from Amanusa came to pick us up. The manager at Amanwana had spoken to Stephanie, the manager at Amanusa, and arranged for us to stay there during my recovery period. It seemed like a good choice since it was close to the SOS clinic and the hospital. We were planning to leave on Friday afternoon and stay in Singapore for a couple of days before flying home the following Monday.
The Amanusa is located in the south in a very tourist-oriented section called Nusa Dua. It sprawls high on a hill overlooking the ocean. As expected, our villa was drop-dead gorgeous. This one had an outdoor shower dripping with flowers, as well as an indoor one. The bathtub was indoors, but through the enclosing windows we overlooked a lily pond where thousands of tiny sperm-shaped tadpoles swam, as well as one adorable brown frog. We even got a private pool, which was very helpful since we didn't get around much. The doctors had told me not to exert myself for the next few days and I was inclined to obey. From our backyard we could see for miles in 3 directions, including a sensational vista of the ocean. We had now stayed at all 5 of the Aman resorts in Indonesia and qualified as hard-core Amanjunkies. We even got Amanjunkie t-shirts when we left. We'd heard a lot about how amazing these hotels are and we were skeptical, having stayed at lots of great hotels in our travels, but we have to admit that the Amans really live up to their reputation. We were spoiled rotten. Not to mention getting a lifetime supply of leather luggage tags.
One of the trademarks of the Amans is that the staff seems to surreptitiously spy on you, so that they know just when you've left your quarters. They promptly whisk in, clean up, drop off fresh towels, refill amenities, the fruit basket and the ice bucket, and deposit goodies. We don't think it's possible to re-use a towel, even if you tried. We must have distressed them terribly by rarely leaving the room, except to lie out in the backyard, so they were obliged to work while we were there. The Balinese manage to do everything gracefully, even sweeping and cleaning looks like an elegantly choreographed dance. We continued to have perfect weather and from our chaises by the pool we had a ball just birdwatching. We must have seen a dozen or more species without even leaving our grounds, including kingfishers, olive-backed sunbirds and fulvous-breasted woodpeckers.
We had checked in on Sunday morning and we tentatively planned an outing on Wednesday. Unfortunately, I had a bad night on Tuesday and the doctor asked me to come back in to the clinic. After some consultation, they decided to send me for another 2-hour treatment. This time the female doctor who had been in with me the first time administered the treatment and I shared the chamber with three Balinese spearfishermen who free-dive. They were gregarious young men and as interested in knowing about scuba diving and DCS as I was in learning about free diving, so we talked a lot during the initial descent and the breaks. It helped the time go more quickly and painlessly. This time, I felt all of my symptoms go away as soon as we reached depth and they remained gone throughout the treatment. I thought I was finally cured completely. I had, however, developed an ear infection, which started out as an annoyance but developed into a major pain in the ear. SOS gave me eardrops but they didn't work so we returned on Friday for antibiotics.
We had to reschedule our Singapore flight to Saturday since I could not fly on Friday, but an extra day in Bali is not a real hardship. We rested all day Thursday but we ventured out to a dance performance in the evening. It took place at Uluwatu temple, on a high precipice overlooking the sea. The Kechak dance was actually developed by an expatriate from Germany but it is now included among the traditional dances of the island. It relates the story of the Ramayana in dance, but instead of a gamelan orchestra, a chorus of men chants to provide the rhythm. It's a spectacular sight to behold, especially backlit by a blazing sunset.
I wasn't very tired after the performance, despite vigorous applauding, so we decided to dine outside the hotel for the first time. The driver dropped us at an outdoor restaurant right on the beach, where we enjoyed fresh fish and the soothing ambience of the ocean.
The next morning, emboldened by our evening excursion, we booked a driver to take us to the north of Bali. It's a fecund, mountainous area, as green as emeralds. We wound up steep roads to visit Pura Ulun Danu, a lovely temple on the shores of a tranquil lake. Its tall thatched towers reminded us of Japanese pagodas. The grounds were expertly landscaped with majestic trees and vibrant flowers.
We headed south again and stopped at Pura Mengwi, a temple built during the 16th-17th Century. It was a widespread complex with many very handsome buildings in a peaceful setting.
On our way back to the hotel, our driver thought we might like to visit the art museum in Denpasar so we stopped there, just 15 minutes before it closed for the day. We walked around the outside for a bit, then went on to lunch. The driver took us to a restaurant in Kuta, where we got a decent, though not noteworthy meal.
On Saturday we just hung out at the hotel until it was time to catch our late afternoon flight to Singapore. I was a bit nervous about getting on a commercial flight, not due to fears of flying, just because of the change in altitude. We flew Silk Air, a Singapore Airlines subsidiary. It was only a two-hour flight. I felt a bit uncomfortable in the air, but as soon as we landed I felt fine. A driver was waiting to take us to our hotel, the Ritz-Carlton Millennia. We had a nice view of the harbor from our room.
We went sightseeing on Sunday to a few museums, to Raffles and around Chinatown and other neighborhoods. It was pleasant but we saw nothing that was noteworthy. The highlight was undoubtedly a delicious dim sum lunch with live music at the Four Seasons near Orchard Road, the bustling shopping drag. Singapore is OK but not a place we'd want to visit again. We heard that you have to try the chili crab or pepper crab, specialties that you can only get in Singapore. We went to an area along the water with rows of seafood restaurants packed like sardines. We expected the sauce to be on the side, but the crabs were piled up in their shells smothered with thick sauce. So you have to get really messy cracking them and you don't get any useful utensils to extract the meat or any napkins, just a finger bowl of water that quickly becomes greasy and useless. It was way too much of a hassle, so we left most of the crabs and ate the rice.
Compared to the Indonesians, Singaporeans seem aloof and even a bit rude, so we didn't enjoy the atmosphere of the restaurant either. Not our idea of a great dining experience. We should have stuck to the Chinese restaurant in the hotel.
Our flight the next morning was very early. The airline told us we couldn't carry our Swiss army card or the mother of pearl condiment knives we got in Indonesia so we found a post office in the airport and mailed them home. It was very efficient and convenient. Although we'd been told that we got the last seats on the plane, it was practically empty, only about 88 people on a 747. Many people must have cancelled their travel plans. We flew to Chicago via Tokyo then switched planes to home. The pilot came back and gave us his business card with a handwritten note of thanks for flying United. I felt fine during the flights - about 21 hours in the air. Despite the glitches and the sorrow of the news from home, we still consider it to be an excellent trip.