We approach trips to Asia with eager anticipation of the gracious people, marvelous food, glorious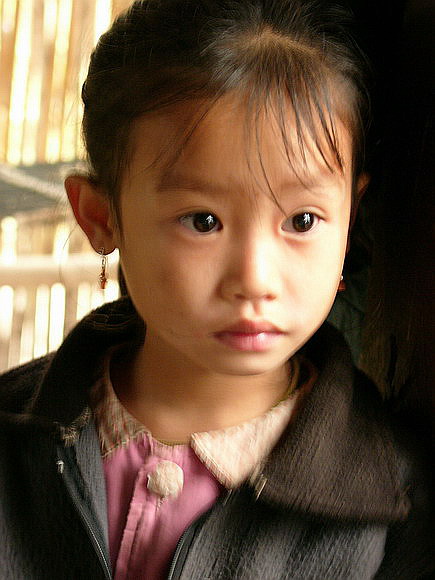 temples, languid landscapes and fascinating culture. Laos and Myanmar exceeded our expectations, offering very rich though different experiences despite the similarities you might expect to find among Southeast Asian countries sharing a tradition of Buddhism and a history of colonialism. In Laos we most enjoyed socializing with people and sampling local cuisine. We enjoyed the people in Myanmar as well, but were wowed by its opulent gilded temples.
We had just enough time during an overnight layover in Bangkok to meet two of my colleagues from our Thai Development office for dinner. Chalermchart, a sweet young guy who introduces himself as Think, and Nuntanuch, a tall, slender woman dubbed Nat, picked us up at the Amari Airport Hotel in Think's sleek, new Honda and whisked us to a neighborhood we've never come close to visiting. When I'd e-mailed Think to request a restaurant recommendation for authentic, non-tourist, spicy Thai food, he offered to accompany us to dinner. The restaurant was a sprawling open-air lake-side pavilion teeming with convivial Thai families and large groups of friends. There were play areas for children, electronic games for teens and young adults and low-tech tanks of swimming fish blissfully ignorant of their impending fate as the catch of the day.
We let Think and Nat order then sat back and enjoyed a feast that we still can't stop salivating over. Among the dishes was a soup that blew us away, layering subtle flavors like a symphony building to a crescendo of ecstasy. We asked Think not to hold back on the heat and he chose a mix of spicy, sweet, sour and salty dishes. The hottest dish was perfectly spiced, maybe bringing some tears to our eyes, but not causing any real pain. We asked Think if they'd moderated the heat in deference to our Western sensitivity and he told us that the dish was spicier than he normally eats it. Think and Nat had spent more than a year in Los Angeles training for their jobs and spoke excellent English so we were able to enjoy their company and conversation even more than the food. Nat had just returned from a road trip to Laos with several of her work buddies and shared her impressions and recommendations.
We boarded a short early morning flight to Vientiane, the very small capital of Laos, a town with only about 600,000 people in a country with an overall population of 4-1/2 to 5 million. Our guide, Boon, and driver took us to our hotel to settle in and arranged to meet us for a tour after lunch. The Lao Plaza Hotel was clean, modern and very comfortable, but lacked local charm. Typically we book trips about a year in advance; one reason is so we can choose smaller, more interesting places to stay. Our first choice, the Settha Palace, was already fully booked when we started making our arrangements about 6 months before the trip and we never cleared the waitlist.
We took a short walk before lunch to orient ourselves and were amazed at the quiet, leisurely atmosphere, especially compared to other Asian cities like Ho Chi Minh City (Saigon), or even Siem Reap in Cambodia. Sunday lunch at the hotel consisted of a decent buffet of Asian and Western foods, but we later learned that street food in Laos is generally far better than the hotel food.
Boon first took us to Sisaket Museum, housed in a Sukothai style temple built by King Anouvont. The modest temple sits in the middle of a square courtyard encircled by low buildings capped with terra cotta tiles. As we entered the compound, Boon pointed out the large ceremonial drum that is struck to summon the monks to prayer on festival days. The chief attraction is a collection of 8,640 Buddha statues, many collected from temples burned down during battles with neighboring Thailand. In addition to 120 terra cotta Buddha, scores of bronze beatific Buddha statues from the 15th - 17th C form sacred ranks on plain concrete steps in the outbuildings. Boon expertly pointed out the features that identify the style and era of the statues. In the 15th C, Buddha smiles enigmatically looking upward, with naturalistic fingers and toes of different lengths. In later centuries, the Buddha is depicted with fingers and toes of equal length. Most of the various hand positions are represented - hands pointed downward on each side of the body to call rain, two palms raised to protect from war and the popular subduing mara (evil) position with the left palm facing up in his lap and the right hand pointing down.
The macho 13th C Khmer style Buddha resembled the reigning king with his square face and Jaggeresque lips, while the elegant Lanna style with its long face and fingers looks distinctly feminine. You can recognize the Sukothai style by its rounded chin and eyebrows joined over the nose. We noticed strings tied on some statues and Boon explained that it is customary to tie white strings on people to celebrate special events, such as a wedding, the birth of a baby or a new house. Even sober monks will tie one on now and then, though in their case it's a yellow string. We noticed that the monks in Laos often wore mustard colored robes rather than the bright saffron robes common in neighboring countries.
Paintings on the temple walls related the life story of the Buddha and a long wooden trough carved like a naga (snake) was suspended from the ceiling to purify people with water during the Lao New Year in April. During this time people douse one another to bestow good health.
Our next stop was Wat Ho Prakeo, where the famous Emerald Buddha resided during its sojourn in Laos. The Thai believe that the Buddha belongs to Thailand (where it now remains) and the Lao contend that the Kingdom of Siam stole it from them. The statue graced this site in Laos for 218 years from 1560 - 1779 after King Sethathirat moved the capital from Luang Prabang to Vientiane. The original temple was burned during the war, as were all temples in Vientiane except Wat Sisaket, and was subsequently rebuilt. Here we found a standing Buddha statue in a contemplation pose with hands crossed in his lap that we didn't recall having seen before. Boon showed us a bronze drum that is typically pounded when someone marries or dies, or to summon rain. A huge terra cotta Buddha wearing a glittering golden robe invited worship.
We continued our tour at That Luang, a gilded stupa 55 meters high and 79 meters wide ornamented with gold foil trees that represent the holy Bodhi tree under which Buddha found enlightenment. The stupa was constructed in 1557 of concrete made of tree resin mixed with sand. We progressed to the modern age at the 1962 Victory Gate a.k.a. Patouxay, Vientiane's tribute to the Arc de Triomphe, set in a small park with well-groomed lawns and borders of colorful flowers. We climbed up for a view of the town, though it's a sight you can probably skip since Vientiane is not the most scenic place in Laos. We took a stroll through the central market where we picked up a big bunch of longan for about 15 cents. Longan, familiarly called dragon eyes, are round lychee-like fruit with thin brown skin that easily peels off to reveal sweet white translucent flesh clinging to a large black pit. We'd enjoyed them in Cambodia and Vietnam and were happy to snag a bagful to snack on.
Boon walked us over to the Mekong and left us to enjoy the sunset at one of the many outdoor cafes on a bluff overlooking the river. We relaxed on molded plastic chairs watching wooden fishing skiffs glide over the gently rippling water. A sandbar poked out of the shallow water in the middle of the river, making it hard to envision the river flooding these high banks during the monsoon season.
That evening Boon reserved us a good table at Kua Lao Restaurant, a short walk from our hotel, which features live music and dancing. The food was barely passable, but the 4 musicians and dancers performing traditional Lao folk numbers were delightful. We remained sipping tea through their final set.
In the morning we continued our tour. Pregnant women come to Wat Simuang to pray for an easy birth, bringing offerings of banana and coconut. We wondered whether the phallic symbology was intentional since you don't really have to petition for fertility if you're already pregnant, though perhaps fertility was the overall theme. The temple was in a rectangular building flamboyantly decorated with red and yellow tinted copper carvings.
We drove out of town to tour Buddha Park, a sculpture garden which was started in 1960 but left incomplete due to the Communist takeover in 1975. It was a religious theme park with humongous statues of the Buddha and other notable Hindu iconographic figures. Boon related many of the stories associated with the statues, but our favorite concerned a fellow playing a guitar with 3 strings. You often see statues of an emaciated Buddha, starving himself while meditating to renounce earthly pleasures and attain a more spiritual state. The guitar player showed him that if a guitar string is too loose it will not produce a sound, if a string is too tight it will break, but if it is just right, it will play beautiful music. So Buddha realized that he was strung too tight and that moderation was key to attaining his goal. On our way to the airport after lunch we stopped at a workshop where young women were weaving silk colored with natural dyes on hand looms. Silk weaving is an important industry in Laos and the quality of the fabric is exceptional.
Our flight to Xieng Khouang was short and on-time so we had no complaints. Our guide, Sylasak, greeted us warmly and invited us to call him Sak. Sak was short, muscular and balding despite his youth, with an angular, pleasing face, kind eyes and a killer smile. We checked in to the fairly basic Malee Hotel remaining only long enough to drop our bags. We were pleased to find that our room possessed a small balcony with a view of an attractive family farm against a backdrop of verdant hills. It was late in the afternoon so we headed straight to one of the 60 fields comprising the renowned "Plain of Jars". At about 1000 ft. above sea level the hilly plains in this rural area are littered with huge sandstone jars left by the Khmer who settled the region X centuries ago. Since sandstone is not found in the region, the stone, or the jars themselves, must have been transported great distances. Field #1 contains 334 jars within its 25 hectares, the largest 2.57 meters high with a 2.5 m diameter. All of the jars originally had lids, though only some lids remain, and some have lips while others are plain. Archaeologists have been struggling to interpret their use and significance since they caught the attention of the scientific community. They're commonly believed to have been used for mortuary practices though their actual use is unknown.
We scrambled up and down hills to inspect the jars, encountering no other visitors. The malignant reality of landmines forces you to confine your exploration to the cleared paths. The jars were chiseled into different sizes and shapes, though all basically the same style. One particularly interesting leaning jar is said to weigh 600 tons. We expected to find the jars intriguing, but weren't prepared for the beauty of the landscape. Sylasak told us about himself as we lounged around waiting for the sun to set behind the hills. He'd devoted himself to the monastery for 14 years, as a novice from the age of 12-20 and as a monk until he turned 26. He left the monastery a couple of years ago to change his life and learn new things. As we got to know him better in the next few days it became clear that he also wishes to find a wife, though he's working and saving money before starting a family. He flirted shamelessly with the young women we encountered. We suppose that if you spend most of your youth as a monk, you have a lot of catching up to do.
Sak was still developing his English language skills, but we wouldn't have traded him for anyone else. He was so engaging and good at chatting people up that we had wonderful opportunities to interact with the locals, a high point of the trip. The Lao have the reputation of being the sweetest people in S.E. Asia, even among other S.E. Asians, and our experience certainly seemed to prove it, though it's a tough competition in that area of the world.
The Malee was on a main road a few miles from the nearest town, so we had dinner there, a delicious tomato soup followed by good duck curry and steamed vegetables. Showering in the morning was a challenge, but after Cold Comfort Farm (see Bhutan trip notes) we weren't complaining. When you think of SE Asia, you probably imagine steaming, oppressive heat, however Laos is rather cool in January, particularly at this altitude, and it was a bit chilly.
Fortified with the best breakfast of the trip, freshly laid eggs and hot crispy baguettes, we headed off to an ethnic minority village. Sak decided to visit the Tai Dam, émigrés from Dien Bien Phu in Vietnam. This was not like many experiences in other countries where the villagers set up souvenir stands as the tour buses arrive, it was pretty clear that they don't see many foreigners in this town. A woman was weaving silk cloth near the entrance to the village and we shot the breeze with her and her friend awhile before continuing down the main path. She told us that it takes her about a month to make a roll of silk cloth.
Tamarind, mango, coconut and jujume trees and creaking stands of bamboo were abundant on most of the properties. Jujume is a small, round, green fruit that we hadn't found before. The handsome wooden houses with tin or thatched roofs were perched high on stilts, similar to the fishermen's houses in Sulawesi. Flat, spiky cactus sprouting pink berries formed natural, decorative barriers in lieu of wooden or cyclone fences. Sak spied a young woman weaving in the window of a large house and walked into her front yard to ask what she was making. She immediately invited us in to see what she was working on. The house was simple, with several rooms, a cast iron stove in the middle of the kitchen, corn drying from the rafters and bamboo implements. Two lazy kittens dozed in the space under the stove. At the same time, there was some lovely well-crafted teak furniture and a television. Bathroom facilities were outdoors, and water is drawn from a well, however they had a generator and satellite dish for the TV. She insisted on serving us boiled water and sweet finger bananas. She told us about her weaving and her family, who were all out working. As we were leaving her cell phone rang and she ran to answer the call.
We strolled down rocky lanes flanked by rice and cabbage farms greeting the residents as they performed their daily chores - a girl weaving a tablecloth, gossipy women perched in trees picking long beans, a married couple hauling tall bound sheaves of thrash from the fields, fish wranglers knee-deep in fish ponds. One family showed off their Lao-speaking mynah bird. An elderly woman whittled bamboo chopsticks while her husband and children cut bamboo for baskets and banana leaves that are filled with dirt to plant watermelon seeds. The woman directed us to the village elder - a 100-year-old man who still weaves baskets.
Sak asked around and found some of the man's young relatives, who lead us to a low-ceilinged wooden shack. We ducked to enter, finding the elderly gent, named Hing, warming himself by a wood fire in which he was roasting a taro root while working on a small basket. He graciously invited us to sit down, introducing his shy relatives, who had curiously gathered around the entrance smiling in at us. Hing was striking, with closely-cropped salt-and-pepper hair, a fine-boned face with thin, age-freckled skin and a bony body sporting a green wool jacket to ward off the chill. A multi-colored silk scarf loosely wound around his vulnerable throat lent him a jaunty air. He no longer makes baskets for domestic use, sticking to smaller replicas that he sells to visitors in order to afford a little bit of tobacco, one of his apparent guilty pleasures. We purchased a finely-crafted basket about the size of a navel orange, aromatic with wood smoke, for about 25 cents. Grinning gleefully, he pocketed the loot and immediately withdrew a small, cloth tobacco pouch from his pocket to roll himself a cigarette. He took a few drags, expressing deep satisfaction, before extinguishing it and saving the rest for later. While normally we'd feel terrible about actively supporting someone's nicotine addiction, we figured that, at 100 years old, the guy deserved to enjoy anything that makes him happy.
Sak picked a fist-sized taro from a stack on the floor and asked Hing if we could try one. Hing nodded and Sak placed it in the fire to roast, advising that it would take about 20-30 minutes to cook. While Hing told us about his family, I pulled my Polaroid from my backpack and asked if I could take his photo. He readily agreed, posing solemnly. When the photo had finished developing, I presented it to him. His unexpected reaction brought lumps to our throats. Tears streamed from his eyes as he delightedly told us that he'd never before seen a photograph of himself. His great-great-grandchildren and great-grandchildren crowded into the shack to have a look as he proudly showed off the tiny picture, laughing and crying simultaneously. When Stu whipped out his digital camera, Hing adjusted his scarf in preparation for his next portrait. He was even more thrilled by the digital image, though we had no way to print a copy for him at the time.
The photos evaporated most of the family's timidity and they asked us about ourselves and eagerly posed for their own photos. Hing's lovely great-granddaughter went into the house and brought out an adorable 17-mo.-old infant for her photo op. When the taro was ready, Hing removed them from the fire with a stick. When ours had sufficiently cooled, Sak broke off chunks for us to share. Resembling a small turnip with white flesh and a mealy texture, it had a delicious, mild nutty flavor enhanced by the smoky trace of the wood fire. We're not sure what Hawaiians do to poi that makes it taste so revolting, but it's hard to believe that it's made from the same root. The family wanted to show us around the property, so we bid a warm farewell to Hing and took a short tour of the grounds, which were ideally situated on a small river, before making our way back to the car. The faint essence of wood smoke still perfumes our basket and always evokes the memory of one of our fondest travel experiences.
On November 24, 1968 during the U.S. - Vietnam war, 300 Lao died in a natural cave where they had sought shelter from the bombing of their town when the U.S. exploded a rocket in it. We hiked through a field and climbed up to Tham Piew cave, where a bleached skull marks a shrine to the dead. There are no souvenir stands or plaques - just a stark reminder of the cruelties of war.
On our way back to Xieng Khouang, we stopped for lunch in a casual eaterie frequented by local laborers in Muang Kham. There was no menu, we ate the food that had been prepared that day, lemongrass soup with rice noodles, duck with ginger, and chicken and mixed vegetables spiced up with an astoundingly good chili sauce that Sak called jeo. The owner whipped it up fresh for us using red chilies, garlic and lime. We had variations of it at other places, but none as good as this. Not long after we left the place, the owner caught up to us on his motorbike. He'd chased after us because he thought we were going in the wrong direction.
We took a short walk to view the bubbling waters of a natural hot spring, then continued on to another jar site. The jars looked roughly the same as in the other location, but they're still worth seeing, as much for their own enigmatic beauty as for the splendid landscape that they adorn. When we returned to our room at the Malee, we were amused by one of our fresh bath towels, a garish terrycloth beach towel screened with bright pink-lipped images of Kate Winslett and Leonardo DiCaprio from the movie "Titanic".
We decided to try a restaurant in town that Sak recommended for dinner. On many of our trips, our driver usually is pretty much at our disposal, but on this tour, we were advised that the drivers were only engaged for activities on the itinerary. Sak offered to drop us in town for dinner since he and the driver were staying there, but very apologetically explained that they could not take us back to the hotel. We didn't really care, it was only a few miles and there were taxis in town if we wanted one (tuk-tuk style - a motorbike with a trailer for passengers). There were lots of backpackers at the restaurant and the food was good enough, though nothing special. We felt like walking so we hoofed it back to the hotel. The next morning Sak told us that he and the driver had returned to the restaurant to take us to the hotel but had missed us there and on the road.
After another wonderful breakfast at the Malee, we checked out early to browse around the market at Phonsavanh. As expected, the market was teeming with vendors and shoppers and piles of interesting produce. There were the usual fresh vegetables in colorful, enticing piles - shallots, scallions, eggplant, bamboo shoots, tomatoes, bok choy, pumpkin, green beans, cauliflower, rice, mushrooms, squash, potatoes, lotus root and corn. When I asked Sak to identify water chestnuts, which I'd only recalled seeing sliced and cooked in Asian dishes, the vendor pulled out a sharp knife and peeled a couple for us to try. Eaten raw, they're juicy and crisp with little flavor. We wandered the aisles inhaling the heady fragrance of basil, garlic, ginger, mint, coriander, apples, oranges, mango and sesame, and the brackish smell of river fish, frogs, crabs and snails.
The market ladies were amused by Stu photographing their wares and boldly posed for photos. Soon Stu was surrounded by a crowd of laughing women enjoying a picture show from the back of his digital. One presented him with a heavy papaya for taking their photos and another group of ladies offered us a taste of sticky rice with fish. We sampled a palm nut, which has a rough texture and large cream-colored pit. Livestock was also on sale, chickens and piglets in closely confining baskets, as well as more exotic fare such as squirrels, bats, buffalo skin and civet cats. Cane sugar and peanut candy offered something to satisfy a sweet tooth.
We hugely enjoyed the market, but we had a long drive to Luang Prabang, so we tore ourselves away. During the scenic journey we observed that there were more cattle in the road than motor vehicles. We passed a pond with a still, mirror-like surface, broken only by V-shaped duck trails and the circular impressions that reveal the fish lurking beneath the surface.
We decided to stop in a Hmong village that straddled the main road. The Hmong tribe originated in South China and is dispersed throughout S.E. Asia. A team of women were fashioning brooms from tall grass, which is also used to stuff mattresses and is sold by the kilo. People in the fields carried their cargo in cone-shaped baskets strapped to their backs. Three ranking men from the village approached us and invited us to visit a family home, where we found a young woman in bed with a 2 week-old baby boy. A pack of children followed us into the house. Exploring the village after the brief home visit, we couldn't help but notice how much more impoverished the residents were than the Tai Dam. Sak told us that the government is trying to discourage the slash and burn agriculture that the Hmong practice, as well as the opium growing.
We got out for a rest break in a town along the route and Sak bought tubes of bamboo filled with black sticky rice and topped with dried coconut from a woman sitting on the sidewalk. The women were also selling a white heart-shaped tuber that Sak called manhao. We dug into the rice once we were back on the road. It tasted great, slightly sweet with a gooey texture and purplish hue.
We crossed the Nam Khan, one of the three rivers upon which Luang Prabang is situated. Luang Prabang was the capital of the Lan Xang kingdom during the 14th to 16th Centuries. All of the charm that Vientiane lacks can be found in abundance in Luang Prabang. Due to our late booking we never cleared the waitlist for the Pansea Phouvao and ended up at the Grand Luang Prabang. Although we nabbed a lovely suite on the banks of the Mekong, we wouldn't recommend the hotel. It's a bit far from the action in town, was populated by big Asian tour groups, offered spotty service and served very disappointing food. While strolling through town we spotted a boutique hotel at the end of the main drag called 3 Nagas that looked very charming and has a highly recommended restaurant. We weren't able to view any of the rooms, but we picked up a brochure and they look very nice. They only have 7 rooms, so you probably need to book well in advance, but if we ever return to Luang Prabang, we'd try to stay there. The rates were below what we were paying and we suspect that the experience would be much better. www.3nagas.com
We started our tour the next morning at Wat Visounnarath, built in 1513 and named after the reigning King, where Sak pointed out the 6 standard elements of the monastery: a stupa, which contains relics such as bones or ash, monks quarters, an enclosing wall, the sim - the prayer hall where the monks pray at 4 am and 6 pm every day, the drum tower that is used to summon the monks to prayer and for their daily food collection, and the novices. Novices have to obey 10 precepts, and monks are subject to 337.
Originally constructed of wood, the wat was destroyed in a war with China around 1888 and rebuilt in the Khmer and Lao style of brick and stucco in 1896. Sak told us that 80% of the Buddhists in Laos also believe in Hindu and that 13-14 of the 56 positions of the Buddha can be found in Laos. A large golden Buddha flanked by dozens of smaller statues demonstrated a standard meditation pose. The Buddha is reputed to have 10 incarnations and has embodied 9 of them. A festival is held in March to gain merit towards the appearance of the future Buddha, called Kankanya. Buddhists also follow astrology and we saw representations in the temple that correspond to the 8 animals whose characteristics are assigned to people based on their birth year. Light filtering through the wooden dowels that covered the windows softly back-lit a cluster of standing Buddha statues.
Of the 14 Mekong tribes in Laos, three can be found in the area of Luang Prabang, the Nam Xieung, Nam Khan and Pak Ou. We boarded a covered wooden boat on the Mekong to visit a Pak Ou cave used for worship. The boat captain brought his wife and toddler daughter along for the ride. On the way we disembarked at Ban Xanghai, a village that distills rice whisky and serves as a prime tourist destination. A still and sampling kiosk was set up right on the beach. Sticky rice is fermented for 10 days, then water is added and the mixture is put in the still, producing a smooth and aromatic 90-proof liquor. I enjoyed a couple of sips but we didn't invest in a bottle. Snakes, scorpions and centipedes suspended in some of the bottles intensified the sting of the alcohol.
We climbed up a hill to the village, which is well set up for the tourist trade with vendors hawking trinkets. We bought tasty treats from a couple of squatting women cooking in an iron pan over a charcoal fire - crisp wafers made from potato, coconut milk and sugar called khaokiap and khaonom kok a sweet combination of sticky rice, coconut milk and sugar.
Pak Ou means "mouth of river". We ascended the stairs up a cliff face to the lower level of the cave. King Sensirat brought the first Buddha statue to the cave and devoted worshippers followed suit, eventually cramming thousands of statues into its gaping orifice. The original Prabang Buddha is now safely enshrined in the National Museum. I knelt to offer a few amber sticks of incense before we explored the upper and lower levels of the cave.
The boat dropped us off for lunch at Pha An Mixay Restaurant, a wood and thatched roof pavilion on a bluff overlooking the river, where we feasted on tofu soup, piquant chicken with ginger, tender beef with peppers, chicken in coconut cream sauce and mixed vegetables with rice. It was a sunny, balmy day and we enjoyed the pleasant weather as much as the vista of limestone cliffs along the tranquil river on the ride back to town. Narrow wooden boats resembling bowed hospital stretchers glided down the river and pens of peanut plants sprouted on the banks.
Wat Xiengthong established by King Sethathirat in 1560 was one of the few that was not destroyed by the Chinese during the war. A building housing a grand Buddha statue had bubble-gum pink walls studded with colored glass folk tale illustrations and a series of curvaceous gold Naga carvings projecting from all sides. The entrance was equally ornate with carved gold figures on a scarlet background. The temple complex contained several graceful Lanna style buildings with multi-layered tile roofs and gilded adornments. A hall covered with magnificent gold intricately-carved wood panels depicting scenes from the Ramayana was built for the King's funeral. The splendid decoration extended to the interior where we found a massive gilded wheeled platform used to transport the ashes of the deceased in a huge urn topped with a spire. Smaller urns in front of and behind the main urn held the ashes of the King's mother and brother. Seven fiercly-fanged Naga on the prow protect the precious cargo. Rows of gold Buddha statues draped with saffron scarves filled the rear of the hall.
The temple itself housed a large Buddha in the subduing mara position in a room with round columns painted in red and gold and square black and gold painted columns and a wooden Naga from the 6th C. The temple was built in honor of a merchant who valiantly rowed from Vientiane to Luang Prabang, a 3-month journey. After we finished touring the temple, we strolled around town soaking in the atmosphere. Some youngsters were playing badminton in the street without a net. Sak said that it is a very popular sport in Luang Prabang, though football (soccer) is more commonly played in Vientiane. We saw a woman selling seaweed looked just like green steel wool from a metal bowl. The seaweed is rinsed in water then mixed with pork, ginger, spring onion, garlic and chili powder. It sounded appetizing to us.
Peering up an alley, Sak spied a fellow steaming rice over a black iron cauldron on a wood fire, so we walked over to see. While chatting with him Sak noticed a woman making dinner in her backyard. She was using juniper root, which I'd asked Sak about in the market. He pushed open the gate and entered the yard, telling the woman that he wanted to show us how the juniper root is used. The woman was cooking a traditional Lao stew called lor larm, which also includes eggplant, mushroom, long beans, lemongrass, spring onion, shallots, basil, chili and dill. She showed us how she prepares the juniper root which adds spicy heat to the dish. As we talked she chopped fresh ingredients on a wood block and added them to a pot simmering over a wood fire, explaining each item. She sampled the stew, then grabbed a long wooden spoon and offered us a taste from the pot. It was really good. Meanwhile her teen-aged children loitered in the background eyeing us non-committally. She added some cooked, pureed eggplant and more spice, stirred the pot awhile, then insisted that we try another taste. We agreed that the eggplant improved the mix. After some more chit-chat, we thanked the woman for her hospitality and continued on our way.
Vendors down the road were drying flat rice cakes on tall fences. After drying, the sticky rice will be deep fried in a wok to make puffed rice cakes, which are seasoned only with salt. We headed down to the grassy esplanade running along the Nam Khan River. Cone-shaped fish cages dried under the shade of banana trees and enterprising farmers grew lettuce, maize, cilantro and spring onions along the lower banks. We took an easy trail up Phousi Hill to see a fine panorama of the town, rivers and mountains and a hazy sunset in the company of a horde of other tourists. We stayed in town for dinner, enjoying a light meal and traditional music from a live band at an outdoor café. We especially enjoyed a Lao seaweed appetizer. We spent a little bit of time browsing around the night market before catching the hotel's shuttle back to our residence.
We never tire of Asian produce markets, so we were pleased to start the day with an early morning market visit. We noticed tiny brightly colored baskets on one vendor's stand and couldn't figure out what they'd be used to transport, but it turns out that the locals like to hang them from their rear-view mirrors as a lucky charm - the Lao equivalent of fuzzy dice. Among the many goodies for sale were juniper root, teeny red chilies, tobacco, palm fruit, betelnut with lime, coconuts and, thanks to the French history, baguettes. We found a root similar to ginger called galangal, which was one of the ingredients in the stew we tried the day before. We discovered that the pulp inside rattan can be eaten and that buffalo blood is added to soup. One vendor tipped a bamboo tube and shook some fat white bamboo worms out onto her palm. They're fried and salted before eating.
We hadn't eaten much for breakfast at the hotel so we were happy to sample wares at the market. We skipped the bamboo worms, but really liked the khaonomjok, a crunchy, sweet rice cake fried with sweet onion and chili. We plopped down on a board to watch a woman whip up spring rolls served in a banana leaf. The rice, coconut milk and egg wrapper is sautéed in a pan, then stuffed with a mushroom, spring onion and pork mixture that is cooked up in an aluminum pot, folded, and topped with minced fried garlic. The spring roll, called namkhao, is served hot with a peanut oil and lime sauce. It was divine. As we savored our namkhao, we noticed a European woman dragging her husband over to show him the crazy foreigners eating at the market. We just had enough room left to sample some fried dough confections that reminded us of zeppole, but not the handball-sized dim sum, roasted bananas or fish-on-a-stick.
We joked around with the vendors, shared photos and peered at piles of pork rinds, ripe figs, coconut candy, sausages, pig's feet and jowls, dragonfruit, red and black rice, watercress, fluted, spoon-shaped mushrooms, preserved eggs covered in sawdust and foul-smelling fermented bean curd. We learned that banana flowers can be eaten raw or cooked. Sak told us about the Baci ceremony that is practiced during home visits or weddings. You bring whisky, rice or fruit and tie white string around the wrist of those whom you wish to bless.
We hopped in the car and stopped at a Lao village with wood and bamboo raised houses and loud rock music pouring out of one them. A pair of male turkeys puffed up their feathers in an ostentatious attempt to court a gaggle of aloof females. Huge round rice baskets were capped with manure to keep rats out and a man setting fish out to dry resourcefully used the fishing net as a barrier to the chickens. An elderly monk with black-rimmed glasses leaned over a round wooden table to study.
We also pulled over briefly at a Hmong village that was considerably more prosperous than the one we'd visited en route to Luang Prabang, though still poor no doubt. A group of good-looking girls were hanging out near the entrance, looking after some younger siblings. They were delighted to pose for photos and one even went home to get a hand-crafted doll in tribal dress, which she carried in her portrait. Boys were carving tops and testing the finished products in the dirt.
We reached our destination, the Kuangsi Waterfalls, late morning. There's a small animal sanctuary near the entrance that shelters Asiatic black bears and an endangered tiger. Poachers kill black bears for their gall bladder since its bile is a popular indigenous medicine. There were 3 young bears in uncomfortable-looking concrete enclosures, though they did have some open air romping room. The tiger, a handsome feline named Phet, was one of 3 cubs rescued when its mother was killed, though the other 2 subsequently died.
The waterfalls were beautiful and if it had been warmer, we would have had the opportunity to swim in one of the designated areas. We hiked around for awhile to appreciate them from different perspectives, then settled at a park bench with an excellent view of the falls to enjoy the picnic lunch that Sak had arranged for us. Bright yellow parakeets vocalized in the trees around us as we ate, but they must have been speaking Lao because we didn't recognize any words. On our drive back towards town we noticed people wearing sloped hats similar to those in Viet Nam, but they were made of bamboo and structured a bit differently.
Just beyond our hotel on the same road is a small weaver's village that we went to see. A handsome young woman with a thick braid wearing a flower-patterned skirt was weaving silk cloth. Her exquisite 6-year-old daughter hovered near us during our visit but wouldn't speak or smile despite our best efforts to engage her. She didn't even react upon seeing her photo, which usually brings smiles even to the most reserved children. As we continued through the village the weaver's daughter followed us until we left, even when we entered other homes. She maintained a slight distance and never spoke. We were haunted by her melancholy and still can't stop wondering why she was so sad.
We made a quick stop to freshen up at the hotel and the driver dropped us in town. We had a few hours to browse around the shops and found the Mixay boutique with wonderful black and white photo cards of the Lao people and lovely silk items. I ended up buying a pretty silver gray silk pants and tunic set. We also discovered a jewelry shop called Max Discovery where the French owner, Ghislaine, fashions attractive creations from a variety of semi-precious stones. We chose a gift for Stu's sister and got into an interesting discussion with her about Laos, love and her business. She seemed very impressed by how close we are and when we left she held out a bowl of small crystals and insisted that I choose one, so I took a small crystal heart, which she thought was most fitting. She invited us to come back and read on her porch any time (she has a selection of books in the store). Unfortunately we were leaving the next day and never had the opportunity to return. We had a good dinner in town at a busy restaurant on the main road and spent a little time at the night market before walking back to our hotel.
We couldn't work out an arrangement with our driver, so we booked a trip with the hotel to go to town the next morning and offer food to the monks. We'd done this in Lampang, Thailand and wanted to repeat the experience. We left the hotel around 6:30 am armed with a couple baskets of rice and a mat to sit on. The driver took us to a street corner where we settled on the mat and waited. After some time, the monks arrived in a long procession, the eldest at the front and the youngest bringing up the rear. They offered their alms bowls and we scooped some rice into them. Some of the bowls were covered with an orange net the color of their robes. Unlike Lampang, the monks did not chant a blessing which made the experience somewhat less special than our earlier one.
Sak and the driver picked us up at the hotel after we'd checked out and took us to the National Museum, housed in the former Royal Palace. The most interesting piece in the museum is the Prabang Buddha, made in Sri Lanka of gold, silver and bronze and weighing 54 kg. (about 120 lbs.) It's poorly displayed in a dimly lit room behind a metal gate while it awaits completion of its new home, a lovely gilded temple within the museum compound. We made one final stop in Laos at a silversmith shop before heading to the airport for our flight to Myanmar.
Myanmar
When we entered the arrivals area of the Yangon airport, we took our place at the end of a long line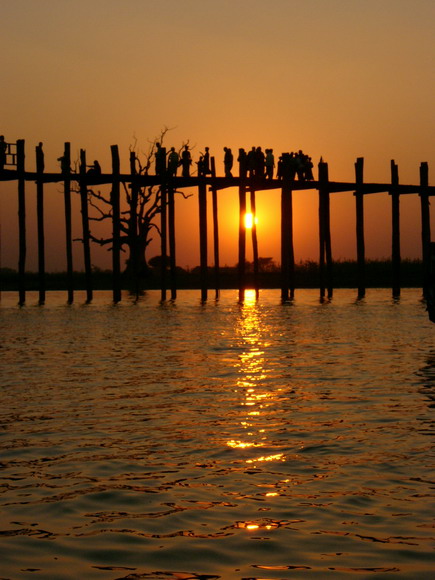 to obtain an entry visa. Within moments a wiry, energetic representative of our travel agency grabbed our documentation, gave us customs forms to fill out and told us to wait on the side. He entered an official-looking office and returned about 10 minutes later with our visas. He then whisked us past the kiosk where tourists are obliged to exchange $200 into the government currency, hustled us through customs and in less than 15 minutes we were greeting our guide, San, and our driver.
San (pronounced Sun) is a tall, thin young man with straight, chin-length black hair, elegantly attired in a longyi and crisp short-sleeved white shirt. The longyi is a wide woven tube of colorfully patterned fabric worn by both men and women. It is wrapped around the lower body and secured with a knot, men in front and women at the side. It generally falls to just above the ankles. On official occasions men wear handsome silk jackets with their longyi. When we'd gotten to know San quite a bit better we found out what men wear beneath their longyi (usually what the Scots are reputed to wear beneath their kilts). He also demonstrated how to wrap the longyi up to create shorts, useful when you're playing sports.
As we drove to our hotel, San gave us the rundown on the city - population of 5 million, including the suburbs, in a country with about 50 million citizens. Not as sparsely populated as Laos but still under populated compared to most Asian nations considering its size. About 89% of the population practices Theravada Buddhism, the most prevalent branch in S.E. Asia. He told us that Rangoon was the colonial name assigned by the British and that Yangon was the original, meaning active and strong. Shwedagon, the enormous gilded stupa that is the city's most familiar landmark, is estimated to be covered with over 60 tons of gold leaf.
We'd skipped the meal on the plane to save our appetites for dinner at the Pansea, a former governor's residence converted into a plush hotel. San got us settled in, provided information about the next day's itinerary, and left us to finish check-in with the lovely young women at reception. We exchanged some traveler's checks for kyat (pronounced chat), the local currency, not the dreaded government notes. The hotel perfectly captured the sultry ambience of old-time Yangon with 2-story wooden latticed buildings, lush tropical gardens and sleek Asian-style rooms that evoke a bygone era. We unpacked a few necessities and cleaned up quickly for dinner since it was already about 9 pm. I decided to wear the flowing silk outfit that I'd bought in Luang Prabang. It happened to be our wedding anniversary (#18), and we thought that Yangon was an ideal place to celebrate.
The hostess lead us to a table in the garden, romantically lit by a hurricane lamp on the table and tall iron candelabras with stout white candles dripping wax. Wagon-wheel sized parasols laid on their sides and backlit were scattered across the lawn, subtly glowing like Chinese lanterns. A soothing waterfall whispered in the background. The meal exceeded our expectations. We started with the chef's amuse-bouche and tasty appetizers, then Stu savored expertly cooked melt-in-your mouth chicken in a creamy but tangy sauce and I dismantled a tender lobster while doing my valiant best to knock off a bottle of good champagne. I didn't succeed, but was extremely happy nonetheless. Service was a tad amateurish, but the staff was friendly and well-meaning and we were too blissed-out to care.
The next morning we loaded our gear into a comfortable sedan and headed out on the road to Kyaikhtiyo (bet you thought I was going to say "the road to Mandalay") to visit the holiest shrine in the country - The Golden Rock Pagoda. The long drive took us through rural areas and small towns, affording us a glimpse of people's daily activities. We were surprised to see that the monks wore crimson robes, like the Mahayana sect in Tibet and Bhutan, instead of the saffron robes more common to the Theravada Buddhists in other S.E. Asian countries. We saw some collecting food in their alms bowls, and others shading themselves with ace-of-spade-shaped palm fans dyed crimson to match their garment. Women, and both male and female children, powdered their faces with a thick straw-colored paste called Thanakha, ground from the bark and roots of the same-named tree, for sun protection and to project the illusion of lighter skin, which is highly valued by women in this culture. Usually the paste was applied in circular blotches, though some women imprinted the shape of leaves or other delicate patterns on their cheeks and sometimes foreheads.
The landscape became progressively more mountainous with small stupas dotting the hillsides. We were obliged to disembark at a lively truck stop, and were immediately mobbed by entrepreneurial children introducing themselves and hawking fruit. Porters stuffed visitors' belongings into tall cone-shaped bamboo baskets slung on their backs. Women approached the trucks with food on flat trays balanced on their heads. Stacks of flaxen straw resembled giant loaves of bread. Residents of the town inhabited bamboo huts with thatched roofs. Locals and visitors alike piled into the open beds of burly pick-up trucks, equipped only with 2 narrow wooden benches along the sides. Most stood up, jammed together like Japanese bullet train commuters. San negotiated with a truck driver and scored us a place in the cab of a truck, where we squeezed into the seat beside the driver. San wormed into the tight space behind the front seats with a middle-aged Myanmar woman. As we wound our way higher up the mountain, the road got narrower to the point where traffic was one-way only and we were held while a conga line of vehicles descended. Bumping and jostling over the rough road was uncomfortable enough on a padded seat, we can't imagine how it must have felt on those hard benches, or standing in the steel bed.
The trucks can't continue all of the way to the hotel or to the temple, so we disembarked and ascended to the Golden Rock Hotel. Men, whose slight builds belied their tensile strength, lounged around with their cohorts on sedan chairs that can be hired to transport less stalwart visitors up the hill to the holy site. The chairs are constructed of thick bamboo poles with wooden folding seats on top.
We arrived just in time for lunch, taking advantage of the mild, sunny climate at an outdoor table on a patio with an expansive view of fields and mountains. We enjoyed dishes of fish, chicken and mustard greens with rice. I'd read complaints about the native food in Myanmar, but we thought it was quite good, particularly the fresh vegetables; better than the simple fare in Bhutan, though not as interesting as that of Laos or Vietnam, and not comparable to the sophisticated cuisine of China, Japan and Thailand. San joined us for lunch but ate only rice and vegetables. He told us that he was abstaining from meat and alcohol for a couple of weeks in honor of his impending wedding. His in-laws have been trying to convince him to cut his hair for the occasion, but he's reluctant to part with his tresses. Unlike Sylasak, our guide in Laos who grew up in a poor hill tribe village and was educated at the monastery, San's parents are both lawyers employed by the government and he apparently grew up in comfortable circumstances, is well educated and considerably more sophisticated. His command of English is excellent and we could follow his narratives far better than we understood Sak, though Sak more than compensated with his warmth and generosity. San served a short time in the monastery as a novice, which confers status on his family.
Our room, in one of a cluster of wooden bungalows, was basic but quite comfortable. We had some time to sit on a patio outside our room soaking up some sun and reading before we headed off to view the main attraction. As we ascended to the temple grounds, we passed vendors selling herbs and other indigenous medicines, drinks, food and handicrafts for tourists. Barefoot women and girls laden with huge plastic containers of water ran by, sure-footed as mountain goats on the steep, rocky path. A woman was frying up mashed beans in a wok by the side of the road and San bought a bagful to nosh on. He offered us a taste and we liked it so much that we bought some as well. They tasted like fried chickpeas, crunchy and light - they were hard to stop eating, but we forced ourselves to tuck away half a bag for the walk back.
The Golden Rock is a large boulder miraculously suspended over the edge of a vertical cliff that does not fall. It is reputed to be anchored by a single hair of the Buddha and has withstood earthquakes without budging. Devotees have layered it with countless pounds of gold leaf and topped it with a gilded stupa that supposedly contains the blessed hair. It's an amazing sight. Bells are suspended from the iron railings surrounding the prayer enclosures, rung by disciples to proclaim the merit they've gained. Incense is burned in 3-legged pots and niches are carved in the walls for burning candles. Penitents can borrow prayer beads left hanging from the railings. The 108 beads symbolize the 108 auspicious signs of the Buddha. Only men are allowed near the holy rock and to touch it, so women have their own viewing and devotional area. From certain angles a narrow strip of light shining beneath it proves that it is not attached to the ground.
We expected to find just the rock shrine itself and were unprepared for the elaborate complex built up around it. Not to diminish the heartfelt devotion that the site inspires, but it had the festive feel of a religious theme park. It was obvious that young people come to socialize as well as pray. One road was lined with restaurants, shops and street vendors. Women served up big, round saffron-flavored rice cakes, fried prawn cakes, and roasted stacks of corn-on-the-cob in iron woks over charcoal. Nuns roved the grounds, bald as condors, with pink or peach colored robes over darker colored longyi.
A colorfully decorated pavilion sheltered statues of the guardian spirits, who help people in this life to attain health, wealth, long life, etc. and receive bountiful baskets of fruit and other offerings to petition their aid. San related some interesting tales involving the spirits. After we'd covered the grounds, we sat around people-watching while awaiting the sunset. San confided that a klatch of giggling teenage girls watching us were trying to get up the nerve to ask me to pose in a photo with them. They shyly disappeared before I could go over and offer to join them. The glorious sight of the Golden Rock kissed by the setting sun was worth the wait. We descended briskly to the hotel as the ambient light dimmed and temperature dropped, amused by a band of teen boys cranking up Myanmar rap music on a boom box. We can confirm that rap sounds just as lame in the Myanmar tongue as in any other language and, try as we might, we couldn't figure out the local vernacular for 'ho.
The next morning as we made our way down to the truck stop to catch a ride, we encountered a willowy woman carrying an enormous basket of yellow and white flowers on her head. She struck a pose for us, smiling broadly all the time, and asked only for a copy of the print. We sent a couple off to San after we got home, but have no idea if he was able to deliver them. San wangled cab seats for us again in the truck, (our backsides are eternally grateful) and we transferred to our car for the ride back to Yangon.
The fields along the road harbored the usual suspects - water buffalo, zebu, ducks, cows and pigs, as well as big-beaked blue kingfishers and tiny green parakeets strung along the electric lines like bright Christmas bulbs. Farmers toiling in the fields shaded their faces and necks with another variation of the Vietnamese cone-shaped hats, a brimmed variety made of bamboo.
When we arrived in Bago, we headed straight to the Kyakhat Wine Monastery to watch the monks parade back from collecting food and gather around low round tables in the vast dining hall for their daily meal. Rice was served from enormous silver-painted vats. It was a stirring sight marred only by the busloads of other tourists jockeying for better viewing positions. We wonder if the monks gain some special merit by refraining from decking the louts who shove cameras in their faces, blinding them with their flashes.
We didn't see many other visitors when we toured other parts of the monastery, which serves as a renowned university. We saw monks in the exam hall reciting text while pacing the long room. Every time a monk passes another exam, a new title is appended to his name, so that long names are generally associated with higher education.
From the monastery we drove to Shwemawdaw Pagoda, which boasts the highest stupa in the country at 356 feet. Stupas are re-gilded every few years and we unfortunately visited during a year when many of the most magnificent ones were covered with scaffolding. The cylindrical stupa was built by a Mon ruler in the style of that kingdom during the 10th C, rebuilt in the 15th and again in the 1950's to repair damage done during World War II.
There are 4 grand entrances to the pagoda, each with an imposing Buddha statue in a gilded pavilion. Persimmon trees provided shade throughout the compound, which is fitting since a paste made from the fruit of the tree is used in the manufacture of bamboo and Shan paper umbrellas in the Shan state. A gang of students from the government school dressed in dark green longyi and white tailored shirts horsed around on the temple grounds. We came upon two old sisters from the Pa Laung tribe, visiting the pagoda with their daughters, nuns studying in the city. They wore beautiful tribal attire, featuring long black and red headdresses, woven print longyi, slate blue with scarlet bands on the bottom, short jackets, one black and one purple both with red piping, and leggings. Married women wear rattan and silver rings around their waists due to a local tradition involving a legend about a wife who tried to escape her husband in the river and was caught by the rings around her waist. The Pa Laung are famous for the tea grown in the mountains where they live. We sat and spoke with the women and their daughters for awhile before finishing our tour of the pagoda.
San explained the iconography of some of the Budda paintings - for example, the peacock and rabbit flanking the image of Buddha represent the sun and the moon respectively. The peacock was the national symbol of Myanmar until the 17th C. For lunch, San took us to Han Tar Waddy, a good restaurant named after a legendary bird. We got there just before a few tour buses pulled up and San snagged us the only outdoor table on a second story balcony. Horse cart taxis lined up outside the restaurant offering rides, but we had the car. This is the first place that we noticed the bike taxis with their vividly painted wooden sidecars - a clever idea that we've never seen anywhere else. They're all over the country, even plying the busy roads in Yangon.
We headed off to the Shwe Tha Lyaung, a reclining Buddha 180 ft. long, built in the mid-15th C by the Mon King, Migadekpa. Hidden by vegetation for centuries, it was discovered in 1890 by a Hindu contractor building a railroad. He poached bricks from the statue, but did not report his find. Draped in a golden robe and wearing a bejeweled crown, the white-skinned deity rested on stacks of glittering boxes smiling beatifically. Worshippers are supposed to bow 3 times and ring a bell 3 times symbolizing respect to Buddha, his teachers and his followers. Before leaving Bago, we stopped to see 4 tall sitting Buddha statues, each commanding one side of a square building that was built by King Kyeik Pun. Composed of brick, colored glass ornamented their nails, headbands and the edges of their gold-painted robes.
We arrived back in Yangon with enough time for a short tour of the downtown area. The bell-shaped Sule Pagoda sits smack in the middle of a traffic circle surrounded by colonial styled official buildings, such as the yellow town hall with its Myanmar-style roof, brick-red and yellow striped immigration hall and the most elegant, the high court, brick and cream-colored with a handsome clock tower. Street vendors sold books, food, sandals, purses and other sundries. Four young monks browsed a wide selection of music CDs. San showed us the Strand, a 5-star boutique hotel that we'd considered trying. It was very tasteful and elegant, but seemed more like Britain than Myanmar. We also didn't like its location on a busy street downtown and were glad that we'd chosen the more charismatic Pansea instead. San told us that he and his fiancée planned to host their wedding reception at the Strand. We took a walk down to a busy dock on the Yangon River, a tributary of the Ayerwaddy. This was clearly a rough place and as we watched workers loading disreputable looking scows, a fistfight broke out between 2 longshoremen. An excited crowd gathered to get a closer look while San ushered us to safety away from the fracas. We returned to the Pansea for the night, dining there again.
The next day we took a flight on Yangon Air to Heho in the Shan state. The simple family-run hole-in-the-wall where San planned to have lunch had run out of food, so we drove to Inle, a pretty town built on a lake canal, where cows and water buffalo are as common as bikes and motor scooters on its dirt lanes. We had an excellent lunch of tofu and cabbage soup, lake fish with vegetables in red sauce and chicken with cashews at Hu Pin Restaurant. The restaurant is owned by an obese Chinaman and run by his family. According to town legend, the owner tried to board a plane a few years back and was unable to fit through the door, and so has been confined to town, and largely his home, ever since. The members of his family are such proficient cooks that we can understand why he overindulges. They all look as if they enjoy their own food quite a lot, though most of them could fit through plane doors.
After lunch San arranged passage on a narrow wooden motorboat to our hotel on the banks of the beautiful lake for which the town was named. San taught us that In means lake (so saying Inle Lake is redundant) and Le means 4, denoting the four villages on the lake. The people, who live in bamboo houses on stilts along the lake canals, are known as the In Tha or Lake People. Our flight schedule had been changed and we were disappointed to arrive in the afternoon instead of in the morning as we'd originally expected. After having spent some time there, we really wished we'd had the extra time, since Inle is among the most charming places we visited, reminding us of the gorgeous Lake Titicaca on the borders of Peru and Bolivia.
We glided along canals bordered by tall grass and the charming local residences until we reached the lake itself and then our hotel. The Inle Princess is handsomely constructed in native style with a main dining building featuring 3 A-shaped tiered roofs and a collection of slope-roofed bungalows spread out among well-tended gardens. Two young men from the hotel, wearing elegant black trousers that tie in front like longyi and tunics with red woven sashes, greeted us with hot towels and showed us around the grounds. We'd booked a bungalow with a terrace on stilts over the water and a splendid view of the lake. The room was cleverly laid out and furnished with a comfortable sitting area and large bed dressed with indigenous fabrics. The sink and vanity, situated on a platform just behind the headboard of the bed, were created using a small replica of the wooden stretcher-shaped boats common in the country. The lodgings wonderfully conveyed both a modern and traditional Myanmar ambience.
We still had some daylight, so we took a boat out on the lake. Straw-hatted men and women paddled by in narrow wooden boats laden with grass, flowers or other cargo. We weren't out more than 10 minutes before spotting our first fisherman. The In Tha are renowned for their unusual habit of rowing their boats with their legs. San explained that the whole lake used to be covered with a thick blanket of vegetation, so people were obliged to stand up in their boats in order to navigate, thereby developing this skill. Watching the young fisherman, we realized that it's also easier to manage a fishing net with both hands when you're steering and propelling the boat with your leg. He stood at the bow, the sole of his foot on the paddle, the long handle tucked under his knee extending over his shin and nudging the back of his thigh, as he adeptly stroked the water while gathering in his finely-woven net. We saw many more fishermen during our stay, and it was obvious that some gain additional revenue by demonstrating leg-rowing and net-gathering techniques for tourists, though our first leg-rower was clearly just going about his business and was not interested in putting on a show.
We particularly liked the local bamboo houses, balanced on stilts over the water, many of which had floating gardens anchored by bamboo poles to grow vegetables such as tomatoes and cabbage. Boats were berthed under the house in watery garages. Boat racing is a popular pastime and the most colorful races occur during the festivals in September and October. We watched a gorgeous sunset from our bungalow terrace and enjoyed a lovely dinner at the hotel. Our server was a delightful young regional woman named Phyu Phyu. The restaurant wasn't terribly busy so she had time to chat with us about her family and life in the Shan state. We had many more opportunities to speak with her during our stay and we believe that she grew as fond of us as we were of her since she often sought us out.
The next morning we had a delicious breakfast on the restaurant's outside deck that included the most heavenly home-made tomato and orange jams. We watched industrious villagers emerge from a mysterious sheath of low-lying fog as they silently traversed the still waters.
We boarded a small wooden boat and headed off to see the ruins at In Dein. One of the more enterprising leg-rowing fishermen demonstrated how to deploy the cone-shaped bamboo traps lined with net to capture lake fish. We quit the lake and cruised up river to the banks of a small village where enterprising craftspeople had set up stands to hawk jewelry, hats and other tourist items. A man wearing only a longyi wrapped up like billowy bathing trunks washed down a brawny water buffalo while his wife and naked son splashed in the clear shallow water along the pebbled shore.
An easy stroll along dirt paths brought us to In Dein, a collection of 17th - 18th C brick and stucco stupas embellished with carvings of guardian spirits. The Shan style most resembles Thai stupas, the shape borrowed from the top of a Banyan tree leaf. While admiring the cluster of eroded stupas, we encountered four pretty girls from the Pa O tribe, attractively attired in black costumes with black and red checked headdresses. They had walked for 3 hours from their village in order to collect bamboo straw to be used in house and hat construction. They giggled excitedly over the Polaroid photos that I gave them and their lovely images captured in Stu's digital camera, but sadly failed to acknowledge their own beauty, pointing out my pale skin as the female ideal. We wonder what they'd make of fair-skinned Westerners baking in the sun or tanning beds to achieve a skin tone like theirs.
The main temple featured paintings of famous temples in Myanmar and Sri Lanka and a Buddha in an ornate niche decorated with silver and colored glass. A gold Buddha statue in the subduing mara position rested the long fingers of his right hand on a small elephant figure. San postulated that the elephant might be due to the Hindu influence that represents gods in animal form, or a statement about God's superiority to animals, or perhaps due to the deterioration of sculptor's skills, requiring them to fashion rests for the weight of the hanging appendages. San pointed out that in older sculptures, earlobes and fingers are suspended, but in more recent works, weighty lobes rest on shoulders and fingers on some object.
As we floated down river back to the lake, we spotted the Pa O girls waving enthusiastically to us from the shore as they continued on their long journey. Back on the lake, we peered into a high-ceilinged enclosure that shelters a golden barge used to transport the Buddha statue during festivals and boat races. Near the barge garage we disembarked to visit Inle Phaung Daw Oo, a temple with five very holy Buddha statues dating to the 13th C. Worshippers have covered the statues with so much gold leaf that they look just like lumpy gold nuggets in their silver receptacles. You can't distinguish any of the form or features of the statues themselves. During the most important religious festival, 4 of the statues travel for 7 days from village to village before returning to the temple. The 5th statue, representing the future Buddha remains in the temple as its guardian. According to a local legend, the barge carrying all 5 of the Buddha statues once sunk and only 4 of the statues were recovered from the lake. When the rescue team returned to the temple they found the 5th in its usual place.
We crossed to Inn Thar Lay restaurant opposite the temple and had a good meal with a fine view of the lake. We spent the afternoon visiting local artisans - silk weavers and old-fashioned blacksmiths. Our last stop was at Nga Pag Chaung, a.k.a. the Jumping Cat Monastery. Although it features some exquisite marble statues on intricately carved chedi-shaped metal thrones, it is most renowned for its cats. The monks have trained them to jump through hoops in exchange for kibble treats. The monks schedule regular performances for visitors in order to solicit small donations for the monastery. It's more amusing than you might imagine.
That evening the hotel staged a dance performance for a Belgian business group from a high-tech company. Many in the group, engaged in conversations, didn't take much interest. We were pleased with the opportunity to appreciate some of the local folk dances, which featured vivid costumes, some representing animals, and acrobatic movement. One young man captured the audience's attention with an enthralling fire dance. Outside a fair was set up with food stands, vendors hawking spices, handicrafts and jewelry, booths with carnie games and a puppet show. One of the amusing decorative accents in the hotel restrooms were expressive wooden puppets holding the rolls of toilet paper.
The next morning we said good-bye to Phyu Phyu and took our last boat ride across the lake and down the canals to Inle town. On the way we disembarked at a late 19th C wooden monastery perched on pylons named Shine Yan Papay. A young monk lounged in the large oval window as we shed our shoes before entering. The head monk was teaching a lesson to a room full of novices seated on the floor. As austere as the monks quarters were, the temple was opulent, with blinding white-washed walls and a golden stupa resplendent in the sun. Hundreds of ceramic Buddha statues adorned niches carved in the walls lining the corridors outside and within. Some red-painted rooms were decorated with cloisonné figures illustrating religious themes. One particularly beautiful marble Buddha wore a gilded crown and costume studded with semi-precious stones.
We docked in town and hopped in a car for a scenic drive through the Shan countryside to Pindaya, site of the Shwe Oo Min Pagoda, a limestone cave with about 8,000 gilded Buddha statues. We first caught a glimpse of it from across the river high upon a cliff. Scores of white stupas studded the hillside that we ascended in a modern glass elevator. Diagrams of religious teachings were painted on the walls of the entrance and a small team of monks led prayers from a platform decorated with carved, gilded panels. We climbed a steep staircase and were awestruck as we caught our first glimpse of the mystically lit interior. Thousands of exquisite statues clustered around a tall gilded stupa, covering every surface of the cave with sparkling splendor. The first statue was placed here in 1716 and worshippers regularly contributed more and more. We explored the main chamber then continued into farther reaches dripping with moisture and stalactites.
We drove to a workshop next where a young family was hand crafting umbrellas of bamboo, Indian trumpet root and mulberry paper. When we entered the sunlit shop a proficient young man was fashioning the wooden piece used to open and close the canopy and anchor the spokes on a lathe. When the piece was properly shaped, he grabbed a hand saw to demonstrate how to carve the grooves. Round clay pots contained purplish paste drawn from persimmon trees like those we saw on the grounds of Shwemawdaw Pagoda. A young woman wearing a tailored pink shirt attached the home-made paper to the frame with this glue.
We drove to a pleasant open-air restaurant called Memento for a tasty lunch before heading out to the airport to board a flight to Mandalay. With a population of 3.5 million, Mandalay is much more modern and developed than its romantic reputation leads you to expect. The Sedona is a standard Western-style business hotel with the usual amenities. We'd arranged for a room with an unobstructed view across the grounds of the rebuilt palace (the original teak palace complex from mid-1800 was completely destroyed during WWII), its wide, impressive moat and Mandalay Hill in the background.
We started the day at the King Galon Gold Leaf Workshop where we learned the fascinating process of making gold leaf. A coin sized piece of gold is flattened into a ribbon, after which muscular young men pound small sections of the ribbon with heavy mallets for about 30 minutes. These squares are cut into 6 square pieces and beat for another 30 minutes, then finished off with 5 hours of hammering until the gold is wafer-thin. Bamboo is soaked in lime for 3 years to soften it into pulp. The pulp is spread out and dried on panels, then pummeled on brass plates with Pa Shu Pin clubs to make the paper onto which the gold leaf is stuck. Worshippers peel the delicate gold slivers off the paper and stick it onto holy stupas and statues to gain merit.
Now that we understood the laborious process that produces gold leaf, we were even more impressed at the temple we visited next. The Mahamuni Buddha is among the most revered relics in the whole country. The handsome bronze statue, topped with a solid gold bejeweled crown, stands about 13 feet tall. Its body is covered with more than 2 tons of gold, precious stones and jewelry donated by the faithful. Only the face and crown are not permitted to be gilded and the face is washed and polished in a daily ceremony. The Buddha was brought to Mandalay about 1784 and housed in a spectacular temple with intricately carved inscribed red tile columns, arches and ceilings with carved gold florettes, and crystal chandeliers. Women are not permitted to enter the inner sanctuary where the statue resides, so San left me in a prime viewing spot on the perimeter and brought Stu in to see the Buddha up close. Outside the temple, an old man in a cloche hat ignited pots of fragrant incense on an iron scrollwork stand while women balanced round bamboo platters piled with peanuts and other snack food on their heads. Bronze statues of lions, elephants and a ruler from Angkor Wat that had been brought to Myanmar by Thai King Bayinaungkyaw in 1563 AD were displayed in pavilions on the temple grounds along with a tall peach and yellow drum tower and a stand of weighty brass bells.
As we drove through town we noticed what looked like a festival and asked San about it. He excitedly advised us that it was a novitiate party celebrating the initiation of boys and girls into the monastery that evening. We checked our shoes outside the elaborate gilded portal through which San lead us. The interior was a riot of color, music and celebration. The hosts hastened to welcome us, pressing white flowers into our hands and inviting us to sit and eat. San declined the food on our behalf and we offered congratulations to the proud parents of the children being initiated.
The novitiates were clothed in white satin robes embellished with gold embroidery. The boys wore richly beaded headbands with a teardrop shaped flap rising from the back of their heads like a peacock's tail and jewel studs in both ears. The girls balanced tall flame-shaped beaded crowns reminiscent of stupa pinnacles on their delicate heads. Boys and girls alike wore gold necklaces with gems and make-up on their faces. Having children in the monastery confers a great deal of prestige and merit on their families, but it is not cheap. The parents must donate a variety of practical gifts including large sacks of rice, cooking oil, kitchen utensils, towels and toiletries. Rich families may sometimes sponsor poor children, contributing the necessary articles on their behalf.
Musicians, enclosed behind low, handsomely carved screens, played traditional music, while the celebrants ate and socialized. Most of the novitiates were very young and ran around boisterously playing like any children their age. We were soon surrounded by a curious throng. San confided that the more people come to the party, the bigger success it is for the parents and the presence of foreigners would be especially esteemed. One outgoing boy took a liking to Stu and followed him around, playfully boxing and showing off martial arts moves.
The party would last all day and in the evening the novitiates will parade to the monastery, circle it three times and enter to have their hair shorn. The hair is collected in a white cloth and presented to the parents who each hold an end. We stayed a little while to chat and play with the children, then continued to the monastery, Ma Ha Gan Da Yon, which also serves as a university. We arrived in time to see the daily procession of monks, nuns and novices, cradling their alms bowls after the morning food collection, returning for lunch. Tourists lined the streets to observe the ritual and snap photos.
The crowds headed back to their buses and we took a quiet tour of the monastery. The monk who founded this school was a renowned teacher and writer whose texts are used in schools throughout the nation. His spartan quarters are preserved as a memorial. Food simmered in woks and pots as large as bathtubs in the open-air kitchen where crates of tomatoes and gourds and huge vats of spices are stored. We stopped briefly at a silk weaving factory where young women fashioned longyi for special occasions, such as weddings. Many had stuck celebrity photos on their looms to moon over as they worked.
It was time to explore the remnants of the ancient kingdoms, so we headed first to Sagaing. Atop a hill with panoramic views of modern Mandalay and the Ayerwaddy River, Oo Min Thong Se temple features 45 white-skinned painted Buddha statues representing the 45 years of the holy man's life as the Buddha (here it is believed that Prince Siddhartha became Buddha at age 35 and lived to the age of 80). The statues lined the interior wall of an elegant, single-story, semi-circular white-washed building with gold and green embellishments on the roof and the row of pointed arches on the exterior, and a stunning gallery decorated with seafoam green shimmering glass tiles on the walls and pale yellow, blue, green, white and black patterned floors within. A resplendent halo of blue, copper and green glass outlined in red gleamed on the wall behind each Buddha's finely-featured head. A young couple prayed at the altar where the gold-robed Buddha sat on an intricately carved throne and a small pale gray wishing stone promises a glimpse of the future. This was one of our favorites of the many beautiful temples that we visited.
We continued to the top of Sagaing Hill where we found another lovely temple and a good view of the 400 or so pagodas clinging to its slopes. Most are monasteries or meditation centers where the retired elderly come to contemplate their faith. In the distance we spied Kaung Hmu Taw Pagoda, a white breast-shaped stupa that is reputed to be a tribute to the deceased wife of a Burmese king. We took a break for a fine lunch at the Silver Sky Restaurant.
After eating we visited a family-run silversmith shop where the craftsmen demonstrated the technique for creating repoussee designs on metal with hammer and chisels. Silver in Myanmar is remarkably pure, consisting of 95% silver and about 5% copper for hardness. The silver is cleaned by bathing it in a solution made by soaking a native tree bean in water.
We hopped in a small wooden ferry to In Wa (also known as Ava), capital of Myanmar at various times during the 14th to mid 19th centuries, located on an island at the confluence of the Ayerwaddy and Myint Nge rivers. Though the grand wooden palace is long gone, rice is now cultivated in trenches that once served as the palace moat. Visitors generally hire horse carts to travel on the tamarind tree-lined dirt lanes, so we settled onto the plank benches of a small cart with wooden-spoke wheels and set out to explore the ruins at Madana Simee, a temple site built at the end of the 18th C. Rugged exposed brick stupas, some round, some square, graced with large concrete Buddha statues were spread out on a peaceful site surrounded by fertile fields of corn and sunflowers and groves of towering palm trees. Like Ta Prohm in Cambodia, trees and vines have begun reclaiming the site, clambering up walls and wrapping their grasping roots around the crumbling monuments.
Ancient Bagaya Monastery, constructed of teak magnificently carved with apsara, faithful pilgrims, birds, animals, flowers and ornate decorative figures, is still occupied, even though the wood floorboards are loose in places, worn smooth from use and perforated with holes. We stumbled upon a monk catching 40 winks on the floor in a study hall shrouded in his saffron robe and the head monk monitoring a novice as he chanted his lesson. Donations are used to sponsor the teaching of poor children from local villages, so we left some money with the head monk.
Nan Myint, a 27 meter (~90-ft.) high watchtower is all that survives from an ancient palace of King Bagdiyaw. We climbed the yellow leaning tower for a view of the island and river. We continued on to an unattractive brick and yellow stucco monastery built by the same king for the royal abbot of his chief Queen in 1822 and named for her - Maha Aung Mye Bon Zan. San related a tale of bloody royal intrigue worthy of any modern soap opera and recommended a book titled "The Lacquer Lady" for the details.
We finished our tour in Amarapura at U Bein Bridge, built with teak from buildings in Sagaing and In Wa, including the former royal palace on In Wa. Started in 1849 and opened around 1851, with a span of ¾ of a mile propped up on over a thousand sturdy log posts, it is the longest teak bridge in the world. When researching the trip, we weren't terribly keen to visit the bridge, but that would have been a mistake. It was a very special experience. The bridge is a key thoroughfare for locals and as we trod its plain planks, we observed scenes of eloquent beauty illumined by the mellow rays of the setting sun. Farmers enjoying the comfort of a reclining chair after a hard day in the fields, vendors sautéing bright red crustaceans in iron skillets, fisherman hauling home the day's catch, monk posses idly meandering, women balancing baskets of goods on their heads and a flotilla of primary-colored hot air balloons dipping low for a closer look. After walking about half-way across the bridge, we descended into fields of corn and tomato and picked our way to the banks of the lake (Taung-tha-man) where we boarded an oval-shaped wooden boat with a curved, painted prow and double fins protruding from the stern. The driver paddled slowly around the lake so we could enjoy the floating ducks and procession of bridge-crossers, then stopped in a prime spot to watch the sun set with a blaze of color behind the black silhouetted bridge. We stopped at the hotel to freshen up and joined San for dinner at an outdoor table at "A Little Bit of Mandalay", a tourist restaurant with very good food and a pleasant atmosphere.
We started the day with visits to local crafts shops, first marble stone-carving, where we dodged plumes of stone dust scattered by the artisan's power tools. The statues were mainly Buddha and lions for temples, many of which are exported to China. Men carve the enormous slabs of stone and women polish it to a sleek luster. Next we admired the painstaking skill of young women embroidering wall hangings, pillowcases and other decorative articles and watched craftspeople carving intricate wood doors, screens and panels, and assembling the popular traditional wooden marionettes. We especially admired an articulated gold steed mounted by a ferocious looking demon.
In an outdoor workshop a bit further down the road we had the opportunity to learn the method of crafting bronze statues. A clay form of the subject is molded by hand based on a photo or other replica, a wax layer is applied to which more detail is added, followed by more clay. The mold is turned upside down in a hole in the ground and molten bronze is poured into it to create the hollow statue. The wax vaporizes via breathing holes during the process.
Next we boarded a large double-decker boat, leased for us alone, for a leisurely 11 km trip on the Ayerwaddy to Mingun. Men fishing from pole-powered canoes, rafts piled with bales of straw and dilapidated motor boats plied the tranquil waterway. As we pulled close to shore, we approached a similar sized vessel packed with young locals, who vigorously waved and shouted greetings. We disembarked and strolled through a commercial area set up for visitors with souvenir shops, food stands and shady benches beneath the trees. Local merchants transported their wares in rattan-roofed ox-carts powered by dual hump-backed bull engines. As at the Golden Rock, many of the tourists at the site were natives discovering their heritage along with a smattering of foreign visitors.
In the late 18th C, King Bodawpaya began building what would have been the largest stupa in the world had an earthquake in 1838 not interrupted construction and destroyed much of the existing structures. The site was planned to include the massive stupa, 2 enormous lions in front of it facing the river, a giant bronze bell and a lake. All that remains of the lions are crumbling remnants of their rear haunches. We started our exploration by climbing the impressive square base of the camel-colored brick stupa. One of the triple arches in the front entrance was painted white, but the rest of the structure remained unadorned. Deep fissures radiated down the sides of the foundation. The far-reaching view from the top included the river and an attractive pagoda dedicated to a famous monk, U Wisittathara, who recited all of Buddha's scriptures, a feat that consumed 8-1/2 hours per day for 3-1/2 months.
The chief attraction in Mingun is its eponymous bronze bell cast in 1808. Weighing 90 tons with an external diameter of 16 ft. 3 in. at the lip and an external height of 12 feet, it is the second largest bell in the world, only one third the size of the largest, the 200-ton Tsar Bell, which resides in Moscow. King Bodawpaya's subjects dug a canal from the river to transport it to its pavilion, where it is still rung. The bell is rather plain except for 2 grimacing lions sitting on top of it and an inscription on the front that broadcasts its weight in the local measurement, viz, which equals 13-1/2 lbs. A white inscribed stone tablet relates the history and vital statistics of this national treasure. While we were inspecting the bell, 3 handsome young monks accompanied by a young Western woman posed for a photo in front of the bell. They encouraged me to join them in the photo.
While hanging out here, San told us about some of the naming traditions among local tribes, one in which the 33 letters of the alphabet are grouped by the day of the week and people are named according to the day that they were born. Since my name begins with a B, I should have been born on Thursday using this system, though I was apparently born on a Saturday. In the Wa tribe one's first name indicates one's birth order, the second name is one's personal moniker and one's third name is your father's second name.
We had a relaxing boat ride back to Mandalay and enjoyed an exceedingly agreeable lunch on the banks of the river at a pretty, upscale restaurant named "Ayerwaddy Scene" to fuel our exploration of Shwenandaw Monastery that afternoon. The name means golden palace because it was built from the remains of King Mindon's lavish teak palace from the 19th C. It is no longer used as a monastery and serves now as a museum to showcase the masterful wooden carvings illustrating the Buddha's life that embellish its graceful multi-tiered roof and much of the exterior and interior surfaces. Though most of the wood is in its natural state, the ceiling of the main hall is gilded as are some columns and wall carvings. This site alone is worth the trip to Mandalay, though, of course there is much more to see.
Kuthodaw Pagoda, built by King Mindon, is known for the 729 white marble tablets engraved with the teachings of the Buddha, each displayed within a white stupa modeled after a famous one in Bagan. A minimally decorated gilded stupa on a white base heralded by gold lions at the 4 corners of its base is the focal point of the grounds. Its chief ornament consists of 8 gold urns with golden flowers planted on the corners of the next 2 tiers. Blood-red columns atop which green-garbed guardian spirits with gold scarves and headdresses sit provide the only color. As we left the complex, an endearing toddler in a canary yellow pants outfit, offered us white flower necklaces from a flat basket that she was balancing on her tiny head. Her companions, two strikingly lovely teens clothed in Western gear with thanakha bearing the imprint of palm leaves on their cheeks, encouraged us to play with their extroverted little relative.
We wound up the day's activities on top of 240-meter-high Mandalay Hill to catch the sunset. Su Taung Pyi Pagoda, an extravaganza of silvery glass with long arcades of rounded arches, and a flat roof topped with small gold stupas, means wish-granting temple.
In the morning, our new driver, Myintsaw, stopped to give us a closer look at Kaung Hmu Taw, the white breast-shaped stupa built at the beginning of the 17th C that we'd seen from Sagaing Hill, on our way to Monywa. We also visited a market in the small town of Nyin Mu. It didn't seem as if many tourists come by here because the villagers greeted us with that disarming mixture of surprise, curiosity, amusement and shy warmth that we enjoy so much when we get off the well-trodden tourist paths. They seem as interested in us as we are in them, and we think it's only fitting that we should serve as a source of entertainment, or at the very least an unexpected change in their daily routine.
The market was rich in color, texture and human activity. Fresh vegetables abounded, white cauliflower heads the size of soccer balls, fragrant mustard with its cheerful yellow flowers, radish-shaped potatoes that are eaten raw, eggplant in a variety of shapes and sizes, Chinese cucumber with bitter warty skin, fiery green and red chili, and lush ripe tomatoes. Fruit included the more mundane, such as apples, tangerines and bananas, along with more unusual varieties like tamarind, compact round, green honey melons, and small brown and yellow plums. We also found housewares, such as the brown pods used to clean silver and thanakha root to grind into face paste. A woman was preparing a type of rice cake resembling a large tomato-less pizza topped with sweet palm syrup that was quite delicious. We also sampled a sweet, light and crunchy confection made from a dried melon mixed with palm sugar.
We took a closer look at the clever rickshaws consisting of a bicycle with a lightweight wooden sidecar that are widely used as taxis throughout the country. They're cleverly constructed with economically used space for people and cargo (2 people can sit back-to-back or one person can use the other seat for their bundles), so we're surprised that we haven't seen them in other countries where human-powered conveyances are common. The grinning taxi driver posed proudly next to his vehicle, undeniably gratified by our attention.
After the simplicity of the market, the grandeur of our next stop accentuated the incongruity of rural life in Myanmar. Our first glimpse of Than Bodde Temple, dating only to the 1950's, was the magnificent golden stupa crowning it. Hundreds of small spires on square pedestals with elegantly carved niches studded 4 graduated tiers leading up to the 132-ft.high chedi on top. A white Buddha statue occupied each niche of this spiky roof, as well as thousands of other perches throughout the temple complex. Also known as the Half Million Buddha temple, it is reputed to boast 500,000 replicas of the deity, small ones crammed on ledges on all four sides of a series of tall orange-yellow and lime green towers, and larger standing, reclining and sitting ones in the opulent interior. They could probably get away with only 499,999 statues since who has time to count every one, though we read that there are actually more than 580,000.
You have to keep your sunglasses on to shield your eyes from the glare of the sun reflecting off the garish yellow, red and green primary-colored exterior. It feels a bit cartoonish until you step inside. The crimson walls are covered with gold-edged shelves occupied by thousands of small white Buddha likenesses. A handsome gold-robed Buddha stands atop lotus flower pedestals at the four corners of each room connected to the others by gold rounded arches inscribed with scripture. Seated Buddha illustrating the various mudra (hand positions) smile serenely from strategic positions at the end of long arched arcades. The overall effect is stunning. Except for a lone monk, we had the whole place to ourselves.
The site of Myanmar's largest reclining Buddha is still under construction, though the main statue is finished. It sprawls about 300 ft. atop sparsely forested rolling hills, its left shoulder about 90 ft. high. About 1,080 Buddha statues sitting in the shade of concrete Bodhi trees inhabit the park in which it resides, and this number is meant to expand tenfold to 10,800. In addition to the gargantuan reclining Buddha, equally outsized sitting and standing representations will complete the scene.
We reached our hotel, the new Win Unity Resort in Monywa, right around lunch time, so we checked in, freshened up and reconvened in the hotel dining room to eat. Lunch was terrific, starting with soup and ending with fresh fruit. Modern double unit bungalows with front porches are scattered throughout the property, some bordering what was probably a manmade lake.
After lunch we drove to Shwe Ba Hill where temples and pavilions are carved from the native sandstone and painted white, ochre, brick red and aquamarine. Beautiful carvings enhance the plain facades. We particularly liked one colorful bas relief of red-robed novices carrying alms bowls and ochre-tinted tableaux of Lord Buddha's life accentuated by a finely-wrought border of flowers and leaves.
On nearby Pho Win Hill, natural caves contain stately statues and richly decorative murals from the 16th through 18th C, though some could date back as far as the 14th. Cheeky macaques with light brown fur prowled the grounds begging for food from gullible visitors. We spent the rest of the afternoon admiring the paintings before returning to the hotel to rest up for the next day's activities.
After a light breakfast we went to a Ma O village to see their collection of white-washed brick and stucco stupas. A small collection of eloquent white marble Buddha statues were the official town treasures, though we soon discovered their true riches. As we passed the schoolhouse, inquisitive children cavorting in the playground abandoned their games to investigate us. Like the Pied Piper we were soon trailing squadrons of youngsters, and others were hanging out of the school windows shouting greetings. The teacher must have given up on her lesson because before long, students were pouring out of the classroom to welcome us. San introduced us to the teacher and we spent some time conversing about education and talking to the children. Finally, she herded her pupils back to class and we continued on, accompanied by a few of our new acquaintances.
We were lead to a home workshop where children were busy making incense sticks, beige with fuchsia tips. This productive village supplies incense for the entire region. The industrious family we visited was also weaving the flat bamboo baskets used in the construction of the scales so commonly employed in the markets. As we learned the local crafts, a village woman wearing a distinctive cloth headdress peered in the barred window.
Myintsaw lead us to a basic restaurant named Ho Pin in the town of Pakokku where he and San joined us for traditional Burmese curry. We could see the cooks stirring steaming pots of food over open fire in the kitchen while the waiter brought us a variety of small plates with all kinds of meat and vegetables. Most of the patrons were locals though a French couple and their teenaged daughter, whom we'd seen at the Win Unity, also came to dine. Lunch was quite good but we didn't linger long. Myintsaw drove us to the river where we bade him good-bye and boarded a boat to Bagan, about 2-1/2 hours away. We just relaxed and enjoyed the fine weather and the view of activity on the river and its shores.
Our first glimpse of Bagan was a gilded stupa atop a low cliff, its image reversed on the surface of the river. Just outside our hotel vendors had set up food and merchandise stands for a festival celebration. We checked into the Tharabar Gate, a charming hotel reflecting the local style. Elegant wood carvings graced the lobby and our room was in a bungalow with a small but pretty garden. We unpacked a few essentials and went to check out the festival market. Merchants were selling modern items, such as clothing and kitchen utensils, as well as more traditional wares, and of course, lots of food. We sampled sweet, chewy rice treats made with molasses that resembled frosted flake cereal. Pungent leaves of leathery-looking tobacco were stacked next to piles of fiery chilies. A cute young girl, squatting as she spooned up some local confection from a plastic cup, shot us an impish grin and a statuesque beauty in a pink flower-printed dress slipped unperturbed through the crowd with a platter perfectly balanced on her head. A friendly vendor with a winning smile showed us the brushes she was making from a native wood. San spotted a woman selling the beans that are used to clean silver and presented me with one. I ended up using it during the trip and found that it really does work.
We left the temple and climbed up the brick stupa of Mingala Sedi Temple, built in 1287 AD, to watch the sunset. Bagan is famous for the number of temples and stupas that blanket the hills and fields. It was the ruling capital for 230 years and from this vantage point hundreds are on view. In the mid-11th Century, King Anawrahta brought Theravada Buddhism to the region and erected 4 gold-topped stupas in each direction to mark the boundaries of his territory, one which we spied in the distance across the river.
That evening we dined outdoors at Nanda, a tourist restaurant with very good Burmese curry that features a traditional puppet show. Five puppeteers dressed in white with pink satin headbands, manipulate the colorfully clothed marionettes on a stage with painted backdrops depicting the scene. The show was skillful and amusing and well worth seeing. After the performance the puppets visit the audience to solicit tips. I was rewarded with a kiss from a saucy, shamelessly flirtatious marionette after slipping a bill under his strings.
We started the next day at the tourist market, which we did not enjoy nearly as much as the less visited ones. There were a lot of beggars and the atmosphere was far less friendly. There were some interesting items on sale, such as skewers of tiny roasted birds that appeared to offer primarily skin and bones to gnaw, but we did not linger long.
Shwesegon was the north temple of King Anawrahta. The smaller stupa built in the 11th C was augmented with a larger one on top of it later on. The entire complex is magnificent, featuring a large gold teardrop-shaped stupa and a gilded brick stupa with a square 3-level base and tall flame-shaped top. The surrounding buildings featured intricately carved tiered gold roofs and brick-red walls and columns. San ran through an abbreviated history of the kings from the 4th to 19th Centuries as we explored the site.
The next temple, Gu Pyauk Gyi, had a considerably plainer exterior, a square brick edifice with a tall arched entrance and simple stupas on top, but the interior walls were covered with eloquent paintings. Hti Lo Min Lo, built by King Nantaaungmya in 1218 AD, contained handsome Buddha statues, one with a diamond on his forehead representing his third eye. The brick exterior was punctuated with small spiky stupas pointing up from the four corners of the tiered roof to the large one on top and carved scrollwork featuring a grimacing lion face.
We climbed up to the terrace of Ywa Haung Gyi to see how many of the 2,227 stupas we could spot among the trees within the 42 square mile area where they are concentrated. Manuha Phaya, built in 1059 AD by the same named Mon king, who was captured by King Anawrahta houses 3 huge sitting and 1 reclining Buddha statue crammed into a small, drab enclosure, symbolizing the cramped conditions of the king's confinement. People come here to pray for relief from difficult predicaments. Resting against the statue's golden flanks, San told us that you can interpret the state of the god based on the direction that the reclining Buddha faces , west means he's sleepy, east - just relaxing, south is teaching his followers and north is a representation of the Buddha after death. He further explained that in Thailand, there are only two meanings - lying on left side when dead and right side when alive. He also clarified a pose that we'd never understood before. We often see statues of the Buddha holding the edge of his robe and extending his arms out, as if he were about to curtsey, in fact he is actually displaying his supernatural power to fly.
We continued on to Nan Phaya, a tan sandstone Hindu temple turned palace. Like an undistinguished bird with drab-colored feathers that opens its throat to deliver a thrilling symphony of song, the rather plain exterior of the palace conceals any clue to the glorious interior. Light filters through arched windows to illuminate massive square columns masterfully carved on all four sides with images of Brahma, cursed for drinking holy water, embellished with lotus flowers. His round face and fat belly are more reminiscent of the rotund Chinese Buddha than the typical elegant representations of the Hindu gods. We had time to view Sein Ny Et, a square red-brick temple built in the 12th C AD before taking our midday break at Sunset Garden restaurant, a peaceful place with a shaded terrace overlooking the river and large half-glazed ceramic urns. I was not feeling tiptop so I skipped what looked like a delicious lunch and concentrated on the scenery and a cup of mild tea.
We arrived at Ananda, the most magnificent temple in Bagan, in the late afternoon when its eloquent gold towers radiated the mellow rays of the sun. The same hot air balloons that we'd seen at U Bein Bridge hovered in the background intensifying the color and excitement of the scene. King Kyan Sit Thar built the temple in 1090 AD to strengthen his relationship with the Mon kings. Its cream-colored walls, carved terraces and stupas are streaked with black soot, punctuated only by the brilliance of its oxblood and gold main stupas that foreshadowed the art deco top of the Chrysler skyscraper in NYC with their textured surface and tall spires.
Inside an inner passage was reserved for monks and the royal family while guardian statues directed commoners to an outer passage. Towering Buddha statues with diamonds marking their third eye demonstrated the various mudra from gold and scarlet painted alcoves, while hundreds of smaller statues peered out of smaller niches in the walls. One Buddha appeared to smile when viewed from a distance but the smile mysteriously vanished the closer you approached. A young monk made announcements into a microphone from a platform decorated with brightly colored silk hangings, vases of flowers and flags.
Outside well-kept white oxen with red embroidered bridles and flowers on their heads and necks transported tourists in wooden carts down the dusty roadways. When we returned to our hotel, we were delighted to find a heart traced in dark pink flower petals laid out on our bedspread. Stu went to watch the sunset from Pya That Gya temple with San, while I stayed behind to rest up and recover.
The next morning we paused to watch a musician tune his bamboo xylophone by moving the slats on our way to Phaya Thonzu (1287 AD), a temple with 3 brick spires similar to those at Ananda without the paint and gilding. Inside we found painted vaulted ceilings, small Buddha statues in diamond shaped nooks, a finely drawn painting of a man riding a dragon, dancing figures and loads of graceful decorative scrollwork.
The next temple, Dha Maya Zika, was made of brick and topped with a very beautiful gold bell-shaped stupa etched with guardian ogre faces and flowers and accented with traces of red tint. Burgundy-colored male statues and tawny lions pose on the terraces of the five entrance pavilions. Pale blue ceramic tiles embellish the base of each terrace and elegant stone carvings of the Buddha under the Bodhi tree adorn the top of the entrance pavilions. The name can be interpreted as Chief/King of Buddha Teachings or King of all Temples. A modern addition to Bagan's ancient shrines, it was opened on the same day as the military takeover of the country in 1988. Pink bougainvillea carpet the well-landscaped grounds.
When we first arrived in Bagan, San told us about the stupas built by King Anawrahta in 1059 AD at the 4 boundaries of his kingdom and we went to see the South stupa, Lawkananda Phaya, scenically situated on the banks of the river. It was small relative to some of the others we'd visited but perfect in proportion and elegant simplicity. The gilded bell-shaped stupa rests on 3 platforms bordered with a lotus flower design.
It was time to take a break from temple-viewing so we went to see how lacquer articles are made. It was even more interesting than we'd expected. The artisans cut bamboo into flexible strips and weave them into the form of a bowl or cup or tray, etc. Sometimes horsehair is added for flexibility. They apply the first layer of lacquer, which derives from the sap of a special tree in the mountains of the Shan state. The first layer dries and fills in the spaces between the strips and a knife is then used to smooth the surface before the second layer is applied. The object sits in a cellar for a couple of weeks before the shiny layers are added, after which, the surface is etched with needles to form the different designs. Very fine sandpaper smoothes the surface further and then the piece is polished on a wheel.
I was feeling better so San decided to take us back to Sunset Garden for an early lunch so I could sample some of the delicious food I'd missed the day before. As we were feasting on duck and vegetable tempura, along with other delectable dishes, the restaurant manager informed San that he had a phone call. After lunch we were scheduled to fly to Ngapali Beach on the Bay of Bengal to spend a couple of days in a seaside villa at Sandoway Beach Resort enjoying the ocean and relaxing before the long trip home. As it turned out our flight time had been moved up, this actually would have suited us better, as we would have had more time there. The agency had been trying to reach San all morning but he had inexplicably turned his mobile phone off and had missed the message until the agency tracked us down at the restaurant. We're not sure why they couldn't reach us via the driver since the drivers all seemed to carry a mobile. By the time we found out, our flight had already departed. San took us to the local office to see what alternative flight could be arranged. Due to the infrequent flight schedule, we would have ended up with less than a day there, which did not seem worth the effort, so we decided to return to Yangon early. We had a free afternoon while San worked out the itinerary changes, so I treated myself to a calming massage at the hotel while Stu relaxed in our small garden with a book. We flew back to Yangon that evening and checked into the Pansea again.
San treated us to a visit to the local fish market early the next morning. The roads surrounding the market were teeming with workers so our driver had to slowly inch his way through the crowd. It was clear that tourists rarely visit because people did double takes when they saw us and gaped in the car as astonished as if we'd been extraterrestrials with deely-bopper antennae. When we smiled at them, they grinned back gleefully. One fellow grabbed a buddy and dragged him over to the car window to say hello.
Wiry workers wearing short rubber boots shoveled blindingly white ice from Mt. Fuji-shaped piles into 2-wheeled wooden crates while others wound their way along the congested walkways hauling plastic coolers full of silvery fish. We high-stepped over deep puddles into the covered market area where fish merchants were unpacking, displaying and sometimes gutting their wares. The sopping plank floors were stained red from expectorated betel nut juice. An appealing young worker with his hair twisted into a topknot like a sumo wrestler and betel-nut-stained teeth proudly hooked his fingers into the gills of a 2-foot fish and held it up at arm's length so we could admire its glistening freshness. Prawns the size of juvenile lobsters waved their blue-tinted antennae and long swimmerets. One fishmongers' pre-teen daughter with fanciful Thanakha painting on her lovely face curiously followed us around and solemnly posed for a portrait. Unlike the weaver's sad daughter in Laos, we were easily able to elicit smiles from her when she wasn't facing the camera lens. People amiably asked what we were doing at the market and were pleased to show off their catch of the day. Some vendors had already jumped ahead a few steps in the process and were selling deep-fried fish filets from round metal platters.
From the rough and tumble fish market, we drove over to the considerably more sedate Thirimingalar produce market. The quantity and variety of fruits and vegetables was mind-boggling. The zesty fragrance of ginger and chili in mountainous stacks dominated the air. Occasionally you also caught the less appealing odor emanating from molded blocks of fermented fish with rice or fermented bean curd. Blocks of fresh bean curd were stamped with designs, one resembling the Nike swoosh logo. We inspected the roasted peanuts, strawberries, grapes, clementines, hog plums and pineapples and ended up buying a ripe pomelo the size of a melon to share later.
Progressing from informal Yangon to the more formal aspect, we next went to see the two white elephants that are ranked among the government's rare treasures. Albino elephants have traditionally been the property of kings in Southeast Asia and are fastidiously tended and guarded. Photos of the elephants are forbidden so we can't show you that they are not actually white, like swans or arctic foxes, but pale grey with a pinkish tint. While on public display they are confined to an open air pavilion tethered to heavy chains shackled at the ankle. Nearby KyaukTawGyi Pagoda shelters the world's largest stone Buddha image, 37 ft. tall, carved from a single slab of white marble from Mandalay. It's a modern monument, erected by the government and dedicated in 2001.
We lunched at Monsoon Restaurant and Bar, a modern downtown café attractively decorated in tropical style featuring cane chairs with lemon, lime and vanilla colored cushions and an excellent photo collection on its bright yellow walls. Bossa nova music and an Asia-fusion menu reinforced its international atmosphere. Many billboard and video advertisements in Myanmar, and especially in Yangon, feature a flamboyant local entertainer named Yar Zar Ne Win who acts, sings and dances as well as modeling outrageous Western style fashion. He appears to be the spokesperson for Ve Ve, a popular soft drink brand. San had the good fortune to meet his favorite star and told us that he's a very down-to-earth guy despite his rather ostentatious public persona.
Cyauk Htat Gyi is a 65 meter high reclining Buddha originally constructed in 1907 and restored after extensive damage from the 1950's through 70's. About 216 ft. (70 m) long with a luxuriously draped gold robe bordered with shimmering glass, the gilded soles of the Buddha's banana-boat sized feet are inscribed in the traditional manner with the 108 auspicious signs of the Buddha. His porcelain-white skin is punctuated by his ruby-red lips. Lavish eyelashes, as long as window awnings, accentuate his extravagant eye makeup. This is a Buddha that demonstrates a strong connection with his feminine side.
San intentionally chose to wait until late in the day to visit the most awe-inspiring of temples, Shwedagon, so we could witness the transition from late afternoon to night. We'd had only tantalizing glimpses in passing and couldn't wait to get a closer look. Every few years the great stupas are regilded, and we had the misfortune to visit during a year when Shwedagon was shrouded in scaffolding slightly dulling the brilliance of its 60 tons of gold leaf. It was still the most incredible Asian temple we've ever beheld.
Legend, and official history, claims that it was built during the age of the Buddha 2600 years ago, but archaeologists date it to the time of the Mon kings in the mid-14th C. It was built on holy ground where sacred relics of three Buddhas were reputedly buried and now enshrined. It's been damaged by earthquakes 8 times and carefully restored, attaining its current height of 326 ft. (~108 m) in 1769 during the reign of the Ava king Sin Pyu Shin.
The umbrella crowning the main stupa is encrusted with 5448 diamonds, 2317 rubies, hundreds of sapphires, 1065 gold bells plus other precious gems and jewelry, all topped with a 76-karat diamond. 64 gilded stupas crowd its broad terrace. Hundreds of lesser stupa are distributed throughout the extensive temple grounds along with a virtual city of glorious white, blood-red and hunter-green pavilions dripping with gold, intricate carvings, paintings and multi-tiered pagoda-style roofs and inhabited by handsome Buddha statues, reclining and in other traditional poses. The four grand entrance gates are equally extravagant.
Buddha's life story is illustrated on exquisite mustard-yellow painted ceramic tiles and the wood scrollwork on some roofs and lintels feature flowers, animals, apsara and other esteemed figures and illustrated tales. A 24-ton bronze bell forged in the 18th C bearing a weighty gold and precious stone headdress is small compared to the 42-ton behemoth donated by King Tharrawaddy in 1841. It would require far better literary skill than I possess to express in words the mind-boggling beauty and sheer artistic excess of this holy site.
San was obliged to button up a formal jacket atop his longyi to conduct our tour of the grounds and the important highlights, but after the tour, we just hung around interacting with other visitors and watching the transformation of the site as the sun set and the monuments were illuminated by subtle artificial light. The worshippers were as interesting as the monument, a handsome young monk crouching in a pavilion gazing into the distance, pink-robed nuns kneeling before a gilded shrine, men and women offering flowers and prayers, and loads of adorable children. We struck up a conversation with a family that included a pair of twins, identical in clothing and physical features, and their bubbly sister and whiled away the time chatting with others. For such a famous destination, there were remarkably few foreign tour groups, most of the visitors were actively worshipping locals.
After a few hours of gawking and socializing, San joined us for dinner at a lovely Chinese restaurant on a lake glowing with the reflected image of Shwedagon looming above the trees on its far side.
In the morning we browsed through the famous markets where rubies and other precious gems are as common as pigeons in European parks. Myanmar is famous for the quality of its rubies and the government apparently keeps the populace alerted to the imminent threat of a U.S. invasion to loot these precious gems. I suppose that if you could burn rubies for fuel our government might consider it, but until they discover deep oil reserves, I'd guess that they're probably safe. Besides we're sure that W probably never even heard of Myanmar. You need sunglasses to protect your eyes from the glare of pounds of gold and silver jewelry in the overflowing kiosks. Clothing and other goods were also on sale but we thought that the silk in Laos was of finer quality.
San dropped us back at the hotel for lunch and we spent some quality time swimming and keeping cool at the lovely hotel pool.
Later in the day San took us to a workshop to watch expert glassblowers hand-fashion bottles, vases and fanciful objects such as fish. We decided to follow a local tradition and spend some time strolling around Inya Lake, a large man-made pond across the road from Yangon University. Young couples cuddled on park benches and teams paddled long boats on the placid waters. Kite flying is a competitive sport and enterprising vendors rent and sell spools of string and small brightly-hued kites. Men, both young and old, skillfully raced their high-flying paper creations. Snack food stands offered quick energy, but we continued along the shore to an area bustling with restaurants and barbecue stands. We took a table in an open-air café and enjoyed light refreshments while listening to a live band perform Western pop songs until the daylight faded away and freeloading mosquitoes swarmed in for drinks on us. We enjoyed our last dinner in Myanmar with San at a casual local restaurant not far from our hotel called Feel. The food was simple but decent and incredibly inexpensive, about $7 for the three of us.
The next day we flew to Bangkok. We had extra time there that we hadn't planned for due to our unexpected itinerary change, so we booked a day room at the Amari and spent a fun day exploring the shops in town, including an antique store with astounding quality statuary and carvings from all over SE Asia. We stuffed ourselves on a scrumptious (though expensive for Thailand) dinner at the Spice Market restaurant in the Four Seasons Hotel before freshening up for the long flight home.