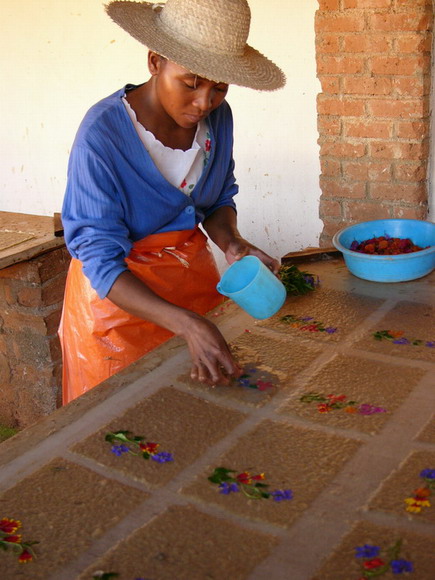 Madagascar lured us with the promise of an island paradise teeming with animals, insects, flora and culture unlike any other on earth. Isolated for millennia by the dispersal of Gondwanaland into the continents of the Southern Hemisphere, Madagascar evolved its unique and fascinating environment. Tales of widespread habitat destruction and endangered species lent urgency to our decision to go as soon as possible. The country had calmed down after the turbulent election of 2002, which had resulted in two presidents - the elected official and the corrupt incumbent who refused to step down - and violent civil unrest until the matter was resolved. Happily, the challenger, Marc Ravalomanana, triumphed and the positive effects of his administration are evident throughout the land. We figured this might be the ideal time to visit and chose the month of September because of the fine spring weather and the hope of seeing newborn lemurs.
As is the case with many of the places we visit, there are no non-stop flights from the U.S., so we took advantage of a stopover in Paris to reacquaint ourselves with our second-favorite city. We cleaned up and changed in a day room at the airport Sheraton, left our bags and hopped a train into town. Since our time was limited, we decided to tour the intimate Musee Jacquemart-André in the 8th arrondissement, which harbors the handsome former collection of married art patrons, Edouard André and Nélie Jacquemart, showcased in their sumptuous late 19th C mansion. There's too much fabulous booty to catalog, but we especially enjoyed the Florentine and Venetian rooms which feature exquisite works by Botticelli, Botticini, Perugin, Uccello, Mantegna, Bellini and Carpaccio. After a splendid morning at the museum, we relaxed over lunch at a popular brasserie along with scores of local businessmen, then took advantage of the warm, sunny day by strolling down the Champs-Elysées through the Tuileries and along the Seine to Châtelet. Too soon we headed back to the airport to freshen up before our evening flight. There's no such thing as too much time in Paris but we certainly had too little time.
Although we allowed what we believed to be plenty of time to check in and get to the gate, check-in at Air Madagascar was remarkably inefficient and the line through security was clogged by an aggravated mob whose Air India flight had been canceled the day before and who were pushing through to the gate despite the fact that they still didn't have a departure time for their flight. There was only one passport control agent and one screening machine open, further exacerbating the mess. After patiently waiting in line about 45 minutes, we found an official and explained that our flight was due to depart in about 30 minutes and we knew we wouldn't make it at that rate. In any other airport, the official would have escorted us to the front of the line and ushered us through. He told us to go to the front via a side passage, which of course, caused all of those ahead of us on line to kick up a huge fuss and to start pouring into this passage. When we explained our predicament to the howling mob, they calmed down, though many still wouldn't allow us to pass ahead of them. Several others from our flight also fought their way up front. We ended up boarding about 10 minutes before the flight departure. Once on board, the flight attendants were gracious and helpful and we settled down for the ten and a half hour flight to the capital city Antananarivo, dubbed Tananarive by the French and Tana by the locals.
We arrived very early in the morning and Stu went off to exchange some traveler's checks while I waited in a conspicuous spot for our pick-up. Voahangy, our Malagasy guide, appeared shortly, gave us some trip materials and instructions and ushered us to a waiting car, which carried us to the Hotel Colbert. Early as it was, the streets were teeming with Malagasy on their way to work and school along with a significant amount of runners getting their morning workout. Public buses, square white vans with a colored stripe that advertises the direction and route, scuttled in all directions. Our friendly driver spoke little English and, clearly pleased that I spoke French, provided a running commentary about the capital as we navigated the narrow lanes. The road from the airport traverses picturesque rice fields in which one particularly handsome farmhouse featured a tidy stone walk bordered with brilliant red flowers. The sun languidly scaled the 12 hills encircling the town, shooting glittering beams across the watery paddies.
The Colbert is a small, charming French-accented hotel with modern facilities, elegant furnishings, a terrific patisserie and pleasant staff. We decided to take a short snooze and woke up in time to shower for lunch at the fancier of the hotel's restaurants, La Taverne, which features a panoramic view of Tana's upper town and the ruins of the Queen's former palace high on a hill. The 3-course set menu with local wine was splendid and service was warm and efficient.
Voahangy and a driver picked us up after lunch for a visit to the zoo. The zoo is set in a lovely park and it's clear that it is meant to provide an overview of Malagasy wildlife and culture for the unfortunate visitor unable to travel beyond the capital. In addition to lemurs and other native fauna in natural habitat enclosures, there are endemic plants, tribal tombs and other cultural artifacts, including a very nice museum. The highlight of our trip to the zoo was a behind-the-scenes visit with a pair of gamekeepers who were feeding honey to some bamboo and other species of small lemurs. The lemurs grasped the keepers' hands with their dexterous paws and licked the honey from their fingers. When offered the opportunity to participate, I could hardly get my fingers in the honey pot fast enough. The lemurs held my hand gently while thoroughly lapping up every drop of honey with their velvety tongues. The keepers smilingly accepted the modest gratuities we offered to them - a small price to pay for a special experience.
We had a light dinner at the Colbert's less formal restaurant, La Fougere, that evening then went to bed early to prepare for our early morning flight to Maroansetra, the largest town on the northeastern Masaola Peninsula. It's not a great distance, but there are few non-stop flights to the more remote towns, so we arrived at the Relais de Masaola mid-afternoon and headed straight to lunch after checking in. The Relais is a comfortable nature lodge with cozy thatched-roof cottages scattered along a scenic palm-strewn riverbank. The water was quite low in this small tributary and there weren't any boats afloat. We enjoyed a delicious lunch of crepes stuffed with chicken in cream sauce, grilled zebu steak with vegetables and cake on the open-air porch of the dining pavilion. We just finished sighing with contentment when Julian, a local naturalist guide, came by to take us on a boat ride.
We exited the lodge property and strolled down the road to a dock on a more vigorous river, where we boarded a small wooden skiff powered by a young local man. As we glided up-river past tall stands of wild grass, Julian would suddenly signal the boatman to pull to shore. We'd peer into the shrubbery trying to figure out what he spotted, when he'd pull a tiny, well-camouflaged frog from the underside of a leaf and hold it out to us. We didn't see it when we were practically on top of it, so we have no idea how he was able to perceive it in its hiding place from a moving boat at some distance from shore. After we'd enjoyed the frogs, Julian gently returned them to their leafy shelters. The boat ride was pleasant though we didn't see much more than the usual types of birds and the colorful little frogs.
That evening Julian lead us on a night walk in the dense bush surrounding the lodge. Just outside the property we spied a medium-sized dun-colored chameleon lounging on a tree branch, its long tail curled into a perfect spiral. His eyes swiveled comically in their cone-shaped sockets as he cautiously watched us watching him. Julian had an almost preternatural ability to spot wildlife in the dark, and he would excitedly motion us to follow him as he crashed through thick brush to find nocturnal inhabitants. Among the wondrous creatures we observed were two species of adorable, small lemurs - the gray dwarf lemur and rufous mouse lemur - rubbery-nosed tenrecs, spiny hedgehogs similar in appearance to Australian echidnas, malachite kingfishers and flashy red tomato frogs the size of a fist.
It was an exhilarating excursion and we eagerly shared news of our sightings with members of a BBC film crew, whom we'd first seen on the plane and later met at the lodge, after we returned for a late dinner. The film-makers were shooting documentary footage for a wildlife TV program for teenagers called "The Really Wild Show". It was a small crew consisting of Jerry, the producer-director; Mark, who handled all of the equipment - camera, sound and light; Nick, the charismatic on-screen talent biologist-zoologist; and his recently-wed wife, Mareya (not sure of the spelling) a primatologist from Florida who specialized in lemurs for her PhD and had spent a considerable amount of time in Madagascar. They were all good-looking, intelligent and personable, but Mareya was a blonde bombshell. She might have been a true-life example of the cliché studious scientist who takes off her glasses, unbuttons her blouse and lets down her hair to reveal the seething sexpot, except that we never saw Mareya "buttoned-up" and suspect that she's always hot (as well as interesting and smart). Although we'd initially been told that Julian would guide us the following day, we found that the BBC gang had appropriated him. Although we regretted losing Julian, we figured it was only fair that they nab the best guide since they had a film to shoot. We ended up running into the team a few more times during our travels around the country and grew to like them even more, particularly Jerry, so we weren't the least bit bummed about the switch.
The next morning we took a motorboat up the river and across the bay to Nosy Mangabe, a wildlife preserve since 1966. Nosy means island and this one is home to several unique species, including the Aye-Aye, an odd-looking lemur with one extra-long bony finger used to root out insects. The Aye-Aye is nocturnal so we knew we had no real chance of seeing one without camping on the island overnight. Aye-Aye have good reason to avoid humans, they're considered bad luck by many locals and are often killed if spotted in villages.
Nosy Mangabe covers approximately 520 hectares (1 hectare = 10,000 sq. meters) with a thickly forested peak rising to about 332 meters sloping down to soft white sand beaches and clear blue-green sea. We met our guide, Ursula, on the island and headed up a steep trail into the forest. Minutes after hitting the trail we spotted a small troup of white-faced brown lemurs cavorting in the trees near the campground. The hike was not too challenging, even though uphill half the way. We stopped often to admire the copious wildlife, including extravagantly furred black-and-white ruffed lemurs high in the trees, delicate green spiders, handsome yellow-green and black mantella frogs, diminutive dwarf chameleons, crab spiders, minuscule brown frogs the size of my pinky fingernail, a muscular tree boa, day-glo green geckos and the cunning leaf-tailed gecko, which is quite large but so well disguised that only its unusual pale striped eyeball exposes it to scrutiny. Voracious insects had reduced leaves to fragile lace doilies carpeting the rocky trails, and fancifully-shaped fungi sprouted on fallen tree trunks
We came across some tribal tombs in a cave and Ursula and Voahangy told us about the practice of sacrificing zebu (African hump-backed cattle introduced by Arab merchants in the 14th C) for good luck, to honor ancestors and at funerals in order to decorate the tombs with the horns. Cattle signify wealth and the more horns on a tomb, the richer and more respected the family. This reminded us of the Tana Toraja funerary rituals from Sulawesi, Indonesia, so it made sense when we learned that Indonesians were the first settlers in Madagascar and that the Merina tribe from the central highlands are descended from the Indonesians. The combination of Indonesian, African, Chinese and French bloodlines and customs engendered a fascinating culture and an exceedingly handsome populace, an early impression that grew stronger the longer we traveled in the country.
When we got back down to the beach, the young ladies we'd transported to the island with us were busy cooking our lunch so we relaxed and chatted with Jerry, who'd come over with his crew to camp for the night in hopes of filming the elusive Aye-Aye. In retrospect we wish we'd brought along bathing suits - the beach was beautiful, we were a bit warm from the hike and we had loads of time to hang out until lunch was served. It would have been nice to grab a swim. After lunch, we took a shorter hike to another section of the island before heading back to the mainland and our lodge.
The next morning we took another boat ride to Ambodivoahangy village on Antongil Bay, where we checked out the meager provisions - spinach, small fish, gourds, watercress - in the morning market. We continued strolling through the town, which consisted of a cluster of thatched huts on short pilings with bamboo fences, a modest church and a wooden schoolhouse with an old-fashioned bell. About 5,000 people live in the village and surrounding farms to which no municipal services are provided (electricity, sewerage, water). As we passed a young father working in his front yard, his toddler son caught sight of us and ran screaming behind the house, much to the amusement of his father. Voahangy told us that the Malagasy tell children that if they misbehave the white people come to take them away. She guessed that the boy had been bad that morning and believed we'd come to get him. We walked on, arriving at the other end of the house just in time for the kid to come around the side, see us and, believing himself to be pursued by white devils, run sobbing hysterically into the arms of his father, who was laughing as heartily as the child was howling. We're not used to terrifying children unintentionally, but we were gratified to be of service to the dad in enforcing discipline in his home.
Despite that experience, we still entered the schoolhouse, where the children must have all been perfectly behaved because we didn't raise even a concerned glance from any of them. In fact, they seemed delighted to see us, shyly smiling and reciting for us at the teacher's urging. The school teacher was a kind, attractive young woman who told us a bit about what the children were studying and the difficulty she had obtaining books and class materials.
As we continued past farms growing rice, vanilla, cloves and coffee, the lushly sweet fragrance of white coffee flowers perfumed the air. Zebu grazed in the fields, and young men wielding hefty machetes greeted us as we passed on the road. We turned around and headed back to the beach, where we watched children playing and village women casting fine green nets to catch the small fish that are their common fare. We'd never experienced a culture before where the women were the primary fisherfolk, in other places we've visited, the men did the fishing. Our boat driver picked us up and ferried us to a less-trafficked beach nearby where lunch was being prepared. This time we'd brought bathing suits so we were able to enjoy a swim before our beach barbecue. We lazed around on the beach, took another dip then changed and headed back to the Relais where we whiled away the rest of the afternoon reading on the veranda of our bungalow.
After breakfast, we had time to drive into Maroantsetra to check out the market before heading to the airport for our flight back to Tana and another night at the Colbert. This was a considerably larger and more abundant market, featuring food such as large jumping shrimp, rice, greens, coconuts and a variety of cooked dishes, housewares, clothing and jewelry. Among the local crafts were lovely handmade raffia hats and bags which are primarily used by the local women. Stately women balancing raffia totes and baskets piled high with fruit, vegetables and other goods on their heads were a common sight in the towns and villages. Women and girls, including infants, were typically adorned with gold jewelry. We noticed that infants would sometimes wear wires passed through their pieced ears, placeholders until the family can replace them with gold earrings.
The next morning we met our driver, Gabriel, and hopped into his sparkling clean SUV for our road trip through the Central Highlands to the South. Gabriel is smart, pleasant-looking and neat to a fault. He was always nattily attired, sporting a collection of caps in various styles. Voahangy told us that he often acts as both guide and driver, so he was very knowledgeable and helpful. The devastation of the forests due to slash and burn agriculture and the use of wood as primary fuel was immediately evident as we drove away from Tana. The earth was raw, cracked and red, marred by deep chasms caused by unchecked erosion. A word was even coined to describe these deforestation-induced gullies - lavaka. During our tour, Stu amused the locals by trotting out his Malagasy vocabulary, including the words lavaka and vazaha (foreigner), which particularly cracked them up. On our way home as we flew over New Jersey, the most densely populated state in the union, we were sad to note that we saw more trees, even in the suburbs close to NYC, than we saw from planes flying over the Central Highlands in Madagascar.
We stopped in the village of Ambatolamby to visit a small family aluminum manufacturing enterprise. This was far more interesting than it may sound as all of the work was done manually. We saw the aluminum melted in the fiery furnace and poured from glowing crucibles into earth-packed molds to make spoons. Four workers in a cramped, dirt-floored hut quickly and efficiently produced rack after rack of light aluminum spoons using recycled cans. Each man can produce about 500 spoons per day and this small business supplies pots and utensils for the entire region. As we watched the men work, a youngster hauled a richly painted rickshaw loaded with materials into the yard. Brightly painted rickshaws (called pousse-pousse) and zebu carts are commonly used to transport people and goods.
Back on the road we passed square painted tombs. Voahangy told us that the family are buried on stone beds underground wrapped in cloth shrouds, facing west in the direction of the setting sun. Agriculture provides the primary occupation for about 80% of the population and this area supplies fruit and vegetables to Antananarivo.
We arrived in Antsirabe around midday and headed to Residence Camelia, a pretty, intimate guesthouse set in lavish gardens of orchids and poinsettias, for lunch. As we descended from our vehicle, a cluster of pousse-pousse drivers mobbed us, offering rides through town. After a lovely meal, I couldn't resist trying vanilla tea, which was just as delightful as I expected. Again we disappointed the pousse-pousse drivers who had hung out waiting for us to finish lunch by hopping into our car and driving off to see volcano-formed Lake Tritriva. This turquoise pool, which is uncannily shaped like the country of Madagascar, is the source of a Romeo and Juliet legend about young lovers who sacrifice their lives for their passion.
Cruising around town we stopped to admire the impressive Catholic cathedral, handsome train station and post office. A towering stone monument on broad Independence Avenue celebrates the 18 tribes that comprise the native Malagasy population with etched images representing each clan. Antsirabe is a thermal area and we stayed at Hotel des Thermes a once grand but now rather shabby spa hotel built near hot springs. Dinner in the hotel dining room was uninspiring.
The following morning we stopped at a blacksmith's appealing house in Ilaka Center to watch him ply his ancient craft. His wife, clearly proud of her home, invited us in to see her kitchen. Children shyly inspected us, giggling excitedly when we smiled and greeted them, but keeping their distance. We stopped again on the exceedingly pretty main drag of the town to photograph the lovely views across the countryside. Whenever cars or buses stopped, women in patterned cotton dresses carried over trays of spicy grilled chicken and stoplight-red crayfish so the passengers could buy snacks for the road. We admired the neat, colorfully painted storefronts and observed a butcher surrounded by his attractive family chopping meat in an open stall.
In Ambositra we visited a fine crafts shop where young men painstakingly carved wood and assembled intricate marquetry tops for tables, boxes and hanging tableaux. Some of the more elaborate tables could take as long as one to two months to create. Wood-carved Nativity scenes depicted zebu in the manger. We dropped by a restaurant so Gabriel could place our lunch order, then drove into the hills to visit Antoetra, a traditional Zafimaniry tribal village known for its woodcarving. Jean-Pierre, a local guide, showed us around and explained the customs. We traversed the community trailing a stream of inquisitive children, like a comet with its streaming tail. Indonesian influence is evident in the traditional architecture, particularly the shape and carved decoration of grain bins sitting on high pilings. Honey is produced for the 1200 inhabitants and aviaries, creatively designed from various objects such as steel drums and wooden crates, were scattered along rooftops and in people's yards.
We were invited to visit the home of the village chief, whose simple wooden cottage was decorated with carved birds and a wooden door etched with an intricate abstract pattern. The single room was divided into quadrants dedicated by tradition to specialized activities based on their geographical location. There was a central fireplace and a loft for sleeping. The northwest corner was used for tribal ceremonies, the southwest corner for cooking, the northeast corner harbored the tools and the southeast the chickens. Produce - beans, potatoes, sweet potatoes and corn - hung from the ceiling. The chief's two wives were busy performing domestic chores and we counted at least 10 children, though there might have been more who weren't home at the time. The wives seemed considerably younger than the grizzled old chief, whose role is largely ceremonial as an advisor and mediator to the villagers. A government appointee actually presides over the village. We offered the chief a small monetary gift, realizing that tourist tributes must be a prized source of income for his family and one of the perks of being the chief. We stopped by a couple very small shops to admire the skill of the local woodcarvers before heading back down to Ambositra.
By the time we returned to the Tana Masoandro (Ray of Sun) restaurant for lunch, most of our fellow tourists were finishing their meal and leaving, so we had a quiet meal. The restaurant was decked out in Malagasy ornamentation with handsomely carved wooden chairs and a diverse array of pictures and artifacts on the walls and counters. Gabriel had ordered us a traditional Malagasy feast which consisted of over a dozen small meat, grain and vegetable dishes, most in savory sauces. Hot sauce was on the side but we didn't hesitate to use it. The food was delicious including very tender zebu tongue. We learned to say "Tsara Be", which means "yes, it's good" when people ask if we enjoyed a meal.
As we drove to Fianarantsoa we experienced our only rain of the trip, which lasted about an hour and spawned the most spectacular rainbow we've ever seen - a vibrant double arc emblazoned across a vast farm valley that shimmered in the sky for more than 40 minutes. We checked into the Tsara Guest House late in the afternoon and arranged to meet Voahangy later for dinner. This is one of the most agreeable places to stay in Madagascar, a series of dormered cottages surrounding a well-tended garden with views of the elevated old town section of Fianarantsoa. The first night they assigned us a cramped attic room and when we casually mentioned to Voahangy that it was a bit small, she immediately spoke to the front desk and the next day they moved us to a spacious room with a sitting area and a patio opening onto the garden. The kitchen is very good here and we supped happily in their candlelit, romantic dining room.
The guest house set out an early breakfast for us so that we could catch a very early train to Sahambavy. Gabriel went to the train station to buy our tickets while we were eating but we still had to rush to the station to snare seats as the train quickly filled up with locals and travelers. Most of the passengers were riding much farther than we were and had stocked up on provisions for the journey from enterprising vendors in the station. Four young French backpackers across the aisle from us carried on a big plastic bag overflowing with baguettes and wedges of "La Vache qui Rit" (Laughing Cow) cheese and hung it from the window latch. The train was old and atmospheric and we enjoyed the ride. Locals stacked up around the stations to wave passengers on their way as the train chugged down the track.
Gabriel was waiting for us in the SUV when we disembarked and drove us a short distance to the Sidexam Tea Plantation, the only tea company in Madagascar. We were directed to the office of the congenial female plant manager, who took us on a tour of the facility. Tea comes from the camellia plant but the plant is trimmed so that the flowers don't bloom. The leaves from a camellia plant can be harvested for 60 years. The plantation maintains 330 hectares, of which 90 hectares are owned by local farmers who plant and pick their acreage and sell the leaves to the company. The company employs 122 permanent employees and, though tea can be harvested year round, about 100 pickers in the low season and 300 pickers during the high season from October through April.
When we entered the factory, workers were plucking tea leaves from stems and spreading them out on tables to dry. From there they pass through several machines to filter the tea and to remove additional moisture before the final drying in the furnace. As we followed the path of the leaves, a handsome barefoot worker wearing a wide-brimmed straw hat came to shovel fuel into the fiery maw of the furnace. It takes seven stacks of wood to dry one ton of tea and they can dry 260 kg per hour. Fortunately all of the wood comes from tree farms maintained for the purpose. It takes 5 kg of leaves to produce 1 kg of tea powder and the factory packages tea leaves as well as tea powder. We continued on to the packaging area where huge sacks of tea were stacked on pallets awaiting export to the International Tea Market in Mombasa, Kenya. About 80% of the tea is exported.
We returned to the manager's office where she brewed black, green and vanilla tea for us to sample. We chatted about family while enjoying our beverages. Her children ranged from early adult to toddler and her husband is also employed by the tea company. We bought a couple of packages of the fragrant vanilla tea and finished our visit with a stroll through the tea fields before rejoining Gabriel for a drive to the Lac Hotel for lunch.
The hotel resides on the shores of a sizeable lake with cozy bungalows nestled among handsomely landscaped gardens and a couple of thatched roof cabins suspended on stilts over the lake. The employees were busy preparing for a wedding reception that afternoon, so we wandered the grounds and rested on lounge chairs until they were ready to serve us lunch in an open-air gazebo overlooking the water. We were in no hurry so we lingered after eating to see the wedding party, a Malagasy couple of Asian heritage with an extensive entourage and lots of guests, all flaunting their finest attire. The hotel keeps a few ring-tailed lemurs in tall iron cages in the garden. They were diffidently lounging around until the wedding party arrived, at which point the lemurs got all excited and clambered all over each other to get a better view of the pageantry. After returning to town, we read on our patio until it was time to freshen up and meet Voahangy for dinner.
There really isn't enough to do in Fianarantsoa to stay for 3 nights as we did, but we needed to be there on Sunday morning for a truly extraordinary experience. We arose early and took a long drive on rough roads deep into the country to a small town called Soantanana. This place was really out of the way and neither Voahangy nor Gabriel had been there before. Fortunately Malagasy men aren't as reluctant to ask for directions as some Westerners, because Gabriel was obliged to rely on advice from helpful locals to find it. About 600 of the 1000 inhabitants of Soantanana belong to a religious sect called the Church of the Apostles. Founded in 1840, the church is dedicated to following the teachings of Jesus Christ by doing charitable deeds, welcoming strangers and supporting the success of Madagascar (not sure if that last one is truly biblical). The members of the congregation dress daily in elegant white robes with long flowing lambas (shawls) and devote their lives to good deeds.
We parked the truck and as we began walking towards the church, congregants came over to introduce themselves and welcome us to the town. The town is set on a hilltop with spectacular views over the surrounding hills and valleys. The neat red brick houses had white and sky blue wooden balconies with star-shaped cutouts and the massive church hunkered in a vast courtyard. As 9 am approached we spotted a procession of Apostles marching towards the church, singing a hymn in exquisite 7-part harmony. We followed the parade into the church and were directed to seats in the center section of the loft where the town's female English teacher took charge of us for the duration of the service, acting as interpreter and explaining their customs and goals. As the worshippers filed into the church, men took seats in the left side pews on the lower level, women in the right pews below, boys in the left pews in the loft and girls in the upper level right-hand benches. The church council were perched on a high platform at the front of the church facing the congregation.
The service lasted about two hours punctuated by much more beautiful singing. Our teacher explained that the first Sunday of each month is for baptisms, which are typically performed when an infant is one month old. While this is a Christian sect, some native Malagasy rites are still practiced, such as ritual circumcision which boys undergo at 3, 4 or 5 years of age. However, they do not hold exhumation ceremonies, joyous affairs celebrated with music, dancing and feasting, when the dead are exhumed and reburied.
After the service, we were invited to lunch and to have our feet washed. Since Christ washed the feet of the apostles and urged them to wash the feet of others, church members prove that they are apostles by offering this service to visiting strangers. Outside the church people came over to converse with us and I thrilled the children by presenting them with Polaroid photos of themselves. I was soon mobbed and hugely enjoying the enthusiasm of the youngsters. When the church was emptied, we were introduced to the President of the council and his wife and invited to walk with them to the prayer hall. We joined the procession which again sang like angels as we strolled down the road. I soon noticed that one sweet boy whom we'd met prior to the service seemed to be at my elbow whenever I turned around, shyly smiling up at me. He told me his name is Tiana, which Voahangy told us means ''love".
When we reached the prayer house, opposite the President's residence, we were urged to sit on wooden benches and remove our shoes. Women came to us with buckets of warm water and towels then washed and dried our feet and lower legs. A tall, striking council member recited a prayer and then we were escorted to the President's house for lunch. A Frenchwoman who attended most of the service was with us and during the foot-washing ceremony we were joined by a French family escorted by a French travel agent who grew up in Madagascar. We sat at a long table and ladies of the church served us rice and stew while other members sat in the room, or stood on the porches and stairs outside the room, and sang to us.
When we finished lunch, people escorted us back to where our SUV was parked, engaging us in conversation the whole time. We met the seamstress who sews most of the lovely robes for the Apostles, the school headmaster, the science teacher, a male English teacher and many others. We spent another hour talking with people before finally bidding fond farewell. My new love, Tiana, was there to send me off with his dazzling grin.
Voahangy and Gabriel dropped us at the guest house and we decided to take a walk around town, ascending to the upper quarter to see the graceful double-domed brick church and wandering along the winding cobble-stoned paths. We ran into a scantily clad young Norwegian woman who was being harassed a bit and asked if she could join us. She had been scuba diving up north off Nosy Be and was planning to visit relatives working in a Scandinavian mission in Antsirabe. We walked and talked for a bit then returned to the Tsara. The inn was displaying a book of gorgeous black and white photos of Malagasy children by a local photographer. Admiring the sensitive and insightful portraits, we had no choice but to buy a copy.
Monday morning we checked out and headed to Isalo National Park. On the way we stopped at the Antaimoro paper factory in Ambalavao. All the work is done by hand in open-air studios to create lovely textured paper embedded with flowers. First Avoha bark is boiled and the fiber is pounded with mallets. The paste is spread in a screened frame so that the water can filter out. An attractive young woman dressed as colorfully as the flowers artistically arranges fresh flowers and leaves on the pulp and covers the design with a water and plaster mixture. The paper is then spread out in the sun to dry. The gift shop carries an excellent selection of papers and other crafts.
We officially exited the Central Highlands at the Andrigitra mountain range which is considered the gateway to the South, with the second highest peak in Madagascar, Mt. Boby at 2,653 meters. Voahangy pointed out a mountain called the Bishop's Hat where a bloody war between the Merina and Bara tribes resulted in the Bara hurling themselves off the mountain in defeat. We had a very good lunch at the Zaha Motel in Ihosy, the regional center and capital of Bara country. A Bara tradition, that is still practiced, is the theft of a zebu to win a bride. The suitor must present a zebu to his beloved's family and, as a zebu is very expensive, men commonly steal them. Ranching and farming are the chief occupations, with the men tending the herds and the women farming for the family's consumption, though men will often plant rice during the rainy season as well. A wealthy man may have several wives as he can afford to donate more than one zebu.
We stopped in the small town outside the national park to obtain park passes and to arrange for a park guide before heading in. The park sprawls across the Horombe plateau, a vast savannah, extending into the Isalo Mountains. We toured the informative visitor center museum for a grounding in the geography, geology, anthropology and biology of the area before beginning our exploration. Interesting rock formations caught our eye as we motored down the road and we pulled over for a better view of the majestic Queen (La Reine) and surrounding shapes on our way to La Fenetre (the Window), a natural aperture in a towering rock face. This is a popular spot to watch the sunset so we hadn't been exploring the site long before we were joined by others. This area is a rock lover's dreamscape with its spectacular red sandstone configurations, which are particularly breathtaking when illumined by the setting sun. Gabriel climbed a tower to lounge around and enjoy the view from a different perspective. When the sun had ducked below the horizon we drove to the lodge in Ranohira.
The Relais de la Reine is primarily composed of stone and esthetically integrated into the surrounding landscape. A sweet-faced pack of endemic endangered radiated tortoises huddled together for warmth in a stone enclosure just outside the lobby entrance. They roam the grounds freely during the sunny daytime feasting on the lodge lawns and sleep in their cozy cove when night chills the air. The attractive wood and stone reception opens into an inviting lounge adjoined by a bi-level dining room with glass doors opening onto patios outfitted with tables and chairs. Our room was simple and tasteful and we were awarded a fabulous view of the whimsical natural rock sculptures surrounding us. We settled in then met Voahangy for dinner. The food wasn't at the same level as Tsara's but was still quite good. If asked, we would have said "tsara be".
In the morning, our park guide, Jules, met us in the parking lot and we drove to a trail head into the Canyon des Makis (Lemur Canyon). A Bara tribesman, Jules confided to us that he had stolen a zebu to secure his bride, but had wisely stopped at one wife. He advised us that stealing zebus is very hard and dangerous work and he was satisfied with a single spouse. From the parking spot, the canyon looked like a crack in the mountain. We traversed the savannah and picked up a steep, rocky trail into the canyon, winding our way across streams and through brush to the wooded area where the lemurs play. Before too long we discovered a troop of Ringtail lemurs (maki catta) foraging in the trees. Ringtail groups, which can include up to 25 members, are lead by females ranked by status. As their name suggests, the lemurs have long furry black and white striped tails. They resemble mischievous gremlins with their pointy ears, round, black-ringed yellow eyes and dark muzzle. As we'd hoped, some of the females had babies, including one with a very rare set of twins (Ringtail lemurs typically give birth to a single baby). The adorable twins couldn't have been more than a few weeks old and clung tightly to their mother as she lithely leapt from branch to branch to munch leaves.
While we were busy enjoying the ringtails, Jules reconnoitered ahead, returning to guide us to a small clan of Verreaux's Sifaka, one of 4 of the Sifaka sub-species. We found the Sifaka to be the most beautiful of the lemurs we encountered, with their long graceful limbs and luxuriant white fur. The Sifaka's skin is black, which is generally evident only on the face, ears and hands, which are not covered in fur, but when they stretch out their spindly arms, you can often perceive the dark body beneath their silky white coats. The Verreaux's also have a brown crown of hair on their heads. There were 4 Sifaka grazing in the trees, two with babies that Jules estimated were about 3 months old. The intrepid young male was busy practicing his leaping skills, detaching from his mother and jumping onto nearby branches, then hopping back on mom before his next foray. Sifaka troops are considerably smaller than Ringtails, numbering up to 8 members, and also headed by a high-ranking female. Jules eventually dragged us away from the lemurs to resume our hike. We had to double back, so we passed the Ringtails again and enjoyed them a bit more before continuing down the trail and navigating over rocks and trails and through pools to view the scenery in another dramatic canyon. On our way back to our vehicle Jules spied a small rust-colored chameleon on a low bush and gently held him for our inspection.
We drove back to the Relais and had a satisfying lunch outdoors while watching birds, including the resplendent Souimanga Sunbird, and lizards flying and crawling around. After lunch we joined Jules again for a hike through another gorgeous section of the park featuring sandstone outcroppings carved by the elements and festooned with brilliant orange and yellow lichen as well as interesting vegetation such as aloe plants and a short endemic species of baobab with twisted, thorny branches, glossy green leaves and yellow flowers called Pachypodium (elephant foot). We made our way to the Piscine Naturelle, a natural pool with a waterfall that is a popular spot for a swim.
Three helicopters flew by as we drove back to the hotel, an unusual sight in Madagascar, and Voahangy immediately exclaimed that they must be transporting the President of the country and his ministers since they were scheduled to be in Ihosy to appoint a regional governor. When we arrived at the Relais de la Reine, we spotted the trio of sleek, modern helicopters parked in a lot. We had to retrieve our room keys from the reception desk, so Voahangy and I took a peek in the adjoining lounge, where she excitedly identified the President and Prime Minister. As I looked over at the President, noting his good looks, he gave me a polite nod, smile and wave, which I returned, slightly embarrassed at being caught gawking.
We went back to our rooms to wash up and change for dinner, deciding to wear our nicest shirts in deference to our distinguished company. The lower section of the dining room was set up with one long table for the President and his entourage so we chose a table near the railing overlooking the lower hall. We had just sat down and were consulting our menus and chatting with Voahangy when we saw her rise abruptly to her feet and begin to address someone behind us. We arose and turned to see President Ravalomanana, casually but stylishly attired, stopping by our table to greet us. We had just enough presence of mind to express our appreciation of his country while shaking his hand as Voahangy introduced us. He graciously agreed to pose with Voahangy for a photo, which we're certain must have been one of the high points of her life as she clearly admired him and his leadership ability. During our road trip she often pointed out improvements credited to his government. We were thrilled at this unexpected honor, we don't usually meet the heads of state of the countries we visit. The three of us were so pumped that I decided we deserved to share a good bottle of French wine with dinner to celebrate the occasion. Voahangy told us that during the turmoil after the 2002 election, the U.S. was the first country to recognize him as the President, which helped to legitimize him and settle the issue. The following week we read in the local newspapers that he had gone to New York for UN meetings and to meet with President Bush.
We checked out of the lodge after breakfast the next morning, about an hour after the President had already flown off in his chopper. Sapphire mining is a burgeoning industry in Madagascar and we passed through a boomtown created to accommodate the miners and vendors of these gems. As we continued southwest, we entered an area predominated by dry, deciduous forest, including the national and sacred tree of Madagascar, the Baobab, mother of the forest. Of the eight species of Baobab, seven are found on Madagascar (six are endemic), one species is shared with mainland Africa, and one grows in Australia (commonly called Boabs there). Baobabs have rotund bottle-shaped trunks used to store vast quantities of water, short gnarled branches that resemble roots and small leaves that are shed during the dry season to preserve water. The fruit of the Baobab is high in vitamin C and during the wet season the leaves are eaten like spinach. Two types are native to this region of the country.
This is the land of the Mahafaly and their magnificent tombs. On the road to Toliara (Tulear), we stopped to view some remarkable Baobabs as well as the grandiose tomb of a local town mayor. The Mahafaly are master carvers who decorate their tombs with tall totemic wooden sculptures known as Alo-Alo. Figures on the Alo-Alo represent important people or elements in the deceased person's life, such as a spouse or a zebu, and abstract shapes represent celestial bodies (circle = sun, semi-circle = moon, diamond = star). The mayor's tomb included paintings of him and his family, and sculptures of him performing his duties, such as addressing a crowd using a microphone.
We stopped at an arboretum outside the city to have lunch at their restaurant, Auberge de la Table, and to tour their gardens. Our well-informed and personable guide advised us that there are 1000 endemic plant species in southwestern Madagascar, particularly many thorny varieties well suited to the arid environment. He showed us the Laro tree, which bleeds a poisonous white latex that locals use to remove warts, to poison fish and to caulk boats and identified plants with medicinal properties. We learned that all endemic species of Madagascar vanilla are inedible and that the famous vanilla exported from Madagascar originated in Mexico. The vanilla plant has to be hand-pollinated because the Malagasy bees cannot pollinate it. We happened upon a chameleon in a tree and were elated when it whipped out its long tongue to snare an insect on a neighboring branch - it was the first time we witnessed this behavior.
As we drove through Toliara, we noticed that t-shirts imprinted with photos of U.S. movie stars were quite popular among the men. We stayed at the Motel Capricorne, which is quite basic but supposed to be the best accommodations in town. I couldn't resist sampling the vanilla-infused rum in the hotel bar and was pleased to find it smooth and aromatic. Dinner at the hotel was also very good, particularly the seafood since the town is situated on the coast.
We were very interested in seeing more tombs and had arranged to spend a day exploring farther reaches of the region. Voahangy warned us that the roads would be truly horrid, so we were all pleasantly surprised to find that they had been substantially improved since her last visit to the area. Fields of sweet potato, maize, cassava and sorghum shared the terrain with zebu, goats and some sheep. Cattle herders wrapped in colorful woven lamba, and occasionally only loincloths, wielded long metal-tipped spears. Near the village of Tongobora, we pulled over to investigate a lively cattle market. Vazaha must not be a common sight and we attracted as much attention as we bestowed, most of it very friendly.
We meandered along scenic country roads for some time before discovering any tombs, but our long journey was well rewarded as we eventually found many impressive monuments with stunning and creative Alo-Alo, some quite old and others more modern. As in so many cultures, great sums of money are lavished on memorials to the deceased, though Voahangy told us that it's becoming less common to slaughter great numbers of zebu and to place the horns on crypts since zebu are so important to the family's prosperity. Therefore we realized that one grand tomb with 12 sets of zebu horns must have commemorated a very important figure in the community. Among our favorite Alo-Alo figures was a carving of a woman operating a sewing-machine, clearly identifying the dearly departed woman as a seamstress. An Oplurus, a handsome spotted brown lizard with an extraordinary fringed tail darted among the stones on one of the tombs. As we were admiring one fine tomb, a teenage zebu herder and his young brother curiously came over to see what we were doing and proudly posed for a portrait.
The sun was quite strong so Gabriel parked beneath a tree so that we could enjoy our picnic lunch in the shade. We spent the long ride back to town gazing at the scenery and people we passed. Not too far from Toliara a horrific accident involving a truck, a car and a zebu cart shook us up quite a bit. The truck was turned over on its side, the zebu lie dead in the road with its cart overturned and shattered and the car was smashed pretty badly. We knew that people must have been seriously hurt, but they had been evacuated by the time we passed.
We had to get up very early and grab a quick breakfast in order to make an early flight to Tolagnaro (Ft. Dauphin) in the south. Ft. Dauphin is probably the most beautiful city in Madagascar, spread out on bluffs overlooking lovely white sand beaches and photogenic turquoise ocean. Winds blow hard off the water and our plane was buffeted like a hollow ball in a lottery number selection machine.
We were scheduled to be driven to Berenty from the airport, spend two nights there and return to Tolagnaro for one night before heading back up to Tana. Voahangy told us that she'd gotten a call from her office informing her that we'd be spending only one night at Berenty and two nights in Ft. Dauphin. Since there really is not much to do in town and since Berenty offered our best shot at seeing Sifaka moving on the ground (a behavior we greatly wanted to observe), we were not pleased about the switch and told Voahangy so. It was not as if this occurred due to an unavoidable problem, like a canceled flight or weather or a local labor disruption. Berenty is a private reserve owned by the de Heaulme family corporation, which also owns many of the hotels and other services in the area. It seems that they routinely change arrangements, even those booked as far in advance as ours had been, to suit their own needs. From what we could gather some tourists had shown up without reservations and only had one day to see Berenty, so they were getting our accommodations. Madagascar is pretty remote. It's beyond us why anyone would travel so far to a place during its high season without making advance reservations at the more popular places at minimum, or without at least allowing a considerable amount of extra time for flexibility.
At the airport, we were herded onto a mini-bus and taken to the Hotel de Dauphin. While we were settling into our room Voahangy worked her magic and managed to snag us a second night at Berenty. Voahangy had been a fun and interesting companion during our travels, and had greatly helped us understand the culture, history and economy of the country. She was now proving how invaluable her services were to us as a trip coordinator. A guide named Josiah and a driver came to take us on a brief tour of the town. The decayed skeletons of wrecked ships littered the shallow water of one very attractive beach, hinting at a danger that its calm surf concealed, and we strolled through a wooded area to another gorgeous beach where a few local couples basked in the sun and serenity. We also visited the Saiidi Gardens, which cultivates native flora, such as pitcher plants and towering traveler's palms, as well as sheltering indigenous critters, such as crocodiles. We returned to the hotel for lunch and spent the afternoon at the Reserve de Nahampoana, where we saw Ringtail lemurs, including some very young ones, and chameleons and took a pleasant boat ride down a narrow river. On the drive to the reserve and back in a dilapidated truck our saucy driver flirted with every young woman we encountered, appearing to be on intimate terms with at least half of the town's female population. That evening we were unable to find transportation so we dined at the mediocre hotel restaurant rather than at a somewhat nicer one that we'd planned to try.
We set out for Berenty the next morning in an old jeep with a less flamboyant driver than the previous day's. Along the road Voahangy pointed out stone obelisks commemorating the dead. The bodies are buried in the forest, not near the tombstones. We stopped at a local fruit and vegetable market to check out the produce and play with some children hanging out there. We got to Berenty midday. Cabins with wide verandas are divided to accommodate two parties in separate rooms. Our room was simple but spacious containing a seating area with a couch and coffee table, a desk and chair, one big bed with a mosquito net, end tables, a vanity and a bunkbed that we used to hang clothes on since there were shelves but no closets. On our way to lunch we popped our heads in the bar/café just to see what it looked like and were amused to see Ringtail lemurs casually lounging on the cushioned chairs on the al fresco patio. It reminded us of the scene in the original "Men in Black" movie when J first encounters the Worm Guys hanging out in the coffee room.
Berenty is very easy to explore because of the wide, well-maintained paths cutting through the vegetation. I don't think it's possible to come here and not see lemurs. They're everywhere. Particularly the Ringtails, who prowl the grounds in big, swaggering gangs. There's a species of Brown lemur, different from those we saw on Nosy Mangabe, with rust-tinged light brown fur and fawn-colored faces intersected by a broad black stripe. And of course there were the Sifaka, playing suave Fred Astaire opposite the Ringtails' scrappy James Cagney and the Browns' malicious Peter Lorre. Both the Ringtails and Browns crawled the ground on all fours, but the Sifaka hopped, skipped and jumped on two legs balancing with their long, graceful arms and tail. We saw a few on the ground but most of the time they were leaping acrobatically through the trees. Heading back to our cabin after a very satisfying walk, we spotted a small group of Ringtails enthusiastically chowing down on prickly pear cactus, their cheeks comically bulging with food. Clinging to one female was the tiniest baby we'd seen so far, so close to newborn that its wispy black tail wasn't ringed yet.
That evening we were surprised to see Josiah, our guide from town, who lead us on a night bush walk before dinner. Radiant masses of stars illuminated the sky over our heads and our relatively feeble flashlights lit the ground at our feet as we crashed through thick brush hoping to glimpse nocturnal creatures. We not only saw adorable white-footed sportive lemurs, but we were lucky to get a really close view of a wee gray mouse lemur who froze on an exposed branch in our beam of light.
Workers at the reserve had advised Voahangy that the Sifaka parade down a wide tree-dotted alley right behind the café every morning around 9:30 am, so we had breakfast on comfortable sofas on the patio and kept an eye out for them. Food was pretty bad at Berenty relative to the rest of the places we'd been, but the worst was the stale baguettes that were all that they served for breakfast. You might be able to explain it since the place is hours from the nearest town, except that cars come from Ft. Dauphin every day transporting visitors to and from the reserve. You'd think that they could bring some fresh bread.
In the morning while the temperature is still cool, the Ringtails will often sit in the sun with forearms upturned on their widespread knees, catching some rays. The café workers had to keep chasing cheeky Ringtails who tried to snatch food from the breakfast tables. The Sifaka were a bit late this morning but after awhile I spotted a flash of white leaping into a tree at the far end of the alley. We jumped to our feet to have a look. Over the next couple of hours a troop of Sifaka danced down the path, hopping into trees to feed along the way and pausing at times to groom each other and cuddle. Sifaka always land on their broad back feet when they jump, even when leaping through trees. The Sifaka are as lithe on their feet as in the trees as they chassée sideways just like ballerinas with their arms gracefully curved and heads delicately tilted. It's one of the most entrancing performances we've ever seen.
We'd noticed that some of the Ringtail lemurs here looked very sick, skinny with thin fur and bald patches. Voahangy had introduced us to Alison Jolly the day before, a renowned expert on the Ringtail lemurs of Berenty and author of an informative and very entertaining book about the local wildlife and Antandroy people called "Lords and Lemurs". Alison came by and we asked her about the ailing lemurs. She told us that a species of tree that had been introduced in the reserve produces a toxic chemical similar to that used for cancer chemotherapy. Lemurs who eat a lot of leaves from this tree suffer symptoms similar to humans taking these chemicals but in doses that will eventually kill them. A program was initiated to remove these trees from the park.
When the Sifaka had moved on, we walked to an area where we could see legions of fruit bats suspended from trees like huge ripe figs. Most slept, cocooned in their capacious black wings, but one randy pair made vociferous, vigorous love high in a tree without losing their grip. During our walk we spotted quite a few birds, black and white magpie robins, long-tailed paradise flycatchers and the gorgeous giant coua with its electric blue and violet eye ring, buff throat, rufous breast, gray-green back and lengthy black tail tipped with white. We'd seen coua while driving but never got as close for such a good look. We had asked Voahangy about the famous Madagascar hissing cockroach so she took us to a tree where they commonly root beneath the bark. She and Stu peeled off some patches and soon uncovered an impressive one, a hefty beast with a black head and tail and a tan, brown and black striped body.
We ended an excellent morning with a visit to an anthropological museum on the grounds dedicated to the local Antandroy people. It is filled with fascinating artifacts and wonderfully written explanations of the culture. Like their Indonesian ancestors, funerals are multi-day events involving ritual ceremonies such as the sacrifice of zebu, distribution of the meat and the burial, as well as dancing and feasting. Unlike the Indonesians, mourning sisters and daughters of the deceased shave their heads and the family burns the dead person's house. Among the other interesting customs is the practice of shooting the foreskin of a circumcised youth from a gun. After lunch we roamed the grounds again, observing lemurs and birds.
We waited for the lemur cotillion after breakfast the next morning but they must have taken the day off because they didn't show. We were doubly grateful to Voahangy for having worked out the itinerary problem as a result. On our original and final schedules we would have been here to see the Sifaka dance, but if we'd accepted the single night at Berenty, we would have missed the main thing we came here to see since the only morning we would have been at the reserve was this morning. A driver came to take us back to Tolagnaro and we stopped at a sisal factory just outside the reserve. Fields of sisal extend in all directions and a town was formed to support the factory workers, which included a medical clinic and school. The sisal is processed to weave ropes, mats and rice sacks. When we entered one work area a tall, superbly muscled and completely naked young man was washing himself in full view. We chose to tour a different section of the facility. We had lunch at the Miramar which offers spectacular views of the sea, as its name would suggest, from its cliffside perch. We relaxed there until boarding a shuttle bus to the airport for our flight back to Tana and another evening at the Colbert. They gave us a luxurious suite this time. That worked out well since we had to order room service for breakfast due to another early departure and we had a nice dining area to use. I used the hotel gym before dinner (only the second time I had the opportunity during the trip). It's small, which wasn't a problem since it was empty the times that I used it. It's a very nice facility with helpful staff and good machines.
Our flight to Antsiranana (aka Diego Suarez) stopped in Nosy Be first, disgorging most of the passengers seeking beach time. Voahangy was openly contemptuous of the island, where the child sex industry apparently thrives, attracting hordes of pedophiles. We saw plenty of gray-haired vazaha with young women during our peregrinations but most were at least in their later teens.
We were a bit concerned when the driver who picked us up at the airport had trouble starting his car in the parking lot, but figured it would probably be alright. On the way to our hotel the car broke down on a country road. The driver called for help and while waiting he found a beige chameleon in a bush down the road. We enjoyed watching it for awhile when he managed to spot a green chameleon so we went to see that one. Mint grew wild in the area, perfuming the air and kapok trees manufactured fiber in long green pods. By this time, we'd sparked the curiosity of some girls walking by, who shyly returned our greetings. I pulled out my Polaroid and began handing out photos, which tickled them as much as we expected and got them talking to us. Now other children came over to see what was going on, including a boy wearing a turban. When he realized that we were interested in reptiles, he ran off and returned with a chameleon on a stick for our inspection. We hung out with the kids until our replacement car came and took us to Nature Lodge, up in the hills in Joffreville near Montagne D'Ambre National Park. It was probably the most fun we've had while stranded.
We were greeted by the lodge manager, Francoise, a charming, talkative Frenchwoman, who escorted us to a thatched roof bungalow overlooking Antsiranana and the sea. The bungalows are simple yet appealing and the wood reception/office/restaurant/bar building is magnificent with tasteful furnishings, colorful oil paintings of Malagasy life by a local artist, pottery and other stylish touches. We had a delicious lunch while soaking in the fresh air and expansive views. That afternoon we toured the town. It looked a bit down at the heels and there was very little to see of great interest. We followed a coastal route out of town where we stopped for a view of Sugar Loaf, an island in the bay that is a sacred burial site for tribal Kings and Queens and other V.I.P.s. Farther down this road a stand of incredible baobabs thrust their stunted arms towards the sky. This was a species we hadn't seen before with glossy reddish bark.
Breakfast was delightful with Mozart on the stereo and delectable home-made papaya jam perfumed with vanilla for our bread. We met a new driver and local guide, Théo, and piled into the cramped back cab seat of a 4WD pickup truck. On our way to Montagne D'Ambre, Madagascar's first national park, we pulled over for a lesson in the local agriculture and to appreciate an enormous spider with burnt sienna-and-black-banded legs and a black and white abdomen peppered with yellow spots. We started our visit to the park with an overview of the topography, vegetation and wildlife at the visitor's center. Montagne D'Ambre means Amber Mountain and refers to the amber trees which proliferate in the park. We hiked quite a bit but it was all fairly easy and not very challenging, even the uphill sections. The park is lush with trees, flowers and bushes so birds and butterflies are abundant. Voahangy spotted a group of crowned lemurs cavorting in the high foliage. The males have chestnut fur, the females are gray and both sport v-shaped orange crowns with a broad black center stripe on their heads.
We descended a rutted path to Lake Mahasarika, a volcanic lake that supplies water to Antsiranana, then ascended a path to a high overlook for a view over the valley. On our way to another section of the park, we scouted out a pack of Sanford's lemurs, a species of brown lemur. The males have a white ruff of fur framing their cute round-eyed faces. Continuing down from the hilly path we reached a flat area where we found a Nasutus chameleon, a small, narrow-bodied lizard with a prodigious warty bluish nose, like a Halloween gourd. We visited the Cascade Sacrée, a beautiful waterfall where locals come to pay tribute to the spirits of their ancestors and to get blessings of vitality, fertility and purification. The spirits, called Tromba, grant wishes and offer advice via human intermediaries. We chilled out by the Cascade Antakarana, also known as the Grande Cascade before heading to a picnic area for lunch. We walked back to where our car was waiting, trying to get a good view of the crowned lemurs swinging through the trees around us. On the drive back we had to get out of the truck to marvel at a Madagascar day gecko with its fluorescent green body and fuchsia body spots. We'd seen plenty of them around the country but this was the largest and most vivid we'd seen.
On Thursday, Théo and a new driver with a far more comfortable vehicle showed up late for our drive to Ankarana National Park. Soon after we left the lodge, we braked for an enormous Pardalis chameleon slowly crossing the road. He was attractive, with sand and caramel pebbled skin, a ridged back and a prehistoric-looking crest on his head. Chameleons don't just walk, they do a funky dance, lifting opposing front and back feet and rocking them back and forth a few times, like a DJ scratching vinyl, before setting them down and repeating with the feet on the other side.
Sapphire mining is spreading to this part of the country as well and we ambled through a makeshift shanty town to a muddy river where groups of women socialized as they panned for stones. They were not very welcoming, perhaps suspecting that we represented some government agency coming to shut down their operation. The Polaroid dissolved their mistrust and they were soon coming over and posing for portraits, clearly pleased with the results. Now they were willing to talk to us about what they were doing and ask us what we were doing in Madagascar.
We were spending the night in a camp just outside the park equipped with wooden bungalows and surprisingly comfortable bedding. Based on our trip materials we'd expected to be camping in tents in the park. We stopped there to drop our stuff and have lunch on a picnic table in one of their open-air dining huts. The camp operated a small stand selling water, beer, soda and cigarettes. After lunch, Théo took us a short distance to see a foot-long leaf-tailed gecko hiding in plain sight on a tree.
We stopped in the visitor's center to get park passes and a brochure. The rules of the park are prominently posted, especially listing prohibitions in the bat cave, which included menstruating women and sexual intercourse. They probably can't prevent the bats from mating, so the rules undoubtedly apply only to humans.
We hiked to an overlook to survey the tsingy, (craggy limestone spires caused by water erosion) a landscape resembling a metropolis of gray art deco skyscrapers. Tsingy can be found in a couple of locations in Madagascar, some more dramatic than this, but this area is the most easily accessible. There is another section within Ankarana with larger tsingy but we didn't have enough time to get there. Next stop, the bat cave. The cave was seriously fun, a vast cavern with the usual stalactites and stalagmites and the added bonus of thousands of furry little bats clinging to the ceilings and swooping through the darkness. We had a good time scrambling around the sides of a deep and remarkable sinkhole before traversing wooded areas looking for lemurs, who unfortunately eluded us.
When we got back to the camp, a couple of British guys whom we'd run into at Montagne D'Ambre were sitting around having beer, so we joined them to chat. They seem to enjoy traveling as much as we do and gave us some good recommendations for future trips. They had stayed at Le Domaine de Fontenay in Joffreville, a former French colonial home converted to a sophisticated inn. The gourmet meals at their guest house sounded amazing and far better than those at our lodge, fine as they were. They went off to set up camp in tents inside the park and we had a simple dinner.
Soon after we began we were joined by a tall, well-built guy with striking blue eyes and blond hair pulled back into a ponytail. He seemed gratified to find English-speaking companions and smoothly struck up a conversation. A native of southern California, Tom has a ranch there but has lived in Saudi Arabia for 18 years. He owns a firm that provides security for high ranking individuals, such as members of the Saudi royal family and government. He travels quite a lot and has been to Madagascar many times. An amateur naturalist, he's very knowledgeable about wildlife and is particularly interested in birds. We talked about the Galapagos Islands, which is on his list to see and that we visited in 1996, and about what it's like for his wife and young children living in an Arab country. We met plenty of engaging people on this trip, one of its many high points.
We took our leave of Tom and went for a night walk with Théo and Voahangy. Théo really didn't seem very interested in helping us find animals, he pretty much wanted to walk up the highway looking for chameleons in the bushes. Voahangy persuaded him to take us into Ankarana, where we ran into a couple of guys driving an oxcart who were obviously poaching wood from the national park. We heard some lemurs in the trees and caught some movement, but never ended up seeing any. It was the most disappointing of our nighttime excursions.
The next morning we got a bucket of hot water to wash up with. We would have had plenty of time to take another excursion into the park as we didn't leave until mid-morning and it was impossible to sleep late since the camp gets noisy as soon as the sun rises. If we'd known what time we were leaving, we probably would have gone in on our own, but we weren't advised, so we just hung around the camp until we left.
On the drive back to Antsiranana, we stopped at the village of Anivorano Nord which supports a thriving furniture making industry. Locals grazed at food stalls lining the main road. A woman clad in bright red and blue patterned fabric was cooking rice flour bread, called mokary, in small, covered skillets with handles over an open fire. Voahangy bought some for us to try. They were delicious, light and slightly sweet with a spongy texture. We regretted not going back for more.
The town is home to the sacred lake. According to local legend a stranger visited the town in olden days and requested water to drink. Denied a drink, he cursed the village, invoking a flood that engulfed the town, turning it into a lake and its inhabitants into crocodiles. These days, once a year villagers sacrifice zebu to the crocodiles, allotting part of the animal to the crocs and the rest to the townspeople. Jerry had told us that his film crew was planning to visit the lake on the feast day to record the ceremony. As we wandered in the market, we noticed that vendors commonly use condensed milk cans as measuring cups. Piles of brightly colored coconut candies (bon-bon coco) competed with stacks of rice and vegetables for the consumers' francs.
Farther on our journey we took a short walk down a trail to see a tree consecrated to fertility rituals due to two prominent knobs on its trunk symbolizing breasts. Petitioners come to pray for a child and after they are blessed with one they bring offerings of water, honey, milk, rum and coins. Some satisfied celebrants might even sacrifice a zebu. While we enjoyed much of this area, if we were planning the trip again, we would not bother going to Ankarana unless we had another full day to explore the park. The ride out and rough accommodations didn't seem worthwhile for the few hours we were able to spend there. We suspect that a better guide might have improved our experience as well.
We got to the airport well before our flight departure and ate sandwiches and read while waiting. The flight was delayed and after an hour or so without any definitive status, we learned that it was canceled. Voahangy handled the alternative arrangements and rounded up a car to take us to town. We checked into the Colbert Hotel (no relation to the Hotel Colbert in Tana), which was a bit seedy but had all the basic necessities. Voahangy arranged for a driver to take us for a ride, though he showed up so late that we would have preferred not to bother at that point.
We took a slow, bumpy drive on a rutted road out of town, arriving at Ramena Beach just in time to witness a blazing sunset. Tin shacks strung along the beach provide vacation homes for visitors. Fishermen paddled out on the placid bay in plain wooden dinghies. Dinner at the Bistro Colbert in the hotel far surpassed our expectations, the lobster was especially delicious.
Voahangy had gotten us on an early flight back to Antananarivo and had arranged a day room at the Colbert. We dropped our stuff and went to lunch at La Varangue, an enchanting restaurant and guest house decorated with a fabulous collection of antiques. It was a mild, sunny day so we dined sumptuously on the terrace with lovely town views.
After lunch we headed up into the hills to tour Ambohimanga, a world heritage site, and royal compound of the Merina kings and queens. A picturesque village thrives outside the gates of the fortified complex. We noticed an outdoor salon where men were having their hair cut. Voahangy purchased our tickets and we climbed the stone steps to the palace. Antananarivo once had twelve chiefs, one occupying each of the 12 hills that comprise the city. The chief who established this site united the clans by marrying wives from all twelve. A vast courtyard, where soldiers slept and zebus were ritually slaughtered during ceremonies to worship ancestors, is still used for important rituals such as the celebration of the New Year. An enclosure adjacent to the courtyard held zebu so they could be fattened up for the ceremonies. We entered the spare living quarters of the early kings. The king had a special sleeping loft where he hid when visitors arrived. He would toss stones down to signal the queen whether he chose to receive a visitor (the number of stones represented yes or no).
The upstairs quarters, used by royalty of later generations, were considerably more upscale with fine rosewood fittings and furniture and more modern conveniences. We strolled along the queen's promenade overlooking the courtyard, countryside and city. There was a small cemetery and a large pool where the royal family would bathe during the New Year celebration. When we returned to the car for the ride back to town, we discovered that our driver had taken advantage of his free time to get a haircut at the place we'd seen when we arrived.
We made one stop at a gift shop to find some packaged vanilla beans to bring home with us, then returned to the Colbert to shower and change for our long journey home. If we can offer one really good piece of advice for future visitors, it is to be sure to arrive at the airport at least 2-1/2, and preferably about 3 to 3-1/2 hours, before your scheduled flight. We got there about 2-1/2 hours ahead and the line for security and check-in already extended out into the parking lot and continued growing behind us like an out-of-control conga line. Don't think that you can zip through a fast track check-in line if you're not flying coach. The security line, which everyone has to endure prior to check-in, moves at the speed of a snail on Quaaludes. Despite the Kafkaesque airport experiences, we still consider this among our best trips. Madagascar is worth the inconvenience.