We were disappointed when we couldn't get tickets for the Vermeer exhibit in Washington, DC, so we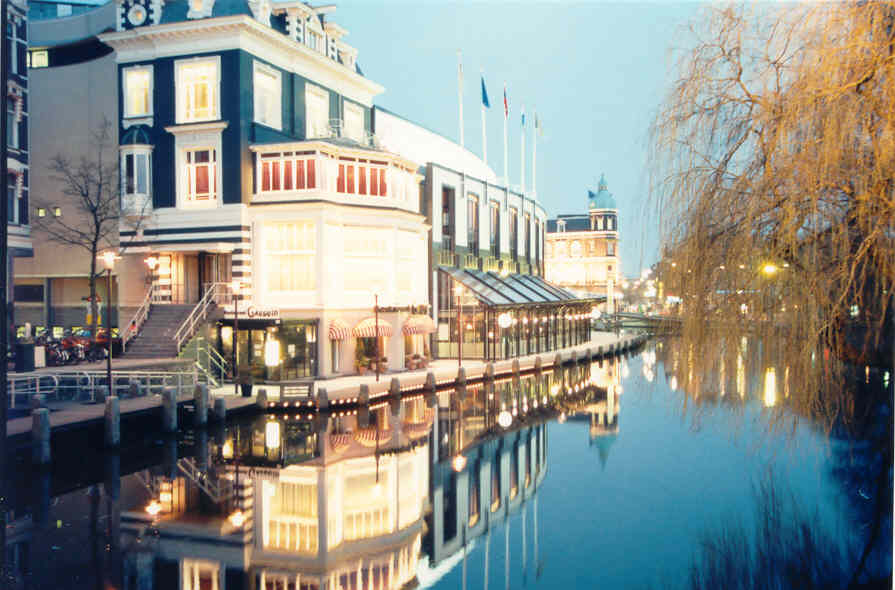 decided to use that as an excuse to visit the Netherlands over Easter weekend. It is a good thing we ordered the tickets well in advance this time, because the exhibit sold out weeks before we left, as we found out later. We flew to Amsterdam Thursday night and arrived early on Good Friday. The Hotel Vondel, in a terrific location near Vondel Park and the museums, is a converted townhouse on a charismatic little street. The manager and her assistants were very friendly and helpful and we have a spacious, but plain, room with a garden view and nice amenities. It wasn't our first, or even third choice of hotels (we wanted a small converted canal house), but it was a busy weekend, and we ended up being quite happy with the place.
Our first stop was the Rijksmuseum. We bought a museum pass, which is a great deal if you like museums as much as we do. The Rembrandts are magnificent. We grabbed a quick lunch and, since it was a balmy, sunny day, we decided to take a canal cruise. We still can't get over how pretty and photogenic the city is, with the winding canals and charming brick houses with unusually shaped roofs. It's almost unreal, like a movie set. Barbara had been in Amsterdam before as a student, and it seems to be remarkably unchanged. It's lucky we chose the cruise the first day. Although we had no rain, it was overcast the rest of the time we were there.
We got off the boat near Rembrandthuis and visited the master's abode. Though none of his paintings are there, it has a large collection of etchings and drawings. Then we boarded the boat again and continued back to our hotel. The manager reserved a table for us at an Indonesian restaurant and we stuffed ourselves silly with rijsstafel (rice table). It's a feast of small dishes of all kinds of savory treats. We waddled back to the hotel, caught Jesus Christ, Superstar on the TV (fitting for Easter weekend) and crashed.
On Saturday, we strolled through Vondel Park and were amazed to see small green parrots in the trees among the other birds. We arrived at the Van Gogh museum and spent the next couple of hours enthralled by the collection. We made a quick stop at the Stedilijk museum (modern art). It is unremarkably, and we didn't linger long. We strolled through a terrific neighborhood with lots of interesting shops and stopped for lunch at a small café with delicious ciabatta sandwiches before continuing to the floating flower market on the banks of the Amstel river.
We continued on to Dam Square, the central part of the city, surrounded by a crowded modern shopping area (our least favorite area). However, the royal palace was well worth the visit and we caught a Thai art exhibit at a nearby cathedral. We couldn't resist touring the old stock exchange (the oldest in the world), which is an admirable piece of architecture, and we walked over to visit a few churches. We unfortunately stumbled into the red light district, which is demoralizing. We had hoped to avoid it, but the prostitutes set up shop right across the alley from the church we went to see.
On our walk back to the hotel, we accidentally discovered the Amsterdam historical museum which is a former orphanage tucked into an enclosed neighborhood, which was once a convent, with a small church and square. The museum was fascinating with lots of antiques and interesting paintings depicting the city as it used to be. We continued exploring on foot on our way back to the hotel. We just had time to rest our weary feet, wash up and change before heading out to a terrific fish restaurant called Bark. Definitely a place for locals, I don't think we saw any other tourists there, and the fish was fresh and delicious. Our hotel manager recommended the place because it is just down the block form the Concertgebouw. We had bought tickets to see Evgeny Kissin, the Russian pianist prodigy. The program consisted of pieces by Bach, Franck, Mozart and Brahams and it was outstanding! He came back to play three encores to riotous ovations. The hall is magnificent, with perfect acoustics, and it was a terrific way to spend the evening.
We got up at the crack of dawn on Easter Sunday and began our drive to The Hague to see Vermeer. We decided to take the scenic route and stated out in Haarlem, making our way through Leiden and other little towns on the way, taking photos and strolling around the town squares and canals. The Hague is attractive with grand mansions and castle-like public buildings. All we can say about the Vermeer exhibit is that it is worth the trip across a major ocean to see. Although there were only 24 of his approximately 36 paintings on display, they were exquisite. The crowds were intense, but we took our time and really enjoyed it. Afterwards we toured the permanent collection of the Mauritshuis, which is impressive in its own right. There is a self-portrait of a juvenile Rembrandt which knocked our socks off, and it was an unexpected delight to see Rembrandt's Dr. Tulp's Anatomy Lesson in the "flesh". We've enjoyed reproductions but of course they never do justice to the real paintings.
The Binnenhof, next to the Mauritshuis, which contains the Hall of Knights, was unfortunately closed, but it is a handsome, fortress-like building even from outside. After exploring the city a bit we claimed our reservation at a fine restaurant and relaxed over a wonderful meal. After lunch, we drove to Delft, Vermeer's birthplace, and a most adorable town. We can see how the artist was inspired. The Dutch must take all this beauty for granted, but we never got tired of walking around the canals admiring the architecture in the towns we visited. We stopped in a museum displaying a fine collection of the city's namesake porcelain. One of the museums was hosting an exhibit of the works of Vermeer's Delft contemporaries in honor of their homeboy's prominent exhibit in The Hague. The works were expert and some were remarkably fine, especially those of De Hooch, but it is clear why Vermeer has the one-man show. It was difficult to enjoy the exhibit properly because there were too many large tour groups for the rather cramped space.
On our way back to Amsterdam, we took a detour to Lisse to see the gardens of Keukenhof. We were just a week or two too early. Flowers were just starting to peek out, but it will be an idyllic venue for a walk on a warm spring day when everything is blooming. When we finally made it back to the city and found a parking spot) no mean feat on a Sunday night), we were too tired to hunt down food, so we grabbed a quick bite at a nearby café before retiring. On Monday, we had a leisurely breakfast with plenty of time to drive out to the airport and browse through the duty free shops before boarding the plane to wing home. Next day, it was business as usual.