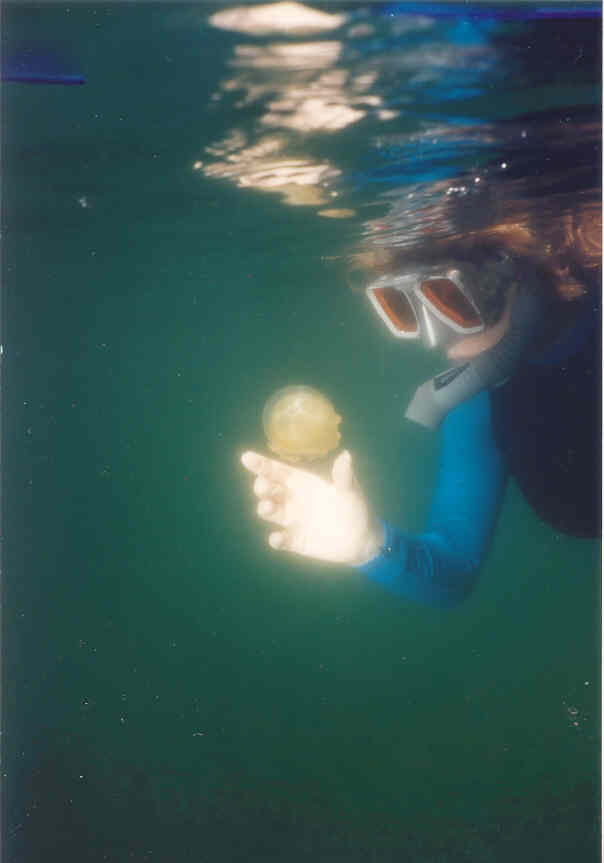 In February, (that certainly was quite a while ago, so it's a good thing that we have notes to refer to) we went on a SCUBA diving trip to Micronesia: specifically to Palau and Yap. We went via frequent flyer miles, burning upgrade miles for comfort. We went in several legs, breaking up the trip with overnight stops in Los Angeles (we got in at 9:00 PM, and left early the next morning), Osaka (where we dined on what was by far the best sushi we've ever eaten) and Guam, eventually landing on the extremely lush islands of Palau. Palau has thousands of islands that combine to considerably less land space than Ireland. Most of the islands are uninhabitable, being too small, or densely vegetated islands of shear faced rock. A group of 700 of the islands are called the
Rock Islands
, and are spellbindingly beautiful to sail by.
Our first afternoon after checking in and changing (clothing, that is), was spent on the beach and snorkeling in front of the hotel. What snorkeling! It was better than the diving at most other locations we've been to, with huge quantities of numerous species of fish and coral, many of which we had never seen before.
The next seven days were very similar. We'd arise early, breakfast, and then meet our boat for diving. The boat would leave about 8:15, and spend 45 to 60 minutes reaching our first dive site. Then we'd suit up, and then do the first dive of the day, come up for rest and lunch (sometimes before 10:30!), do some snorkeling around whatever island we landed at for lunch, and then proceed to a nearby second dive site of the day. After the second dive, we'd motor to some other island to do some more snorkeling, and then go back to the hotel to veg out on the beach until it was time to get ready for dinner. For most dinners, we caught a cab, and ate elsewhere on the islands. After dinner, we'd return to the room, and switch on the TV to find that the cable company lost power, or it was up and running and broadcasting exactly one week old programming, including one week old San Francisco news, weather and traffic reports. Regardless, we'd soon fall asleep, well worn from the day's activity.
The diving was the best we've ever experienced. The reefs were all by drop offs to very deep ocean, providing us with close views of seldom seen large open ocean fish, such as six species of shark, sea turtles, tuna, cuttlefish, barracuda, manta rays, eagle rays and numerous others. It also provided us with views of huge schools of large and small fish. And, when we'd glance down at the reef, the reef life was as plentiful as the sky blackening swarms of insects one often sees in the country on a sultry summer day.
On one of our after diving snorkel stops, we dove in a salt water lake in which the jelly fish evolved without stingers. It was like being on a distant planet, surrounded by slow swimming scoops of tan Jell-O. Astounding.
On our last full day in Palau, we spent the day touring the island with the people that had been diving with us (yes, we only had four divers on our boat). The Palau museum was lovely, as were the hand carved storyboards we saw in the youth center and prison. The storyboards depict one or more of the island myths, and when properly executed, are beautiful. Yes, we had one shipped. Touring was a good way to spend the time since one risks decompression sickness (the bends) if one flies too soon after diving.
From Palau, we went to Yap, east about one hour by jet, though considerably longer by outrigger canoe. We chose the former. Yap is probably the most natural of the Western Carolines, its natives having largely resisted changes brought by western civilization.
We were met by three Yapese (isn't that a great looking word?) from our hotel. They took our luggage ahead in one vehicle, and took the rest of us to the hotel in a bus. We arrived at the hotel just after our luggage was placed in our rooms, and we went directly to our rooms, without having to stop for registration.
The hotel reflects that Yap is the most basic of the Western Carolines, and would have seemed much nicer if we hadn't just come from Palau. However, it was fine. We spent the afternoon on an island tour with one of the Yapese, and two other couples. It was fascinating seeing how the Yapese lived, seeing their villages, with their "men only," and their "everyone" meeting houses, stone money "banks" (the stone money were huge limestone disks with carrying holes cut in their centers) and stone pathways, as well as the above ground cemeteries, and flora and fauna. We also quickly learned that the Yapese are among the most friendly people we've ever met. The only downside was the effect on Yapese teeth of the constant betel nut chewing. Yuch! Interestingly, the Yapese men and women carry baskets that contain their betel nuts and condiments and leaves to be used with the betel nuts.
The food at the hotel was pretty good. Over dinner and breakfast we heard diver stories of things such as, "Oh yes, we saw seven mantas our first day, but none the next," so we were glad to have seen some on Palau.
The next day our boat was scheduled to depart at 10:30. Unfortunately, we didn't go until 12:30 since our boat developed an hydraulic problem with the steering that took hours to fix. Eventually, we went out, cruising carefully through a narrow channel in the mangroves, which made us think of the Louisiana bayous or the Florida Everglades.
For our first dive, we were to go to 70 feet, and just hang out in hopes of seeing manta. At 40 feet we saw a squadron of four mantas glide by, just a few feet away. The adventure continued for 44 minutes, at the end of which we had counted 52 mantas, most quite close, and often traveling in lines of four to 12 animals.
When we surfaced, we found a larger boat, our belongings having been transferred, and the earlier divers having taken our smaller boat back through the channel. We had lunch, marveled at our experience, and went back down, not expecting to see any more manta. We were wrong, and saw another 23, most of them quite close, too.
When we surfaced again, we transferred to a very small boat to make the low tide trip back. Our gear went the long way around, and arrived on the big boat about an hour and a half later, rinsed and hung out to dry.
The next day we packed a model of a Yapese sailing outrigger, and carried it to the post office (it arrived home by post three days later). Then we continued foot touring, and boarded the bus for the airport.
On the way home we went through Osaka, spending a night and a day. In Osaka we managed to get around on seven of the eight well marked subway lines so we could see their aquarium (amazing, that after all that diving, we still went to an aquarium), a 15th century castle, that originally had an 11 kilometer circumference, and a temple. The aquarium is the best we've seen anywhere, and we've seen most major aquariums. It was set up with habitats from the entire "ring of fire," and included land and sea flora and fauna as well for several of the "locations." In the center was a six or seven story tank which houses a whale shark (the largest fish in the sea, which we got to see eating krill -- quite an experience not to be missed) and numerous other species of sharks, rays, and other large pelagics, such as sawfish, tuna, Napoleon wrasse and guitar fish.
The castle was mesmerizing. On the way there, on its grounds, we passed crowds of amateur photographers carefully setting up photos of plum blossoms in the park.
The balance of the trip went well, but we would have rather returned to Palau. However, work called. And as despicable as it is, it does provide the funds to live and travel. Speaking of travel, now let's fast forward to the very end of last August, and our trip to China.