What has ancient archaeological treasures, diverse and fascinating cultures, towering white sand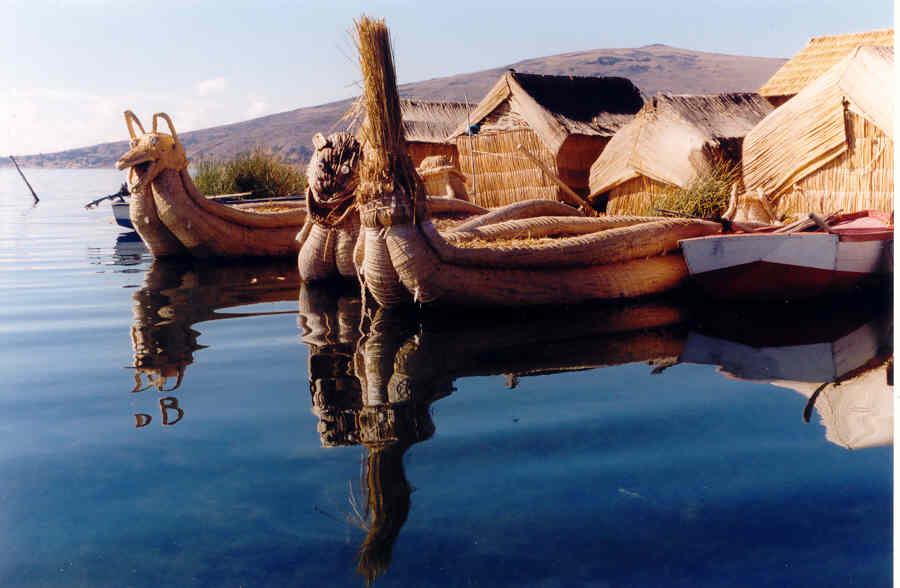 dunes, miles of scenic beaches, lofty snow-capped mountains, vast pristine rainforest, scores of beguiling critters, including penguins, a tradition of renowned textiles, some of the friendliest people on earth and mummies?
You're probably thinking Egypt because of the archaeology, sand and mummies, but you're wondering where the heck the rainforest and the penguins fit in. The answer to this riddle is Peru, which we visited in September.
We started out thinking we'd make this a short trip, mainly to explore Machu Picchu, Cuzco and the Sacred Valley of the Incas. But as we continued our research, the trip kept getting longer and longer and we soon began to suspect that even 3-1/2 weeks wasn't going to be enough. It was a great taste that left us craving more.
We flew overnight to Lima and were met at the crack of dawn by Vilko, our trip coordinator, and our driver, Carlos, who were practically old friends of ours by the time we said goodbye weeks later. They transferred us to our hotel, El Olivar, in the ritzy San Isidro section of town and advised us that Daniel would swing by to pick us up in a couple of hours for a tour of the major museums. We had plenty of time to shower and change before heading out to the Rafael Larco Herrera Museum, one of our favorite museums of the trip. Daniel is not only handsome and charming, but he has Master's degrees in anthropology, archaeology and philosophy. He said that when he'd finish one course of study he would realize that he needed to complete another discipline to round out his understanding. He teaches at Catholic University in Lima, in addition to participating in archaeological explorations and teaching curious tourists about the wonders of his country. What a perfect guide to the pre-Columbian cultures!
The Larco houses an impressive collection of ceramics, mainly from the pre-Inca cultures, including a whole room of erotic pottery. It was hosting an exhibit of Moche (300-600 A.D.) artifacts that illustrate one of the important rituals of the culture - the sacrifice of prisoners and presentation of blood to the reigning lord. Daniel led us first to a chalice with an elaborately drawn depiction of the entire ritual, describing what we know and surmise about each stage of the ceremony. Then he took us to each ceramic or artifact in the exhibit and showed how it depicted a character (such as a priest, prisoner or warrior) or showed an implement (such as a ceremonial knife called a tumi) from this ritual. We would have admired the artistry of the collection without this instruction, but we were able to appreciate it so much more when understanding the context.
We visited the Archaeology museum next and got a good grounding in the history and characteristics of the various cultures. This was to prove invaluable in our subsequent travels as we explored key cultural sites throughout the country. Instead of dropping us at our hotel for lunch, Daniel brought us to a terrific Creole restaurant in the artsy section of Barranco and we had a chance to get to know each other a little and experience our first taste of Peruvian cuisine, sharing anticuchos (grilled beef hearts on skewers), tacu tacu (a savory rice and bean dish) and aji de gallina (chicken in cream sauce).
After lunch we toured the Gold Museum where Daniel's expertise was invaluable in helping us identify the significant pieces and recognize fakes. That evening Daniel ran home to watch an important national soccer match and we took the advice of a very helpful taxi driver and had a delicious meal of local specialties at Restaurant Jose Antonio, including the country's justifiably famous ceviche.
The next day we met Ofelia, our city guide and colonial era expert. We started out in the Plaza de Armas, a grand square surrounded by the Catedral de Lima and attached Archbishop's Palace, the Presidential Palace, Lima Town Hall and other handsome Spanish-influenced edifices. One feature of this architectural style, that we were to find throughout the country, is elaborately carved wooden balconies. We learned that the blinds, appropriately dubbed jalousies (French for jealousy) were designed to allow the women to peer out onto the streets without being observed by those outside, who might presumably be tempted to initiate contact with the comely senora or senorita within.
The Archbishop passed away that morning and the cathedral was closed to the public as they prepared for the following day's funeral mass, but fortunately we had time to visit it later in the trip during a stopover on our way to Lake Titicaca. One highlight in the cathedral is the elaborate tomb of Francisco Pisarro, who established Lima as the capital of Peru (Cuzco was the Inca capital prior to the arrival of the conquistadors). The interior is restrained by Spanish baroque standards, but the museum contains many fine examples of religious art and objects.
Ofelia pointed out that an antique cannon on the balcony of the Town Hall is intentionally pointed towards the Presidential Palace across the square - apparently there has been a long feud between the mayor of Lima and President Fujimori. We'll have to see which way the cannon points when Fujimori's replacement takes over. We were in Peru during the period when the scandal broke with his second-in-command, Montesinos, and Fujimori decided to step down and schedule an election with two new candidates.
We made our way around the square and off to the lovely Convento San Domenico inhabited by a congregation of Dominican friars. We just had time to tour the beautiful church of San Francisco before taking a break. Among our favorite parts of this church were extensive catacombs with ghoulish arrays of skulls and bones and a magnificent council room adorned with masterfully carved and painted tableaux of saints. We invited Ofelia to lunch so we could talk about current affairs.
After lunch we visited the expensive seaside neighborhood of Miraflores. The beaches are expansive and were largely empty at this time of year. We then took a walk around Barranco, which included crossing the Peruvian Bridge of Sighs - a favorite spot for young lovers.
We ended up with the Amano Museum, a wonderful private collection of predominantly Chancay textiles, though there are some terrific ceramics as well. We had dinner at La Costa Verde, a fancy seaside restaurant known for its extensive buffet. Normally we avoid buffets, but this one was exceptional, though rather pricey.
The next morning Vilko and Carlos picked us up early to begin our drive down to the southern coast. Our first stop was Paracas. We stayed at the Hotel Paracas, a seaside resort that is clearly hopping with families on weekends and during the summer season and which was pleasantly vacant during our stay. We had a simple but spacious room with a veranda overlooking the ocean. We spotted some interesting sea birds and set off down the beach to investigate, discovering whimbrels, pelicans, Peruvian boobies (they resembled blue-footed boobies without the big blue feet); oystercatchers and a mating pair of American kestrels.
We met Vilko in an outdoor café at the hotel for lunch and had one of the best ceviches of the trip; the fish was thinly sliced, like carpaccio, and perfectly seasoned with a tang of hot peppers. They served what ended up being one of our favorite treats - these salted corn kernels that looked something like the old maids in a bag of popcorn, except that they weren't small and hard, but light, crunchy and totally addictive. After lunch we drove into the desert scrub of the Paracas National Reserve. Southern Peru is an extension of the Atacama Desert of Chile and the coastal landscape combines towering sand dunes with rugged shoreline. We visited a small archaeological museum and Lagunillas, an urchin-fishing village.
The following morning we arose early and took a boat out to the Islas Ballestas where we saw preening sea lions, profuse flocks of birds, adorable Humboldt penguins and a solitary fur seal in a scenic landscape of craggy islands and emerald waves framed by graceful stone arches. We also saw the Candelabra, an image etched into the face of a sandstone cliff many centuries ago, possibly as a navigational landmark. Until recently, archaeologists believed that it was created during Spanish colonial times, but we heard that recent carbon dating suggests that it belongs to the same era as the famous Nazca lines.
We headed south to Ica, an area where the sand dunes are the most blindingly white and soaring, and checked into our hotel, appropriately named Las Dunas. On the way we stopped for an excellent, leisurely lunch under the trees at the Ocucaje winery. After lunch a guide showed us how wine and pisco (the eponymous brandy of Peru) are made and we sampled some.
Pisco puro is very smooth and flavorful. We also tried a dessert wine that is reputed to be a potent aphrodisiac. Our guide claims that a French couple brought home a couple of bottles of this wine and returned 3 years later to introduce their son to his true "papa" (presumably to buy more of the wine as well - maybe baby needed a playmate). It was delicious, but we have no surprising news to tell you.
We spent the rest of the afternoon exploring the grounds of the hotel where we found many resplendent vermilion flycatchers. The next morning we visited the town of Ica, with its pretty church and stopped at a farmers' market. Corn and potatoes are the main staples in Peru, as in Ecuador, and we were astounded by the many varieties of edible potatoes in the market, including a small, pretty one with pink and yellow swirls on the skin. We bought some luscious, plump black olives to snack on later in the day. A man held a large, blue diamond-patterned boa constrictor and exhorted the crowd. We suspected that the guinea pig squirming in a wire cage at his feet was about to become an unwilling participant in the show.
Next stop was the fabulous Ica Regional Museum with its extensive selection of artifacts from Paracas, Ica and Nazca, civilizations that inhabited this region from about 900 BC - 400 AD. We had an excellent museum guide who explained all of the exhibits. Here we saw many mummies, wrapped in funerary bundles (layers of elaborate hand-woven textiles) in the fetal position to prepare them for rebirth into the next world. We saw skulls of the Cabeza Larga, who trained their heads with boards from birth to achieve a conical shape for ethnic identification, to distinguish themselves as a privileged social group and for esthetic purposes. We saw clever musical instruments, exquisite textiles and stunning ceramics, particularly the multicolored Nazca pots with their detailed drawings. In general we found most of the museums in Peru, even small ones, to be well laid out and annotated with informative and interesting guides.
Carlos drove us to Huacachina, a natural oasis, around which a small resort community has sprung up. We walked around the waterhole, stopping to admire the scenery - cerulean sky, stately palm trees and crystalline sand dunes reflecting in the still water of the spring - and a family of waterfowl. We had a very pleasurable lunch on a terrace of the Hotel Mossone overlooking the oasis and drove on to Nazca. Vilko took us to a shop where the owner and his son learned how to make pottery by hand the same way that the Nazca did from 100 - 400 AD, including using a wood-fired kiln and natural dyes. The demonstration was funny and entertaining in addition to being interesting. We weren't planning on buying any of the pottery until we spied a pot on a high shelf in the manager's office and asked to see it. It was so finely crafted, adorned with hummingbirds in sumptuous earth tones, that we couldn't resist it. After we selected it, the artists' mother showed us a first-prize certificate that he received for this pot in an art contest. We even managed to carry it around for another 2-3/4 weeks and get it home intact.
The Hotel Nazca Lines is famous for having been the adopted home of Maria Reiche, the German woman who fought for the preservation and interpretation of the Nazca lines. She believed that these giant figures drawn on the plains represent stellar constellations since phases of the seasons are so important in an agrarian society. There is a very basic planetarium at the hotel, where we attended a presentation after dinner that evening elucidating this theory.
The astronomer was passionate about the heavens, and after the show we stood outside and he pointed out constellations, including the Northern Cross, which we hadn't ever heard of.
The next day we took a flight in a light aircraft over the Nazca lines. The pilot was careful to change direction when circling each drawing so that people on both sides of the plane could take pictures. It was very easy to make out most of the figures - the whale, the monkey, the hummingbird, the condor, the tree, the spider, though some required explanation, like the hands (one with 4 fingers) and the snake bird (or pelican). Mountains ring the valley, so natives would have been able to see the drawings from above, but you still wonder how they drew them.
From the airstrip we headed to the Chauchilla cemetery (1000 AD) which was very useful in helping us to understand the funerary customs. From there, we visited an aqueduct, still in working order, and a fine example of hydraulics. It conveyed water from the far mountains to the fields and homes in the plains. The architects built huge stone spiral vents that they could descend to clear debris out of the waterways and keep them flowing. Vilko suggested a small, charming restaurant near the hotel for lunch. We had simple sandwiches in a pretty garden. Vilko always picked the best places to eat, great settings, authentic local food and not big tourist traps. In a dining room inside a pair of local women watched a South American soap opera on a TV suspended from the ceiling while they ate. After lunch we drove into the desert to see the archaeological dig at Cahuaci. Apparently this site used to be more interesting - there were no archaeologists there and the workers told us that they were covering the site up again to protect it. However, they told us that artifacts from the site were now being displayed in the Antonini museum in Nazca.
It was a long, hot trek out and back, so we went back to the hotel and relaxed at the pool until late afternoon then we went to the museum. It turned out to be a real treat with far more than we expected, so we're glad we didn't miss it. They also had shrunken, or trophy, heads on display. The Nazca created trophy heads, which men wore around their waists during ceremonial dances, perhaps to confer power. There was a big festival going on in the streets, so we got to enjoy some of the local celebration on our way back to the hotel. Carlos told us he went to the movies the night before and was bothered by fleas in the seat cushions. They don't charge anything extra for the fleas.
We got up early the next morning for the long drive back to Lima. Traffic was light and we made really good time. We stopped at a place for an early lunch that looked like any roadside truck stop kind of place. We didn't expect much, so we were very surprised at how good the food was - the lenguado al ajillo (sole with garlic) was outstanding. Vilko also stopped at a stand to buy his favorite honey, which he can't get anywhere else.
Since we still had so much time before our flight out and since it was right on our way, Vilko agreed to take us to Pachacamac. We didn't have time for the full guided tour, but it was still worthwhile. This is a giant fortress outside Lima built as a holy site by earlier peoples and then adopted by the Inca. Some of the artifacts in the museum are exceptional, particularly a tall wooden totem pole, the only one ever found in Peru. The iconography on the pole was similar to that depicted on pottery and textiles, emphasizing the importance of crops, such as maize, and special animals, such as jaguar and puma.
Carlos made friends with a stray Peruvian hairless dog in the parking lot by feeding him a bag of chips. These dogs are so ugly they're cute. They have no hair on their bodies except a tuft on their head, making them look like skinny punk rockers. They're very sweet animals and because their body temperature is normally high, we were told that they're often used like living hot water bottles, warming the beds of the ill. The thought of this dog climbing into your bed might scare some people back to health (only fooling, I'm feeling fine!). Carlos and Vilko dropped us off at the airport and we flew to Chiclayo on the northern coast and were transferred to the Gran Hotel Chiclayo. It was a clean, decent hotel, but the least appealing lodgings of the trip.
The ceviche we had at dinner this night was incendiary and we realized that we'd probably been getting the gringo version up till now. Of course, we cleaned the plate. Most of the time ceviche is served with a chunk of corn on the cob and a chunk of sweet potato which really complement the spiciness of the fish. We also decided to try the seco de cabrito (goat stew), which was tasty.
The next morning our guide, Fatima, met us at the hotel with a driver and asked if we minded if they changed the itinerary. Her ideas sounded logical and we agreed, but in retrospect, the original plan would have been better. She took us to Tucume, the site of an ancient Lambayeque pyramid complex (900 - 1200 AD). The pyramids in the north were made of adobe, so time and weather have eroded them considerably and it is sometimes difficult to appreciate the scale and artistry. There is a museum at Tucume that provides a good history of the Lambayeque and Chimu cultures. Unfortunately all of the artifacts in this museum are replicas due to security concerns. We climbed up a hill for a vista of the area and to see what's left of the pyramids from this perspective.
Next stop was the Bruning museum where the treasures from the tomb of the Lord of Sipan are displayed. Archaeologists were tipped off to the site when looters began selling artifacts in the area. One archaeologist pretended to be a buyer and discovered a tomb that had already been breached. The Moche (200 - 600 AD) used the same sites for multiple burials so the archaeologists found the "Lord of Sipan" in a tomb adjacent to the looted one. The lord was buried not only with a pile of food, gold, silver and ceramics, but also with a high priest, servants (feet cut off so they couldn't escape) and animals (dog and llama). The jewelry and garments of both the lord and the priest are magnificent, and the museum offers an exploration of a fascinating culture. We arrived at the Bruning at lunch hour, which was good because the place cleared out pretty quickly and we practically had it to ourselves most of the time. However, after the museum visit, Fatima dropped us off at a restaurant and left for the day. Given the abbreviated schedule, we would have preferred to take a break for lunch first and visit the museum in the afternoon. The restaurant was fun; there was a piano player who saluted us with a chorus of the Star Spangled Banner when we walked in, but for the most part, the other patrons were local families out for Sunday lunch.
The driver came back to pick us up and drop us at the hotel. It had gotten windy and cloudy so we decided not to go for a walk and ended up watching a DVD in our room.
The next morning, Fatima took us to the tomb of the Lord of Sipan. It was interesting to see the site, however, it would have been better to see it before the museum as our itinerary originally called for. There are only replicas at the site, which obviously pale by comparison with the originals, plus we learned most of the history at the museum already so there wasn't much to discuss. Then we walked around the town square before heading to the witches' market. Since it was close to noon, we asked Fatima if we could do the market after lunch this time, but she ignored us. By now we had the strong impression that she wanted to get the tour over with as early as possible so that she'd have the rest of the day for her own pursuits. We didn't feel this way about any of our other guides and, on the contrary, felt that they went out of their way for us.
There is still a strong tradition of herbal medicine and shamans and there are as many home remedies in these stalls as "I Want to be a Millionaire" wannabes. We were especially interested to see San Pedro cactus for sale - it's the source of the hallucinogenic peyote. However, most of the potions were snake oil. We were finished with Fatima before 12:30. We asked her for some suggestions of places we could visit on our own but she had none. The driver dropped us at a very elegant restaurant for lunch where they served the best pisco sour of the trip and the food was delicious. We took our time but still were back to the hotel before 2:00 with nothing to do. We didn't think the square was interesting enough to walk back to, so we got books and sat outside by the pool (it was closed, no water in it) until it got too cool and we moved inside.
While we were in the lobby the next morning waiting for our driver, we ran into Daniel, our guide from Lima. He was taking a couple out to some new archaeological digs in the area. Not only did he greet us like old friends, but when he found out that we were headed for San Jose de Moro, he told us that he'd just been there and the 2 archaeologists at the site are his friends, so he wrote a note asking them to take us down into the pit that they're currently excavating.
When we arrived and gave Francisco Daniel's note, he proceeded to give us a personal 2-1/2 hour tour of the site, which included climbing down into the pit he and his colleague, Xavier, were working on, where we saw skeletons, pottery and even copper tumi (ceremonial knives). It was a real high point of the trip! San Jose de Moro was a ceremonial and cemetery site from the late Moche through Chimu periods. They found a tomb of a priestess there, which is considered exceptional since most holy persons were male at the time. He discussed the importance of chicha production in the funeral ceremonies at the time - chicha is a hard corn liquor that is still produced and consumed today. We stopped for a picnic lunch in the pretty main square of Guadalupe, a small town where the Virgin was supposed to have appeared. Elderly men wearing huge straw cowboy hats hung out shooting the breeze with their cronies.
We continued on to Trujillo, a gracious colonial city. The main square is surrounded by charming houses brightly painted in rose and ochre and azure with handsomely carved wooden balconies and doorways, and ornate white portals. The striking white cathedral dominates one corner of the square and a monumental fountain graces the center. Our hotel, the Golden Tulip Libertador, is lovely and we had a terrific view over the square. We spent some time admiring the square and fending off shoeshine boys, who swarm like locusts. Then we hopped in a taxi and visited the Museo Casinelli, a private collection of pre-Inca ceramics. The depth and breadth of the collection is amazing especially since it is in a room behind a gas station. The hotel restaurant is very good and we had an enjoyable dinner.
The next morning our guide, Oscar, and a driver picked us up and we headed out to the Huaca de la Luna and the Huaca del Sol, magnificent Moche stepped pyramids. While the exteriors are eroded, revealing only a hint of their former glory, superb frescoes remain in the Huaca de la Luna depicting Ai-Apaec, or the Decapitator, a fierce god typically depicted with a tumi in one hand and a head in the other. We paid a few extra soles to visit an area where they just discovered some new wall paintings.
On our way to the restored Huaca Arco Iris, a gorgeous Chimu adobe temple with bas-relief frescoes of mythological beings and rainbows, we stopped at a produce stand to try a special fruit native to the area - sweet little bananas with a juicy apple flavor.
We drove to Playa Huanchaco for lunch - a terrific ceviche followed by perfectly grilled fish. Our table overlooked the ocean and as we ate we watched the fishermen coming to shore with their catch. In this area of Peru, the fishermen still ride long reed boats like their ancestors. They are called Caballitos de tortora, since they are straddled like horses, and the fishermen paddle them like kayaks with a bamboo pole cut in half. Family meets them on the shore to collect their nets and help them drag the boats onto the beach, where they are stood on end to drain. After lunch we walked along the beach to get a closer look.
Our next stop, Chan Chan is the world's largest adobe city, ancient capital of the Chimu Empire. It's an amazing place with walls adorned with bas-relief sea otters, fish and cormorants, as well as honeycomb and other geometric designs. In keeping with the sea motif, the diamond shapes are said to represent fishing nets. As Oscar was telling us the history of the place, a busload of local schoolchildren on a field trip passed by and greeted us in English, so we replied. Then one girl came over and asked if we'd sign her spiral notebook, so we did. Suddenly all of the children swarmed us, wanting us to sign their books. Then one girl asked to give Barbara a kiss and now all the girls wanted to kiss us and all the boys insisted on shaking Stu's hand. They were so adorable. We've never been treated like such celebrities anywhere we've traveled. Oscar was amused also, apparently he hadn't seen anything like it before either. Peruvians really know how to make you feel welcome! Especially in the north, where they haven't been overrun with tourists yet.
We returned to the hotel and dropped some things off then the two of us set off on foot to explore the town. We discovered an excellent exhibit of a private collection of Moche ceramics and visited the very ornate Iglesia de San Francisco. Trujillo is so pretty that it was fun just walking around admiring the architecture. People often greeted us. Behind a pair of tall, carved wooden doors, we spotted a lovely mural and lots of colorful Spanish tile. We stepped into the vestibule and spied a handsome courtyard. Just then we saw the caretaker coming towards us and expected him to ask us to leave, but instead he invited us in and gave us a tour of the whole house, including some rooms inside. He told us that it is a private home that is sometimes rented for weddings. Hummingbirds were flitting among the flowers in the back garden and a hand-embroidered silk mantilla covered the piano in the living room. Our Spanish is rudimentary, but we were able to follow most of what he told us. As we left, he shook our hands warmly.
The next morning we flew back to Lima on our way to Lake Titicaca. We had a long layover so we had arranged with Vilko to hire a driver to take us to the Lima Cathedral since it had been closed. We also had time to visit the Museum of the Nation, which we didn't get to before.
We arrived in Juliaca late in the afternoon and had about an hour drive to Puno, where we stayed at the Libertador Isla Esteves. The hotel was right on the lake and we got a very nice room overlooking the water. There were several big tour groups in the hotel; English, Japanese and German but we were the only Americans as well as the only people who weren't with a group. This was one of our favorite hotels, comfortable rooms, elegant public spaces with a large pit fireplace in the lounge and spectacular views of the lake. Every night we enjoyed listening to a very talented Andean quartet who played folk tunes on traditional instruments, such as a skin drum, a llama hoof rattle and pan pipes. The food at the hotel wasn't great, however, we could barely eat anyway due to altitude sickness. We expected headache and dizziness but we didn't realize that insomnia and loss of appetite were also common symptoms. We didn't experience any shortness of breath, but we didn't get more than a couple of hours of sleep both nights combined. Lake Titicaca is at around 12,000 ft. and we'd come from sea level.
We really weren't prepared for how dazzling Lake Titicaca is, the water is so clear and turquoise, and the quality of the light is magical, tingeing the hills and fields with a golden glow. Our guide, Felix, is a native of the area and he shared a lot of interesting information about local customs and the way people live. We took a boat out on the lake and visited the floating reed islands of the Uros. The islands are man-made and the inhabitants live in reed huts and get around in both reed and wooden boats. The islands are spongy underfoot and impart a sweet smell, like new-mown hay with a touch of exotic spice. Although the Uros fish, much of their support comes from tourism, selling the alpaca hangings and blankets they weave and rides in the fanciful reed boats, some sporting dragon heads on the prow. Felix told us that the government offered them land on shore to move them off these islands, but they declined, preferring to continue their traditional lifestyle. The women wear felt fedoras, long, full alpaca skirts in bright colors and wide embroidered belts.
He also told us that they will use the money from one boat ride to buy bread for the entire village, so we took a ride and it was sublime - floating smoothly on the still water, serene and peaceful.
We got back in our motor boat and continued on to Taquile. To say that this island is picturesque is a major understatement. It's about a 45-minute uphill walk from the dock to the main square in town with stunning scenery all along the way - cozy farms tucked into the hillside, stone arches framing boats as they plied the gorgeous blue waters, a white-capped cordillera shimmering in the distance. Men wore handsome black trousers and vests, white woven wool shirts with voluminous sleeves, thick colorful sashes and bright wool caps. As we wound our way up the narrow path we were surrounded by a flock of sheep being herded down the hill. We spent some time exploring the small town and looking at handmade woven crafts. We had a wonderful lunch in a charming restaurant on the square; tasty quinoa soup followed by the most scrumptious grilled kingfish. We wandered around some more, coming across an attractive young woman hurrying down the road with a tiny lamb tucked in her arms.
As we descended to the dock on the other side of the island, men, women and children ran past us uphill, carrying up to 50 kgs. on their backs, ferrying supplies from the boats to the village. On the long boat ride back to Puno, we enjoyed watching birds and even saw a flock of rosy flamingoes soar overhead in V formation. When we got back to the hotel, we wandered along the lakeshore bird-watching before heading back to freshen up for dinner. As we listened to the musicians, we watched the most phenomenal full moonrise over the lake.
We got up early to catch the sunrise and it was a perfect way to start the day. Unfortunately, the rest of the day wasn't as good. We took a train from Puno to Cuzco that took over 11 hours. The track is in such bad repair that the train has to move very slowly and it bounces and sways violently. If you ever have the misfortune of taking this train, wear a jog bra. The seats are very narrow and face another pair across a small table. There isn't enough room for everyone's legs, so you rarely get to stretch since it's difficult to stand up due to the motion of the train. The scenery is nice at times but too similar most of the time to be worth the inconvenience. We later found out that we could have driven in half the time or taken a plane, both of which would have been preferable. Turns out our agent thought this was more authentic and that a plane would not have been as "esthetic". We felt that it was a waste of a whole day, although we got a lot of reading done and had an interesting conversation with the French couple seated opposite us. The meal served on the train was surprisingly good also, very nice roasted chicken.
We arrived in Cuzco after dark and our trip coordinator, Bianney, transported us to El Monasterio, a colonial monastery converted into an elegant hotel. The artwork and furnishings were museum quality and there is a stunning chapel on the premises. We felt that the standard guestrooms were disappointing compared to the public spaces. We looked at four before we settled on one that looked newly renovated. We were too tired to explore, so we ordered room service and just relaxed. Although Cuzco is at about 8,000 ft., it's still much lower than Lake Titicaca, so we got our first deep sleep in many days and just barely woke up in time for breakfast. It was the best breakfast buffet we had in the country and one of the finest anywhere. We especially loved the qiwicha, a crunchy breakfast grain with a nutty toasted flavor.
We headed out to the Plaza Mayor. On Sunday mornings there is a big parade in the square, but we only caught the end of it. Cuzco is probably the loveliest city in Peru with the tejas roofs, blue wooden balconies, and attractive buildings. The setting is also special, nestled in a valley sheltered by towering peaks. However, along with Machu Picchu, it is the major tourist center in the country, so it is far more crowded and less friendly than the places we'd been previously. Based on our experience, we would suspect that most Americans go to Cuzco and Machu Picchu (some hike the Inca trail) and skip the rest of the country. We walked all over town but couldn't visit any museums or churches because they are all closed Sunday morning.
In the afternoon we met our guide, Helga and started out at the Cathedral, a splendid colonial masterpiece. The craftspeople were natives and in deference to their own religion, they slyly incorporated images of their own deities along with the Catholic icons in the church decoration.
Next stop was San Domenico, a Franciscan church built on top of the most holy Inca temple, Coricancha. The stonework of the temple is so meticulously crafted that, even without mortar, the temple walls withstood earthquakes that damaged the more modern church above it. Coricancha had been sheathed in gold, which the Spaniards stripped off and melted down into gold bars. We can only imagine its former magnificence.
We were to see more examples of the skillful Inca architecture in the sites we visited next just outside the city, Saqsayhuaman - a massive fortress to protect Cuzco, Tambomachay - a temple of water, Pukapukara, the red fortress - which might have been a storehouse, and Q'enko a labyrinth.
We had dinner in the hotel restaurant and it was first-rate in every aspect, including a delicious risotto. The next morning we headed into the Sacred Valley of the Inca, the Andes at their most majestic, flanking the crystal-blue Urubamba River as it courses through bucolic countryside. We stopped to admire the scenery several times on the way to Pisac, our favorite of the many fascinating Inca ruins in the valley. We had lunch with Helga at the Posada del Inca in Yucay, where we would later return to spend the night. We discussed the political situation at the time as well as the experiences of the Andean people and the difficulties facing full-blooded natives. For example, she showed us how mixed-blood women wear tall white hats, a symbol of higher status than pure-blood natives who wear straw-colored hats of the same type.
In the afternoon we visited Ollantaytambo, a site with many mythic associations. We said goodbye to Helga at the Posada. After settling into our room, we explored the grounds, which were exceedingly pretty. They included vegetable and flower gardens, a small church and an amazingly good museum with well-chosen artifacts from most of the major pre-Inca cultures - Chavin, Paracas, Nazca, Moche, Chimu, including a fine selection of ceramics, a well-preserved, feathered Nazca funerary bundle and a copper Lambayeque face mask.
In the morning we caught a train in Ollantaytambo to Aguas Calientes and took a winding bus ride up the mountain to Machu Picchu, the most renowned and well-preserved Inca ruin in the country. The train ride was very nice with lovely scenery. We checked into the Machu Picchu Ruinas Hotel, just outside the gate to the ruins, then joined a guided tour. It was a very interesting tour although it covered only the major features. We returned to the hotel for lunch just as it started to rain, the first we'd seen since entering Peru. After lunch the rain had stopped, though it remained overcast. We had the whole afternoon to wander in the ruins on our own. We learned that Machu Picchu is named after the mountain that towers behind it (Big Mountain in the local dialect) and that it was never an important holy site. It functioned as an agricultural and administrative compound and was inhabited primarily by women. Nonetheless, it is a spectacular sight to behold. The classic photo of Machu Picchu is taken from the agricultural terraces with Huayna Picchu (Little Mountain) looming behind. Among our favorite sights were the Temple of the Sun with its temple to the earth mother, Pachamama, beneath it, a lookout shack high on the terraces, a long staircase leading to upper level housing, and the wild flowers that grew from cracks in the walls. The most popular spot is Inti Raymi, the sacred sundial.
If you ever go, do yourself a favor and stay at the Ruinas Hotel. Although the rooms are a bit plain, they have excellent amenities, and we had an expansive view. While we were cleaning up for dinner, a housemaid came by to give us some hors d'oeuvres. The only place to eat up there is at the hotel, so we figured dinner wouldn't be too good since they had a captive clientele. Were we wrong! The kitchen was excellent and we had a terrific meal. Plus, if you stay in Aguas Calientes, it is a half hour bus ride up to the ruins and the first bus leaves around 7 am.
The site opens at 6 am so if you are staying up there, you have at least 1-1/2 hrs. to enjoy the place in peace, and you can see the sunrise. We felt bad for a woman from California whose deepest desire was to see the sun rise over Machu Picchu - staying in Aguas Calientes, it was impossible at that time of year. The sun was well up by the time the first bus got up there.
We awoke early to catch the sunrise over the ruins from our room - it was around 5:30 am. We dressed quickly and headed out. Although it was only 5:50 when we got to the gate, the guard let us in (if you have a pass from the day before, you only have to pay a small extra amount for the following day). The dawning light gently bathed the buildings and low clouds lent a mystical air as they drifted across the site. Wild llamas grazed on the terraces and workmen were starting their labors. It was so moving. We decided to climb Huayna Picchu early before it got crowded and hot. They say the trail opens at 7 am, however, once again the guard at the booth let us sign in and start up at about 6:10 am. The trail was slippery and very steep at times but it was a scenic and invigorating climb. We had the mountain all to ourselves, until we got to the top, where we discovered a crew of workmen who had clearly camped there. Still, it was so tranquil. The view of the ruins with Machu Picchu Mountain in the background was wonderful and we stopped for awhile to rest and enjoy it before heading back down. We only ran into 2 couples coming up after we were already more than half the way down.
We spent some more time wandering around the site before heading back to the hotel to shower and change (which we desperately needed after that climb) and check out (the hotel has a very early checkout). We had a leisurely breakfast and then headed back into the ruins to continue our explorations. The site was beautiful with the sun shining and bright blue skies. We felt that the time we had was just perfect for seeing the site the way we wanted. We were also glad that we visited higher locations first so we were not affected by the altitude and could actively explore.
We descended to Aguas Calientes around midday and had lunch at the Machu Picchu Pueblo hotel, a pretty place on the river right next to the train station. We wandered around town awhile, but it started raining again, so we went to the train station and wrote out postcards until it was time to leave. The scenery is nice but the train ride was a bit too long and we wished we had opted for the helicopter to Cuzco, which is much quicker and undoubtedly offers great views. We got to Cuzco fairly late and went back to the Monasterio, where we were greeted warmly by the bellman who had shown us to our room the last time. This time we upgraded to a suite and it was really attractive, with a great view over the rooftops and much less exposure to street noise. We wanted to try a different restaurant, but we were pretty tired by the time we got settled in, so we ordered room service and turned in early.
We enjoyed the qiwicha again at breakfast and Bianney took us to the airport to catch our flight to Boca Manu in the Peruvian rainforest. Flying in and out of Cuzco is tricky due to the altitude and wind so we were delayed by air traffic control for awhile. The plane was pretty scary, a small support plane from the Peruvian airforce, that looked as if it was held together with chewing gum and twine, and which made us worry about the state of their military. Cargo was piled up inside the cabin and under the seats, so that there was barely any room for passengers, just the two of us and a young German couple.
We landed on a grass strip in the middle of the jungle. The airport terminal was an open pavilion with a couple of guys on an ancient-looking radio. As soon as we stepped out of the plane, we were enveloped in a cloud of iridescent blue butterflies. Our guide, Yure, lead us to a long wooden boat with an outboard motor and we headed up the Madre de Dios river to our eco-lodge, Manu Wildlife Center, in the Manu National Rainforest, about an hour and a half ride. It was extremely pleasant with the breeze blowing and lots of exotic birds along the river and in the lush foliage lining the riverbank.
We arrived at the lodge in the heat of midday and it was so humid and oppressive that sweat bathed you even while you sat still. We expected it to stay like this, but we found that the heat would rise, then it would rain, which would cool the temperature down considerably. Then it would heat up again and repeat the cycle over a couple of days. We sat in the bar lounge while Yure explained the routine, then he showed us to our cabin, a delightful wooden bungalow, very basic but spacious with a bed protected by a mosquito net, table and chairs, and a bathroom with toilet, sink and shower. There was no electricity, so after nightfall light was provided by candle and flashlight and kerosene lamps lined the paths.
After settling in we met Yure in the dining building for lunch. The food was home-cooked local specialties and very delicious. We finally tried papas a la huancaina (potatoes covered with a thick, spicy sauce) and had a very good lomo saltado (beef with onions and peppers and fried potatoes). We arranged to all meet later in the afternoon for a nature walk, but in the interim we explored the grounds and saw some neat lizards, about a foot long with silvery gray heads and green bodies with bright green spots. There were plenty of butterflies, exotic flowers, including banana trees, and birds.
When we met Yure later, he told us that the lodge staff told him there were troupes of tamarins nearby, so we set off to find them. Very soon afterwards he pointed out a group of saddleback tamarins jumping through the trees overhead. They're small monkeys with chestnut brown fur, pointy ears and cute gremlin-like faces. Not long after, the saddlebacks were joined by a bunch of emperor tamarins. Emperors are adorable, with oversized white bushy fu manchu moustaches. We watched their acrobatics until they moved out of sight, then continued into the rainforest. Yure talked about trees, plants, insects and birds we encountered on the way. We climbed to the top of a platform to scout out the wildlife in the canopy and found a toucan in a distant tree. We got back to the lodge just before dark, freshened up, had dinner and turned in early.
Over the next three days, we'd arise early and head out by boat, exploring the oxbow lakes and sites along the river. We'd return to the lodge for lunch and siesta, then go for a nature walk in the late afternoon. Most of the time we had the same boatman, a very sweet local named Hernan, who took good care of us. Every day was thrilling. We saw so much wildlife, both from the boat and on foot - several species of monkeys (the tamarins, squirrel, dusky titi, red howler, and brown capuchin), a giant river otter, tortoises (who like to stack up on logs like a reptilian conga line), long-nosed bats, an afaninga (a sleek blue snake with handsome black markings) and the rear view of a collared peccary as it went crashing through the brush away from us. One evening we went to a blind and waited quietly in the dark for hours for the privilege of seeing a tapir, a rare and shy inhabitant of the rainforest. They are in the horse/hippo family, dark brown/grayish and quite large with a long nose that looks like a short elephant's trunk.
We also sat in a blind on the river in front of clay cliffs where parrots and macaws come in huge flocks to eat the clay very early in the morning. Naturalists suppose that they eat the clay to neutralize toxins they consume in some of the fruit they eat. First the parrots came, blue-headed parrots with bright green bodies, orange-cheeked parrots with black heads, green bodies and bright orange patches on their cheeks and shoulders and dusky parrots with rosy heads. While they ate, macaws flew into the trees above the clay lick and began to congregate in great numbers. Then the macaws swarmed down, brilliant red and green macaws and splendid red macaws. We saw blue and yellow macaws flying around, but for some reason, they did not land on the clay. Yure said that they never land on the clay.
Among the other terrific birds we saw were hoatzins, big pheasant looking birds with brown, black and white feathers, vivid blue faces and a tall golden crest, cuckoos, hawks, Amazon kingfishers, jicanas, lesser grebes, cormorants, egrets, herons, yellow-headed vultures, and mannikins - tiny, radiantly red songbirds who perform a complex mating dance. There were also dazzling butterflies everywhere, often landing on us and exposing their long delicate proboscis to suck off our sweat, and countless colorful insects and fragrant flowers. Even the fungi were interesting, clinging to logs in a variety of fanciful shapes and colors.
One of the highlights of the whole trip was Arturo, a six-month old red howler monkey. Natives in the area sometimes eat monkeys and they had hunted and killed Arturo's mother and captured him when he was 3 months old. The natives who run the lodge rescued Arturo and have been raising him. The first day after we came back from our morning excursion, we were walking to our cabin when we saw this little red-haired monkey hanging off the banister on the public bathhouse (not all cabins have private facilities). We thought he was a wild monkey, so when he started trying to climb up our legs, we were a little nervous. We called Yure and he introduced us, then took Arturo to a nearby hibiscus tree for a treat - red howlers like to eat the blossoms. We watched him jump around for awhile then started back to the cabin. We soon noticed that Arturo was following us. We didn't want to let him into the cabin so we sat down on our front steps and he began climbing all over us and jumping from one to the other. After a while he got tired and fell asleep wrapped around Stu's neck. He held fast with the vaguely tacky leather patch on the underside of his tail. He had similar soft leather on his palms and soles. We brought him with us when we went for lunch and the staff took him to get something to eat too. Playing with Arturo ended up being a regular treat for us. He would play awhile with us, sleep awhile on us and just cuddle. He was so endearing, we got very attached to him. And he was smart, too. One afternoon it was very hot and he started grabbing a clear plastic water bottle that he'd never paid much attention to before. We guessed that he was thirsty and poured water into our hands for him to drink - he finished off half a canteen and then never touched the water bottle, though he still amused himself grabbing our sunglasses and hats.
The day that we were supposed to leave, it was rainy but we still headed downriver to Boca Manu early in the morning. We waited for about 7 hours for the ceiling to lift so the plane could get in, but finally they announced that all flights were canceled that day. We were supposed to have had a full day in Cuzco, overnight there, then fly back to Lima on our way home. Yure and Hernan took us back to Manu Wildlife Center - of course the weather got sunny and clear as soon as we started back. Yure really went out of his way to entertain us when we got to the lodge. He even found the troupes of tamarins again. The next morning he came to show us a family of red howlers in the vicinity and he brought Arturo to say good-bye. This time the plane came on time and we headed off to Cuzco, jammed in with the cargo. Bianney picked us up and we just had enough time to run back to the Monasterio to pick up the valuables we'd left in the safe (such as our passports and plane tickets) and get back to the airport for our flight to Lima.
It turns out that no flights can leave Cuzco in the afternoon, so we just made the last flight out. Although we were sorry to miss the extra day and night in Cuzco, we were happy to spend it in the rainforest.
Vilko and Carlos picked us up and took us to El Olivar, where we'd fortunately arranged for a day room. Enrique, a curator from Lima zoo, picked us up an hour later. He took us to Pantanos de Villa, a salt marsh on the outskirts of town to do some bird watching with the time we had left. He was very knowledgeable, and also told us about a pair of orphaned puma cubs that they were raising at the zoo.
Back at the hotel we showered and changed and Carlos and Vilko came to take us to the airport one last time for our flight home, another overnight trip. It was a fabulous trip and if you ever travel to Peru, we highly recommend our travel agency, InkaNatura. The U.S. manager, Kit, is extremely knowledgeable and responsive. We told him what we wanted to do and he put together a practically perfect itinerary (excepting the bouncing train from hell), covering all of the pre-Inca sites almost chronologically before hitting the Inca monuments and ending with the rainforest, which would have been a hard act to follow. InkaNatura is owned by 2 conservation organizations and they funnel a percentage of their profits into environmental and wildlife projects. They also hire excellent guides, drivers and trip coordinators, and pick the best places to stay.