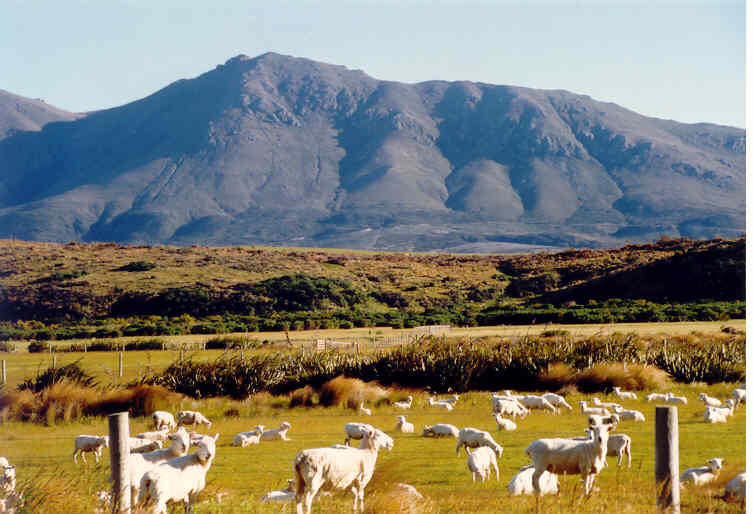 Our second trip down under began on Christmas Day with long flights. We brought freshly baked cookies in festive bags for the flight crews to soften the blow of having to work on a major holiday. On each flight they kindly reciprocated with a bottle of champagne as we deplaned, so we arrived in Melbourne with a couple of bottles tucked in our bags.
Melbourne is not as exuberantly beautiful as Sydney and exudes a quieter more conservative air. We were booked at the Windsor, a lovely hotel with traditional Victorian character that seemed a perfect fit for the city. In the evenings we found a glass of port with a small snack of cheese and crackers in our room. On our second day we enjoyed their very formal high tea which fortified us for that evening's excursion to Phillip Island. There we observed the nightly parade of fairy (or blue) penguins as they emerged from the sea after a hard day's fishing and waddled to their burrows on the beach. Spectators crammed into bleachers and the poor penguins were blasted with floodlights as they ran up worn paths in the sand. We expected a more intimate and less intrusive experience. The penguins were adorable but this didn't really feel like seeing them in a natural habitat - it felt more like a police raid with the birds perp-walking past a curious mob.
We spent our time in Melbourne browsing in museums, galleries and markets. Although the setting isn't as dramatic as the Sydney Zoo, we liked the Melbourne Zoo more, particularly the platypus and echidna habitats. Melbourne is an important craft center in Australia, and we especially enjoyed a converted Victorian wholesale meat market that now houses a variety of creative craft studios.
From Melbourne we flew to neat, staid Adelaide, rented a car, and began terrifying locals who don't appreciate crazy Yanks driving on the right. Truthfully, we only forgot ourselves once, making a right turn out of a driveway in a rural area. We stayed at Mount Lofty House, an impeccably restored and expanded 19th century manor house about 40 km outside Adelaide, with a commanding hilltop view of the wine country, botanical gardens, and a wildlife park. Service was gracious and efficient. When we discovered a glitch in our itinerary - our flights and hotel at our next stop had been erroneously canceled - the concierge at Mt. Lofty House managed to get us on a flight and found alternate lodgings while we were off sightseeing. This was no mean feat during the high holiday season.
While visiting the wildlife park Barbara discovered first hand that a koala just naturally hugs you back, wrapping its arms around you and resting its cheek against yours. The trainer told us that Katie loves her daily tourist cuddles. Koalas have sweet, medicinal-smelling breath, due no doubt to their exclusive diet of eucalyptus leaves. The fur was coarser than you would expect from its fluffy silky appearance.
On the next day we drove through the Barossa Valley visiting wineries. Though this is one of the most popular wine areas in Australia, it was far less congested than California's Napa Valley. We'd been drinking Mountadam Chardonnay for a couple of years, so we were sure to visit Mountadam, along with Penfolds and other more widely known wineries. While at Mountadam an Australian couple recommended Charles Melton, a boutique vineyard that produces only red wines and does not export. Our visit was pleasantly informal. We sampled the wine while chatting with Charlie and his wife. Barbara was impressed by the quality and value of their excellent Cabernet Sauvignon and a Chateauneuf-du-Pape styled blend with the tongue-in-cheek name "Nine Popes." We ended up ordering a mixed case, a great value even with the shipping charges.
The next day we relinquished our rental car and hopped a small plane to Kangaroo Island. The third largest island in Australia, it's largely farmland, with four small towns, wildlife reserves and oodles of natural beauty. Our guide, Craig, who had studied forestry and had been a ranger for two years, met us at the plane in his Land Cruiser. He drove us to an atmospheric wetland area, where we enjoyed a tailgate tea party that included his mom's home-baked scones.
We explored Flinders Chase National Park, site of many scenic wonders including the Remarkable Rocks - fantastically shaped boulders covered in colorful lichen. Admiralty Arch - a dramatic stone arc framing the sea, the Cape de Couedic Lighthouse, wind-sculpted dunes and exquisite beaches. Even though it was high season the beaches were largely empty. On one we saw a solitary couple and their toddler building sandcastles. There was plenty of wildlife to spy on in their natural surroundings. Among the high points were the small, cute Kangaroo Island kangaroos, which are boldly unafraid of humans, sloe-eyed koalas nestled in trees, some with adorable cubs clinging to them, and Australian sea lions. You can only visit Seal Beach with a park ranger to minimize human impact on the animals. We walked on the lovely white-sand beach among hundreds of sea lions - rows of snoozing females resembling overstuffed sausages, pups noisily nursing and huge blubbery males guarding their harem. Frisky pups roughhoused with each other, and a soft-eyed one with blond fur followed us around nearly the entire time we were there. We were dying to play with him but Craig rightly told us that we could not touch him. While walking along a beach we spotted a fuzzy fairy penguin chick peeking out from a burrow in the sand. We felt that this was a much better way to observe penguins.
It was New Year's Eve and originally we were booked into a nice hotel in Kingscote, and had a reservation for dinner and dancing at their holiday party. Because of the travel agent mix-up, we had no dinner reservation and couldn't find a place for dinner. We managed to buy some take out that we ate in our basic room along with one of the bottles of champagne we'd gotten from United.
The next day we toured the towns and some parks on the island that we had missed the previous day. We visited the oldest lighthouse in South Australia. It had been converted to an automated light, but the original sparkling Fresnel lens was preserved for display. It was here that we first learned that every lighthouse has a character, a distinctive pattern of flashes that allows seafarers to recognize it and determine their bearings. In retrospect, we would have liked another day or two on Kangaroo Island to hike around and enjoy the beaches.
The next day we flew to Auckland and checked into the brand-spanking new Pan Pacific Hotel. The room was elegant in a spare Asian style and there was a very good Japanese restaurant on the premises. Auckland harbor is lovely and there are plenty of parks and gardens to beautify the urban areas. The Auckland Zoo is one of the prettiest zoos we've ever seen and was the only place we were able to view the shy, nocturnal kiwi birds. As we came to observe, New Zealanders have a wonderful sense of natural esthetic, no doubt largely due to the limited population (3.3 million people and 70 million sheep) and a genuine concern for the environment. The War Memorial Museum houses a fabulous collection of antique Maori art, including a meetinghouse and enormous canoe. The Maori produced extremely refined and imaginative wood carvings, often embellished with abalone shell, and textiles, all with stone and Iron Age tools. We visited a waterfront aquarium where the visitors walk through tall tubes while the fish, sharks, turtles and rays swim all around.
In Auckland we rented a Mitsubishi Smegma (actually Magna, but Stu didn't like its size, handling or performance) and began exploring the North Island. We first drove north to the vast Bay of Islands, with over 800 islands floating in crystal clear water. While there we hiked about 12 km in a nature reserve, cruised the bay stopping at islands on the way, and sailed through the towering Hole in the Rock. We also visited the Maori Treaty House, where the Maori signed away the North, South and Stewart Islands in exchange for the protection of Victoria's crown. This struck us as Mafia style "protection," since all the Maori needed protection from were the Royal Marines. We stayed at a simple hotel overlooking the bay. The restaurant at the hotel looked as though it would be a disappointment, but it was excellent. It served one of the two best crayfish (local rock lobster) we had in New Zealand and the crayfish in N.Z. is world-class, sweet and tender. We'd heard lots about how bad the food was in New Zealand, but we ate very well during our travels - lots of fresh fish and vegetables and delicious lamb. In many places restaurants with a view typically don't serve very good food, but in N.Z. we often enjoyed the meal and the view.
New Zealand produces some excellent Sauvignon Blanc and we enjoyed trying the local wines.
We continued our journey south to Rotorua in the center of the North Island. Rotorua is at the center of a fascinating geothermal region, and an excellent base of operations for day trips. The Geyserland Hotel was fairly basic but we had a fabulous view of Whakarewarewa thermal area with the spectacular Pohutu geyser adjacent to a clear blue thermal pool and a bubbling mud pond right out our window. We adjusted fairly easily to the sulfurous smell and odd noises. We visited three thermal reserves, especially enjoying Wai-O-Tapu with colorful mineral pools scattered across the fuming landscape like daubs of paint on an artist's palette. We also toured The Rotorua Museum, which illustrates the history of the Te Arawa Maori tribe of the area and showcases skilful Maori art. We climbed around Mt. Tarawera and visited Lake Rotomahana in the Waimangu Volcanic Valley. Barbara caught a thrill bungee jumping, but Stu didn't, having left his bungee at the airport along with his courage. We had a surprisingly fun time at the Agridome, where you can learn everything you always wanted to know about sheep and wool. A burly good-humored rancher deftly demonstrated his skill at sheep shearing and a spirited dog showed off his herding prowess.
We took a day trip to Waitomo and Aranui caves. While it has its share of amazing stalactites and stalagmites, Waitomo is most renowned for its glowworms. A glowworm is the pupa stage of a moth that thrives in caves with relatively still water. The glowworms congregate on the cave ceiling. Flying insects breed in the pools and, mistaking the light of the worms for daylight, fly straight into the clutches of these crafty predators. Though we walked through most of Waitomo, to see the worms we boarded a small wooden boat and silently glided through the dark cavern illuminated only by the worms, scattered across the ceiling like minuscule stars in a finite sky. It was enchanting. Aranui is smaller but also worth a look. The jewel-like geological formations and colors lent the feeling of a natural Gothic cathedral.
Another day we drove about 80 km to Lake Taupo and nearby Tongariro National Park to hike. The landscape is stunning with 3 volcanoes (Ruapehu, Tongariro and Ngauruhoe), waterfalls, streams, forests, wildflowers and lots of scenic paths for day hikes.
We arose early the next day and flew to Christchurch on the South Island. Christchurch may be the most picturesque city in New Zealand. An impressive cathedral dominates the handsome town square. We had a great time touring the botanical gardens, punting on the Avon River, strolling through the university grounds, shopping in their fine crafts center, and climbing the cathedral tower. Looking at our photographs, an English friend thought she was looking at photos of Cambridge. A friendly taxi driver told us that we could watch sperm whales in nearby Kaikoura, regrettably we did not have time to make the journey.
From Christchurch we flew to Mt. Cook, a town at the base of the Southern Alps, consisting of a couple of hotels, three stores, a ranger station and a small airport. At the Hermitage hotel, the public spaces, restaurant and our room all had panoramic views of the 2-1/2 mile high snow covered peak of Mt. Cook and its surrounding glaciers and sister peaks. After checking into the hotel, we returned to the airport and boarded a small, high-wing ski plane with a young woman from Auckland and an Asian couple. The pilot took us on a breathtaking tour among the mountain peaks and landed on a high altitude glacier that was thousands of years old. The sheer majesty and tranquillity of the setting stilled our voices as we delightedly rambled in the ice blue snow. This was one of the most intensely magnificent scenic experiences of our lives. Unfortunately, just before taking off Stu's camera malfunctioned. Feeling despondent about the missed photo opportunity he considered committing suicide by throwing himself in front of an approaching glacier, where he would be crushed within the next few hundred years. Apparently we were lucky to be able to do the glacier flightseeing and landing. The Auckland woman on our flight had tried twice before but encountered bad weather. We were told that it's best to book the first flight of the day (as we had by sheer luck) as the weather often worsens as the day progresses. We spent the rest of our time in the area hiking the mountain trails. Dinner at the hotel restaurant was excellent. We savored moist tender lamb chops and the knockout view.
From Mt. Cook on the west coast we flew inland and south to Queenstown, a charming town with a well-developed tourist infrastructure. This is the playground of N.Z. with lots to do and see. We rented another car, this time a very capable, new Ford Falcon. Queenstown is situated on Lake Wakatipu a capacious lake as clear and blue as the Caribbean Sea. We cruised the lake on a ca. 1911 coal fired steamer, ascended Bob's Peak, which commands a breathtaking view of Queenstown, the lake, and the Remarkable Mountains, and visited the auto museum. For us the prize of the car collection was a 1935 SS100, which though not named Jaguar was the first Jag. Outside town we visited a gold rush town, Arrowtown, ca. 1850, which has been preserved for tourists. We also took a drive and did some hiking around the Remarkable Mountains and took a cruise through Doubtful Sound, a true fjord (a canyon carved by glaciers) named by Capt. Cook who was doubtful of his ability to sail into the fjord and back out again. This is just one of 13 fjords in New Zealand and though impressive, it was not the most dramatic. On the road to visit a power plant, we navigated a narrow winding road where we spied a sign warning of the danger of falling trucks. Apparently a truck driver had misjudged the road once and fell off it, prompting this humorous jab. Luxuriant green moss carpeted the rocks along the road and we enjoyed running our hands over its velvety, springy expanse.
Driving on the South Island was a dream, there was very little traffic and the scenery was superb. Once, after having offered a ride to a pair of young Scandinavian backpackers, our car was engulfed by a huge flock of sheep and we had to patiently wait as they ambled down the road. On one drive we spotted an unusual bird at the side of the road, configured something like a partridge with a short red beak and blue and green feathers. To our complete delight we discovered that it was a takahe, a native bird once thought to be extinct that is still rare. We saw lots of keas, cheeky green alpine parrots with powerful curved beaks and an amusing waddle-hop. These bold, comical birds see humans as creatures put on the Earth to provide them with food and entertainment.
After a couple of days we drove south to Lake Te Anau for a stay, enjoying yet another lovely town, fine hotel and excellent food. We continued driving west to Milford Sound, the most popular and marvelous fjord. We stayed at the Milford Sound Hotel snagging a room with a stunning view of Mitre Peak. Even if there had been no fjords the drive would have been worthwhile, with jagged peaks rising dramatically from green fields, moss covered temperate rain forests, serene mirror-like lakes, and furiously churning crystal clear rivers. Milford Sound is enormous, with peaks averaging just less than two kilometers before they plunge shear into the coastal waters. We cruised the fjords, awestruck by their beauty. At one point the boat pulled close to a waterfall so that those willing to get wet could snatch a glass of glacial water. Sea lions sunned themselves on exposed rocks. We wished that it had been a cloudless day, though the clouds lent an air of mystery. In the winter, when the skies are clearest in the fjord, the roads are often impassible due to snow.
The drive back to Queenstown from Milford Sound was like a completely different trip as we saw the landscape unfold from the opposite angle. We spent one more night in Queenstown and Barbara tried river jet boating to catch a departing thrill. Stu's life vest was at the airport along with the previously mentioned bungee and courage. We returned our rental car (a total of 3,000 vacation km on the left side of the road, and 1 km on the right), and began the long trek home, highly satisfied but wishing to return.
New Zealand Hotel Details
Auckland - Pan Pacific Hotel
Waitangi - Waitangi Resort Hotel (Bay of Islands)
Rotorua - Geyserland Hotel
Christchurch - Christchurch Park Royal Hotel
Mt. Cook - Hermitage
Queenstown - Queenstown Resort
Lk. Te Anau - Te Anau Resort Hotel
Milford Sound - Milford Sound Hotel

October 1997
On a trip to Fiji, we returned to Auckland for a brief visit.
In Auckland we stayed at a B&B in the Parnell section, not far from the War Memorial Museum. It's a quaint section with old buildings that have been restored and populated with cafes, boutiques and restaurants. It was fun to prowl around. We discovered a great old wooden Gothic cathedral near the B&B. They had relocated it across the road and had pictures showing how they lifted it off its foundations and rolled it across on huge logs. It was amazing. After lunch, we revisited the museum (we'd been there in 1991) to enjoy the exquisite Maori art. It was a beautiful afternoon and we walked through the Domain (a big park in which the museum resides), then all over town. We arranged dinner in a trendy section of town with galleries and restaurants to check out a different part of the city.
The next day, we got up early and took a ferry to Devonport - the place we missed on the trip down. We caught a group of sailors running a practice drill for a flag raising ceremony in a park near the ferry dock. After we stood watching for quite awhile, an officer came over to tell us what they were doing. Devonport is terrific and we had lots of fun exploring it all morning, climbing up a hill for a great view of the skyline and the surrounding islands in the bay. Unfortunately, it was cloudy most of the morning while we were there, but the skies cleared up completely by the afternoon. We ferried back to the city and had lunch at a fine seafood restaurant in the Ferry building overlooking the harbor. There are few delicacies that compare to New Zealand crayfish and we weren't going to miss an opportunity to have some while we were down under.
We visited the Maritime museum, then walked to Victoria Park Market (awful tourist trap) before checking out the art museum and some surrounding galleries. The time in Auckland (during which we walked about 15 miles) allowed us to revisit this charming city and to habituate ourselves with cities and shoes again before our flight home.