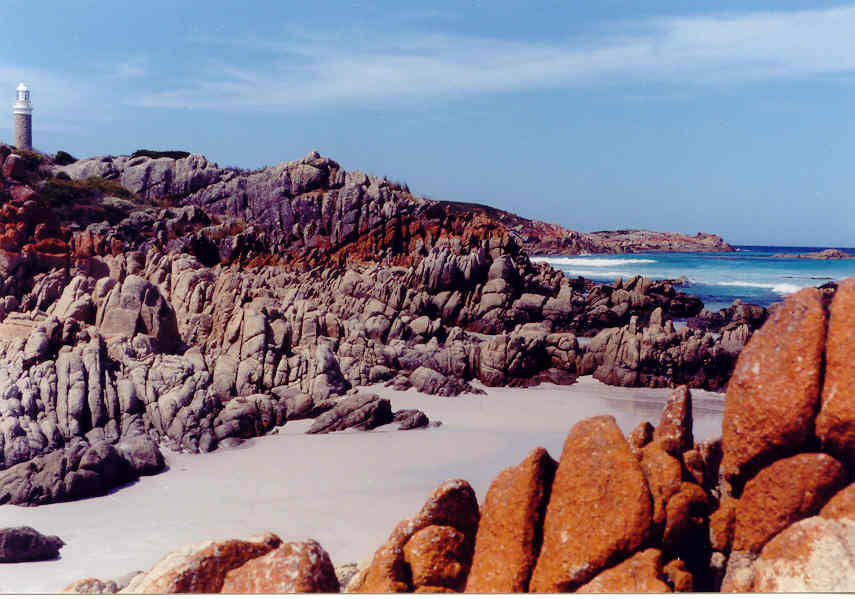 When we told people we were heading to Tasmania on holiday, some thought we were going to Africa (Tanzania?) and some to Eastern Europe (Transylvania?) but everyone asked if we expected to see any Tasmanian Devils, so it's clear that as kids we spend more time watching cartoons than studying geography. Not that there's anything wrong with that. We chose Tasmania for our fourth visit to Australia because it is the only state that we hadn't visited yet and we heard that it was beautiful. We also wanted a very relaxing holiday to recuperate from the stress of 2001. We could not have chosen a better place for both.
We spent a very enjoyable day in LA on the way over to break up the trip and catch up with Kyrsten and Scot. We had plenty of time to shower and change in Sydney before catching our flight to Launceston, the second largest city in Tasmania, and the second oldest city in Australia. We picked up a rental car at the airport and easily found our way to town and York Mansions, a colonial era home that has been converted into a charming and intimate bed and breakfast inn. Our suite, the Duchess of York, was sumptuously decorated with antiques. The facilities were modernized enough to provide complete comfort without disturbing the old-fashioned appeal of the place. We had a spacious bedroom, large living room with a dining area, a working fireplace and French windows opening to an expansive view of the town and hills beyond, a full kitchen, a large bathroom with a spa bath big enough for two, and a vestibule with lots of lovely touches like an antique rocking horse and lace gloves artfully draped on an old sewing machine. A painted portrait of the Duchess of York (not Fergie, but another one from Victorian times) presided over the scene. There was also a washing machine and dryer out the back door, which lead down to a cozy garden and a friendly cat. Fixings for a hearty breakfast are left in the refrigerator so you can eat whenever you choose. All this for what you'd pay to get a cramped box of a room in a cheap hotel in NYC. The owners are exceedingly gracious and helpful as well.
Launceston is small and easy to navigate so we had no problem finding our way around. We spent the afternoon admiring the well-maintained colonial buildings. Days are long at this time of year and the weather was lovely, so we finished the day with a long walk in Cataract Gorge, a huge park in a stunning natural setting about 15 minutes walk from downtown. Locals jogged down well-maintained trails and navigated long, sleek sculls past preening black swans on the placid waters. Service was so sluggish at the restaurant we tried (Fidler's) that we were both nodding off during dinner due to jet lag. The food was pretty much a big snooze as well.
The next morning we took a drive north through the Tamar Valley to visit wineries and other attractions. One of our favorite spots was Seahorse World in Beauty Point. It's a seahorse research center as well as a farm for aquariums. Our young guide was funny and informative. Among the most interesting species were the weedy seadragons and pot-bellied seahorses. They feed the young seahorses sea monkeys, those tiny crustaceans that we all played with as children. Although leafy seadragons are common in the waters off Tasmania, there were none in the exhibit, but we watched a fascinating short film about them after our tour.
Piper's Brook is one of the most respected wineries probably because it is one of the best. Their vintage sparkling wine, Pirie, (named for the vintner) is superb. They also make some terrific Chardonnay, Riesling, Pinot Noir, and a Cabernet Sauvignon blend inspired by Bordeaux, though I found some vintages of the Chardonnay to be a bit too oaky. Piper's also established a wine center in Rosevears (about 15 min. north of Launceston) on the banks of the Tamar. I'd read that the restaurant there, Daniel Alps, was first rate so we stopped for a late lunch. The dining room is elegantly spare with eye-popping views over the Tamar River valley. The best feature though is the food, some of the finest that we experienced in Tasmania. Service was professional and friendly. Our young Canadian waitress enjoyed matching dry wits with Stu. Piper's Brook wines were expertly matched with each delicious course. It was a completely satisfying experience.
We got back to town with plenty of time to visit the Queen Victoria Museum and Art Gallery and shop for fine crafts in the Design Center of Tasmania. We had dinner at Stillwater's a hip, modern restaurant in an old mill on the banks of the river near Cataract Gorge. Although it was good, it couldn't compare to lunch, but at least we managed to stay awake.
The following morning we checked out of the York, leaving a couple of bags behind, and walked around the corner to the Bay of Fires office. A large group was piling into a mini-bus to head off to Cradle Mountain for a 6-day overland hike to Lake St. Clair. We went upstairs and met one of our guides, Rhys, who provided us with backpacks and checked out our gear. As we were stuffing our packs, we met the couple who would accompany us on the walk, Betsy and Mike, and our other guide, Selina. Group size is limited to 11 but we were lucky to be only 4. We'd had warm, sunny weather for the past two days but it was overcast and drizzly as we headed out in a van to Mount Williams National Park, the starting point of our trek. The weather had already cleared up by the time we reached the park about 2-1/2 hrs. later. We were thrilled to see Forester Kangaroos grazing in the plains along the road. To the surprise of the driver and our guides, the kangaroos hopped right up to the van, eyeing us curiously. They said that normally they never approach the van. Stu said it must be due to the advertisement for Purina Kangaroo Chow that he plastered to the side of it. Foresters, a species of Gray Kangaroo, are the only large roos in Tasmania, though wallabies proliferate throughout the island.
Although we've done lots of day hikes, this was the first time we tried an overnighter with full packs and Stu's was loaded with his camera gear, which weighs about as much as a small car, OK, an exaggeration, maybe a big motorcycle. Fortunately most of the walking was on flat beach, though we did have to scramble over rocks and up steep inclines on occasion. We also never realized that packs actually get heavier the longer you carry them; must be some arcane law of physics that we're unaware of, or since we were down under, maybe it was the Coriolus effect. We were glad to be wearing long pants since there were no real trails and we often walked through thick brush.
Picture the most beautiful beaches you can imagine with sparkling clear turquoise waters, deep fine white sand and fancifully shaped granite boulders encrusted with colorful orange and golden lichen, stretching as far as the eye can see. The scenery was ten times more beautiful than you're imagining. Early on our walk we encountered a young couple strolling on the beach, but never saw any sign of humans the rest of the day. We saw plenty of birds during our journey though - masked and hooded plovers, silver eyes, ruddy turnstones, sooty and pied oystercatchers, sanderlings, black swans, black-faced cormorants, Caspian terns and silver gulls. Thousands of jellyfish, tiny bluebottles and a pink variety, were washed up on the beach, along with delicate shells, thick, rubbery bull kelp, cuttlefish bones, and sadly a couple of fairy penguin carcasses. The air was so fresh and clean that it must have sanitized our lungs as we breathed. We walked for about an hour and a half then stopped for lunch. We soon began to look forward to the chocolate breaks, which were clearly Selina's favorite part of the trip.
After only half a day of walking, we stopped for the night at the Forester camp, a small complex of tents on a wooden platform with a pair of composting toilets on a nearby hill. We sat around talking and relaxing while Rhys and Selina began setting up for dinner. Brilliant blue fairy wrens, tiny birds with tails twice the length of their bodies, flitted around in the trees nearby. We expected great quantities of merely palatable food and were pleased to be treated to a very fine meal. Our young guides were not only attractive, personable and fun, they were darn good cooks. Rhys told us he'd gone to cooking school. Accommodations were comfortable with air mattresses on cots and warm, cozy sleeping bags.
We took our time over breakfast and then hit the trail again, this time for a full day's hike. The weather was glorious and we continued to be enthralled by the scenery. We stopped for lunch in a secluded cove near the Point Eddystone lighthouse, a towering beacon built with granite from the neighboring shores. Hot and tired from the walk, we braved the frigid waters and took a swim before eating. It was really refreshing. Rhys swam far out and body surfed in the fair-sized waves. Once we passed the lighthouse we saw far fewer beached bluebottles. We were pretty tired by the time we reached the Bay of Fires Lodge, which blends harmoniously with the surroundings on a bluff overlooking the sea. It's so well integrated that it's difficult to spot until you're practically upon it. From the spacious terrace you can see all the way to the lighthouse and beyond.
Amy, a guide who was filling in as manager of the lodge during our stay, greeted us and showed us around. The lodge is simply stunning - all wood, glass and light. There's a large living room with comfy couches and a wood-burning stove, with floor to ceiling windows that open onto the terrace. There's also a small library/meditation room facing the sea. The lodge has won awards for its eco-friendliness and design.
Amy showed us to our rooms and then explained how the sinks and showers work. It was probably pretty obvious that we needed to find the showers immediately. You have to pump water into a tank first, which gave you about 10 minutes in the shower. The toilets used pine chips for compost so they smelled wonderful - nothing like an outhouse. The rooms have comfortable beds with a window ledge shelf behind the headboard, hooks for clothing and a skylight that exposes a whole galaxy of stars as you lie in bed. Beats TV anytime.
We were the only group at the lodge that night so it was very intimate. We watched Bennett's wallabies hopping around right outside the windows as the kids prepared another great meal. We liked the food so much we ended up copying some of the recipes.
The next morning after breakfast we packed up sandwiches and salads for a picnic lunch and Rhys showed us a map of the route we'd take for our kayak expedition. On the trail down to the beach Rhys looked for a black tiger snake that inhabits the area and found it. We kept a respectful distance as it slithered into the bush - they're powerfully poisonous. We climbed over curvaceous blindingly white sand dunes, imprinted with animal trails. Rhys and Selina showed us how to distinguish wombat from devil from wallaby by footprint and scat. The easiest to identify is wombat waste, which is shaped like cubes (no joke!). We're told that they mark their territory with it and this shape doesn't roll off logs and rocks as readily as the more traditional contours of excrement. With their immensely powerful jaws, Tasmanian Devils consume their prey whole - skin, bones, fur and feathers (like hyena). So you can recognize their droppings (and the prey) due to undigested particles in the mix. Devils don't kill their meals. They consume the dead - nature's furry little vacuum cleaners, but with somewhat sharper teeth.
We skirted the edge of a lagoon where a variety of sea birds pecked for breakfast. On the banks of a river we met a gregarious old guy who fitted us with lifevests and two-person kayaks. Rhys and Selina ran through some basic instructions and then we pushed off. It was the first time we'd ever kayaked and while it's fairly simple to get around, we weren't as efficient as our more experienced companions, so we had to work pretty hard to keep up. The surroundings were lovely and we stopped now and then to watch birds or just to appreciate the stillness.
The narrow river opened into a wide bay with a bit rougher water. We kept an eye out for rays in the water, but didn't spot any. Our reward for reaching the other side was lunch. It was a pleasant hike back to the lodge along the beach. We spent the rest of the afternoon sitting out on the terrace at the lodge relaxing. We spotted the next group making their way along the beach from the lighthouse and they arrived late afternoon. They were a group of 6 plus their 2 young guides. The wind had gotten brisk outside so we were settled comfortably on the couch in the living room when they arrived. They made such a racket that we escaped to the tranquility of the library until dinner. Dinner was very lively with the addition of the new group.
The next morning was free time so we went out for a walk along the beach. We ran into Mike and Betsy so the four of us circumnavigated the lagoon we'd passed the day before. When we got back to the lodge we saw Rhys surfing. Amy was taking the SUV to town for supplies so we lucked out because she transported our packs to the van pick-up spot. We had a short (1 hour) hike to meet the van but stopped at a picturesque spot in a wooded area for lunch. We stopped at Piper's Brook on the way back so I had a chance to sample wines I missed on the first visit.
On the road, we passed some guys on velocipedes. These are those old-fashioned bikes with one huge front wheel and one mini-wheel in the rear. They have a popular velocipede race in this area - Penny-Farthing Races - so they must have been training. It was the first time we'd ever seen one in action.
We got back to Launceston about 5:30 p.m. and checked back into York Mansions. The owners had already deposited the luggage we'd left in our room. We'd booked dinner that evening at "Fee and Me", which is often cited as the best restaurant in Tasmania. While it wasn't our top choice in Tassie, it certainly ranked very near the top. It's located in a wonderful old home, which allows for intimate dining spaces oozing with charm. It is clearly THE special occasion place in town as the dress code ranged from a tad fancier than the typical Aussie casual attire (no shower shoes) to full-length gowns. We took the middle road in a little black dress and jacket without tie (I was wearing the dress in case you wondered, but with Stu's legs, he would have looked darn cute in it.) Service was stellar and the food was splendid. They chose some nice wines by the glass to accompany the courses, which I really enjoyed until the headache the following morning.
We arose early and drove to Liffey Falls, which is located in the middle of lush rainforest. We were the only visitors, so it was peaceful and we surprised a Bennett's wallaby who watched us suspiciously until we continued down the path. The waterfalls are lovely and definitely worth a detour. Another car was just parking in the lot as we drove off to Mole Creek to visit the caves. We caught the first tour of Marakoopa Cave, an impressive limestone marvel with a glowworm population. Glowworms are larvae with bioluminescence. Insects in the cave mistake the spots of light in the pitch-black ceiling of the cave for daylight and fly right into the clutches of a hungry glowworm. Although this was good, it didn't match the extraordinary sensation of floating in a boat along an underground stream with glowworms shining overhead that you experience at Waitomo Cave in New Zealand. We decided to visit King Solomon cave as well, but in retrospect, it might have been better to visit only one. However, on the drive over we spotted an echidna (a small spiny marsupial anteater) waddling across the road. We stopped the car to let it by and then jumped out to see it. Echidnas can move pretty fast when they feel pursued. It immediately burrowed into the ground, but not before we got a close look at its adorable face with its long rubbery nose (ideal for poking into ant nests).
We weren't planning to visit any wildlife parks since we hoped to see the animals in their natural environment. However, we'd heard that Tasmanian Devils, being nocturnal, are difficult to see in the wild so we decided to stop at Trowunna Wildlife Park in Mole Creek. It would be terrible to come all the way to Tasmania and not see a Devil. Trowunna is an animal sanctuary where they rescue and rehabilitate orphaned or injured animals and try to reintegrate them into the wild. Since many of these animals are territorial, they don't simply release the animals, they try to help them settle in an unclaimed territory. We're glad we stopped because the staff was very knowledgeable about the animals and we learned more than we would have by just observing the animals in the bush. Shortly after arriving we spied a female ranger playing with an orphaned Forester Kangaroo joey and walked over to watch. The ranger seemed annoyed at the intrusion and opened a cloth bag, which the joey eagerly wriggled into head first- a clever substitute for mama kangaroo's pouch. Although koalas are not found on Tasmania, the park shelters a group of them because they are trying to breed a chlamydia-free colony. This disease is apparently rampant among koala colonies on the mainland. We got to stroke a mother and the tiny baby clinging to her back. The fur was soft and silky, which surprised me because I'd held a koala during our second trip to Australia and its fur was unexpectedly coarse. The ranger introduced us to orphaned wombat triplets whose mother was killed by a car - the driver checked her pouch and brought the babies to the park for care. Wombats have an exceptionally hard bone plate covering their backsides. When an enemy approaches, they don't run, they turn their backs for protection, since most predators can't penetrate their armored rump. Unfortunately their backs are no match for automobiles. Wombats are related to koalas and have similar sweet faces and long claws, but they're built like tanks, squat and powerful. I got to hold a young one for quite awhile, which was a real treat. The Devils are amazing. They look like small, stocky dogs with pointy ears, short snouts and black fur that usually sports a slash of white somewhere. The ranger fed them plucked chicken and we were able to appreciate how they got their name. They emit the most bloodcurdling shrieks when feeding. It's quite intimidating, kind of like a tour bus group at a buffet. When they're not dismantling their food, they look quite innocuous (both the Devils and the tour groups).
We made a few scenery stops along the way to Devonport, a northern port city where the ferries from Melbourne dock. There was a huge fair going on including a live music performance in a park overlooking the sea. The weather was splendid and people were flying kites, including some of the funniest we'd ever seen, such as a huge red seahorse with little seahorses floating on the tail, and man and woman snorkelers who undulated in the breeze just as they would on the surface of the ocean. There are various attractions in Devonport, but our favorite was the gorgeous Mersey Bluff Lighthouse, white with vertical red stripes on the seaward side.
Near the lighthouse is Tiagarra, a small museum that details the life and history of the aboriginal Tasmanians. The rock carvings and drawings are somewhat interesting, but lack the raw beauty of those we saw in the Northern Territory. We got to the Don River Railway, just outside Devonport, too late to catch the last ride on an old steam engine, but we got to see it chug into the station and berth for the night. It was a magnificent hunk of smoke-spewing iron, resplendent in red and black with a caboose adorned with a scrolled metal gate. The grizzled engineer looked as if he stepped out of a time machine. The staff invited us to wander around the workshop where we found another wonderful restored locomotive along with handcars and old passenger cars. The station recalled an earlier era and there's a small but well-chosen collection of artifacts in the old station house. Considering our interest in all forms of transportation, this was a terrific stop and highly recommended for train aficionados.
We drove along the coast to Stanley, stopping to enjoy the scenery in the little hamlets on the way. We couldn't resist spending some time in Penguin, which exploits its name by decorating everything, including street wastebaskets, with penguins (though not real ones). Aside from the penguin kitsch, which somehow managed to seem more sweet than tacky, it's a nice-looking town with sensational beaches and ocean vistas. We also liked Boat Harbor, where a small park leading up to a scenic lookout boasted an archway and benches decked out in colorful mosaics with sea motifs - shells, mermaid, fish, etc. We imagine that this would be an ideal family beach spot where you could rent a bungalow and happily chill out for a week.
The soft glow of the late day sun illuminated the town of Stanley as we arrived. Stanley advertises itself as "the tidiest town in Tasmania" and it's not only exceptionally clean and tidy but, in our opinion, it's also the prettiest town in Tasmania. And this is on an island overflowing with quaint, well-preserved villages. Established in colonial times by the Van Dieman Land Company as a corporate outpost, it has managed to retain most of its period charm. The main street is so perfect you almost suspect that you've driven onto a movie set. There's a moving monument to the ANZAC soldiers of WWI, a striking white statue of a young soldier, head bowed, among all the lovely storefronts. Stanley is also famous for "The Nut" a basalt outcrop about 500 ft. high formed by cooling lava. From a distance it looks like a mammoth speed bump, rising abruptly from the flat lands all around. The town nestles beneath The Nut on the shores of the Bass Strait.
Our B&B, Hanlon House, is just a couple of blocks off the main drag, adjacent to a handsome old church. Across the road a picturesque church cemetery, the "Stanley Burial Ground," overlooked the water. The proprietors of the B&B, Graham and Maxine Wells, greeted us warmly and introduced us to some of their family, including their adorable grandchild, Lily. One of their daughters was getting married the following week and the whole clan had gathered to prepare for the wedding. As it was late in the day, they discussed dinner options with us and booked us a table at their favorite seafood place. Our room was elegant with a spacious bathroom.
We were hungry so we quickly cleaned up and headed over to the restaurant. It was on the second floor with a great view of the sea. It was a plain, no-nonsense kind of place. Service was leisurely, and we were giving serious consideration to grabbing some French fries from the guys at the next table, but the food was worth waiting for. Simply prepared and clearly fresh out of the sea - plump, flavorful oysters, moist, delicious John Dory, sweet, meaty crayfish and a tasty medley of fresh vegetables. I decided to try the Wolf Blass Riesling and it turned out to be very drinkable and a good accompaniment to the meal. We were the last patrons in and the staff was busy cleaning up before we left. We suspect they turned the lights off as soon as we were out the door.
Shortly after we returned, Graham grabbed a flashlight and took us down to the nearby beach to see fairy penguins. He'd dug burrows in the sand to establish a colony and was clearly proud of his success - there is a thriving community of resident penguins. He explained that after the breeding season, the penguins return to the sea to feed, so we shouldn't expect to see many. A few weeks later they return to shore to molt. We were fortunate to see many of them, some looked really raggedy mid-molt, while others were sleek and fat having just gotten back from their big fish feast. They're the smallest penguin species in the world and are totally adorable, no matter what state they're in. It was a special treat seeing them up so close in their natural habitat.
The next morning we discussed our plans for the day and Graham suggested that, since the weather was so fine, we take a boat trip out to see the fur seal colony. He called and advised the skipper that we would be coming over later. Maxine had baked the most delicious bread, which we enjoyed at breakfast. We really liked the casual, homey atmosphere and wish we'd had more time to spend here. We didn't need to be at the dock until around 10 am, so we climbed up The Nut. There's a ski lift to the top, but that didn't open until 9 am - besides what fun is it to ride in comfort when you can sweat and pant your way up a steep incline. Once you get on top though, it's mainly flat, easy walking on recognizable trails. Although The Nut is clearly large, we had no idea how extensive the trails were until we got up there - needless to say (but we'll say it anyway), the views were spectacular. The Nut juts out into the strait flanked by long pristine beaches. We spotted a hawk hunting - he'd hover effortlessly for awhile scoping out the ground, then suddenly he'd swoop straight down, his claws extending as he descended, and come up with some hapless critter struggling in his grasp.
As we approached the dock, a small brown and white dog came running up to greet us, her tail wagging as fast and furiously as a politician's tongue. We played with her until her master called her back, then we walked over and met our captain, Darryl, his first mate, Gundy, the dog owner, and Millie, the dog. We waited awhile, shooting the breeze, to see if anyone else would show up and when no one did, we all boarded the boat and hit the waves. The sea was as flat as a failed souffle and a shade of blue that makes you take off your sunglasses to verify that it's not an illusion of the tint. Darryl gave us an information sheet about the uncommon Australian fur seals we were on our way to see. The stench of bird guano was the first sign that we were approaching the rocky outcropping where the seals congregate.
There were seals everywhere - frolicking in the water, scrambling up the rocks, stacked up on top of each other and sunning their sleek furry hides. Millie got really excited, standing up at the back of the boat for a better view. In addition to all the seals, there were scores of birds, black and pied cormorants, sea gulls and terns. Darryl was able to get very close to the rocks so binoculars were largely overkill. We spent about a half-hour there before heading back to land. We had a lot of fun with Darryl, Gundy and Millie, a bonus since the excursion was so outstanding.
We walked a short distance to an art and crafts gallery in an old stone inn. There was some excellent work there, but nothing we wanted to take home. Next stop was the Lyons cottage, where the first Prime Minister of Australia from Tasmania grew up. We walked down the main street peeking into the shops and stopping to buy truffles in the chocolate shop. They were light and delicious, filled with a variety of ganache, some liquor-infused. We finished off with a stroll around the cemetery to ponder the old headstones before returning to Hanlon House to pick up our bags and take our leave. We took the scenic route out of town stopping at Highfield House, a large colonial farm with panoramic views over the town. They're still working on the interiors but it was worth seeing the handsome stone buildings and well-tended gardens.
We took the road through Burnie so we could stop at the Lactos Cheese Factory. With all of the dairy farms in Tasmania, the cheese is justifiably renowned. Samples of many kinds of cheese were laid out on a table so visitors could just help themselves. They were all delicious and we bought a snack before leaving as well as a jar of excellent honey mustard that we'd tried at the Bay of Fires.
Being predominantly rural there's plenty of road kill and therefore lots of crows picking at the remains during the day. They always fly off as cars approached, however, on this occasion one greedy crow was reluctant to relinquish a scrap and flew up a bit late. Thwock!!!! He crashed into the passenger side mirror hard enough to knock it right out of the socket. We heard the impact but didn't realize he'd hit the mirror until we were well down the road.
We got to Cradle Mountain Lodge late in the afternoon, checked in, dropped our stuff and went straight to the Visitor's Center to buy a National Parks pass. We decided to walk the Dove Lake Loop since the weather was so perfect. Conditions change rapidly in the mountains and we wanted to be sure to see the magnificent view of Cradle Mt. It was a mostly easy woodland trail circumnavigating the lake - about a 2-hour walk. Cradle Mt. loomed over the lake casting a clear reflection in its still waters. We only ran into people occasionally since it was so late in the day, but the sun stayed up so it was a great time to do it. It was really lovely.
Our cabin was on a back road in the woods, a good distance from the main building, so it was very quiet. It was built up on stilts and we had a back porch overlooking the forest. There was a nice little kitchen, a table and chairs for dining, and cozy chairs facing a wood-burning stove. The bathroom was large with a dual-person spa tub and separate shower.
We had a late reservation for dinner at the lodge restaurant and were seated at a window overlooking a small lake. We saw silhouettes of small marsupials hopping through the beams of the path lights. Service probably seemed even slower than it was because we were so tired. The food was pretty good but there aren't many alternatives in the area. We arranged for a picnic lunch the following day. Right at the foot of our cabin stairs, Stu spotted a pademelon joey nursing. They let us watch them pretty close by until they finally hopped off into the brush.
When we arose the next day, the weather was cloudy, with patches of sun, so we were glad that we decided to take the hike the previous day. We got to breakfast just as they opened, and it was like a feeding frenzy at the buffet - very disagreeable. We picked up our lunch boxes and headed over to Waldheim Chalet but we didn't visit it yet. We walked around back to strike off on a trail to Lake Lilla. No sooner had we set foot on the trail when we saw a Bennett's wallaby joey nursing. They tolerated us as we approached but took off as soon as the joey had its fill.
We had barely taken a few steps when Stu spotted more animals just down the path, which he quickly recognized as wombats. Wombats are normally nocturnal, so it was a thrilling surprise to see them foraging around during the day. It looked like a female and child, though the child wasn't too much smaller than mom. A ranger later told us that the mothers watch over their progeny until they're quite grown, so we believe that our original supposition was correct. They kept some distance between us, but we still managed to creep up fairly close and get a good look at them.
The trail this morning was more challenging than the Dove Lake circuit, but it was still moderate. We had some fantastic views, even if the weather wasn't as perfect as the previous day.
We visited Waldheim Chalet when we returned. Gustav Weindorfer fell in love with the area and fought for its preservation and establishment as a national park. He built and lived in the chalet with his Tasmanian bride. It's set up now as a nice museum with informative displays. Rather than attempt one of the longer trails in the afternoon, we decided to take a series of short walks. They were all different and all delightful. On one, we strolled through a dense stand of tall and fragrant King Billy Pines. We decided to have our picnic lunch by a waterfall - it was a short hike to the falls from the lodge and we found a fallen log to sit on. It was very peaceful and we were amazed that no hikers came by while we were there since it was such an accessible area. We were in the middle of munching our sandwiches when we noticed a small animal trotting briskly down the trail towards us. We quickly realized that it was a young Tasmanian Devil. He seemed to be coming right at us, but he abruptly veered into the bush just before reaching us. This was one of the most exciting moments of the trip.
We mentioned it to a ranger and he told us that, although Devils are nocturnal, they are also territorial. Young ones are kicked out of the nest to fend for themselves and often have to be more creative about finding food. They probably also enjoy making their parents worry about them as they gallivant around all day.
During the day we stopped at a general store to pick up provisions for the following day. We planned to drive around to Lake St. Clair, hike in the area, then drive back. A long trip but we thought it would be worth it. We picked up breakfast and lunch fixings. That afternoon, after we'd finished all the hikes and had rested awhile reading and doing puzzles on our porch, and giving the spa tub a whirl, I got a massage. The rates were so favorable, it seemed like a great way to work out the muscle aches from all the hiking. It was an excellent massage but I think it will be a long time before I find one that can match the "jungle massage" I had in Indonesia.
We had an early dinner this time because we booked a "Spotlight Tour" that night. The ranger was just as nice as we expected. We were astonished at how many animals we saw - several wombats, many Bennett's wallabies and pademelons, 3 Tasmanian Devils and a quoll. They call quolls native cats, but they don't look like any cat we're familiar with. They resemble a small possum. It was a very worthwhile excursion.
It was raining when we woke up the following morning. We decided to skip the long drive to Lake St. Clair and snuggled down for a couple more hours of sleep. Breakfast at the lodge was far more relaxed when you arrived after the opening rush. We didn't feel like hiking around in the rain, so we drove down to the visitor's center to buy some post cards and consider our options. It was fortunate because they had a small booklet there with photos of some of the murals in the town of Sheffield. I'd read about the murals before coming, but it sounded like it might be just a tacky tourist trap. The photos in the booklet were stunning, so we decided to take a ride to Sheffield to check out the murals. It was overcast, but not raining, when we arrived. The main street in town is very pretty but the murals, which adorn the sides of many buildings, were the real attraction. One artist, John Lendis, accounted for most of the work, though others had gotten into the act and there was a wide range of styles. Although we generally recognized Lendis' work to be the finest, the murals on the Sheffield Bible Chapel by a different artist were also extraordinary.
The old blacksmith shop has been converted into a gallery with some fine quality crafts. A wonderful CD of old Celtic prison songs was playing and we liked it so much we bought a copy to play during our long drives. It ended up being some of the music we enjoyed the most during the trip. We wandered over to admire the murals on Little Weindorfer's, a former schoolhouse that is now an ice cream shop, and decided to sample the homemade ice cream. Talk about death by dairy fat, this ice cream makes Ben & Jerry's taste like ice milk. It was hands down the best ice cream we'd ever tasted anywhere. We took our cones and continued walking around seeking murals.
We decided to stop in the Visitor's Center, which was a timely move, since it started raining buckets shortly after we stepped inside. They had a simple map of the town as well as the booklet of murals by Lendis, which we bought. While waiting for the rain to abate, we sat down and figured out where all the murals were that we missed. It turned out that some are in other towns in the area, such as Railton and Wilmot. The sky cleared a bit so we ventured out and found the rest of the murals in town.
Then we drove around until we found all of them, which was a challenge since they weren't all in plain sight. It was worth the drive. The scenery was very appealing as were the little towns and farms we passed. Two of the finest murals are painted on the side of a barn near Weindorfer's Restaurant. I'd read that the food is very good there, but we were gorged with ice cream and had no appetite for lunch. One is called Weindorfer's Honeymoon. It depicts Gustav and Kate making music during their camping honeymoon on Mt. Roland, the spot where they first beheld Cradle Mountain and determined to preserve it for posterity. By the time we got back to the lodge it was late afternoon, so we lit a fire in our stove and sat indoors reading until dinner.
The weather cleared up so we decided to eat early then go down to a stream where a couple told us they'd seen a platypus around dusk three days in a row. After we'd finished our appetizers, Betsy and Mike were coincidentally seated at a table near us, so we caught up on each other's adventures during the 3 days since we'd seen each other. Unfortunately, it began drizzling as we walked over to the stream, and we didn't see the platypus.
The next morning we continued our journey, heading west. We made a short stop in Tullah to see the Wee Georgie Wood Historic Steam Train. It wasn't running but we peeked in at it in its shed. It was an attractive little engine. The sun was poking its face out of the clouds when we reached Zeehan, a sleepy little town where we visited the West Coast Pioneers' Memorial Museum. There were heaps of interesting historical artifacts including many old-time photos of the West Coast. Mining was an important industry in this area and there were some moving exhibits describing the heroism and sacrifice of miners during some disastrous fires.
We reached Strahan around mid-day. Our room wasn't ready but we left our bags at Franklin Manor and headed back to town for lunch. We found a bar and seafood café on the waterfront and had some good fish and chips. Strahan straddles Macquarie Harbor, an immense inlet that was home to one of the reputedly cruelest penal colonies in Australian history - Sarah Island. Logging and shipbuilding were prominent industries during this period and convicts served as a cheap and plentiful labor pool. On our way into town we glimpsed a woodworking shop - Strahan Woodworks - so we decided to take a walk over. The area is famous for Huon Pines - giant hardwood trees with oils that protect them from insects making them particularly durable and desirable for building ships and homes. All of the crafts in the shop were made from fallen trees - they don't harvest the live ones anymore. And what exquisite crafts they were. We especially admired a remarkable dinghy carved from Huon Pine. We could have carried it on the plane if we'd chartered a 747 just for ourselves. We settled for an elegant wooden plate - its rim decorated with aboriginal dot painting and images of geckos in rich earth tones. At Hanlon House we liked the lyrical lithographs of Tasmanian landscapes by an artist named N. Lazenby. We saw them for sale in various places, but couldn't find the one of Macquarie Harbor that we particularly wanted. We found it in this shop for a good price, so we added it to our shipment.
The wood shop is near the Visitor's Center, so we stopped in and bought tickets for "The Ship That Never Was", a play staged by the Round Earth Theater Co. We were supposed to take a scenic flight on a seaplane up the Gordon River into the deep woods, but the flight was grounded due to the inclement weather. They rescheduled us for the following afternoon. We dropped by the ticket office to check on the time of our boat cruise on the Gordon River the following morning. We were booked on a ½ day cruise but the agent informed us that this trip had been canceled due to lack of interest. They upgraded us to the full day cruise at the same price.
We had some time so we visited various sights in the area and returned to town in time for the show. It was completely delightful. It tells the true tale of a group of Sarah Island convicts who built and then hijacked a ship and escaped to Chile. They were subsequently found by British soldiers and extradited. The best part is that they managed to escape hanging by proving that the ship never existed (hence the title). Apparently paperwork hadn't been filed, the ship wasn't registered as property of Her Majesty's Navy so there was no ship to steal. It's an amazing tale, performed by 3 actors (1 female, 2 males) who play a variety of roles, assisted by members of the audience, whom they shanghai into the production. It's corny at times, but hilarious and very cleverly constructed. All history lessons should be this much fun to learn.
Franklin Manor is reputed to have among the finest lodgings in the state as well as one of the best restaurants, so we were anticipating a lovely stay. Most of the rooms are in the main house, which was very beautifully decorated. Unfortunately, we'd been assigned to "the Stables", rooms that literally looked like stables. There wasn't any straw on the floors, but there were unfinished wooden stalls. Instead of evoking an ambience of charming rusticity, it felt like a barn. There was lots of space, with a living room and two sleeping areas, but we weren't pleased with the décor and lack of amenities such as a closet or dresser.
I put some clothing on a shelf in the nightstand next to the bed, and they were stained with some kind of gunk in there. The staff had deposited our bags in the room while we were in town and we discovered that the front door to our rooms, which is on the ground level facing the main road, had been left unlocked. They had a laundry room, but the washing machine was missing. We booked dinner at the inn and that was a great disappointment as well, the food was only so-so. They're supposed to have an excellent wine cellar, but the bottle they recommended was mediocre. We had to walk out of doors to get back to our room and they forgot to turn the path lights on, so we were stumbling around in the dark. It was our least favorite place on the trip, not because it was a terrible place, but because it sank well below our expectations and was not a good value for the money.
Breakfast was not very good either but at least the dining room was pleasant. When we got to the dock, there was a long line to board the boat. We were fortunate to get seats in a booth by the window on the lower deck. The cruise takes you out to the mouth of Macquarie Harbor where you can see the Henty Dunes and a pair of lighthouses before continuing down the Gordon River. The boat was packed, mainly with senior citizen tour groups. The trip felt long, particularly because the weather was still variable and it was chilly on the boat. The first stop was at Sarah Island, which was the most enjoyable feature of the trip. Our guide was one of the actors from the play, a tall man with a resonant voice and dramatic flair. He clearly relishes his job, spinning colorful yarns about prison life and the convicts. He even donned a wet suit and plunged into the frigid waters to illustrate how the dock was built. We lucked out because this excursion would not have been included on the ½ day tour. We disembarked once more to take a walk on a well-maintained boardwalk through an impressive stand of Huon Pines and other rainforest growth. On the ride back to town a buffet lunch was served and it took forever to cycle everyone through, though the food was quite good.
We got back to Strahan about 3 p.m. and strolled over to Wilderness Air to find that the flight was canceled again. We were relieved only because we figured the views would be pretty miserable if they decided to take off. The next morning we had about a 4-1/2 hour drive to Hobart and we figured we could get to Hamilton in about 3 hours, so we decided to pack up and continue onwards. There wasn't anything we still wanted to do in Strahan and we weren't crazy about Franklin Manor so we thought we'd rather burn the time on the road.
It turned out to be a wise decision. The road was challenging, winding through steep mountain passes, and we might not have had time to stop on the way to Hobart if we'd left in the morning. While driving through Lake St.Clair National Park, we spotted an echidna on the side of the road and stopped for a closer look. We never did get a photo of an echidna, which is a shame because they're really really cute. They're just too shy,
We'd picked up a brochure on Hamilton at the Strahan Visitor Center and it highlighted some of the more picturesque places to stay. Our first choice was a small B&B occupying an old schoolhouse. Our hearts leaped when we saw the Vacant sign still displayed but we wondered what kind of room might be available on such short notice. The God of Good Holidays was smiling on us because they had a totally charming room, complete with an antique school desk and ensuite bathroom. The owners, who also run an accounting business in Brisbane, were as enchanting as the inn, and we got a special bonus by being allowed to play with their affectionate little dog, Blossom. They gave us directions to the pub, the only place to eat out in town, and to a nearby pond where we might find mother and baby platypi. We didn't expect much of the food and got what we expected, but we were hungry and it did the job. After dining, we rushed over to the pond, but we must have offended the God of Monotremes - still no platypus in sight.
We joined our hosts in the lounge - they played Trivial Pursuit while we read, did puzzles and played with Blossom. We met their teenage daughter and her friends, one of whom showed off her new lip ring. Breakfast the next morning was extraordinary, with homemade banana bread, homemade apricot brandy preserves and freshly laid eggs. The whole experience was ideal.
On our way to Hobart, we stopped in the town of New Norfolk to visit St. Matthew's Anglican Church. It was well worth the time - one of the best of many attractive old churches. The stained glass windows were particularly appealing.
We arrived in Hobart fairly early and went straight to our B&B, Islington Private Hotel. It's a gracious mansion with extensive gardens and a terrific view of Mt. Wellington. A room was available so the owner, Michael, ushered us in. It was spacious, very light and airy with high ceilings and tasteful furnishings. There was a non-working fireplace with a basket of humongous pinecones sitting in it. We hate to imagine the size of the squirrels that go after these. The bathroom was a bit shabby compared to the rest of the place, but it served its purpose and came equipped with an enormous spider, not as cuddly a pet as Blossom, but almost as furry. We planned to do laundry before dinner, but found that there were no facilities for guests so we had to take time to drop our stuff at a cleaning establishment a few blocks away and pick it up later in the afternoon. Islington is located in a quiet residential area about a mile or so from the center of Hobart, up a pretty steep hill, so we ended up driving more than we expected just to save time.
Saturday is the day of the big open-air market in Salamanca Place, so we bee-lined over there straight from the cleaners. We waited in line about 45 minutes for a parking spot, another advantage of staying somewhere closer, however, this was the only time we had a problem finding parking quickly. The market was pretty much as we expected - a lot of junk among some very interesting stands. We found wonderful cards with skillful drawings of old Hobart, penned by the wife of the elderly vendor in the booth. There was a large section devoted to Asian fruit and vegetable vendors and farm stands offered honey, cheese and wine from the country (which starts about 5 steps outside the city limits). Musicians played, entertainers entertained and the smell of fast food wafted over the scene. We bought some pretty good chicken satay at a Thai stall for a quick lunch and picked up fragrant lavender bath salts in anticipation of the luxurious tubs yet to be filled on this trip.
Antarctic Experience is right around the corner and it's listed as a must-see attraction. We didn't think so. If you have children, it's probably worth a look, otherwise it wasn't very worthwhile. We took a long walk through the historic section of town stopping at places of interest along the route. We found some very creative galleries, including one with an immense collection of African art. There are lots of striking old buildings to ogle. The most engrossing stop was at the Tasmanian Museum & Art Gallery. There is a fascinating section illustrating early colonial history with compelling exhibits about the prisons. It's clear that the burgeoning economy relied on convict labor, which slowed efforts to stop transportation of prisoners and fostered a system that made it very difficult for ex-convicts to remain free. Jobs were scarce since labor was provided courtesy of the penal colony. It was disconcerting to learn the types of offenses that could land a parolee back in jail - for a woman servant just talking back to your boss could get you years in the slammer. There were plenty of interesting finds in the museum, which were well laid out with excellent descriptions. Even the café cleverly displayed a collection of antique teapots. While we were inspecting an exhibit of ancient coins, a docent of the museum approached us and told us that there is a small museum with an excellent collection of antiquities at the Moorilla Winery in Berriedale, just north of town. She said that it would be open on Sunday. This was perfect because I'd been thinking of having lunch there if time permitted but I didn't know about the museum.
We continued our promenade down to the waterfront, which was every bit as picturesque as we'd imagined. A replica of Cook's Endeavor was moored at the dock and some members of the crew were dangling from the rigging, performing some sailorly chore.
We returned to Islington to freshen up and change for dinner. We had a reservation at Lebrina, a classy restaurant in an old mansion with intimate dining rooms. We were seated at the window and were surprised at the panoramic view. This was our favorite restaurant in Tasmania, outstanding food, service and ambience. A perfect place to relax with fine food and wine, hashing over the events of the day and planning the next day's activities.
We woke up early on Sunday to a brilliant, cloudless day. We quietly slipped away to take some photos in Salamanca Place while it was still early and empty. While walking around we met a man walking his dog who told us that a cruise ship was maneuvering into port so we were glad to have some quiet time before the hordes descended. We returned to the B&B, showered, changed and had a leisurely breakfast in the bright breakfast room facing the garden and pool. The owner raises doves and they were strutting in the grass, their snow-white tails flamboyantly fanned out.
We stopped at the Botanical Gardens, which were on the way to the winery. They're in a tranquil setting overlooking the water, bursting with color and fragrance. We especially enjoyed the fuschias and cacti. The museum at Moorilla contains what was once the private collection of the winery's owner. The building itself it is a work of art, a perfect showcase for its extraordinary content. The first things to grab our attention were the magnificent mosaics. There are also wonderful objects from Costa Rica, West Africa and Egypt, as well as a well-chosen antique coin collection. When we left the museum, we heard a cacophony of raucous cries and spotted sulfur-crested cockatoos perched in the trees.
We headed over to the winery and chose a table outdoors for lunch. The food was good, but not in the same league as Strathlynn and we were bothered by swarms of bees. They seemed to prefer some dishes to others so they lightened up during the second course. The wines were nicely paired with the food. Moorilla bottles a nice Pinot Noir and an unusual but tasty Pinot Gris.
After lunch we drove down to the Huon Valley. Just outside town is the Shot Tower, a circular sandstone tower built around 1870 to manufacture lead gunshot. At 150 ft. it's the tallest freestanding (no mortar) tower in the world. You begin your tour with a short video describing the history of the tower, then you have the option of climbing to the top. You're rewarded for your effort with extensive views of the Derwent Estuary and surrounding lands, as well as a round sticker attesting to your achievement
The landscape is attractive and we stopped at various tourist attractions, most not worth mentioning. We finally admitted defeat and decided that our only chance of seeing a platypus was in a wildlife reserve and there happens to be one with a captive platypus near Cygnet (Talune Wildlife Park). The platypus was in a large tank with plenty of room to swim around and we stood and watched it for over a half-hour. While it can't compare to seeing an animal in its natural habitat, it had the advantage of affording really close up views, including underwater activity. We could see how it uses its bill to hunt food, moving it quickly side to side over rocks and crevices. We didn't bother visiting any of the other exhibits, though the owner insisted that we pick up a wombat that was trying to catch some zzz's on a couch in the ticket office. She tolerated the attention but you could tell that, like Greta Garbo (but much hairier), she really wanted to be left alone.
Our final stop in the valley was the Apple and Heritage museum. You wouldn't take a special trip just to visit it, but it's a fun stop when you're in the neighborhood. The owner, an apple farmer, operated an antique apple-peeler-and-corer machine, which was really cool. Then we got to eat the apple, which was crisp and juicy. They had lovingly set up exhibits of farm antiques in well-designed vignettes. It was quite a collection. Because it was such a balmy, clear day, we decided to drive up Mt. Wellington for the spectacular views. We scrambled up some rocks to get to the very top of the mountain, then walked to all the lookout points for the perspective in different directions. That evening we had dinner at Mures Upper Deck, a restaurant on a pier with lovely views from its second floor location. The Mures family runs a fishing fleet and a couple of seafood restaurants. There aren't many fine restaurants open on a Sunday night in Hobart and we feared that this might be a mediocre tourist place. Wrong again. The seafood was very fresh and expertly prepared paired with a decent wine list. The restaurant has a casual family and group atmosphere. Afterwards we picked up some sandwiches for next day's lunch.
Bruny Island was our destination the next morning. We drove down the Huon Valley to Kettering and waited in line for the car ferry. The morning was disappointingly overcast and chilly but the forecast predicted clearing later in the day. It's a quick crossing and we easily found our way to Adventure Bay to visit the Bligh Museum, a small house detailing the history of the D'Entrecasteaux Channel, the Huon Valley, Bruny and the intrepid explorers who chartered the territory. Bligh is said to have planted the first apple trees in the area, kickstarting this industry in Tasmania.
We followed the winding roads to the tip of South Bruny to the national park and the lighthouse. An arsonist had torched the lands around the lighthouse and the smell of scorched earth lingered. The charred, twisted remnants of the trees marred the wild beauty of the landscape. The lighthouse sits atop a cliff with wide-ranging views in all directions. On a clear day you can probably see all the way to Mt. Wellington. Low-lying clouds lent a moody air to the sinister scene. We took the short, somewhat steep trail up to the base of the lighthouse and enjoyed a peaceful picnic, accompanied by the soothing sounds of the sea. Another couple drove up as we were leaving.
The weather gradually improved as we drove back to the north island and by the time we reached the narrow isthmus that separates North from South Bruny, the sun was blazing in a bright blue sky. We took a walk on a boardwalk overlooking spectacular sandy beaches, inhabited only by sea birds. The dunes were punctuated with thousands of fairy penguin burrows but the birds were all out to sea fishing and playing penguin games. We got in line for the ferry back to Kettering and shot the breeze with a roofer from the Huon Valley until it arrived. We figured that, with all the fresh fish around, sushi in Tasmania should be exceptional, so we had dinner in the Mures' family sushi joint, Orizuru, which amply met our heightened expectations and was a nice change of pace.
We were up and out too early for the regular breakfast but Michael left some food for us in the kitchen and we had a quick bite before leaving. This was our day to visit Port Arthur, site of the infamous prison. Its location on the Tasman peninsula was specially selected since the geography made it very difficult for prisoners to escape. Access to the peninsula is funneled through Eaglehawk Neck, a narrow strip of land that could be easily guarded. The prison was the only settlement in a vast, impenetrable wilderness and the icy seas made swimming away unlikely. There are some interesting geological formations at Eaglehawk Neck that are worth viewing. One is what they call "the Tessellated Pavement". The action of the sea chiseled paving stones in the rock, which really look man-made even though they were naturally formed. We also enjoyed the rugged beauty of Tasman Arch and the Devil's Kitchen (he cooks Cajun food in case you wondered), but there wasn't sufficient surf action to make the blowhole really blow.
We arrived at Port Arthur about ½ hour before the first guided tour so we wandered around getting the lay of the land. Our guide was riveting, his avid interest in the history of the place and the lives of its inhabitants was palpable. It didn't hurt that he looked dashing in a blue blazer and wool beret as well as being a gifted speaker.
Port Arthur is a fascinating place. When you enter, you're given a playing card that corresponds to a former prisoner, so you can follow his progress through the system in the well-designed museum in the visitor center. Although brutality and hard labor were the norm, the convicts also had the opportunity to attend school and learn a trade. The most feared punishment, even above a vicious whipping with a cat-o-nine-tails, was solitary confinement, which was perfected to the height of cruelty. No one spoke with the prisoner, even guards, and when they went to the yard for their hour of daily exercise, they had to wear hoods so they couldn't see anyone else. Silence was strictly enforced and guards wore soft slippers to avoid making noise as they patrolled the corridors. The prisoners experienced total sensory deprivation in their dark, narrow cells. An asylum was built next door to the solitary quarters to accommodate the men driven insane by the treatment.
A short harbor cruise is included in the price of entry but we coughed up an additional fee to visit the Isle of the Dead, the burial ground for the complex. Our guide on the island wasn't as engaging a speaker as our first guide, however, it was still an engrossing exploration of the lives and deaths of the prisoners and the families who tended them.
Many people know about the modern massacre at Port Arthur in 1996 when a deranged local man gunned down 35 tourists with a rifle, including a baby in its mother's arms. There's a moving monument and memorial garden on the site commemorating the victims.
We visited the various buildings on the grounds and drove to Richmond later in the afternoon. There's a fairly interesting old jail in Richmond but it seemed anti-climatic after Port Arthur. The town is brimming with charming old buildings and shops and we spent the rest of the afternoon wandering around poking our noses in everything.
That night we stayed in a historic mansion converted into an inn, Prospect House. We stayed in a cottage that provided way more space than we required, but it was fabulous, with exactly the kind of rustic allure that we failed to find at Franklin Manor. The bottom floor consisted of a large bedroom, enormous bathroom with spa tub and separate shower, a kitchen and a comfortable sitting area. Upstairs were 2 more bedrooms. The best part was that there were working fireplaces in most of the rooms. It's the first time we've ever taken a bath in the cozy glow of an open fire. We spoiled ourselves and lit a fire in our bedroom that night also. We didn't feel like hunting around for a restaurant so we booked a table in the hotel dining room (though we could also have ordered room service from the full menu). Another extremely pleasant surprise - the food was luscious, the room was romantic and our waitress, a young musician, was delightful. It ended up being one of our favorite places on the trip, a gift from our travel agent who added this place to my suggested itinerary.
The next morning Stu went to check out and met one of the owners - a good-looking, strapping man with a young family. He asked about our travels in Tasmania and talked about his family's adventures in the U.S. He also delivered breakfast to our room, enough food for the whole family that would have fit in that cottage. It included a delicious egg and bacon souffle.
Instead of taking the coastal route, we drove up the Heritage Highway stopping at small historic townships on the way. We liked the old flourmill in Oatlands with its stone miller's cottage and happened upon a nature preserve nearby with a wide variety of waterfowl. There were flocks of elegant black swans including downy cygnets.
Ross proved to be our favorite stop on this road. The handsome town square included a striking war memorial and an assortment of picturesque buildings. We visited the remains of a women's prison and learned more about the lives of female convicts. The Ross Bridge spanning the Macquarie River is celebrated for the 186 intricate carvings done by Daniel Herbert, a stonemason and convict. The work was considered so beautiful that it convinced the powers-that-be that he must have a soul and he was granted a pardon. He went on to carve and sign many of the fine headstones in the Ross graveyards.
We browsed through the Tasmanian Wool Center, a small museum documenting the wool industry in Tasmania. The adjoining shop sells a wonderful collection of ultra-fine merino wool sweaters. We picked up sandwiches in a very popular deli and ate outdoors before continuing to wander the streets admiring the lovely old sandstone buildings.
We made our way to the Freycinet Peninsula and entered the Freycinet National Park to get to our hotel, probably not coincidentally named Freycinet Lodge. The main building was stunning - a modern and bright vision in wood and glass. We went straight to our cabin after checking in. It was gorgeous with a spacious bedroom and sitting area and a terrace overlooking the sea. The only feature it lacked was a fireplace.
The weather was beautiful so we decided to take a short hike. One of the most renowned features of Freycinet NP is a spectacular crescent of sand dubbed Wineglass Bay. The path to the overlook is well cleared and marked and, except for being remarkably steep at times, is a moderate climb rewarded by magnificent views of the bay and surrounding area.
We had plenty of time to relax in our room and try out the huge spa tub before dinner. We'd booked a table at the hotel restaurant for convenience but the food, service and ambience were so agreeable that we just ate there every night. We always managed to snag tables by the window with romantic views of the sea, and one evening a fiery sunset. The oysters were incomparable and it was one of the few places we found serving crayfish (Aussie lobster), which is a luxurious treat.
We arose early the next morning and hiked around Mt. Amos to Hazards Beach, across the isthmus to Wineglass Bay and then up past the lookout and down to the parking lot. It took us about 4 hours with plenty of rest breaks, including a stop to chill our sore feet in Wineglass Bay. We didn't see another human all the way to Hazards and halfway to Wineglass - it was so tranquil and lovely. This was a more challenging hike with lots of steep climbs, but it would be a breeze for hard-core trekkers. You know the ones I mean - they're not comfortable without at least 50 lb. packs welded to their backs as they run up little mountains, like Denali. By the time we got to the Wineglass Bay lookout trail it was like an outdoors Grand Central Terminal. It was the greatest amount of people we saw in one place since the Salamanca market.
As we stopped by our room, I noticed a brightly colored bird fly into a tree next to our car. It turned out to be a green rosella, a brilliantly plumed native parrot. It flew off but we followed it and found it a short distance away with a mate, pecking at the nuts in pinecones clutched in their long claws. We had time for lunch on the patio at the hotel before joining a small group for a 4-wheel drive excursion that was included with our room. Our guide, Troy, was typically Australian, i.e. adorable. He's one of the few Australians we've met who's visited more of the country than we have. We drove up to visit a lighthouse followed by a ramble over a rocky cliff to enjoy the views. We finished off on a beach where we scoured the tidepools for interesting sea critters while Troy brewed bush tea from a local plant.
On our last day at Freycinet, we drove out of the park to visit the Friendly Beaches and Saltwater Lagoon. The beaches were as picture-perfect as you'd expect with not a soul to witness their splendor except oystercatchers and cormorants. The large lagoon was home to a wide variety of birds but they coyly migrated to the far side of the pond whenever we tried to approach.
Since we were near the top of the peninsula, we decided to take a side trip to Swansea before returning to the park. Kate's Berry Farm commands a fabulous view of the berry fields and the ocean. It's a hugely charismatic place serving berries in their many incarnations. We had the most delicious ice cream smothered in ripe berries bursting with flavor. The blueberry preserves were the best we'd ever tasted and we bought a jar to take home. We stopped in Coles Bay, the main town of Freycinet, to have a look, but didn't find much to do there.
After lunch we drove over to Sleepy Bay and walked down to Little Gravelly Beach. It's a short, easy hike, but there were surprisingly few people who ventured past the first couple of lookouts. Their loss. The beach was marvelous with caves gouged out of the lichen-encrusted stone. We took our time rock hopping around before returning.
We spent our last day in Tasmania driving the long, scenic route from Coles Bay to Launceston via St. Helen's, a quiet fishing village. You traverse some striking mountainous passes surrounded by miles of deep forest, but there's evidence of logging as well. The town we most appreciated was Derby, a blink on the highway with an excellent craft shop and some fine old buildings.
We made it to Launceston in time to drive up to Strathlyn for a farewell lunch. We dined outdoors on the deck this time and once again it was idyllic. We had the same waitress as before and she remembered us three weeks later. We didn't think we were any more obnoxious than usual, so maybe she just doesn't see many Americans.
We stopped for gas in Evandale so we got a chance to see a bit of that town before turning in our rental car and preparing for the flight to Sydney. A driver was waiting to take us to the Park Hyatt, a well-designed hotel in the Rocks. It sprawls at the foot of the Sydney Harbor Bridge with sensational views of the Opera House and harbor. We showered and changed and took a taxi to Pier restaurant in Rose Bay. Stu has an Australian colleague who'd studied with the chef at Pier and he set up the reservation for us. It's a sleek, modern restaurant with views of the bay and a young well-trained staff. Pier specializes in seafood and it was some of the best we've ever tasted. It was a superb meal. The staff was so helpful that they even noted down some good Australian wines with addresses of wine stores where we might find them.
We woke up in time to watch a sensational sunrise over the Opera House from our room balcony. Then we enjoyed breakfast and the Sunday paper along with the scenery. It was still early when we began exploring the historic Rocks section. They were just setting up booths for a market and we scouted around for something unique. We noticed that the city had been spiffed up quite a bit for the Olympics and was even more attractive than it had been on our earlier visits. The skies were clear when we started, but as the day progressed clouds moved in and we had a few stray drops of rain around midday. Still it was a fun morning exploring the area. We saw ibis by the harbor and parrots in the trees of the Domain, the large park leading up to Bennelong Point, site of the Opera House.
We had arranged a late checkout so we had time to freshen up before meeting our driver. On the drive to the airport he asked if we'd seen President Clinton, who'd been walking around the Rocks on Saturday. We hadn't. Boarding was slow because they hand checked every single carry-on bag at the gate, confiscating one of our completely benign sewing kits, as if a one-inch needle could be an effective weapon. The extra vigilant security was due to our VIP passenger, Mr. Bill Clinton himself. He was accompanied by 3 aides and 2 Secret Service men, easily identified by those telltale curly wires behind their ears. We were originally seated across the aisle from the ex-President but graciously moved back a row so that Bill's aides could flank him. The primary SS guy, a muscular, good-looking African-American, sat behind him and never dozed off during the entire flight to San Francisco. The other SS guy and one aide were relegated to Business Class, but they often came forward to confer with the boss.
Bill read during most of the flight, chewing on a soggy unlit cigar - a prop you'd imagine he'd want to avoid being seen with in public. He was affable, greeting fellow passengers and chatting amiably with his entourage and the flight crew, but everyone in the cabin respected his privacy and pretty much left him alone during the flight. When he boarded, he was impeccably coifed and it was fun seeing him walk around with "morning hair" just like the rest of us slobs. Before deplaning, he posed for pictures with every member of the flight crew. We're surprised all the flashes didn't blind him. Celebrities and politicians must develop a special vision to compensate.
It's probably a real letdown to go from your own 747 to flying with the hoi polloi. I wondered whether your plane becomes Air Force Minus One when an ex-President is on board. Clinton had been on a lecture tour and had apparently covered a lot of ground. He seemed to be delighted with his visit. The whole group was whisked out a special door in the jetway after we parked at the gate while the rest of us trudged on to customs.