After a tiring overnight flight and a nerve-jangling just-made-it-by-a-hair connection in Frankfurt, we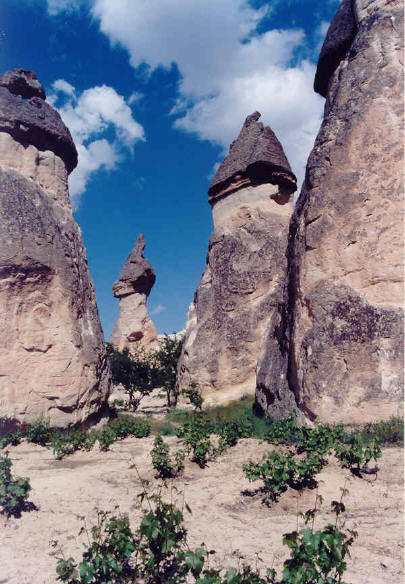 arrived in exotic Istanbul only to be promptly escorted to a Turkish prison, where we cooled our heels the next 3 nights wondering what we'd done to deserve this. This luxury, that is. OK, so it was a Four Seasons hotel converted from a former prison, located in Sultanahmet, within gimp-walking distance to over half of the city's most important sites. The hotel is lovely - it's outside walls glowing in warm ochre, the guard towers now merely decorative, and the exercise yard well landscaped with a flurry of flowers and a solarium-style restaurant in its midst. Above it all is a rooftop outdoor bar with spectacular nighttime views of Hagia Sophia and the Blue Mosque. The rooms are large and comfortable, tastefully outfitted in a modern, but very Turkish, style. Every afternoon a bottle of carbonated water and a different delicacy is discreetly left in the room - a bowl of cherries and apricots, a dish of Turkish delights, figs and nuts. The staff is delightful and helpful. When we returned to Istanbul for our last night in country, the doorman and concierge welcomed us back warmly and inquired about our travels. So now you know that our opening shocker was just cheap theatrics, not unlike those greeting cards that say "SEX" in big, bold letters on the outside, and on the inside say, "Now that I've gotten your attention…."
Upon arrival we settled into our room then walked about two blocks to Topkapi palace (guarded by tough looking soldiers armed well enough to make NRA President Charlton Heston climax). We decided to save the palace for another day to be sure we had enough time, and went straight to the archaeological museum on the palace grounds - a veritable treasure trove. In addition to magnificent sculptures unearthed throughout the country from several centuries BC to a few centuries AD, our favorite items were intricately carved sarcophagi from the tomb of Sidon dating from the 5th to 4th C BC. Two rolls of film later, we exited and strolled over to the Blue Mosque, built between 1603 and 1617 AD, where we marveled at the brightly painted interior and spacious domes. It is the only mosque in the world with six minarets (Small mosques have one minaret. Big fancy ones have perhaps four.) All minarets are wired with PA systems so that the wailing call to the devout can be broadcast several times a day - sometimes dueling banjo style — and most annoyingly between 4:30 and 5:00 AM. We still had some time and energy to spend and Hagia Sophia was just closing, so we walked across to the eerily beautiful Basilica cisterns. In their heyday, these cisterns supplied water to the Topkapi palace. Now, fish idly swim in shallow pools glowing with colored lights that extend several city blocks beneath vaulted ceilings. Barbara's watch had died on the trip over, so our concierge directed us to a bustling commercial area near the ferry terminals where we readily found a replacement and enjoyed milling around with the locals.
We freshened up and took a taxi to Ulus 29, a fine restaurant overlooking the Bosphorus Straits. The view and ambience were terrific. The food, though good, was not equal to the simple, traditional dinner the following night at Develi, a popular family restaurant where we were the only apparent tourists, or the fancier one the night after that at Divan, a hotel restaurant with live, if not lively, music. Turkey is a terrific, relatively inexpensive, destination. Generally, as with Greece, the local dishes are the best. Turkish food is almost universally good to excellent with lots of fresh, flavorful vegetables and tomatoes, and savory grilled meats and fish. Foreign food is usually mediocre and over priced at best. However, we did find some excellent Continental cuisine in Istanbul, Goreme and Bodrum for a change now and then.
Warning! Taxi drivers in Istanbul are masters at taking the longest possible route to inflate fares, or at charging night rates in the evening. The frustrating part is knowing that they are taking you out of the way but being unable to communicate because they claim not to understand English. At least the taxis are very cheap by our standards, costing a half million to a few million lira per ride. In case you hadn't gathered, the exchange rate is better than a quarter of a million giblets - our pet name for Turkish lira—to a dollar. So if you've been putting off that purchase of a Ferrari because its price has too many zeros, go to Turkey for a couple of weeks and, after tipping in the millions for several days, the Ferrari zeros will feel much less significant.
Early the next morning we headed straight around the corner to Hagia Sophia (pronounced EYE-A Sophia), a huge church built between 532 and 537 AD, which was subsequently converted to a mosque and is now the city's most popular museum. After admiring the lovely architecture and mosaics, we spent the rest of the morning in the Topkapi Palace and Museums (1461 AD).
We saw the ornately jeweled dagger that Melina Mercouri and Peter Ustinov tried to nick in the 1964 film "Topkapi", among a treasury of other precious artifacts, and toured the huge harem complex (harem translates to forbidden). The reason that the harems were always staffed with African eunuchs was in case the guard's operation was not wholly successful. If a harem guard impregnated a wife the sultan would recognize immediately that the baby did not issue from his loins. The palace kitchen was converted into a museum showcasing an extensive collection of Asian porcelain. Other rooms house priceless Islamic artifacts and relics, including hair from the Prophet's beard.
After lunch at Topkapi, we motored to the northern end of the Bosphorus (the straits that connect the Black Sea to the north with the Sea of Marmara to the south) and ferried back. Most of Turkey is in Asia Minor, a term we hadn't heard since elementary school, and one still filled with intrigue. Istanbul straddles Europe and Asia on either side of the Bosphorus. At the northern end of the straits we visited a fish market in Sariyer with flounder so huge that they might have been extras in one of the 1950s films about nuclear testing experiments gone awry. This was one of the least interesting things we did in Istanbul, but it was still fun. Afterwards, we wandered in the Sultanahmet area some more, stopping near the site of the old Hippodrome to see the Egyptian obelisk, which looks brand new, but dates back to 1500 BC.
After a busy day of touring, Stu read while Barbara experienced the sybaritic delights of an authentic Turkish bath at Cagaloglu Hamami. There are different levels of treatment that you can order, but the full treatment is worth every cent. After depositing your clothes in a small dressing room with a cot, you are led to a steamy octagonal room completely sheathed in marble with a large circular center platform. Faint light streams through small star-shaped windows in the dome overhead. You sit next to an overflowing sink along the perimeter of the room, and ladle warm water on yourself with a tin bowl while sipping sweet apple tea. Once you are well marinated, your masseuse leads you to the center platform where you lie down and submit to a vigorous scrub with a loofah followed by a soap down and rinse off. Next is the best - the soap massage. You are swabbed from head to toe with a very soft mop dripping with an extremely creamy and luxurious-feeling soap, then gently massaged. After rinsing off at your sink, you sit between the knees of the masseuse, who washes your hair and massages your face, scalp and neck. You rinse and towel off and follow the masseuse to your dressing room where the experience ends with a full body cream massage, after which you get dressed and ooze back onto the street. By the next day you begin to perceive your bones again.
Up early the next morning we took a long cab ride to the Kariye Museum, an 11th century church turned museum with the most exquisite mosaics and frescoes on its interior walls, vaulted arches and domes. From there we went to the spice bazaar, which is a cornucopia of exotic fragrances and brightly colored spices among the varied goods for sale. Nearby is the Rustem Pasa Mosque, built in 1560 AD. While much less grandiose than the Blue Mosque or Suleymaniye, it's just breathtaking - a fantasy of blue and white tile. After recatching our breath, we walked across a bridge over the Golden Horn (an offshoot of the Bosphorus) and ascended the Galata Tower (built in 528AD by Justinian) to enjoy the lovely view. We grabbed another taxi to the little village of Ortakoy on the Bosphorus and strolled along the waterfront and through its charming alleys. We were within walking distance of the famous Ciragan Palace hotel, so we had to check it out, and ended up having a terrific buffet lunch there. This is the hotel that JFK, Jr. and his bride stayed at during their honeymoon. It's quite opulent, but in a much showier way than the Four Seasons. Also, though it's nice to be right on the Bosphorus, it is quite far away from most of the major sights and requires lots of cabbing, boating or busing to get around, which can be a challenge considering the traffic.
Returning to Sultanahmet, we wandered along the Old City wall (originally 130 KM long) and Sea of Marmara coast, just taking in the sights, which included some solid people watching, and enjoying the sweet springtime sun. After relaxing in a seaside park spying on boat traffic, fishermen and young lovers, we took a taxi via Switzerland to the Suleymaniye, an enormous mosque built by the famous architect, Sinan, with a beautifully decorated interior. Outside of all the mosques there is a bank of faucets in a narrow trench with stone benches where the worshippers stop to scrub their feet. You remove your shoes before entering a mosque and Barbara always covered her head.
General Observations one through three: 1. We saw no abject poverty throughout our travels, and only saw 2 beggars in 15 days. 2. Turks are quite friendly and helpful. They gladly try to communicate with you even if they don't speak English or French. 3. We always felt safe in Turkey, except when passing rug merchants, at which time we feared being hard-sold to death. However, this was less of a problem in smaller population centers.
The next morning we caught an early plane to Kayseri, a city in central Anatolia in a region called Cappadoccia. We picked up our rental car at the airport, and began a tour of some of the most fascinating geology (and human use of it) that we've seen anywhere. Three million years to the day before we arrived, a neighborhood volcano erupted violently, covering much of the region with a thick blanket of volcanic ash. Over eons sediment formed on top and the ash compressed into a soft rock (soft like sandstone and limestone) called tufa. Much of it eroded into fabulous, whimsical shapes. Beginning with the Hittites around 1500 BC, some of the tufa was hollowed out into cave dwellings and storage areas. It's reminiscent of the Anasazi cliff dwellings of the U.S. Southwest, yet unique.
Later, early Christians hid from the Romans in expanded underground villages, and many people carved homes, places of worship, and storage into the aboveground cones of tufa. In the case of churches, they even carved vaulted ceilings and columns, and painted the walls and ceilings with religious icons or vivid tableaux of the life of Christ. Many have survived to this day, in various states of preservation, some dating back to the 8th or 9th C AD. Many of the homes have been expanded or updated, have had doors, windows, plumbing and electricity added, and people still live in them.
Our first stop in Cappadoccia, after checking into our hotel, was the Goreme Open Air Museum, an aboveground village of homes, churches and other buildings carved into the tufa. While nosing around in a beautiful old church, we couldn't help eavesdropping on an English-speaking guide who was explaining the iconography to a young Swiss couple who had hired him. His narrative added real value (sometimes guides impart no more wisdom than you can pick up from guide books or printed text at the site), so when they invited us to join them, we agreed, and enjoyed the tour and the company. The best-preserved church in the region is in this museum with magnificent murals of the Christ saga dating back to the 9th or 10th Century. Afterwards we drove to the Devrent Valley, which has pink tufa cones charmingly referred to as "fairy chimneys;" then to Catalkayan Valley with "mushroom" chimneys (sedimentary rocks naturally and precariously balanced on the tips of tufa cones), and Zelve, which boasts three valleys peppered with troglodyte dwellings. Though this may sound rushed on paper, we took our time, walked around the sites, stopping often for to admire the fantastic landscape.
Wandering from there, we discovered a "sunset" viewing location that was lovely. Dramatic, distant storms blocked hope of a viewable sunset that evening, so we decided to hunt up dinner. On the way, we drove through Ortahisar, a fortress city built into a huge tufa cone. Outside the village, in a remote area, our rental car refused to start. Stu was able to isolate and fix the problem, which is good since it looked as though the herd of goats surrounding the car was more likely to speak English and offer assistance than the natives, who eyed us suspiciously. We then went to another tufa fortress city, adjacent to Goreme, called Uchisar to find a restaurant in our notes. We never found the restaurant that we were looking for, but the quiet village streets, buildings and the castle themselves were all stunning in the golden glow of the late afternoon light. We decided to climb to the top of the castle to enjoy the view. We ended up at the Ataman for dinner and we're very glad we did. The Ataman in Goreme first opened as a restaurant in 1992, and expanded into a hotel, much of it inside the hollowed tufa. It is one of the most charismatic hotels that we've ever stayed in, plus the food is the best in the region. The steak flambé was not only fun to watch in preparation but mouthwatering to eat. Our room was spacious and pretty, decorated with Turkish antiques, and we had an extensive view of the odd landscape of the Goreme Valley. We initially chose this hotel, but the agency that booked our trip - Pacha Tours - told us it wasn't a good place to stay and suggested the Ev Esbelli - a 6 room inn which is also carved into the landscape. We agreed with this. A week before we left, the agency told us that the Ev would not work with travel agents anymore. Of course, by this time when we contacted them directly, they were already booked during our stay, which was annoying since we'd arranged the trip months in advance. Pacha booked us into a sterile Turkish equivalent of Holiday Inn, much to our disappointment. Based on the legions of Pacha tour buses in the parking lot, we suspect Pacha at least partially owns this Tour Bus Hell Hotel. During dinner at the Ataman that first evening the lovely dining room and friendly staff favorably impressed us. On a whim we asked the desk clerk if there were any available rooms. He showed us 6 of them, and they were all terrific. We rushed back to the TBHH to check out and within 20 minutes had checked into the Ataman, breakfast and fabulous dinner included. It lacked a few minor amenities (such as no Kleenex in the rooms), and the tufa walls and ceilings would periodically precipitate bits of tufa, but it was wonderful!
General Observation Four: We're convinced that if you step off the pavement anyplace in Turkey and kick a stone, you will unearth a new archaeological dig. This feeling increases in direct proportion to how much of the country you see.
Energized by our surroundings, we rose early the next day and drove a bit farther afield. The morning was drizzly so we headed first to Kaymakli, one of the underground villages where early Christians hid out. It was fascinating to see how they dealt with ventilation, storage, and the like, but we wouldn't want to be there in high season. As it was we had to move very slowly through narrow winding passages, sandwiched between an Italian and a Japanese tour group. Afterwards, we drove to the Soganli valley. This is a bucolic valley dotted with sheep and goat farms and home to some very interesting rock churches. One of the finest, Kubbeli Kaddesi (Domed Church), contains an extensive warren of rooms winding down the side of a cliff, capped with a fairly complex series of domed chambers where the chapel, tombs and other storage areas are located. The murals are faded to mere suggestions of color, but there are other churches in the surrounding hills with well-preserved paintings.
While we explored, the sun came out and the damp valley glistened. On the drive back to Goreme, we took our time, stopping along the way in little villages and scenic areas. We dropped some things off at the Ataman, and noticed a trail head into the Goreme Valley a couple of hundred feet from the door of the hotel. We were up for a hike, so we set out down the trail. Except for running into a small group of local women on their way home through the valley, we saw no one else during our ramblings. The women were clearly surprised to see us and asked where we were going - we chatted a little while before they continued on their way. The valley is gorgeous in springtime with marvelous rock formations, a profusion of flowers in full bloom, and birds and butterflies winging through the crisp, clean air.
We spent most of the next day in the Ihlara valley, though we did enjoy the scenery and other sights along the way. The Ihlara valley is a deep, wide gorge cut by a moderate to swiftly moving river. We descended a couple of hundred feet into the gorge and then walked a couple of miles downstream to the picturesque village of Bellisirma. Several ancient churches are hewn into the cliffs on both sides of the gorge, all of which merited a visit. We were all by ourselves climbing the cliff and wandering among the churches strung along the cliff face. We crossed the bridge at Bellisirma and walked around in the village, observing the daily routine (milking of goats, herding, baby rearing, and agriculture).
We couldn't find the Kilise Kubbeli (Snake Church), which ironically is the most accessible of the churches - we just overlooked the path initially due to a poorly drawn map. A 15 year old boy responded to our request for directions by leading us on a challenging hike up the cliff face, along with his 12 year old pal. It was worth the climb (and the tip we gave the boys) even if it wasn't the church we were looking for. We found the church of St. George, decorated with a wide array of colorful and expressive murals. Unlike many of the others, this church was very open and well lit so the murals were easy to see and admire. The boys gathered large snails on the way down to cook for dinner. Hiking back up the valley we finally found where we should cross the river to see the Snake church. There, an adorable 9 year old boy took us under his tiny wing, and used his handy flashlight to illuminate important wall paintings that we probably would have missed since it was very dark in this church and we had only an itsy-bitsy little penlight. Afterwards we were heading up to another church (Church with Balcony) on the other side of the river when our young guide offered to show us the way. Though we could easily have found it on our own, we let him take us and gave him another tip. On our way out, he approached us in the parking lot about a ride home and we gladly took him. It was a very nice, large house less than a kilometer away. We had time to read and relax in our cheery room before dinner.
The open road beckoned, so we bid a fond farewell to Cappadoccia and took the long route south-southwest through Konya to the Mediterranean coast, aiming for the city of Antalya. Along the way we marveled at the beauty of the changing countryside and visited some archaeological sites. We stopped for lunch in an attractive river town called Manavgat, and had some of the best grilled lamb chops of our lives at an outdoor restaurant on the bank of the river. The quality of the food surprised us because the place looked like such a tourist trap. A young waiter was anxious to practice his English and spent some time conversing with us and giving us directions to the waterfall. Not a tall dramatic one, but a lovely, low and wide, smooth-flowing waterfall.
After lunch and the waterfall, we continued on to Side, with its nicely preserved theater and Roman baths overlooking the sea. It is also a major tourist beach town, with hordes of pre-season visitors wandering the ruins looking like drowned rats. The area was too crowded for us with wall-to-wall souvenir stands. Apart from the ruins, it could pass for a glitzy, commercialized beach town in any of dozens of countries.
Our next stop was a very special place - Aspendos. The highlight of this site is a second century AD Roman Theater that is reportedly the best preserved ancient theater in existence. It is truly glorious. The acoustics are still so renowned that concerts are held during the dry summer season. Had we visited a week and a half later, we could have enjoyed a performance of classical music, though it would make sense to bring cushions to pad the unadorned stone seats. We also enjoyed hiking in the surrounding ruins, taking in the baths, Basilica and aqueduct. We had a brief conversation with a group of young jandarma (National Guard soldiers) who were walking in the hills above the theater, and admiring the young local women who were picnicking among the ruins.
We continued into Antalya, a sprawling and graceless city, and spent the next two or three hours trying to find our hotel. After asking for directions at least a half dozen times (few people spoke more than rudimentary English or French), and after getting no useful help from the local Pacha office that we found by accident, we eventually convinced a taxi driver to drive Barbara to the hotel while Stu followed in the car (we paid of course). The driver was concerned and sweet, and got us there in just a few minutes, while pointing out sites of interest along the way. We never could have found it ourselves since so few streets had street signs, and the hotel was located in a maze of tiny streets in the "old city" section. There is only one 1-way street that leads up to the old stone gate entrance (Hadrian's Gate), which resembles the entry to a castle, not a through street. During our circular explorations we had, in fact, happened right upon it once and never recognized it. Once we were parked, we considered leaving the car there, never moving it, and taking taxis to sites rather than try to find our way out and back. The old city section, built on a hill overlooking a small harbor, has lost much of its old-world charm to an overabundance of tourist kitsch, however, there is a lovely red brick fluted minaret near the entrance (the 13th C Yivli Minaret).
As a general rule, Barbara chooses our accommodations, and in the instances when we were booked at hotels that we'd chosen, we were very pleased. The hotel in Antalya, a Pacha suggestion, was better than their other choices when they did not honor our selections, but it was still not exactly what we would have preferred. We have to concede that it made a more convenient base for our explorations in the area since all roads along that section of the coast seem to converge in Antalya. Our choice was more remote, in a very quiet and scenic area near the Chimaera - a natural gas outlet that burns a perpetual flame on the mountainside. We ate dinner the first night outside at a restaurant by the marina. The food was only passable but the location was very nice. On the second night, tired from a day of climbing and walking, we made the mistake of eating in the hotel restaurant. It was the worst and second most expensive, meal of the trip in a pretentious setting. We greatly preferred the scrumptious souvlaki (they call it sis kebap) sandwiches we got for about a buck from a stall at the Grand Bazaar on our return to Istanbul.
The next morning, we screwed up our courage, abandoned our safe parking spot next to the hotel, and drove north out of the city and up into the mountains to visit Termessos, secluded site of an ancient mountaintop city. Since it was in a national park and well out of the standard tourist trail, there were no stands or vendors at its entrance, which was all too rare throughout the trip. At the park entrance a delightful, older park ranger asked us if he could ride with us up to the entrance of the site. We drove 9 km up the mountain, the road bordered with wildflowers, flowering wild shrubs and trees, and impressive views of the valley. One of the advantages of going in late May is that wildflowers bloom in full force virtually everywhere in Turkey at that time of year. During the drive we learned that the ranger taught himself English by speaking with park visitors. After parking, he offered to guide us through the site, but we preferred to explore at our own pace.
On the way to an observation station at the summit, we passed temples, baths, and an extensive, fascinating necropolis with a jumble of aboveground stone sarcophagi. The sarcophagi were all opened or overturned in a first millennium earthquake, which archaeologists believe caused the city's inhabitants to flee the site forever. We took a less-traveled path and discovered the Tomb of Alcetas, a monument to a fallen general, with a wonderful bas-relief of a nearly life-sized warrior on his noble steed carved into the cave wall. By the time we got to the very top of the mountain, a quickly moving cloudbank a few hundred feet below us obscured the fabulous view that we expected. On our way down, the clouds had parted and we stopped to enjoy a picturesque little theater with a commanding view of the region. That's one of the few locations at Termessos where we encountered other tourists: a gaggle of Americans guided by a seemingly bored young woman. She was pleased that we were traveling independently and was envious of our unhampered mobility. At the bottom we said our good-byes to the old ranger, who was impressed that we had found the general's tomb on our own. He encouraged us to visit one more nearby necropolis since we enjoyed the other so much, and we're glad he did.
We traversed Antalya and headed east along the coast to the extraordinary site at Perge. Extant remains include a stadium overgrown with weeds, a large theater, and the ruins of an ancient city with towers, temples, acropolis, baths and an agora (market place) that retains some of its original mosaic flooring. The crown jewel of this site is the Nymphaeum - the diminished remnant of a once monumental fountain. It resides at the base of the steep hill leading to the acropolis. The water flowed beneath a reclining life size sculpture, now seriously eroded, cascading into a long, narrow, stepped pool that extended the length of the main street to the imposing city gate adorned with 2 circular stone towers. At this site, it was easy to get a glimpse of what life might have been like for its early inhabitants. Among the ubiquitous birds and lizards inhabiting the ruins, a number of goats were resting high up on various perches, and munching on plants that had taken hold in the crevices.
Much of Turkish land is devoted to agriculture, and as Stu lined up a shot of the crumbling palace of Gaius Julius, a tiny boy hauling a tawny sheaf of straw on his back suddenly appeared in the narrow passageway between high stands of wild grass. He was abruptly joined by two women in traditional garb (billowing harem pants, brightly patterned cotton shirts and modest head scarves) bent beneath heavy sheaves. They were clearly dismayed at the sight of Stu with his camera aimed in their direction, though he shot over their heads in consideration of their feelings. Throughout our travels, hardworking farmers bent over in the fields like Millet's lyrical laborers were a common sight - usually women though, as the men drove the tractors. On the roads, tractors were as frequently encountered as automobiles, as were horse drawn wagons. They would considerately pull over onto the shoulder to allow cars to pass on the narrow two lane roads.
Luckily, we found the hotel again quickly, parked in front of it, and had a leisurely lunch at a cafe overlooking the water. We decided to walk to the archaeological museum, farther than we anticipated because of our inadequate map. As with all other museums we visited in Turkey, the collection was superb, well catalogued and intelligently laid out, with precious artifacts ranging from the Bronze age to the 6th C AD. This is clearly the most compelling attraction in Antalya.
We hit the road early the next morning to enjoy the sights along the way to our next stop, Kalkan. Not long after leaving Antalya we found ourselves winding along a coastal cliff overlooking azure waters, dramatic drop-offs and pristine little coves. There was surprisingly light traffic, so we could dawdle at will.
Our first planned stop was the remote fishing village of Ucagiz (improbably pronounced OO-CHA-EES). We wound for miles down a rough dirt road to the sea, amazed by how inaccessible the place was, before we intersected with the paved road that we should have taken - apparently we took the goat-herders' turnoff. Approaching town, we gave a lift to a local restaurant owner who guided us to a parking spot at the water's edge, 'coincidentally' in front of his establishment. We're sure that he waits on the road to lure tourists to his restaurant and his buddy boat operators. But it turned out fine. He set us up with a grizzled boat skipper whose leathery skin had been deeply creased by decades of squinting into the sun. The boat was rather basic and the large, single-cylinder engine tuh-puck-uhed us about loudly and with quite some vibration as we peered through the crystalline water at the submerged ruins of an ancient city around Kekova Island. Some claim that the legend of Atlantis was conceived here. Captain Leather Skin didn't speak much English and mainly pointed at the most important sights. He did manage to communicate to Barbara, via enthusiastic gestures, that it was perfectly okay with him if she wanted to remove her top. Barbara thanked him as best she could, but failed to make his day.
The weather was perfect and it felt great to motor around for a couple of hours in such an idyllic setting. During our voyage, we put in at an island dock directly below a hilltop castle. The walk up to the fortress yielded a good opportunity to view locals engaged in their everyday activities as we passed by people's houses and observed their gardens and small menageries. It wasn't altogether primitive though, one small thatched house had a satellite dish prominently installed in the backyard. We explored the castle, savoring the sea views through its battlements, and marveling at a small theater within the castle walls. After docking in the village harbor, we selected fresh fish and grilled vegetables from the display case in our hitchhiker's outdoor restaurant and watched as the waiter cleaned the fish in the sea two meters away before grilling them to perfection. These were the types of meals we enjoyed the most.
We took the paved route back to the main road this time, and continued to Kas, another photogenic fishing village. Just after parking on the pier, we spied a young fisherman in a nearby boat stretching his net with his bare foot while assiduously mending a tear. We walked around for awhile before heading off to our final destination of the day.
Our first view of Kalkan was from the road high above, a cozy hamlet hugging the cliff as it descends to a perfect crescent harbor, fishing boats and tall-sailed sightseeing yachts leashed at the dock. A local merchant guided us to the parking lot and pointed the way to our simple pension, Kalkan Han Pansion. A sumptuous red rose proffered by the manager at check-in livened our clean, whitewashed room with a splash of color and perfume. Our balcony overlooked the nearby terra cotta tile rooftops and the harbor in the distance. Breakfast (and evening cocktails) are provided al fresco on the roof, serving up a breathtaking ocean vista with an ample buffet of olives, cheese, bread, cereal, fruit jams and coffee. We wandered through the streets of town, checking out the shops, confectionery kiosks, cafes, and villas. We discovered a swim club and promptly returned to our room to throw on bathing suits, stopping to buy a couple of beach towels on the way. The rest of the waning afternoon was spent reading, swimming and reclining, not necessarily in that order. We chose a restaurant for dinner by the highly scientific method of picking a place whose food looked appealing in the display case (in Turkey, as in Greece, it is common practice to visit the kitchen or a display case to preview and select your meal). As it turned out, we chose well - the food was delicious and the candlelit atmosphere in the balmy outdoor garden was just what we wanted. We spent some time chatting with a friendly British couple at the next table when we weren't busy playing footsie.
In the morning, we packed up our beach gear and headed west along the coast. We stopped at Pinara and scrambled around the thorny hills to view the Lycian rock tombs implanted precariously in the cliff faces. Some were quite elaborate and moving. There was a theater at this site as well, but nothing to compare to the glorious one at Aspendos or the dramatically situated one at Termessos. We continued on to Olu Deniz, which is reputed to be the most scenic lagoon on the coast. It was attractive, but over-developed for our tastes. We rented beach chairs and an umbrella and bathed in the temperate aqua water. We didn't linger too long because we also wanted to see the beach at Patara. That was more to our liking - an unbroken expanse of white sand, mostly empty by the time we arrived, yet we still had time to cavort in the gentle waves while fish, some surprisingly large, slithered between our legs. Although there is some very lively nightlife in Kalkan, we chose to retire shortly after dinner because we had a long drive the next day.
We retraced our path west past Pinara and Olu Deniz and continued on to Bodrum, a medium sized (and growing) town on a peninsula jutting into the Aegean Sea. Bodrum is yet another adorable town built up on the hills overlooking a captivating harbor. The Castle of the Knights of St. Peter (1402 AD) adds a majestic accent to the bustling marina. We found our hotel, the Antik Tiyatro Hotel (so named because it is across the road from the ruins of an ancient theater), without too much agony - we only had to ask for directions once. This was one of our choices, and an excellent choice, if we do say so ourselves. It is one of the most enchanting small hotels we've ever had the pleasure of inhabiting. The hotel is at the top of the hill, with sweeping views of the town, castle and deep blue sea. Our room included a generous wraparound balcony with 180-degree views, embellished with bright fuscia bougainvillea and furnished with comfortable lounge chairs for enjoying the surroundings. Later on, after touring the town, we took full advantage of our terrace to lounge around admiring the view, while Barbara sampled raki, the favorite local drink (similar to Greek ouzo and possibly more potent). The bathroom in our room was extremely compact - the size of a large walk-in closet really - but so cunningly laid out that we thought it actually enhanced the room's delightful decor.
In addition to marvelous accommodations, the Antik Tiyatro also boasts one of the few kitchens in Turkey that really does justice to continental cuisine. The dining room is intimate and attractive with a friendly and attentive staff - reservations must be mandatory during the high season, though we shared the room with only one small American family (small in number, though not necessarily in size). The meal was world-class, and well worth the splurge. As much as we enjoyed the local cuisine, it was refreshing to add some variety to our menu choices. After unpacking a few necessities, we strolled down the hill to the marina and grabbed a less than mediocre lunch at a touristy outdoor cafe.
Bodrum is, unfortunately, a port of call for the gargantuan cruise ships that regularly spew forth unruly mobs of shoppers on small, unprotected Greek isles and Turkish coastal towns. Catering to this crowd usually spawns a proliferation of cheap stands selling tacky memorabilia, t-shirts, fake tattoos, fast food and other eyesores. It was heartbreaking to see architecturally charming buildings buried beneath a pile of kitsch, or plastered with Pizza Hut advertisements. This is one town that is far better viewed from a distance, our hotel, for example. We spent as little time as possible in the overgrown shopping area, but enjoyed most of the afternoon at the excellent Museum of Underwater Archaeology inside the castle. In its heyday, this was reputed to be the most powerful fortress on the coast. It hosts an impressive collection of artifacts recovered from the sea, including shipwrecks and their sunken cargo. Although we would have liked to pack up our hotel and take it with us to our next stop, there was nothing of further interest to keep us in Bodrum beyond the time we spent there.
Imagine Willie Nelson singing "On the Road Again" - you get the gist. This was another action-packed touring day. We headed to Kusadasi with detours to the ancient ruins at Didyma, Miletus and Priene. The 7th C BC temple of Apollo at Didyma is imposing, even in ruins. It's a small, but choice, site. Our favorite of the three was Miletus, which apparently was once a thriving metropolis with an enormous theater, gymnasium, temples, agora, baths, and Byzantine castle. Priene is in a pretty sylvan setting, but the ruins aren't nearly as compelling as the other sites, aside from the well-preserved bouleuterion (council chamber), which retains evidence of its formerly splendid stone work. Before climbing up to the site, we stopped for lunch at an outdoor cafe where the owner plucked live trout out of the reservoir out back to expertly grill.
We arrived in Kusadasi around 3 pm, dusty and fatigued, and rested up at the hotel pool until the cool evening breezes nudged us indoors. We had requested the Kismet hotel, but were placed at the Pine Marina, a modern, tour-group behemoth with standard amenities and no character. The drab, cramped room they showed us initially was just too depressing, so we offered to pay the difference for a suite, and, to their credit, they upgraded us to a spacious, though graceless, corner suite, and refused to collect any additional money. Ironically, from our balcony, we had a Peeping Tom's view of the quietly elegant Kismet nestled on an isolated point adjacent to the marina, just out of reach.
When visiting Turkey, if people can (or wish to) visit only one archaeological site, they usually visit Ephesus. It's easy to see why. If you rated ancient ruins on a scale of 1 to 10, Ephesus would be a 12.
We arrived at opening hour and bought a map and guidebook. Ephesus not only covers a huge area, but the ruins are incredibly well preserved/restored. We started at the enormous stadium - it's not as elegant as Aspendos, but what it lacks in refinement it more than makes up for in grandeur. We headed down the street and came upon the magnificent Library of Celsus (117 AD), adorned with graceful statues and friezes. Fortunately we made it before any large tour groups and had the area to ourselves for quite some time to appreciate its many subtleties. Although we saw the rough remains of human dwellings at other sites, in Ephesus you can really see how people lived in these homes and can appreciate their elaborate structure. The wonders are too numerous to catalogue, but among the things we liked the most were the library, the Gate of Hercules, the baths with their sophisticated heating system, the marvelously ornamented Temple of Hadrian and the Odeion (a small amphitheater). While in the ancient latrina, we overheard a guide tell his group that the masters used to require their slaves to sit on the cold marble seats in the morning to warm them up in preparation for the masters' visit.
When we had visited (and in some cases, revisited) all of the attractions that were open to the public, we headed to Selcuk, the nearby town where the Ephesus Museum is located. The museum displays statuary and other priceless artifacts removed from Ephesus and other nearby sites, such as the defunct Temple of Artemis. The collection is astounding in quality and depth. An entire room reconstructed from one of the slope houses is on view with its colorful murals, floor mosaics, furniture and statues.
One room is devoted to the cult of Artemis - an earlier incarnation than the Greek Hunter Goddess, this is an earth mother deity laden with fertility icons. Two tall, superb statues are spotlighted. The item that receives the most, or maybe just the loudest, attention is the small figure of Priapus with his exaggerated phallus. He was unearthed in the "House of Love", a brothel. We were surprised to see the wide-ranging collection of surgical instruments and to learn how they were used so many centuries ago.
Walking to the Basilica of St. John around the corner from the museum, we noticed a stork settled into a large nest at the top of a modern tower in the middle of a busy city street. Upon closer inspection, we caught sight of her chicks, their raucous peeping drowned out by traffic noises. As we continued on our way, we observed several more storks and nests in a nearby park.
The Basilica was quite majestic in its day and the remains are still impressive. We especially enjoyed the Baptistery. The Selcuk castle looms in the distance on a nearby hill. It is closed to visitors but from our readings, we gathered that there is not much to see in it anyway.
We spent the rest of the afternoon swimming and relaxing. That evening we looked up a restaurant on our recommended list, called Kazim Usta. It is located on a pier jutting into the harbor, and from our table we watched the colorful wooden fishing boats returning to dock with the day's catch, and fishermen heading to sea in the fading light. The stuffed mussels and grilled fish were so fresh and delicious that we returned the following evening and had the same meal over again. Our attentive waiter hurried over to greet us warmly upon our return.
The next day, we drove inland to visit Aphrodisias, yet another exquisite archaeological site. Although it has a superior theater, a lovely Odeion, attractive baths and many other interesting architectural features, it is renowned for having the best preserved ancient stadium in the world. The stadium is very fine and definitely lives up to its reputation. You can pick up quite a bit about the social life of the town's inhabitants while visiting these ruined cities. Certain structures are common to most sites, however, variations offer some clues to the status the town enjoyed in the greater society. A small museum on the premises showcases some of its treasures. It doesn't compare with Ephesus, but it's worthwhile.
We had originally planned to return directly to Kusadasi after touring Aphrodisias, however, since it was still fairly early, we decided to continue onward to Pammukale, an area with striking white terraces of calcified stone. This was a bit disappointing, however, there were some fairly interesting ruins at nearby Hierapolis. Although it was a long ride back to the coast, we still had time to hit the pool for a cooling swim before changing for dinner.
We dropped the rental car at the Izmir airport and hopped an early flight back to Istanbul. We arrived with plenty of time to visit some places we missed during our first visit. After dropping our gear at the Four Seasons, we walked over to the Mosaics Museum - it had been closed the 2 times we attempted to visit when we first arrived. This turned out to be one of our favorite places in Istanbul. An entire tiled floor (the pieces still intact) from the bygone Grand Palace was laid out with its colorful scenes from mythology and everyday life. Fantastic monsters do battle with heroic warriors adjacent to bucolic scenes of fishermen and goatherds. More marvelous mosaics hang on the walls as you follow the walkway through the museum. We then walked over to the nearby Museum of Turkish and Islamic Art and admired its diverse collection of important artifacts, including valuable antique Turkish carpets and beautifully inlaid wooden Koran holders and cabinets.
We hadn't intended to visit the Grand Bazaar because we were afraid of overdosing on carpet sales pitches and had no interest in buying anything, however, we had time and figured it was just something that you had to see in Istanbul. This turns out to be correct. You really have to see it - the building itself is wonderfully atmospheric. Fortunately, being there in the low season, it was lightly trafficked and we had plenty of space to move around. Sales people here aren't any more aggressive than elsewhere so it wasn't as much of a problem as we expected.
We ended up enjoying it quite a bit. Because we had a very early flight in the morning, we decided to just eat at the hotel, which was not a wise move. It was expensive and mediocre. The best food at the Four Seasons was the tasty homemade granola that they served at breakfast.
All in all, it was a fantastic trip and Istanbul has become one of our favorite cities. If we had one more week, we would have liked to take a "Blue Cruise". Beautiful wooden sailing yachts take you on weeklong journeys along the coast stopping at towns (like Kalkan) and offshore islands along the way.